How to Get Perfect Barbecue Smoke Rings every time?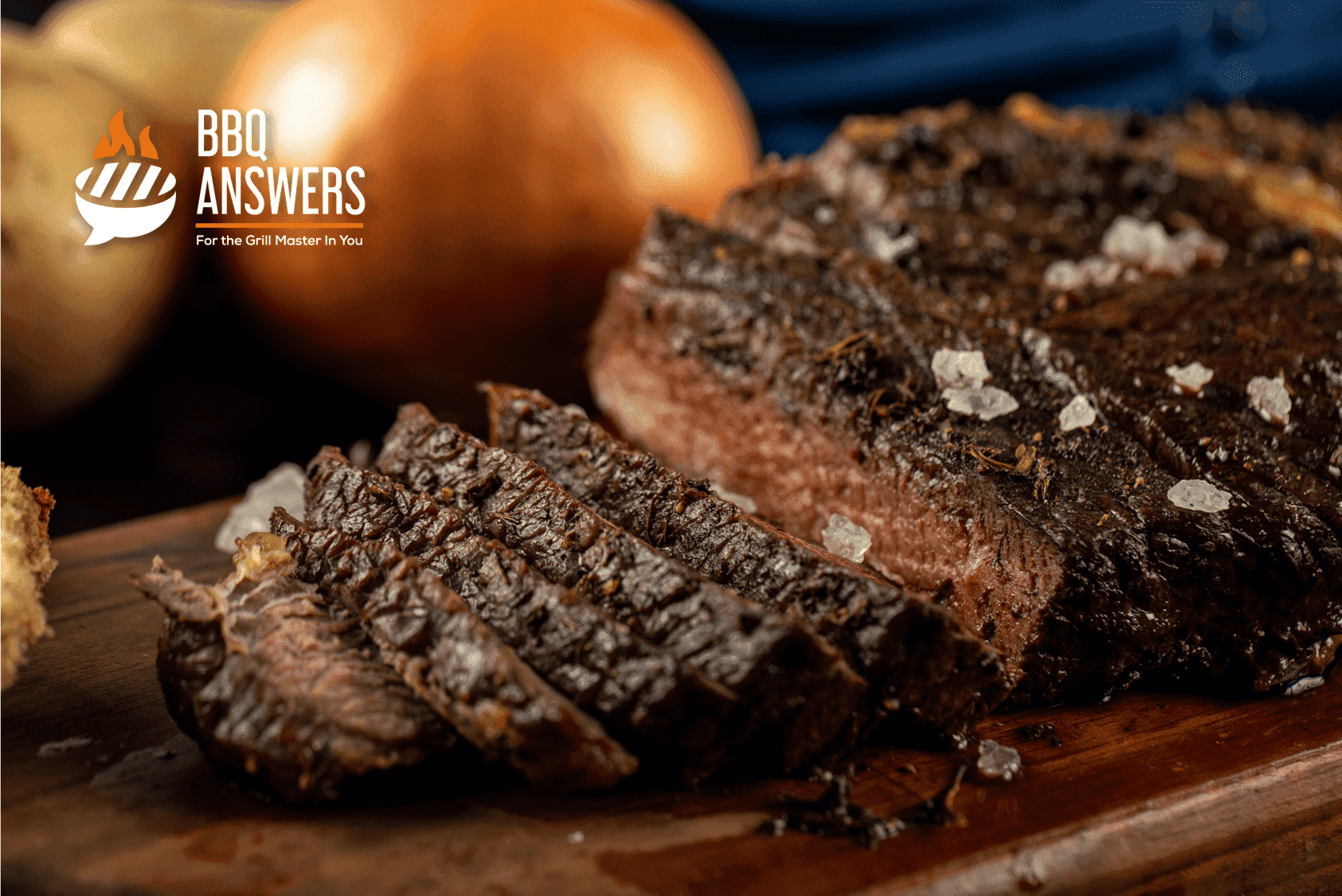 All of us have seen that pink ring under the bark of the meat, and to many, it is a symbolic end product that screams expertly done barbecue!
But what is this phenomenon? What causes it? Is it desirable? What must I do to achieve smoke rings? And can I make smoke rings without a smoker?
Keep on reading to know all these answers along with some mouth-watering tips and tricks!
What Is a BBQ Smoke Ring?
A smoke ring is a layer of pink coloration of meat formed under the bark (crust) during the cooking process. It is caused by the chemical reaction between meat proteins and the gases released during the combustion of wood or charcoal.  It is around one-eighth to half an inch thick. 
Do Smoke Rings Impact Flavor?
While almost everyone agrees that smoke rings on the meat make the meat look better, opinion on whether it affects the meat's flavor is divided. Some claim it does make a difference and find the meat somewhat smokier when they have smoke rings. Others swear that there is no difference in the flavor.
I personally agree with Beyoncé – "if you like it, then you should put a ring on it." But in all seriousness, I haven't done a controlled experiment for this myself, so I can't say if there is a difference in flavor because of smoke rings. The difference in flavor could be because of other factors like fuel, duration of cook, ingredients, cut of meat, etc.  So I'll leave you to argue about this in the comments until I complete this experiment. 
What Affects BBQ Smoke Ring Formation?
Before we can understand what causes a smoke ring to form, we need a quick science lesson on myoglobin.
Meat and Myoglobin
Myoglobin is the protein responsible for the color of the meat. It is an iron-containing protein that functions as an oxygen-storage unit that provides oxygen to working muscles.
Myoglobin is visible in different colors. Each color gives us some information about the state of the meat:
When it's Purplish-Red


In myoglobin's native state (when not exposed to oxygen), it has a purplish-red color, like what is seen deep inside a steak. 

When it's Bright Red


When exposed to high levels of oxygen, like when the meat is cut, it turns into a bright red color, usually associated with fresh meat.  

When it's Brown


When exposed to an oxygen environment for long periods, the meat turns into a brownish color, just as seen when cutting a week-old piece of meat.


You can reverse brownish-grey meat back to pink by exposing it to air. However, this cannot be done if the myoglobin has undergone denaturation.
What is Myoglobin Denaturation?
Myoglobin denaturation is responsible for the color change as the meat cooks. The meat changes from purplish-red to pink to gray as it cooks. Once this happens, the meat cannot go back to being pink. That's what defines the levels of 'doneness' of meats like rare, medium-rare, well-done, etc.
Fun Fact:
A similar reaction occurs when egg whites are exposed to heat. The egg white permanently changes from a clear liquid to an opaque, white, jelly-like solid when exposed to heat. 
Is Myoglobin the Same in all Meats?
Some meats have more myoglobin than others. Example: Beef has more myoglobin than pork, which in turn has more than poultry. Even in the different cuts of meat, some meat cuts have more myoglobin than others.
What Causes a Smoke Ring To Form?
When the wood combusts, it releases traces of Nitric Oxide (NO) and Carbon Monoxide (CO), which react with myoglobin upon contact. This reaction prevents the myoglobin from changing its pink color. This is because Nitric oxide will bind about 100,000 times tighter to the myoglobin than oxygen will. Carbon monoxide will bind about 2 times tighter to myoglobin than oxygen will.
This results in a pink-colored ring across the meat's cross-section, which we know as barbecue smoke rings.
But why is the smoke ring only about ⅛" to ½" thickness around the edges? This is because the molecules CO and NO cannot penetrate to meat any further before the meat heats up, turning the center of the meat into an irreversible brown/gray color. 
You can increase the smoke ring thickness by controlling a few factors in the barbecue smoking process.
What Factors Influence Smoke Ring Formation?
Type of Fuel Used


According to extensive research that Dr. Greg Blonder has posted on

his website

, plain charcoal briquettes and wood fires produce the most nitric oxide (NO). Comparatively, lump charcoal produces much less of it since it is almost entirely made of pure carbon.

Even lesser nitric oxide is produced by pellet smokers, electric smokers, and propane smokers. These burn very efficiently, mostly producing carbon dioxide and water as byproducts of combustion.

Wood Used


As the wood seasons (or dries), it loses its nitrogen content. So greenwood produces bigger smoke rings than dry wood.

Also, using wood bark increases the thickness of smoke rings. Bark wood has more nitrogen content than sapwood (outer part of the stem) or heartwood (innermost portion).

Moisture on Meat Surface
Moisture on the meat helps draw smoke, which then penetrates the meat forming smoke rings. A dry piece of meat doesn't attract as much smoke as surfaces basted or spritzed with moisture.
Oxygen Levels
Oxygen is crucial to combustion. When there is a lack of oxygen, it causes the fuel to smolder and not release as much nitric oxide. Instead, the nitrogen in the fuel gets converted to other byproducts that don't help smoke ring formation.

Combustion temperature


Combustion temperature is another critical factor that needs to be controlled for the best results. The lower temperatures or wood combustion are ideal for producing the most nitric oxide. 

These lower temperatures also prevent the myoglobin from getting denatured. Myoglobin turns brown between 140°F (60°C) and 160°F (70°C) internal temperature. After this, smoke ring formation isn't possible because the smoke (especially nitric oxide) cannot penetrate the meat. 



What are the Types of BBQ Smoke Rings?
Wall Smoke Ring
A distinct, sharply-defined smoke ring formation under the meat bark is called a 'wall smoke ring.' This is caused when heat cooks the meat before the gases responsible for the formation of smoke rings can fully penetrate the meat. This causes a distinct line in the meat at the place where the heat overtakes the gases that are penetrating the meat. 
To make wall smoke rings, the meat is heated quickly in a hot and dry environment. 
Wedge Smoke Ring
A wedge smoke ring, on the other hand, is one that has a seamless transition into the cooked meat. Here, the smoke ring is broader and darker at the surface and gradually lightens as it goes inwards. Wedge smoke rings can be found when the meat is cooked low and slow, and the gases have enough time to penetrate before the heat denatures the meat. 
To make wedge smoke rings, the meat is cooked low and slow in a humid environment.
Tips For Getting Perfect BBQ Smoke Rings
Remove the Fat Cap


Remove as much fat present on the surface for smoke ring formation. If there is a fat cap (or excess fat) on the meat's surface, it will be more difficult for the smoke to penetrate the meat. Remember that the smoke needs to penetrate the meat to get smoke rings. Smoke rings cannot be formed on meat fat because it does not have myoglobin.

Soak Your Wood Chips


Soaking wood chips help in maintaining a lower combustion temperature. These lower temperatures are ideal for creating smoke rings since they help in the formation of NO and CO.

Know Thy Smoker


Wood or Charcoal smokers are ideal for creating smoke rings. This is because they produce more NO and CO gases.

Pellet smokers use sawdust, which combusts quickly without forming the gases that help in the formation of a smoke ring.

Electric and Propane smokers burn the fuel most efficiently, leaving byproducts that are almost entirely water and carbon dioxide.

Keep the Meat Cool and Moist


Popping the meat in the freezer until it is cooking time helps the smoke penetrate the meat before it gets cooked. 

You also want to keep the meat moist because after the meat is smoked for a while, it starts to dry up and reach the temperature of denaturation. This prevents smoke ring formation. You can moisten and cool down the meat by basting it with sauces or marinades. Alternatively, you can place a water pan inside the smoker to keep the meat moist to aid in smoke-ring formation.

Go Low and Slow


If you cook the meat at high temperatures, the myoglobin will break down and turn brown before the smoke reaches the meat. Cooking low and slow gives the smoke ample time to penetrate the meat before the myoglobin gets cooked and denatured.

Using a Curing Salt.


Curing salts, like sodium nitrite, help in the formation of smoke rings – but this is more of a cheat technique. Pink curing salts are commonly used to make intense smoke rings.

Using Celery Seeds


If using artificial curing salts is not your thing, celery seeds are a great alternative because of their high nitrate concentration. Just use whole or ground celery seeds as a meat rub before you smoke it, and voilà, you have a smoke ring!
Pitmaster Tip:
Don't Chase White Smoke
White Smoke isn't going to get you smoke rings. In fact, you don't even need smoke to create smoke rings. The gasses produced by the combustion process (NO and CO) create the smoke ring, not the smoke itself. So don't try to create white billowy smoke, thinking that it will help you get better smoke rings.
Now that we know the secrets of getting smoke rings, let's put our skills to good use with the following recipe.
Smoked Briskets Recipe (with Smoke Rings)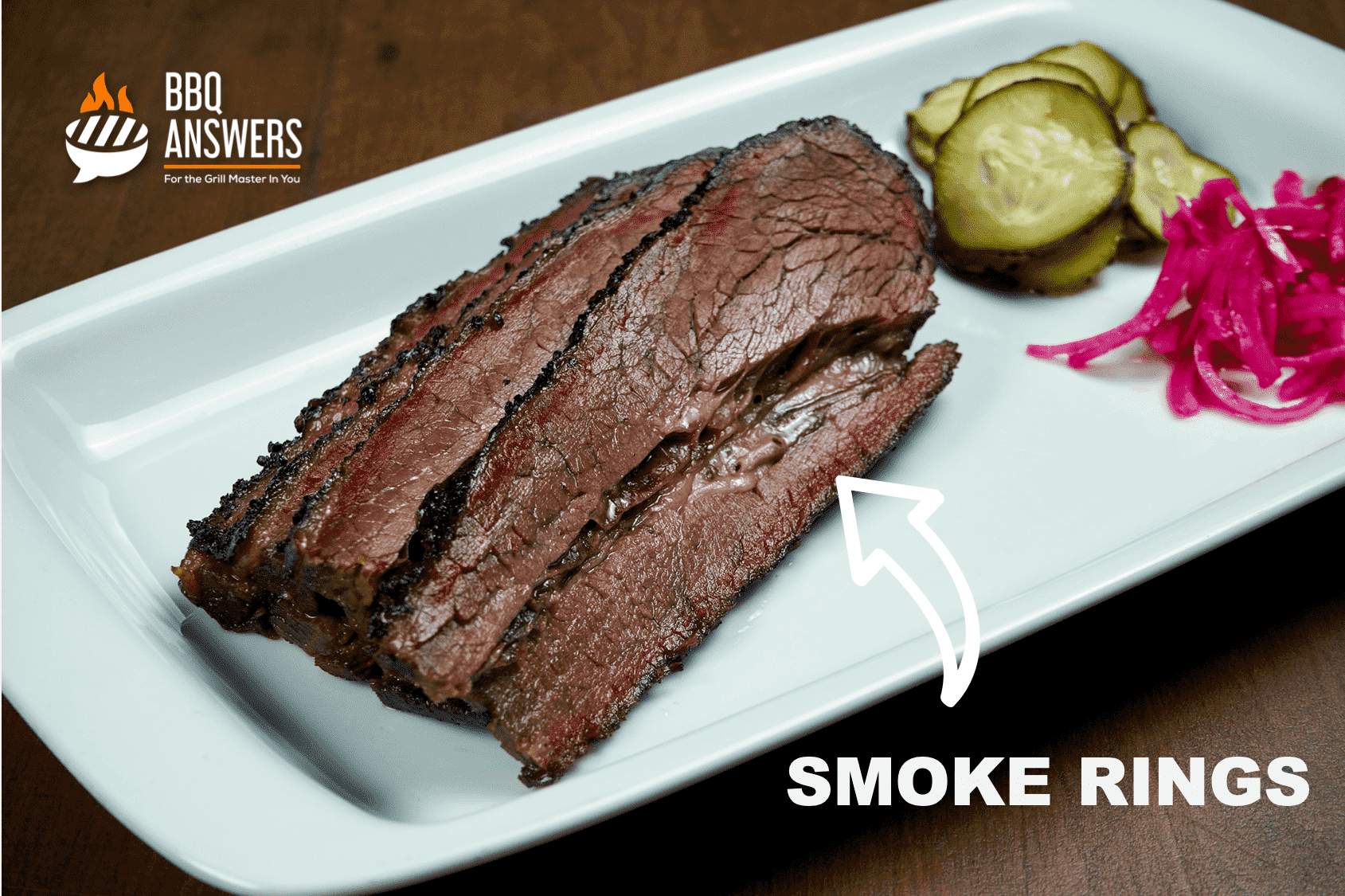 A nicely smoked brisket with a gorgeous smoke ring is every barbecue lover's dream. However, they seem impossible to achieve without a smoker – I want to prove otherwise.
Today I am going to share my brisket recipe that doesn't need a smoker and guarantees a beautiful smoke ring. To achieve this, we will use the Sous Vide method.
Time: 48 hours approx.
Equipment Needed
Sous Vide

Machine

Sous Vide Bags

Whisk

Brush

Syringe (Optional) 

Large container to soak the meat

Oven
Ingredients
6kgs of Brisket
20g of Prague Powder No. 1 (Optional, this is for the smoke ring)
Brine
8 liters of Water

240g of Smoked Salt

160g of Brown Sugar 

120g of Liquid Smoke (Hickory or Mesquite)
Glaze
240g of Molasses 

120g of Liquid Smoke (Hickory or Mesquite)

60g of Liquid Aminos or Soy Sauce (for umami flavor)
Brisket Rub
100g of Smoked Salt

200g of Brown Sugar 

120g of Chipotle Powder or Smoked Paprika 

100g of Black Pepper 

45g of Mustard Powder 

30g of Onion Powder 

15g of Garlic Powder
Procedure
Trimming the Brisket
If you are starting with the whole packer brisket, trim the hard fat from the brisket. Places like the bottom of the point and flat will have a lot of hard meat to remove. This needs to be done because the hard fat doesn't render as well and does not let the seasoning penetrate the meat.

Trim the fat cap at the top to somewhere around ⅓ to  ¼".
Brining the Meat
Add 8 liters of water in a large container and add the rest of the brining ingredients.

Give it a whisk so that all the ingredients are dissolved.

Before placing the meat in the brine, you can use a syringe filled with the brine to inject the meat (this shortens the brining time).

Place the brisket in the fridge and allow it to brine for 24-48 hours if you used the syringe method. If not, let the meat brine for five to seven days.

To help the formation of a smoke ring, take out around a cup of brine, and add 20g of Prague Powder No. 1 and whisk till incorporated. Whisk it back into the brine and let the meat sit for another 2-3 hours. (If you brine for longer, you'll get a deeper smoke ring.
Glaze and Sous Vide
Mix the glazing ingredients together and set aside.

Prepare the Sous Vide setup (the Sous Vide machine and the Sous Vide bag) 

Brush half of the glaze evenly over the surface of the meat.

Transfer the meat into a heavy-duty plastic Sous Vide bag and Sous Vide it at 155°F (68 °C) for 24 hours.
Rub and Roast
Prepare the brisket rub by combining all the brisket rub ingredients and set aside.

After 24 hours, take the brisket out and pat dry. 

Take the leftover glaze and brush it on. 

Pat the Brisket rub evenly on all sides.

Preheat the oven to 257 °F (125 °C).

Place the meat on an oven rack, and allow it to roast for 3-4 hours, to allow crust formation.

When time's up, take the meat out and let it cool for a few minutes before slicing it up and serving.
Enjoy this smoker-less smoked brisket!
Final Thoughts
I hope this article helped demystify the topic of smoke rings. If you have any questions, feel free to comment below, and I'll do my best to address them for you.
If you're attempting a smoke ring, I recommend learning the Fundamentals of Barbecue Smoking and the basics of Barbecue Wood Selection.
For answers to all your barbecue-related questions, subscribe to BBQanswers.com by hitting the bell icon on the bottom left-hand side of your screen.