Is BBQ Food Keto-Friendly? Ultimate Guide, FAQs and Recipes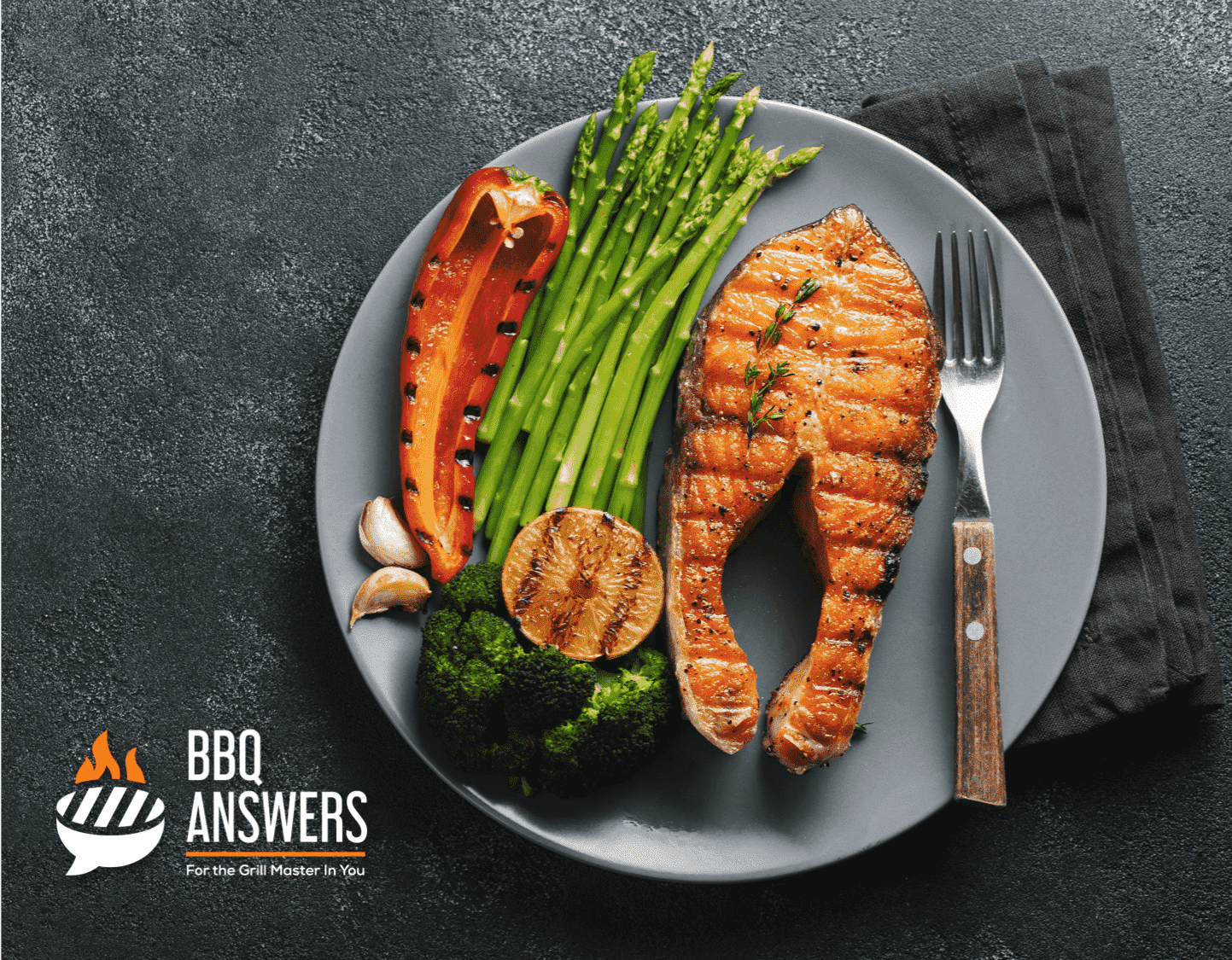 With so many people seeing amazing results with the keto diet, I'm sure that the keto diet is here to stay. But like every barbecue-lover starting with the Keto diet, you may ask yourself, "Will I have to sacrifice barbecue food for Keto?" The short answer is, "not if you know what to eat!" 
Through this post, we will answer several unanswered questions regarding BBQ and Keto. I'm also sharing my favorite Barbecue Keto recipes to help you lose weight, all while enjoying your favorite BBQ food.
Let's get right into it.

FAT

75%

75%

PROTEIN

20%

20%

CARBS

5%

5%
Keto is a weight loss diet that comprises low or restricted carbs and high-fat content food. Reducing carbs puts your body in a metabolic state called ketosis. In this state, your body becomes exceptionally active at burning fat as an energy source. A standard ketogenic diet consists of 75% percent fat, 20% percent protein, and 5% percent carbs. 
There are a lot of versions of the keto diet, such as high-protein keto, cyclic keto, lazy keto, Mediterranean keto, and clean keto.
Is BBQ Keto?
Barbecue is keto-friendly if it has low carbs and no added sugar. Many people think it's impossible to lose weight eating Barbecue food, but research suggests otherwise. Barbecue keto is getting popular by the day. However, be sure not to cross the daily protein limit (1.2-1.7 grams) of the standard keto diet.
What Type of BBQ Meat Can You Eat in Keto?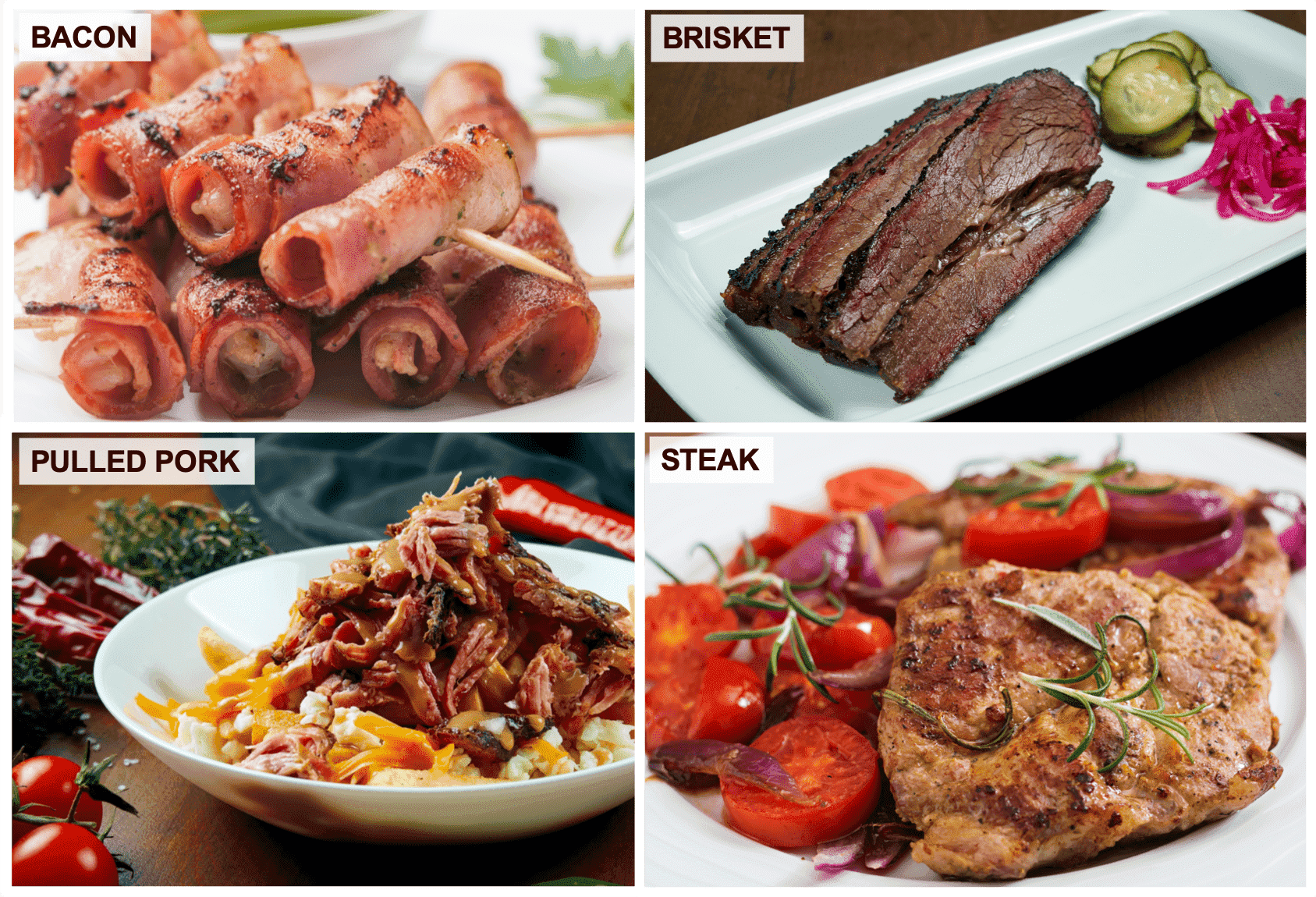 If you want to enjoy BBQ on the keto diet, grilled meats such as brisket, steaks, pulled pork, and bacon are great BBQ choices. Be sure to choose a slice of meat with the right amount of marbling. The more fat, the better because it will push your body into the ketosis state. 
However, be careful that your meats, especially bacon, aren't covered with a sugary sauce. This could instantly end ketosis.
You can also enjoy low carb stir-fried veggies, caesar salads, and cheese sticks. No, that's no typo! Cheese is totally fine to have on a keto diet. 
Did you know?
9 out of 10 of my friends agree that Barbecue is the tastiest way to reap the benefits of a ketogenic diet. I now have nine friends.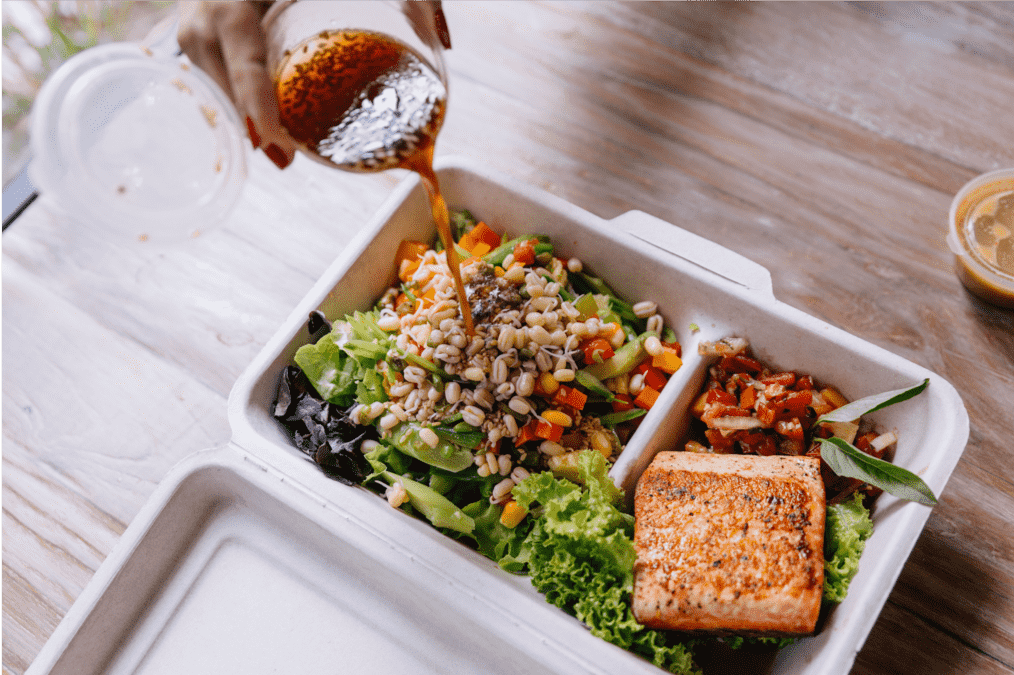 No BBQ is complete without BBQ sauce. So if you want to have a BBQ while on a ketogenic diet, here are a few things that will definitely come to mind:
Is BBQ Sauce Keto-Friendly?
Not every BBQ sauce is keto-friendly. Ordinary BBQ sauces will kick you out of ketosis because most BBQ sauces have a lot of carbs, sugar, and preservatives. However, you can find numerous keto-friendly BBQ sauces in the market. Some keto-friendly BBQ sauces use dates and tomatoes instead of sugar to produce a fresh, sweet, and tangy taste. Read the labels and ingredients carefully to ensure that the sauce doesn't contain sugar or carbs. Also, try to eat organic whenever possible.
Is Every Sugar-Free BBQ Sauce Keto-Friendly?
Yes, consuming sugar-free BBQ sauce will not kick your body out of ketosis. Sugar-free BBQ sauces usually contain sucralose, which is considered keto-friendly. If you are more keto conscious and want to avoid artificial sugar, look for BBQ sauces with the following ingredients:
Stevia

. It is a keto-friendly sweetener derived from the leaves of the plant species Stevia Rebaudiana. This is best when used in limited amounts.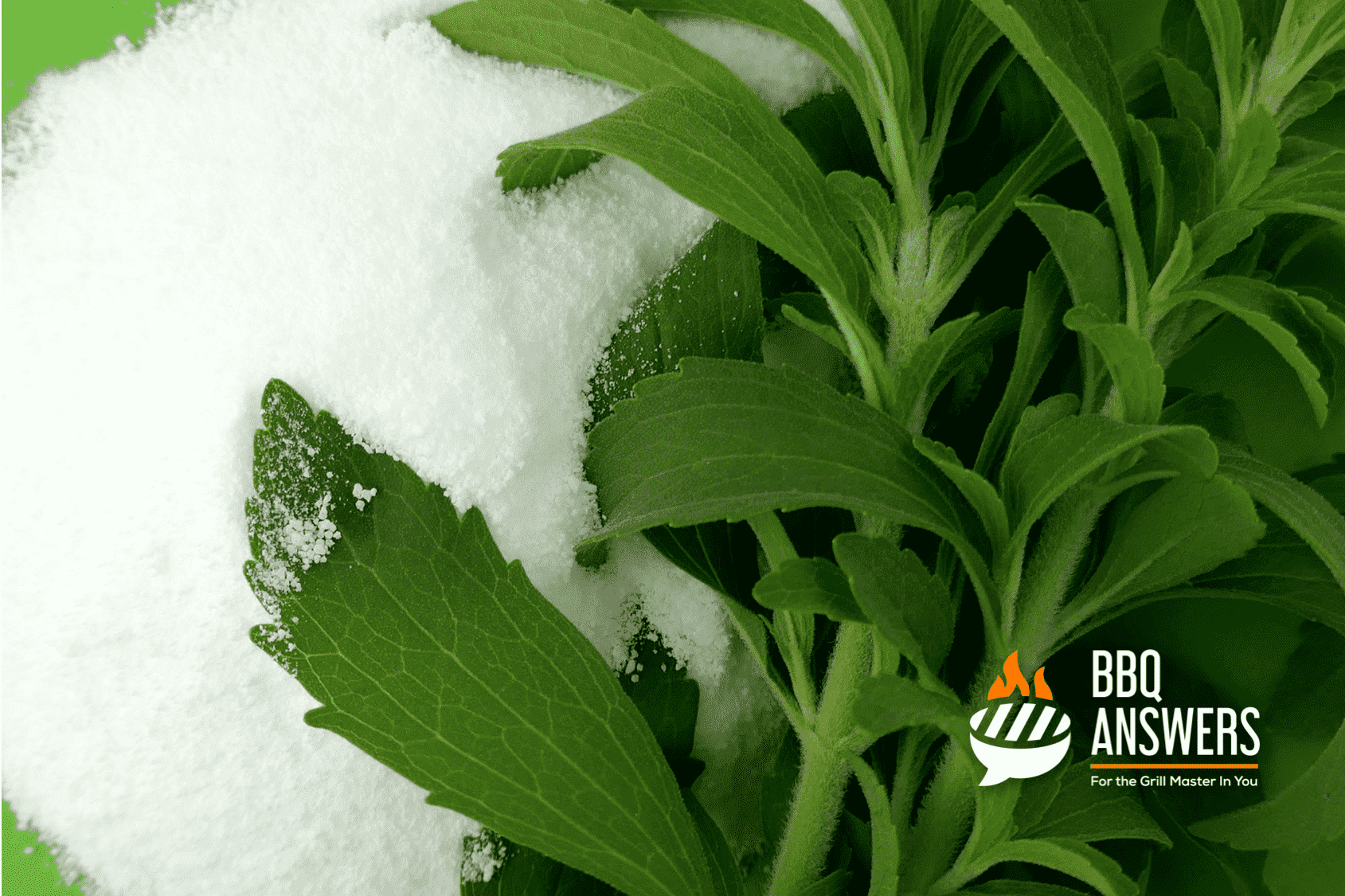 Note:
While only Stevia is a sugar substitute, the other ingredients help to improve the taste of BBQ sauce in the absence of sugar.
Dijon mustard is made from mustard seeds and wine vinegar. It gives a natural flavor to BBQ sauce.
Balsamic vinegar helps to curb your cravings for carbs by adding sweetness to your BBQ sauce. Don't worry, BBQ sauce with vinegar will not kick you out of ketosis.
Chipotle powder is a blend of grounded chilies and herb. It adds a distinct smell to BBQ sauce in the absence of sugar.
Keto-Friendly BBQ Sauce Recipe
This is the safest option for a keto BBQ sauce since you have control over all the ingredients. It is quick, easy and requires few ingredients. Most importantly, you can customize it as per your preference.
Ingredients
Half cup tomato paste(homemade)

One tbsp.

 

chipotle powder

Four tablespoons balsamic vinegar/ apple cider vinegar

Half tsp. onion and garlic powder

Two tablespoons black pepper powder

A pinch of clove powder

A sugar substitute (Yacon syrup or Stevia-based sweetener)

One tsp liquid smoke

Four tablespoons of sesame oil
Method
Heat sesame oil in a saucepan and add tomato paste in it. Cook it for two minutes and later add vinegar.

Mix it well and add onion garlic powder, chipotle powder, salt, and black pepper into the tomato and vinegar mixture.

Mix all the ingredients and cook it for more five to eight minutes. Add sweetener and liquid smoke into the sauce and turn off the flame. Your homemade keto-friendly BBQ sauce is ready.
Cool the sauce and store it in an airtight glass container for up to two weeks.
Note:
If you're particular about keto, you can skip the sweetener too. The tomatoes add a distinct tangy flavor of their own to the BBQ sauce.
BBQ Pork and Keto
Can I Consume Pork BBQ On a Keto Diet?
Yes, you can eat pork BBQ while following a standard ketogenic diet. It is best to consume fatty meat such as pork belly and ribs, lamb ribs, and chicken/ turkey with the skin. Many keto dieters eat pork BBQ regularly because it is a good source of protein while being low in carbohydrates.
You can make different versions of pork BBQ, but don't forget to use the low carb and sugar-free keto-friendly BBQ sauce. Here's my favorite pork BBQ ribs recipe.
Keto-Friendly BBQ Pork Ribs Recipe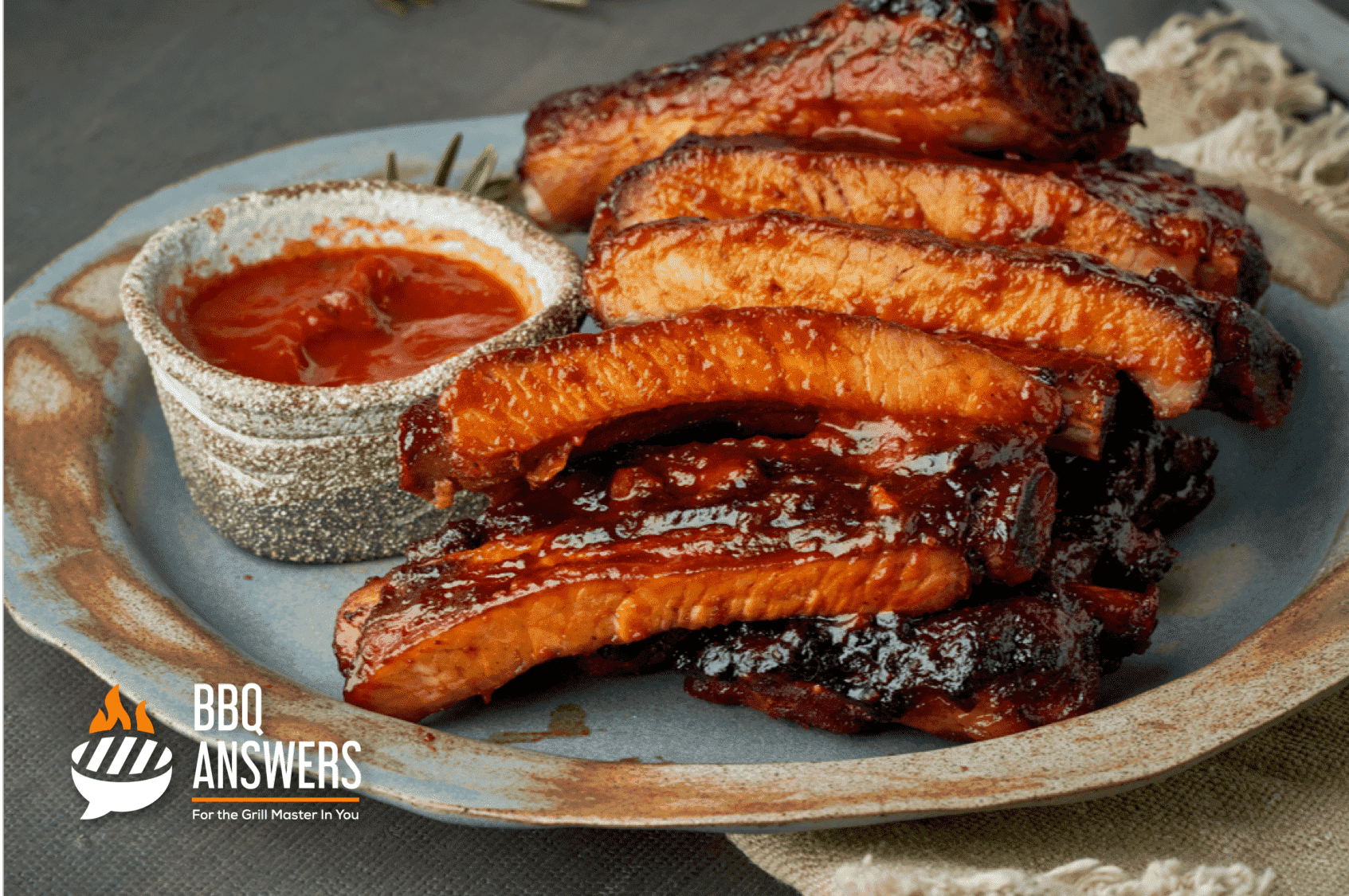 I prefer the less saucy version of BBQ pork ribs because the ones immersed in sweet BBQ sauces (like those you find in restaurants) are enough to kick one out of ketosis. I also hate to scrape off several layers of batter just to get to the meat. 
That's why I make my version of BBQ keto pork ribs. It is simple and easy to fix. 
Ingredients
Pork spare ribs (spare ribs are meatier, with more fat)

Four tbsp Homemade BBQ sauce

Salt as per taste 

One tsp black pepper

One tsp red paprika

One tsp mixed herbs

Two tbsp of any healthy, keto-friendly oil
Method
First, make the marinade by mixing all the ingredients in a bowl. Simply put homemade BBQ sauce in the bowl and mix all dry ingredients in it.

Later rub this marinade on your keto ribs. Let it stay for twenty minutes and then grill them or BBQ them. You can even roast them if you prefer. But be sure to use our

Keto-Friendly BBQ Sauce Recipe

to ensure that these BBQ pork ribs are keto-friendly. 
Keto BBQ Pulled Pork Recipe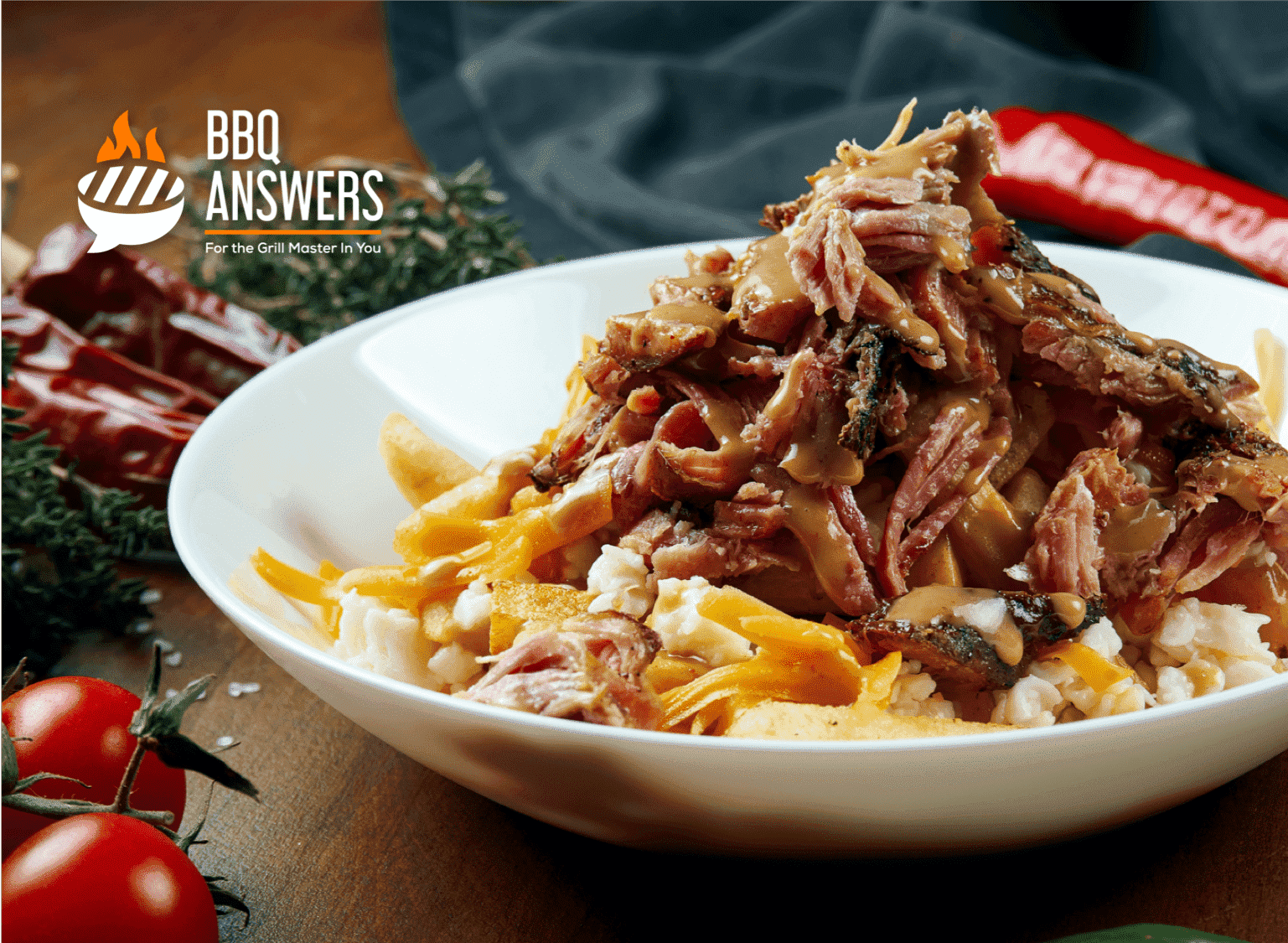 This keto pulled BBQ pork is a favorite in my house. The tangy homemade BBQ sauce works perfectly with the richness of the pork. If you haven't made this type of BBQ pulled pork, you need to give it a try. The homemade Keto-Friendly BBQ Sauce Recipe works well with it. The zest and seasonings of this recipe are amazing, and you can adjust this recipe to suit your preference.
Ingredients
One kg boneless pork shoulder

One tsp cumin powder

One tsp chili powder

One tsp onion powder

One tsp garlic powder

One tablespoon balsamic vinegar

Fat or oil of your choice

Salt as per taste

One tsp. black pepper

Half cup homemade BBQ sauce

Two cups chicken broth
Method
First, mix all your dry seasoning and dry ingredients in half a cup of homemade BBQ sauce. Be careful when adding salt as BBQ sauce already has salt. Then rub this paste on your pork and let it marinate for half an hour. 

Now put a medium-sized saucepan on medium heat and pour the broth into it. Bring it to a boil and add marinated pork into it with two tablespoons of oil.

Bring down the flame and let it cook for two hours until it gets soft, and all the broth dries up. Shred the pork with a knife and drizzle your keto BBQ sauce on it. You can enjoy it with grilled vegetables too.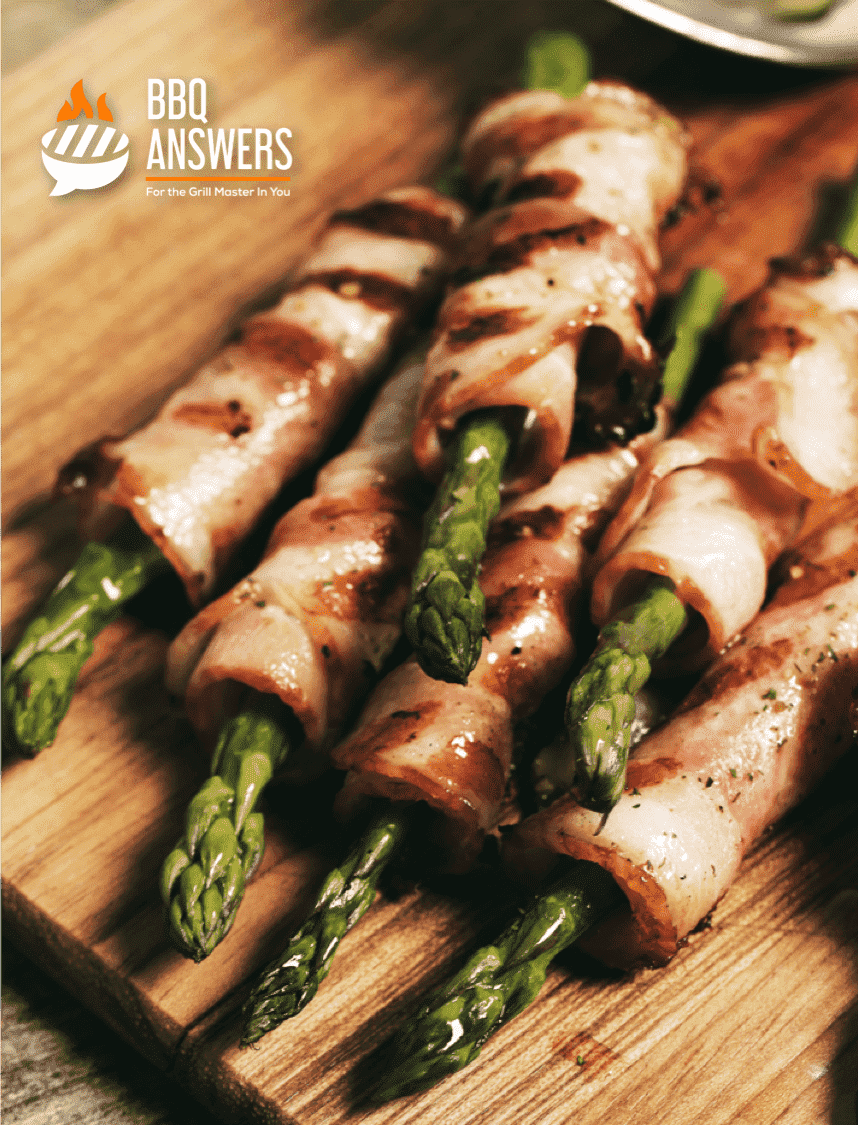 Everything in life, including your keto diet, is easier with bacon.
The good news is that you can have BBQ bacon during keto. The bad news is that there's still a lot of misinformation about whether bacon is a keto-friendly food. 
Bacon is a good source of protein and dietary fats. Five hundred grams of bacon only has about 0.5 grams of carbs and, depending on what the pig's diet, bacon from some species can have even lesser carbs. 
Keto-Friendly BBQ Bacon Meatloaf Recipe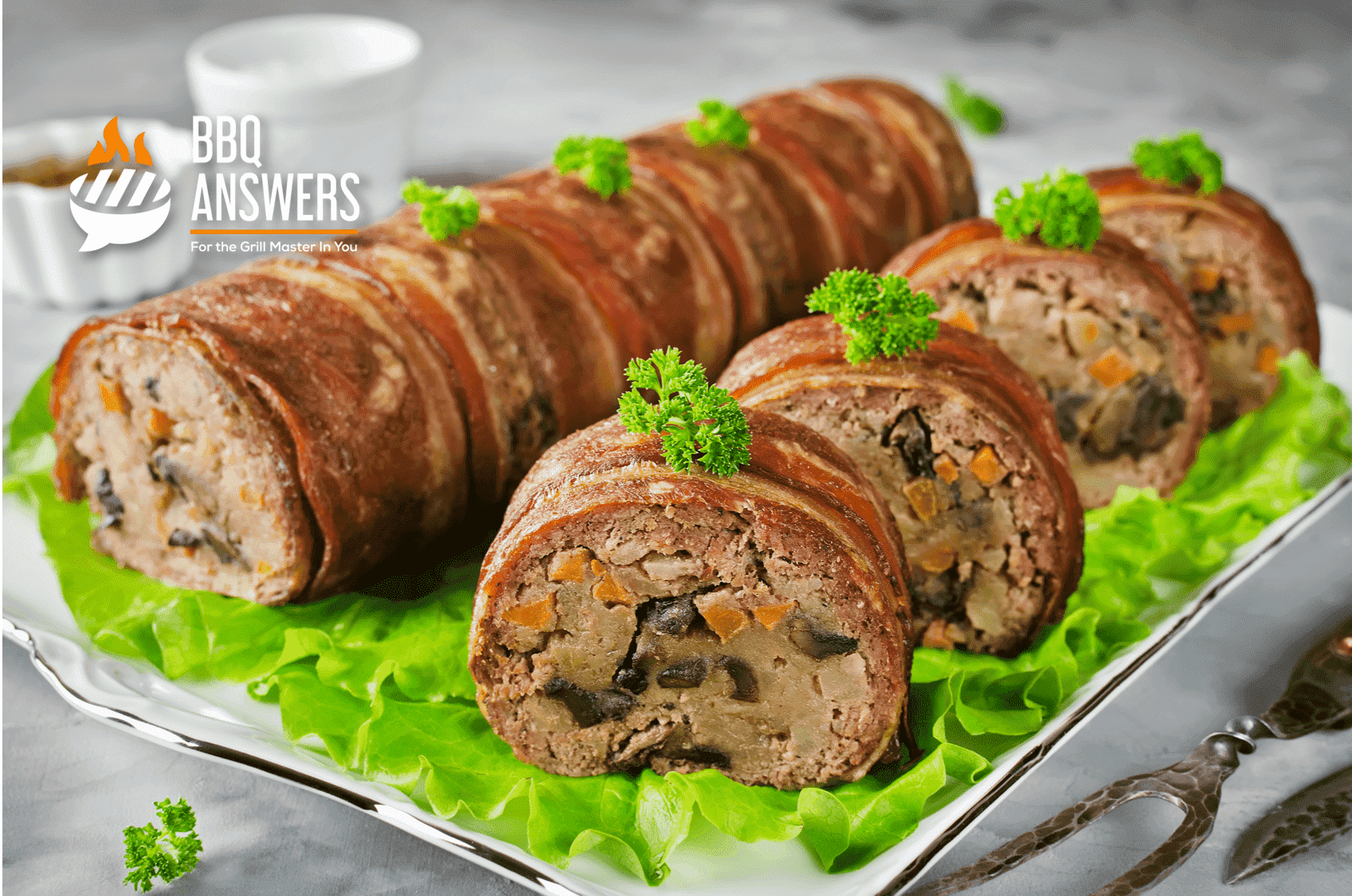 This recipe is my absolute favorite.
Ingredients
Half kg Ground beef, 

Four tbsp sugar-free keto-friendly BBQ sauce (I use my

homemade BBQ sauce

)

Half cup grated parmesan cheese

Crumbled bacon strips as much you want to add

one tsp onion powder

One tsp black pepper

Salt per taste

Some basic seasonings like chopped coriander leaves
Method
Mix salt, pepper, and onion powder in minced beef evenly. Then spread the beef in the baking tray and cover the minced beef with parmesan cheese, and now layer crumbled bacon strips on it. Now spread BBQ sauce evenly on the top of the dish.

Bake it for 25 to 30 minutes in a preheated oven at 180°C (or 356

°F)

.

Beef and bacon provide you protein and fats, and homemade BBQ sauce enhances the taste without kicking your body out of ketosis. Cheese is also perfect for making this BBQ bacon meatloaf keto-friendly.
Keto-Friendly BBQ Side Dishes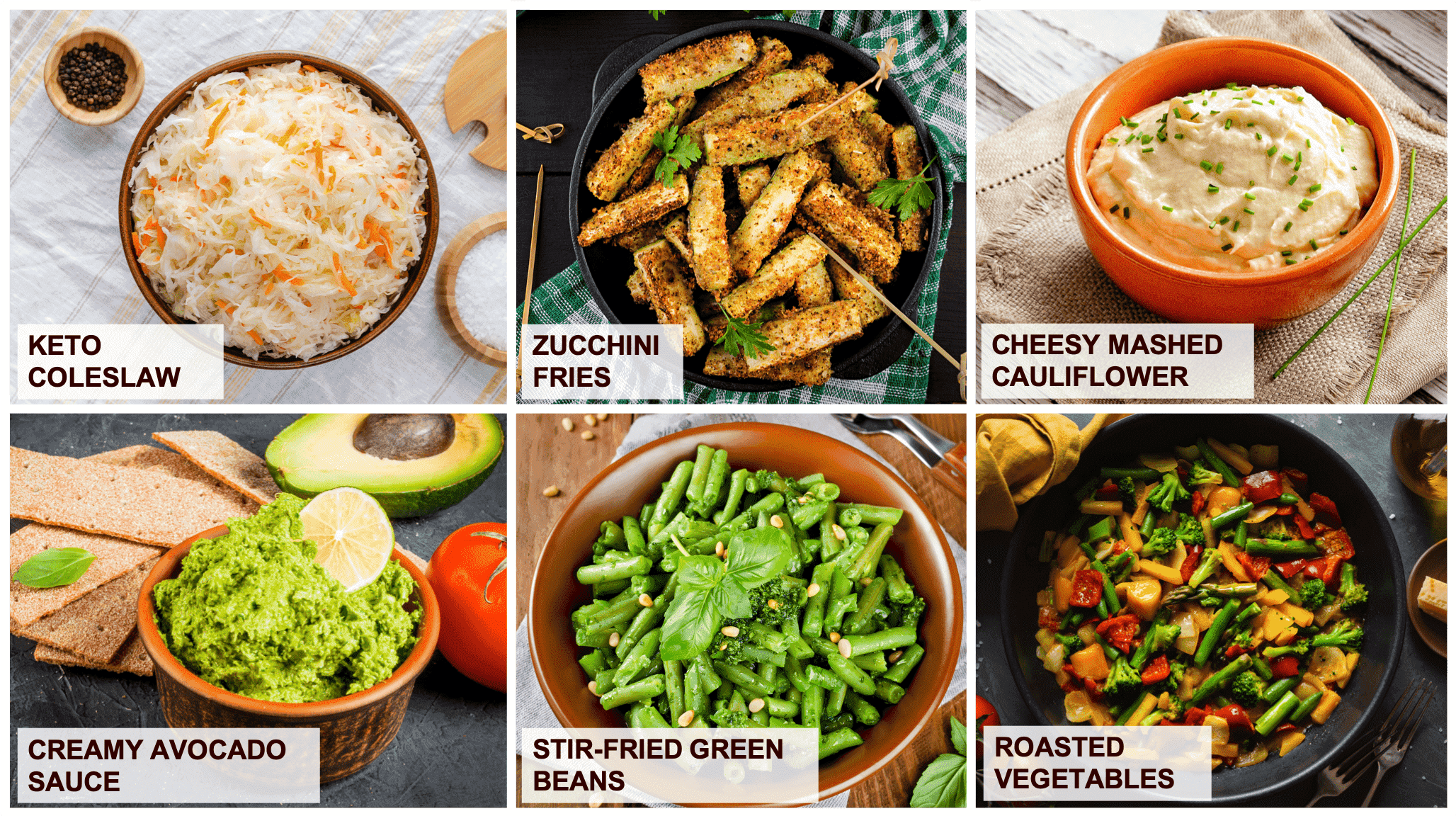 Here are a few side dishes options that go well with keto BBQ recipes. You can easily prepare these side dishes at home.
Stir-Fried Green Beans
Stir-fried green beans pair

well with BBQ steaks and slices of bacon. They are low carb and are nutrient-rich.

Cheesy Mashed Cauliflower
Usually, mashed potatoes are served with BBQ steaks, but a side of cheesy mashed cauliflower is just as tasty. Cauliflower is low carb, and cheese is a healthy fat option for keto. To make Cheesy Mashed Cauliflower, boil your cauliflower, mash it, and add cheese to it. Sprinkle some salt and black pepper, and your cheesy mashed cauliflower is ready.
Keto Coleslaw
It goes well with all kinds of BBQ keto recipes. It is really easy to make. Shred your cabbage (purple and green) and carrots in a bowl. Add sesame oil and apple cider vinegar, salt, and pepper in a small bowl and whisk them well. Pour this dressing on shredded vegetables. Usually, coleslaw has sweetened dressing, but to make it keto-friendly, I skip the sweet dressing. If you like it sweet, you can add Stevia or any keto-friendly sweetener.
Zucchini Fries or Chips
If you're missing French fries with your BBQ steak, then you can make zucchini fries. Cut the zucchini into any shape, sprinkle salt and pepper and fry them like French fries.
Creamy Avocado Sauce
It is very easy to make, and it pairs well with any keto BBQ meat. Take one large avocado, and peel it. Put the avocado into a blender along with sour cream, two garlic cloves, salt, pepper, and lime juice. Blend all the ingredients to make a creamy avocado sauce.
Roasted Vegetables
You can grill or roast your favorite low carb vegetables like broccoli, asparagus, etc.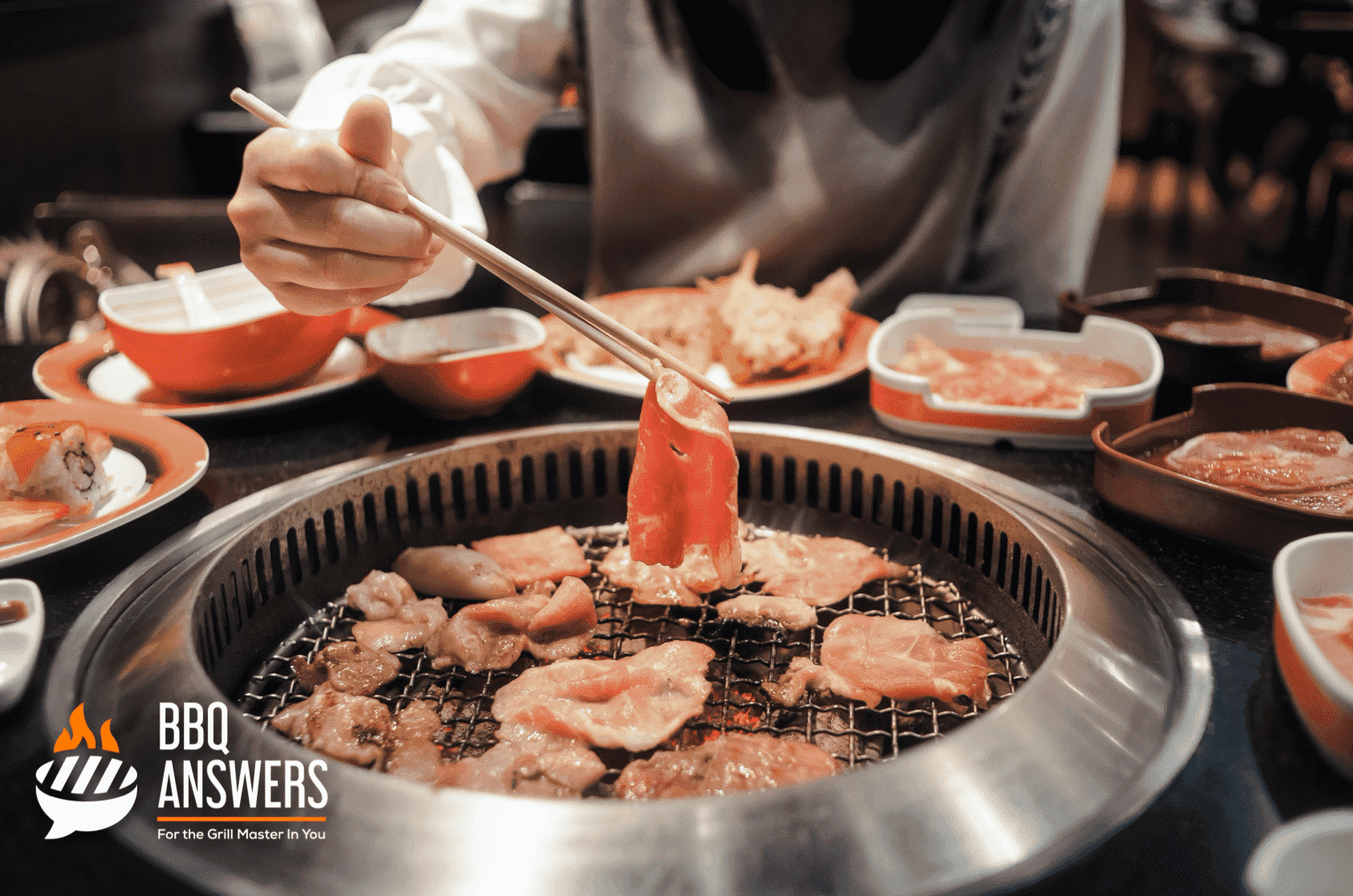 Is Korean BBQ Keto?
It's hard to follow a keto diet if you love Korean Barbecue or other authentic Korean recipes. Korean recipes are incomplete without rice and noodles, but a few Korean BBQ recipes are keto-friendly. 
Korean BBQ dishes like plain meats and seafood are Keto-friendly when prepared without sauces and infusions. You can eat Korean BBQ Pork belly and neck, BBQ rib eye and sirloin steak and short ribs without worrying about your diet. However, don't eat any BBQ Korean dishes such as Bulgogi, Galbi, or Jangeo Gui, which are marinated in soy sauce or ssamjang sauce.
This is because Korean BBQ sauces are usually loaded with sugar and carbs. These sugar-loaded BBQ sauces can ruin your keto diet instantly. 
Keto-Friendly Korean BBQ Side Dishes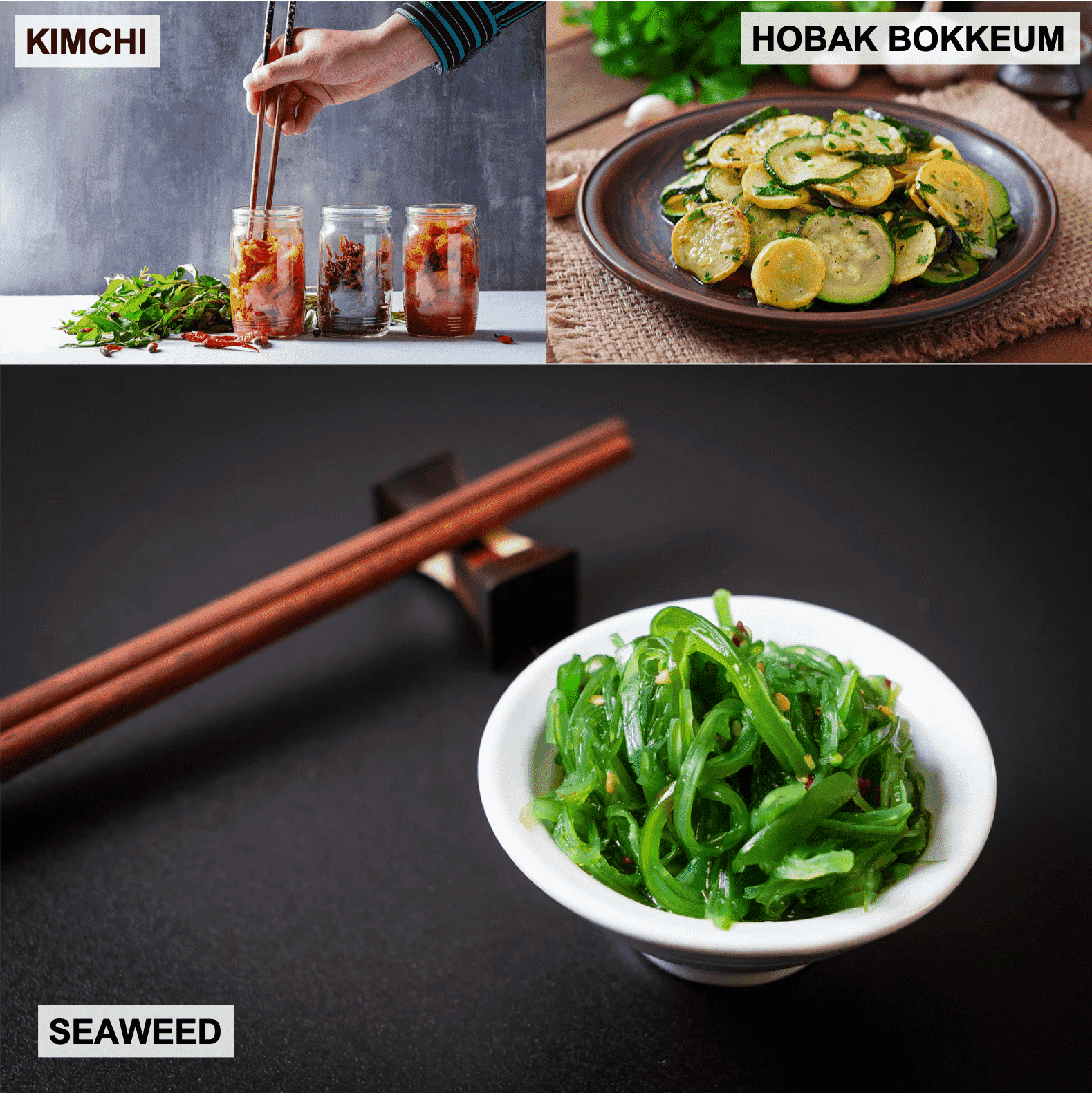 Never order any side dish with noodles and rice as they are laden with carbs. You can eat poultry-based side dishes such as Korean rolled omelet strips. You can eat kimchi (without sugar), Kale Namul, Hobak Bokkeum, and seaweed. 
You can enjoy all the dips and sauces with sesame oil, vinegar, and salt. Sesame oil will provide you a good fat portion of the keto diet. If you're unsure of the ingredients in any particular sauce, ask the captain or host about it. If they're unsure, it's best to avoid it so that you don't fail your keto diets.
Korean BBQ Keto Ribs Recipe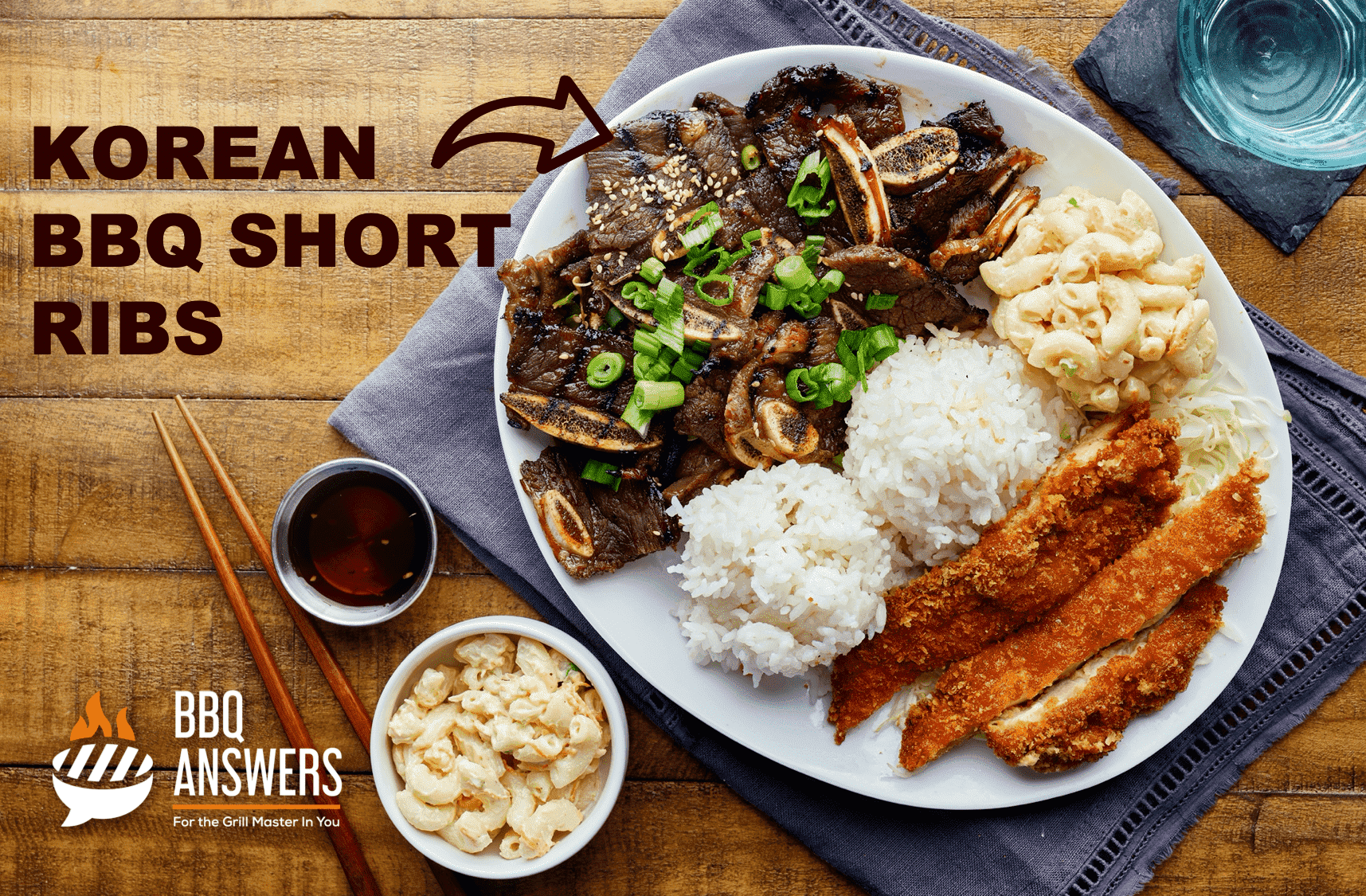 These Korean style keto ribs are yummy and very easy to cook. Korean beef ribs are Low-Carb (approximately 2gram carbs) and the perfect for a keto dinner.
Ingredients
One and a half kg (Beef, Bone-in Ribs)

Four cloves garlic minced

One tsp. Ginger (ground)

One cup beef broth

Half tsp. black pepper

Half cup homemade BBQ sauce

Half tsp. Korean pepper flakes

Four tbsp. of  Rice Vinegar or Balsamic Vinegar

Two tbsp. Sesame oil
Method
First, make a marinade by mixing dry ingredients in vinegar and BBQ sauce.

Rub this marinade on ribs generously and let them marinate for an hour to absorb the goodness of the spices and sauces. I'm not using any soy sauce and sugar in this recipe to make it more keto-friendly. I'm using homemade keto BBQ sauce,

Put one cup of broth in a saucepan, put the ribs in the broth, and cook for half an hour on a low flame. Remove the ribs from flame once they get tenderized in the broth.

Now put sesame oil in any grill pan and let it heat up for a few seconds. Put ribs on the pan to grill them or crisp them from both sides. It takes about almost two minutes to crisp both sides. 

You can enjoy these Korean BBQ keto ribs with keto-friendly BBQ sauce. You can make a keto-friendly dip by mixing tomato paste, sesame oil, salt, pepper, and rice vinegar. The avocado sauce can also pair well.
Tips to Enjoy BBQ in A Restaurant Without Sacrificing Your Ketosis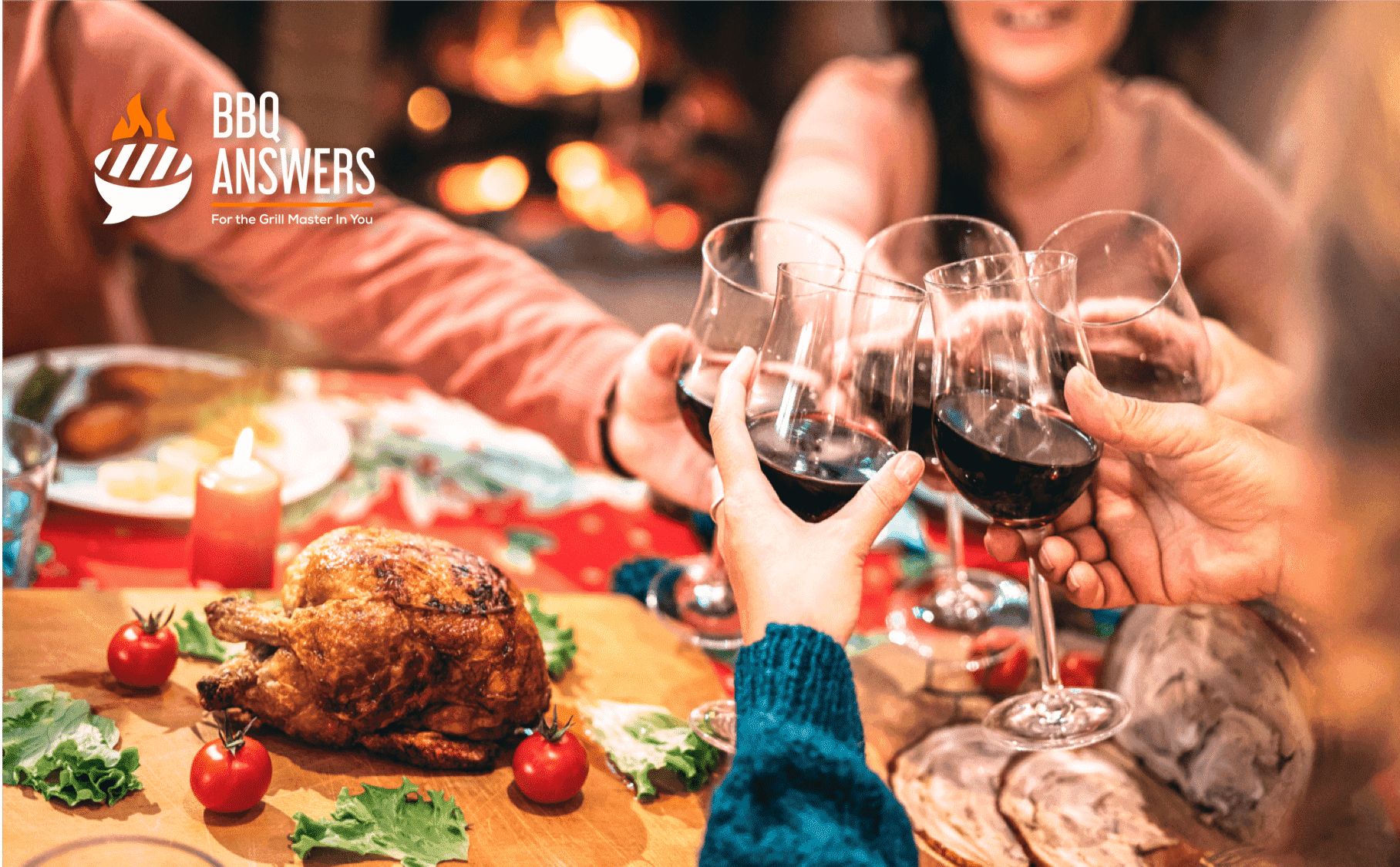 It can sometimes be hard to stick to the keto diet when you want to enjoy a Barbecue at a restaurant. This is because there's always a chance that some unsuitable ingredients in the marinades, sauces, etc., will kick you out of ketosis. 
Here are some tips that will help you maintain your keto diet and while enjoying your BBQ.
Order Simple/Plain BBQ Meat
If you are on keto and want to enjoy BBQ in the restaurant, try to order plain BBQ meats. Plain grilled chicken and steak are wise choices because they're not slathered with sugary sauces. These carbs and sugar-based sauces can ruin your keto diet. If you order a BBQ burger, remove the bun, and enjoy the crispy chicken or patty with lettuce.
Be Careful of Side Dishes
People often forget to account for side dishes when trying to follow a keto diet. Remember to avoid all side dishes which have corn and potatoes. Rice, wheat, and noodles are also not allowed as they're loaded with carbs. Mashed creamy potatoes are usually served with your BBQ steak, and they are also loaded with carbs. All side dishes with potatoes will kick you out of ketosis.
Skip the Sweet Sauces, Dips, And Desserts
Sugar is not allowed in keto because your body will start using sugar as a source of energy instead of going into ketosis. So enjoy your keto BBQ steak, but skip all the dips and sauces unless you're sure that the sweeteners used in it are keto-friendly. Honey, maple, agave syrup, and other artificial sweeteners must be avoided. Also, you definitely can't have desserts.
Beware of "Secret" Ingredients
Some BBQ restaurants claim to use secret ingredients for marinating the meat before barbecuing or grilling. Their secret ingredient rub can contain carbs and sugar, which can ruin all your keto routine. If you ask the restaurant captain about the keto-friendliness of the secret ingredients, and they're unwilling to share information, you could always skip the restaurant.
Final Words
I hope this post answers all your queries and helps you enjoy a barbecue while following a keto diet.
Try some of my recipes and let me know how they turned out in the comments section below. 
For more information, recipes, and tips on everything BBQ, subscribe to BBQanswers.com.