Infrared Vs. Electric Grills: A Technological Tussle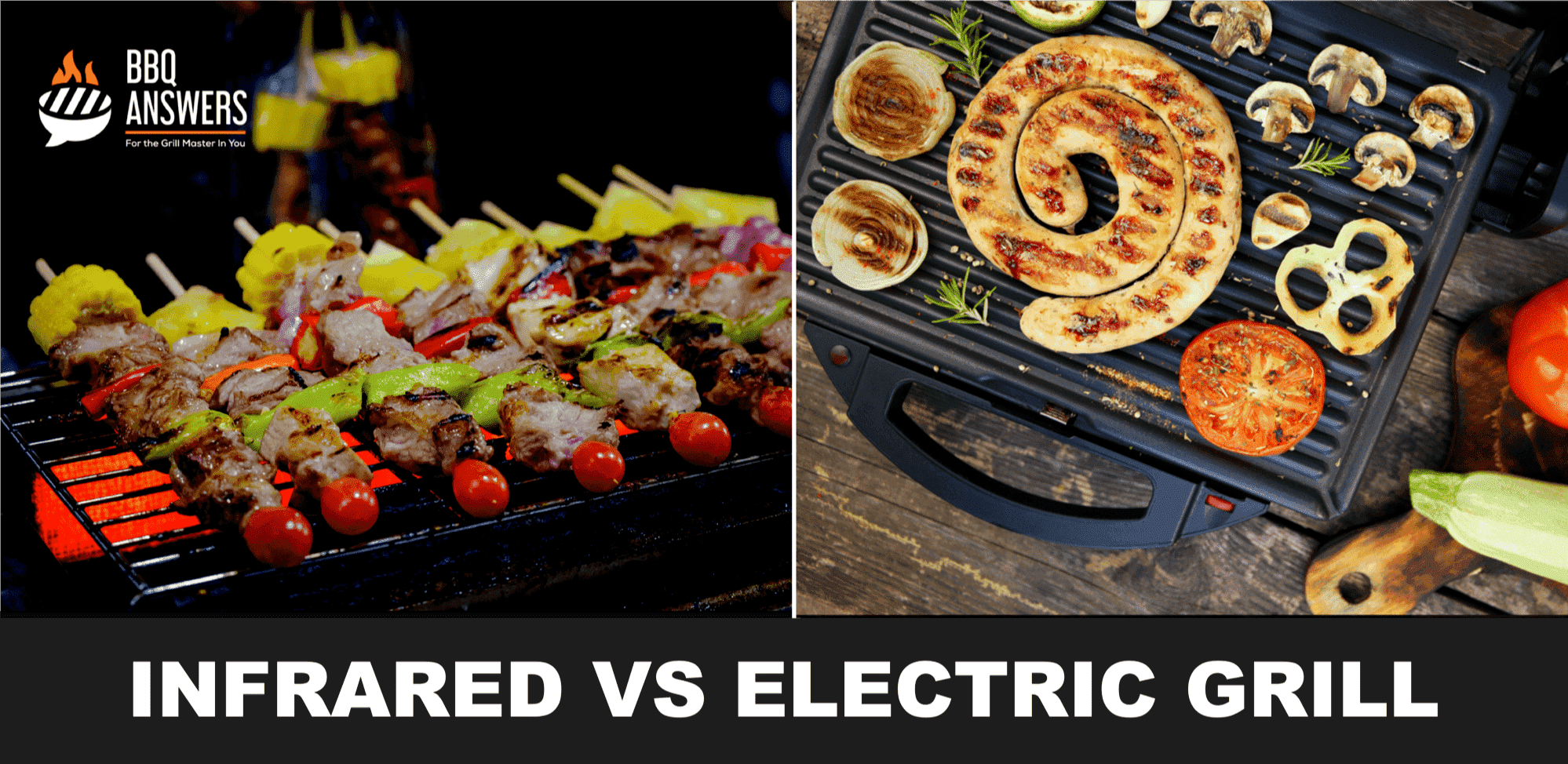 Technology has made our lives undeniably convenient by finding innovative solutions to everyday problems. In the case of BBQ grills, technology also aims to make our world tastier.
This article will discuss the two most technologically advanced grills on the market – Electric Grills and Infrared Grills.
We will address the differences, weigh the pros and cons, bust some myths, and answer a few frequently asked questions.
Let's get started!
Introducing the Grills – Infrared and Electric Grills
Before we can start drawing a comparison, let's briefly identify each grill.
What are Infrared Grills?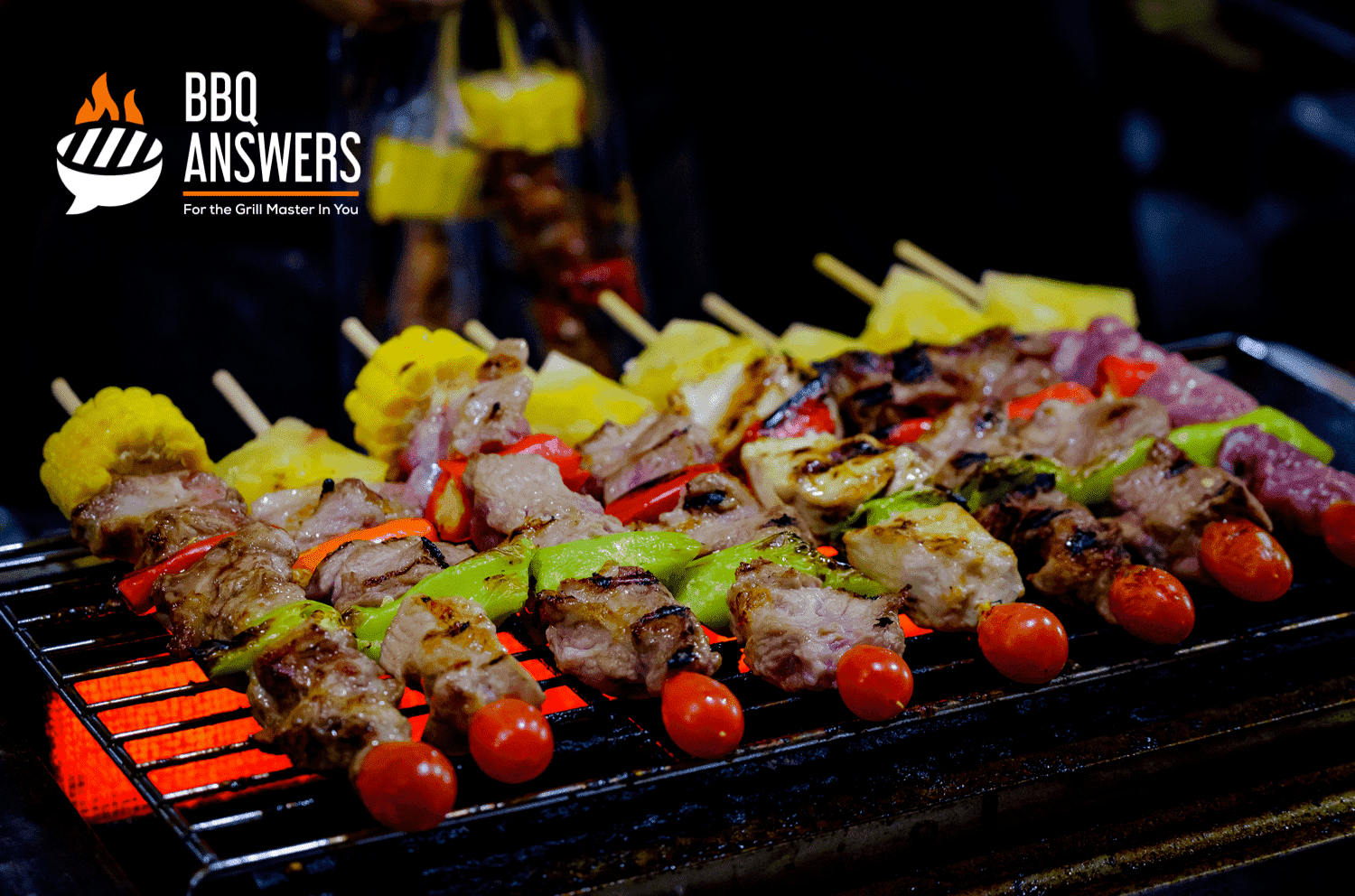 An infrared grill is a cooking device that produces heat using an infrared element that is heated using electricity or gas. This produces infrared heat that directly heats the food on the grill rather than heating the air around it.
It is a comparatively modern device that remains unknown to the vast majority of grillers. However, these grills have begun growing popularity recently. On the outside, it resembles a traditional propane grill, but it greatly differs from it in function.
There are two types of infrared grills systems:
The ceramic infrared burner system features a ceramic surface heated by a stainless-steel burner below it. The ceramic panel generally has a protective wire rack over it to prevent big pieces of food from falling directly on the panels to leave burn marks.
Glass Paneled Infrared Grill
This unique grilling system uses specially designed glass panels to create and distribute heat evenly across its surface. The gas burner below the panel directly heats the glass panels, which creates infrared heat. This technology guaranteed no flare-ups since the flame never comes in contact with any food or food drippings.
When comparing infrared and electric grills, I would be remiss not to mention the electric infrared grill. Unlike other infrared grills that run on gas, these run on electricity. It is the perfect option for those who want the power of infrared technology with the portability of electric grills. They are just as easily categorized under electric grills because of how electrical grills are defined.
What are Electric Grills?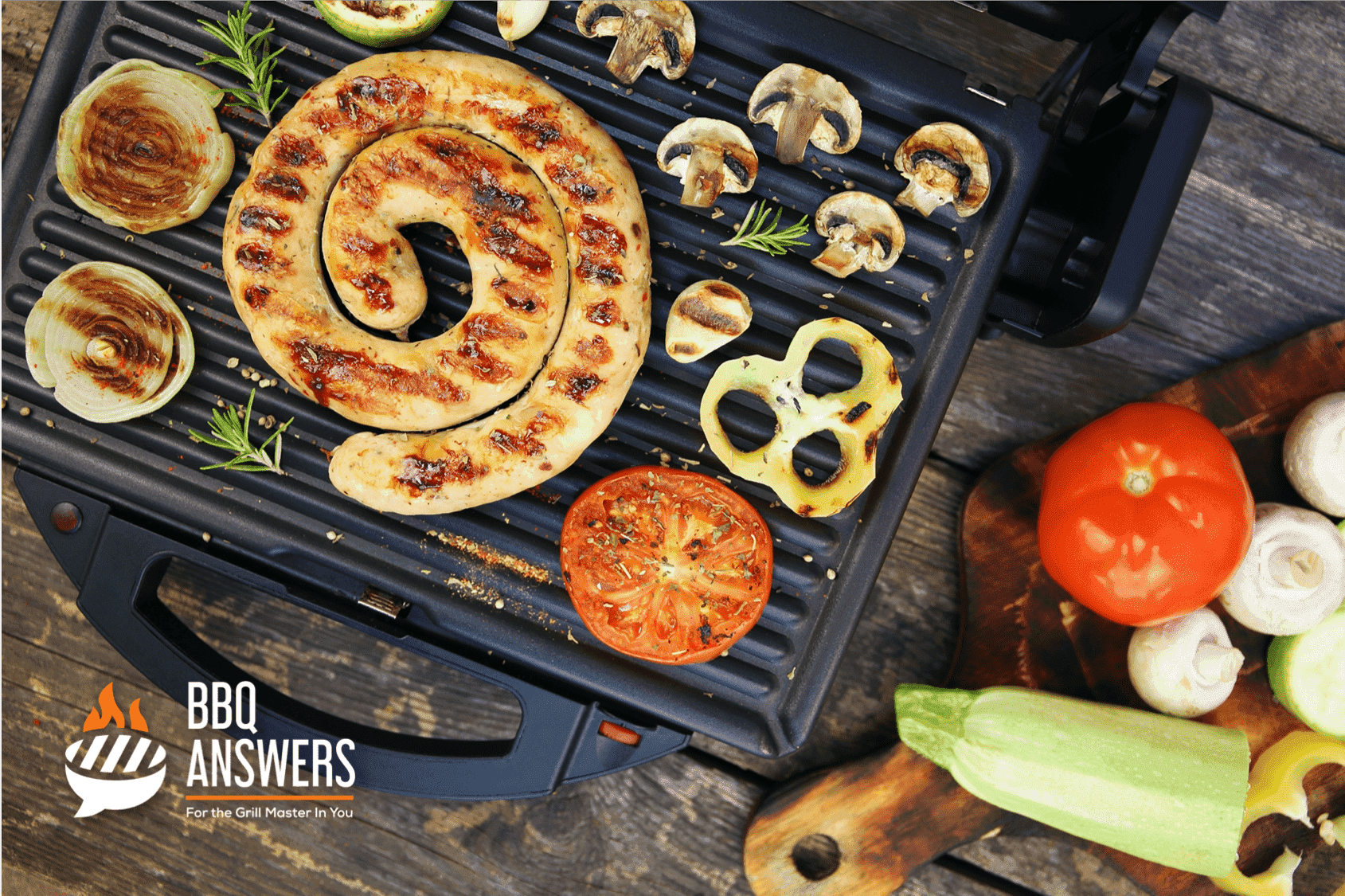 Electric grills are a grilling device that transforms electrical energy into radiant or conductive heat. This heat then passes on to the grilling rack uniformly, which then cooks the food. Since this device does not produce any fumes, it is suitable for indoor grilling.
Electric grills are a more affordable and convenient alternative to traditional grills. However, they often lack the authentic BBQ flavor that other BBQ methods can produce. 
There are two main types of electric grills:
Clamshell Contact Design –

which uses a griddle-like surface to transfer heat through conduction, and 

Open Grill Design –

which uses radiant heat to cook the food that is placed on a regular grill grate.
Differences between Electric and Infrared Grills
Now that we're familiar with the two grills, let us make a feature comparison between the two grills.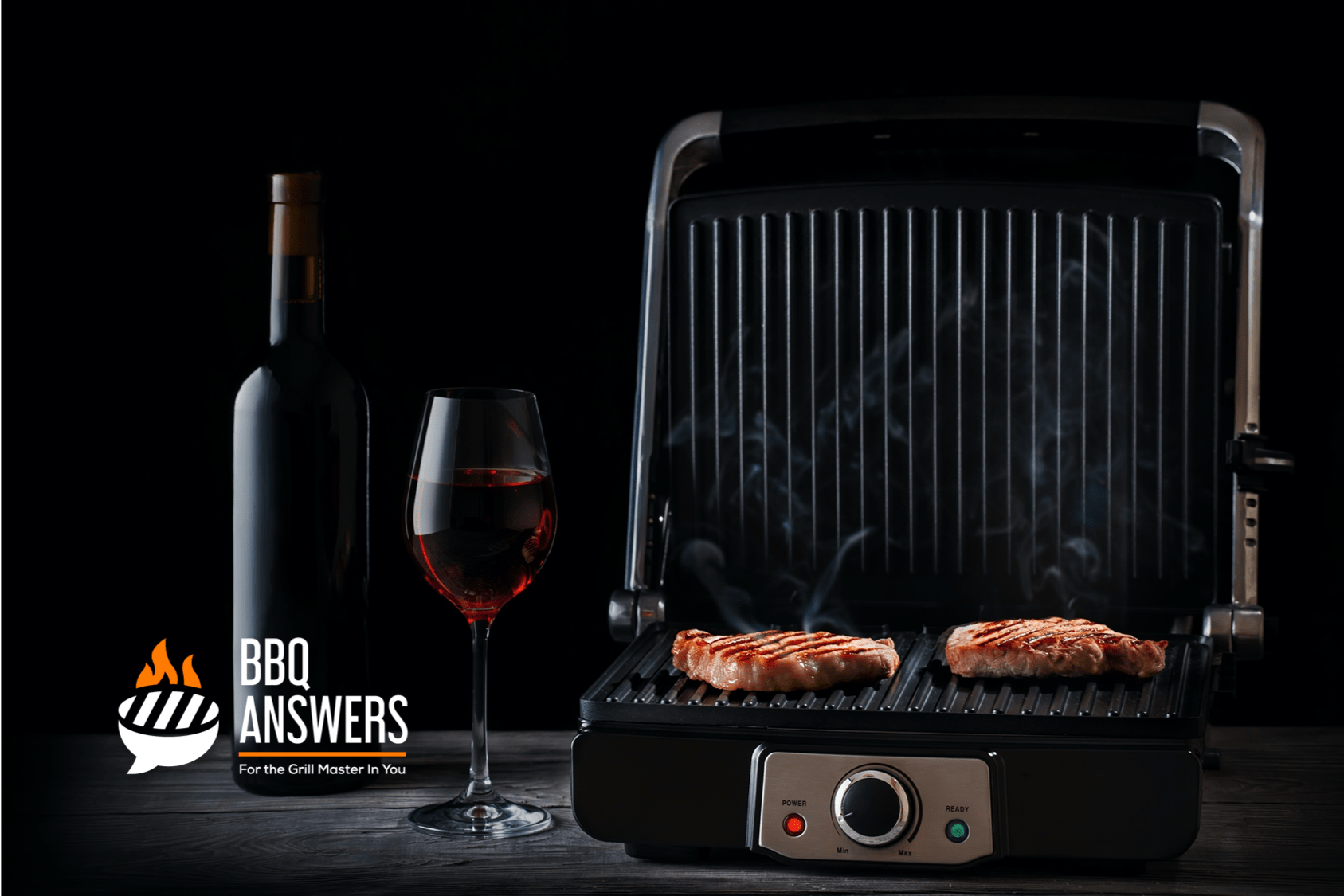 If you're looking for a convenient and easy-to-use device, then electric grills are your pick. They will save you time and require little to no grilling expertise. Once you have the grill heated up, place your food on it, and it will do the rest for you.
However, an infrared grill requires constant vigilance because of the high grilling temperatures. This can be challenging for beginners, but you are sure to achieve excellent results with practice.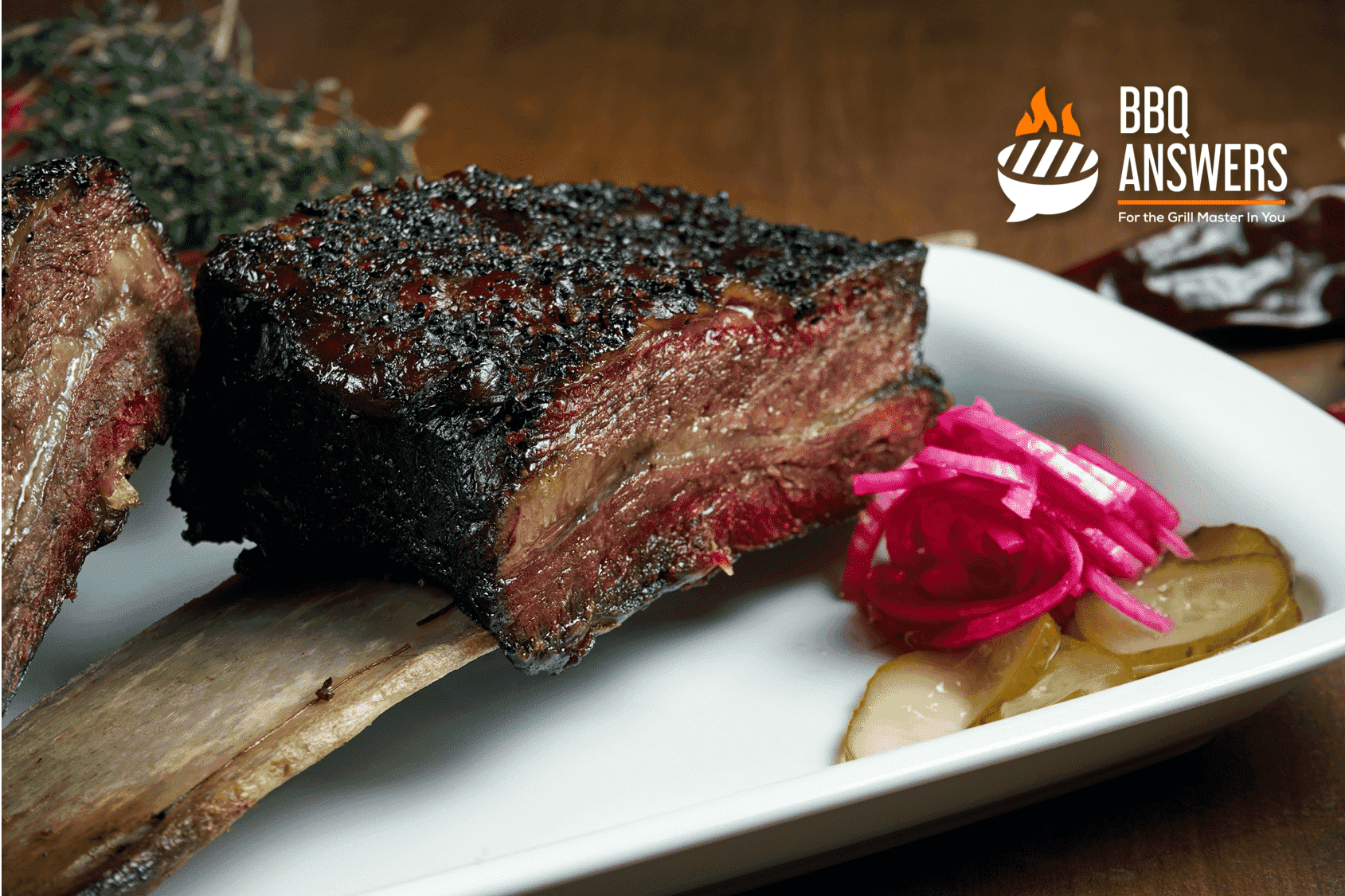 To get BBQ flavor, your grill must be able to produce smoke. 
Infrared grills reach high temperatures for searing meat, and any juices that drip towards the burners are instantly vaporized. This creates smoke that can add a lot of flavor to meat if kept in the smoke for some time. 
Since electric grills' griddle surface is in direct contact with the food, it is not cranked up to high temperatures. This prevents the meat from burning, but also fails to produce BBQ smoke. This results in food with less flavor.
Most electric grills heat up quickly but cannot rise to temperatures. This makes them ideal for cooking lean meats and proteins that do not require high temperatures to cook, but less suitable for searing meat.
Infrared grills can produce the highest grilling temperatures very quickly. This allows you to quickly sear your meats to perfection. However, cooking lean meats and proteins like fish is not advisable with these grills.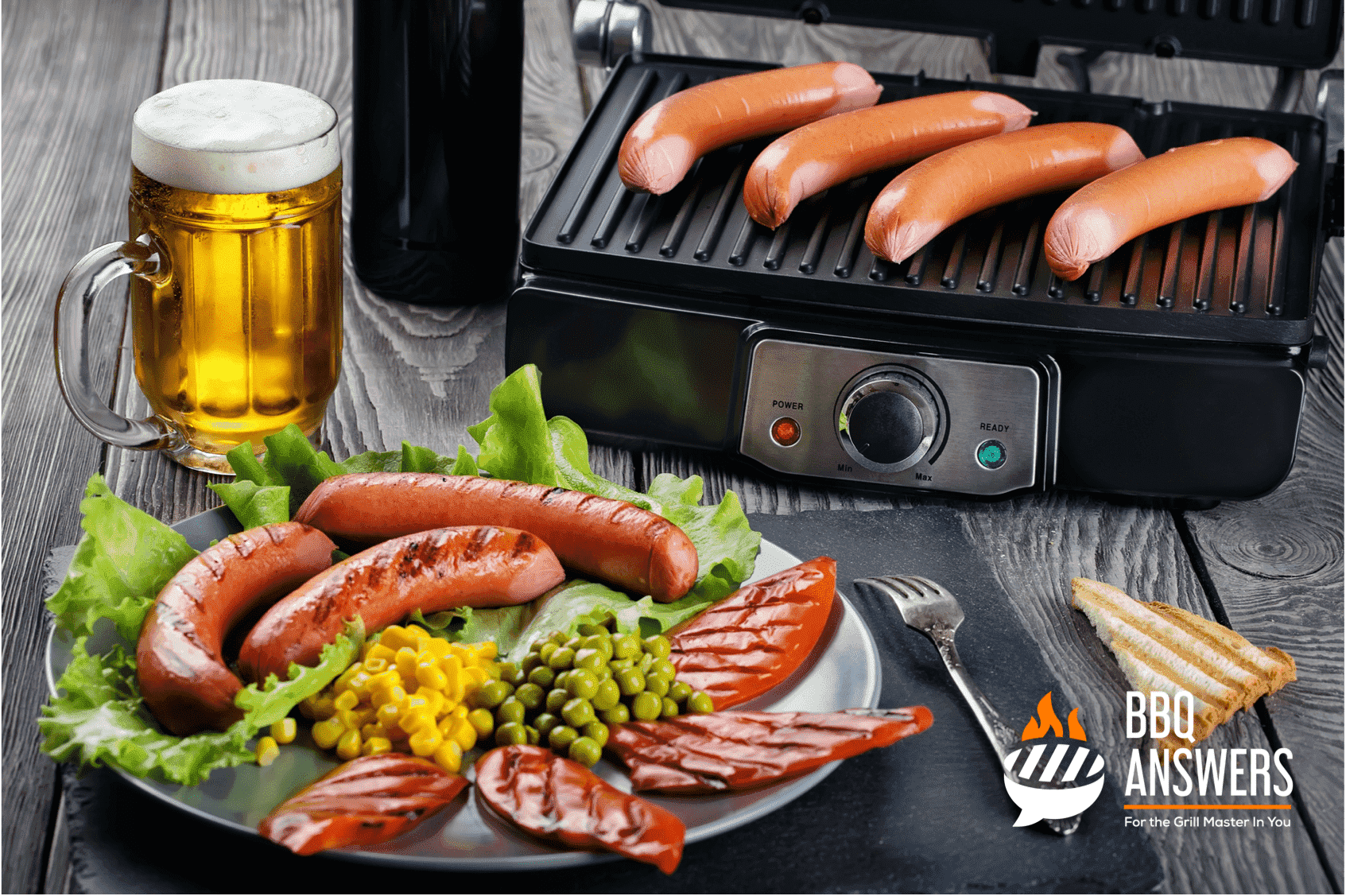 The small and compact size of the electric grills makes them an ideal travel companion. You can take it along with you on a fishing trip or a picnic to enjoy a delicious grilled meal. Just be careful to keep your electric grill away from water.
Infrared gas grills are as portable as their fuel source allows them to be. Gas bottles are generally unwieldy, but if you have access to a gas line or an electric infrared grill, they could be just as portable.
Space Required
Electric grills are small enough to fit on your kitchen top, and when not in use, you can store them away in your closet. Their footprint size is excellent for those who live in apartments or condos with small balconies.
Infrared grills have a range of sizes. Some grills are suitable for a backyard with plenty of space, while others can fit snugly in a small patio. The electric infrared variants can be used indoors too.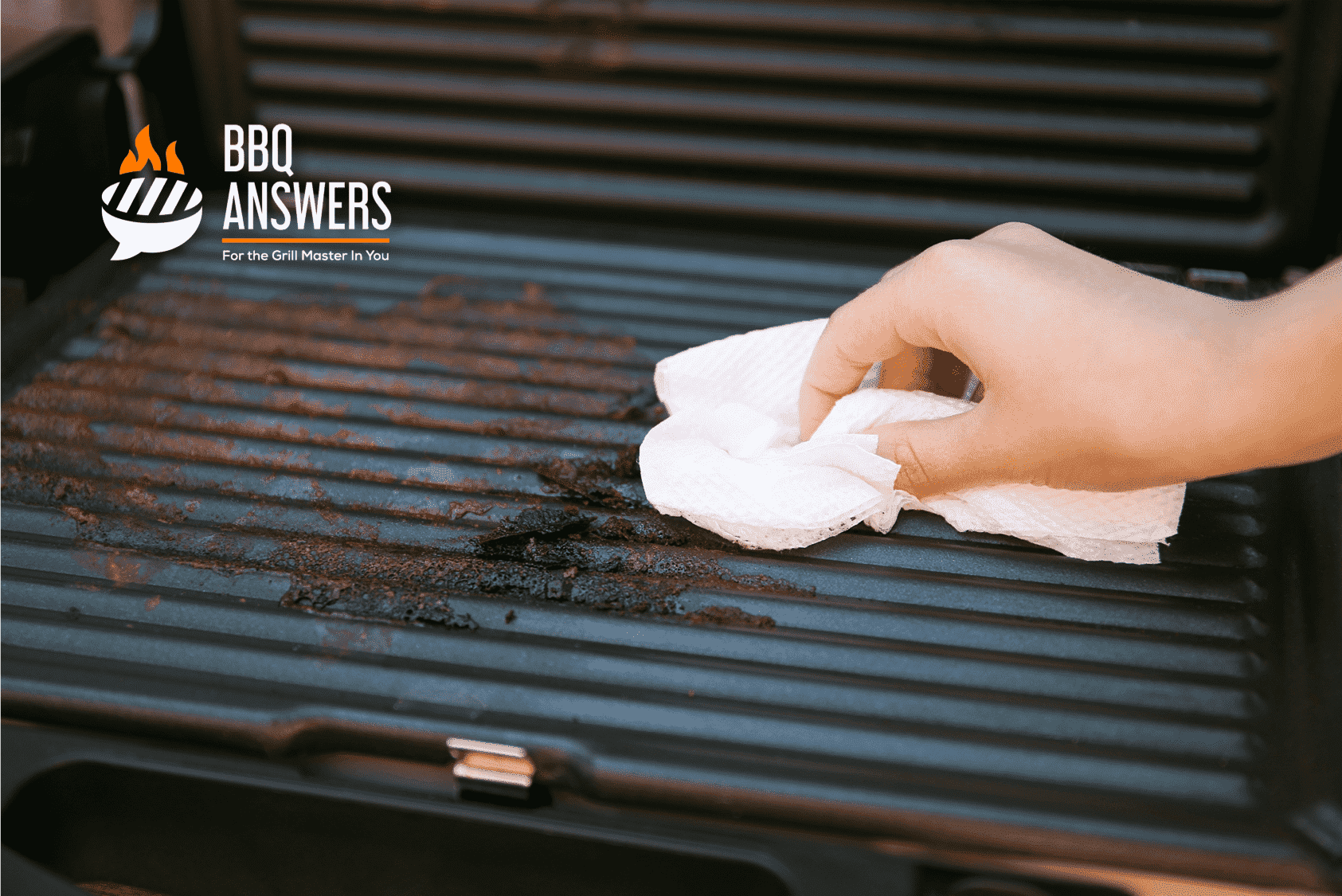 Electric grills are the easiest to clean grills. All you have to do is wipe it down with a damp towel, and your job is done. If your grill has a drip tray, it can be emptied of its contents and washed. 
Cleaning infrared grills require more work than electric grills since you have to remove the grill and clean out the base. However, since any food drippings that fall from the food are vaporized instantly, very little grease falls to the bottom. This makes infrared grills easy to clean.
Maintenance Costs
The maintenance costs can vary a lot depending on the number and quality of the parts used. 
Since infrared grills are more expensive, they tend to be built better and last you longer, but well-made, simple electric grills can last you just as long.
Pitmaster Wisdom
Electronic components often break down, so it's crucial to ensure that replacement parts are inexpensive. When buying a grill, it is best to avoid unnecessary features and electronics in the first place.
Both Electric and Infrared grills are relatively safe to use since they help you prevent flare-ups. Flare-ups, the leading cause of household fires, are caused when grease build-ups are subjected to high temperatures. Infrared grills prevent the grease build-up by vaporizing the grease, while Electric grills don't reach high enough temperatures to cause flare-ups.
While using electric grills, be sure to keep it away from water. It should only be wiped clean with a damp cloth and not be used outside in rainy weather.
While using infrared grills, it is advisable to use long tongs when grilling to avoid burning your hands because of the infrared grill's high temperatures. Also, be sure to follow the BBQ Gas Bottle Safety Guidelines when using a gas-powered infrared grill.
Grill Cost
Electric grills are the most affordable grills on the market since their compact size makes them cheaper to produce and easy to transport. The premium models may come at a higher price, but they still wouldn't be costlier than an infrared grill.
Infrared grills cost 15% more than traditional gas grills. Even though these grills are costly, they help save on ongoing costs because of their low fuel consumption.
Pros and Cons of Infrared and Electric Grills
Now that we are better acquainted with the differences between the two grills, let's take a quick look at their benefits and drawbacks of each: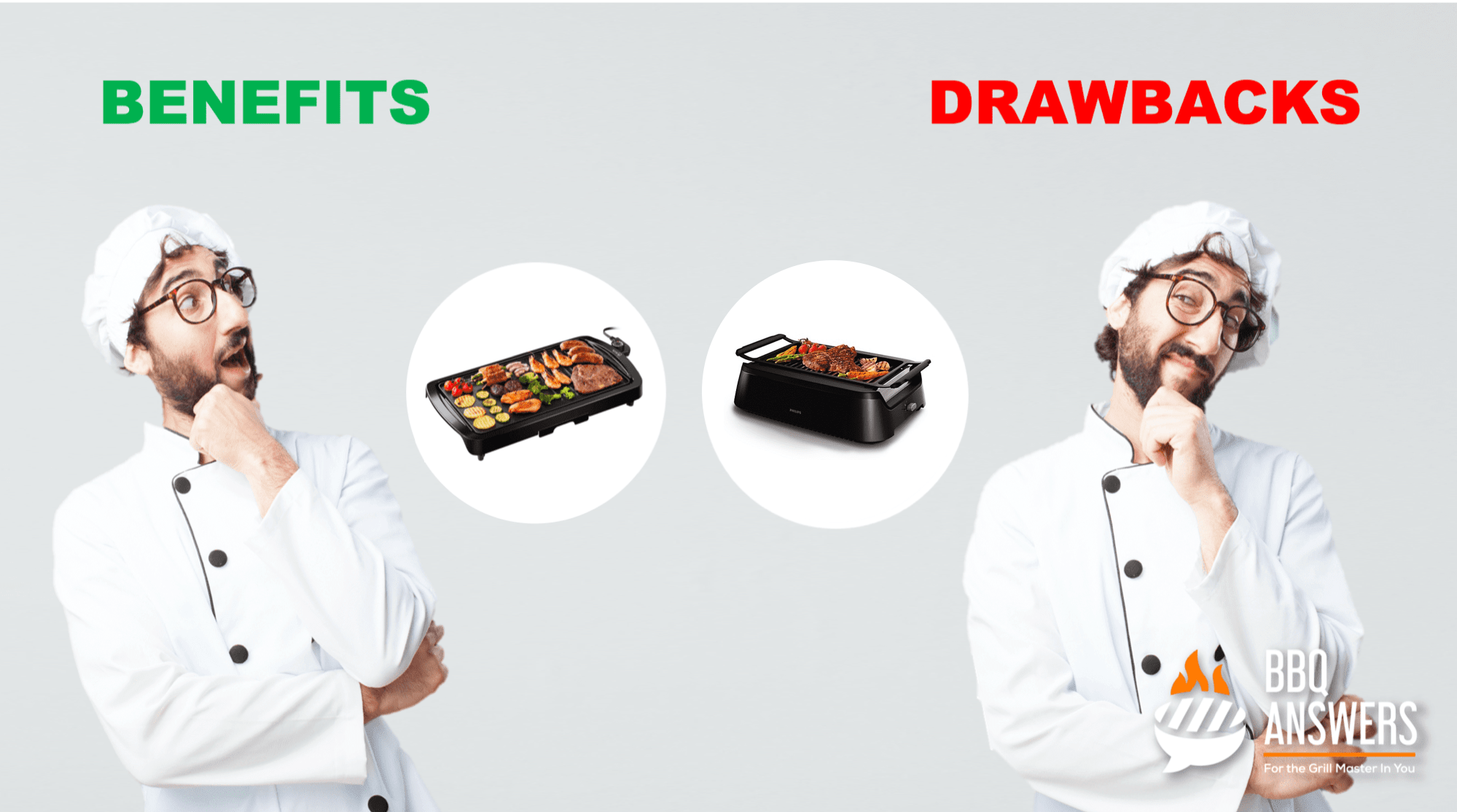 Benefits of Infrared Grills
They can quickly reach very high temperatures, which saves your time.

They consume less fuel, which reduces the ongoing cost.

They produce uniform heat, allowing you to cook the meat evenly.

The infrared radiation technology helps retain the moisture of the meat. 

The grill temperature is not affected by wind or other external factors since they don't heat by convection. 

They don't result in a greasy mess since almost all the food drippings are vaporized.

Electric infrared grills are portable.
Limitations of Infrared Grills
They are costlier than a traditional gas grill.

There's a higher risk of burning your food at higher grilling temperatures.

You may not be able to maintain low cooking temperatures on all grill variants.
Benefits of Electric Grills
They are the easiest to use, making them perfect for BBQ beginners.

Their size makes them portable as long as you can find electricity.

Controlling the temperature is very easy on an electric grill.

They are very affordable.

They are relatively cost-effective to operate.

You don't have to worry about stocking up on fuel.

They don't release cooking fumes, making them suitable for indoor grilling.

They are very easy to clean.

They are environment friendly if powered by clean electricity.
Limitations of Electric Grills
They can't produce an authentic chargrilled flavor.

They can't reach high temperatures, making them unfit for searing meat.

Their small size limits the amount of food that can be cooked on it.

They can't cook two different types of food simultaneously because the griddle can only maintain a single temperature at a time.

They are not ideal for long cooks.

Durable electric grills come at a high price.
Debunking Myths And Misconceptions About Electric Grills
Myth #1: Electric Grills Are Not Real Grills
While it is true that electric grills do not provide an authentic flavor, there are many reasons people seriously consider buying an electric grill. They are convenient to use, cook various foods, and also produce beautiful grill marks.
Myth #2: Electric Grills Do Not Need Cleaning
Even though electric grills require minimal cleaning, you cannot ignore it altogether. Salespeople commonly use this phrase to stress grilling convenience, but it is not meant to be understood literally.
Myth #3: Electric Grills Can Never Be Used Outdoors
Electric grills are generally used indoors, but some of the latest models can also be used outdoors. 
Frequently Asked Questions:
Are Infrared Grills Better than Traditional Gas Grills?
Infrared grills are vastly different from the traditional gas grills. One isn't necessarily better than the other since they both work efficiently in their own way. Here is a detailed comparison between Infrared and Gas Grills.
What Is The Advantage Of Infrared Grilling?
Infrared grills are the perfect device for hot and fast grilling. Their temperatures can rise to around 700℉ (371℃) in under 7 minutes, and they also require minimal cleaning. Read more about its advantages.
Are Electric Grills Better Than Charcoal Grills?
Electric grills are more convenient, affordable, and portable than Charcoal grills. However, in terms of flavor, they are no match for charcoal grills.  Here is a detailed comparison between Charcoal and Electric Grills.
Do Infrared Grills Taste The Same?
No, food cooked on infrared grills lacks the smoky flavor as food cooked on charcoal or gas grills. However, searing the meat will be much easier, and the meat will be more juicy and tender.
Are Infrared Grills Hard To Clean?
Infrared grills are very easy to clean. Just follow these simple steps:
Turn on the burners on high and to let any residual grease evaporate.

After the grill has cooled down,

take out the grilling grates and clean them separately

.

If you have a ceramic plate infrared system, the grease will have burnt off, but if you have a steel plate system, remove the plate and scrub off the burnt food remains.

Use a cloth to wipe the inside of the grill and put the parts back together.
Can You Use Aluminum Foil On Infrared Grill?
No, using aluminum foils on infrared grills is not recommended as you risk burning the foil. This burnt aluminum will make your food taste bad and is not safe for consumption. 
Are Expensive Grills Worth It?
Grills are generally worth the investment. Expensive grills tend to last longer, but just be sure that they don't have a lot of unnecessary electronics because these often need repair.
Why Does My Infrared Grill Smoke So Much?
Infrared grills create a lot of smoke because they instantly vaporize any fat or juices that drip from the food. If you let the food absorb the smoke for some time, it results in excellent smoke-flavored food.
Can You Put Foil On An Electric Grill?
You can wrap your food with foil on an electric grill to seal in the moisture. However, using the foil as a grill sheet, on which you place food, serves no purpose with electric grills.
Can An Electric Grill Stay Outside?
Most electric grills can be used outdoors, but they are not made to be kept outside because they can be damaged by rain and melting snow.
Concluding Thoughts
I trust that this article helped clear your doubts and has given you the backing needed to make your choice. 
If you need me to address any more points, please drop me a comment below. I will be sure to respond to your questions, comments, and compliments! 
I Recommend Buying an Electric Grill if:
You want a quick and easy solution.

You prefer grilling indoors.

You have to cook for just one or two people.

The smoky BBQ flavor is not essential for you.

A gas, charcoal, or infrared grill is outside your budget.
I Recommend Buying an Infrared Grill if:
You like cooking hot and fast.

You enjoy your meat soft and juicy.

You would like to save on cooking time.

You don't mind paying a premium.

You aren't opposed to trying something new.
For answers to all your BBQ questions, subscribe to BBQanswers.com by clicking the bell icon on the screen's bottom-left corner.