How to Select BBQ Smoking Woods? Ultimate Guide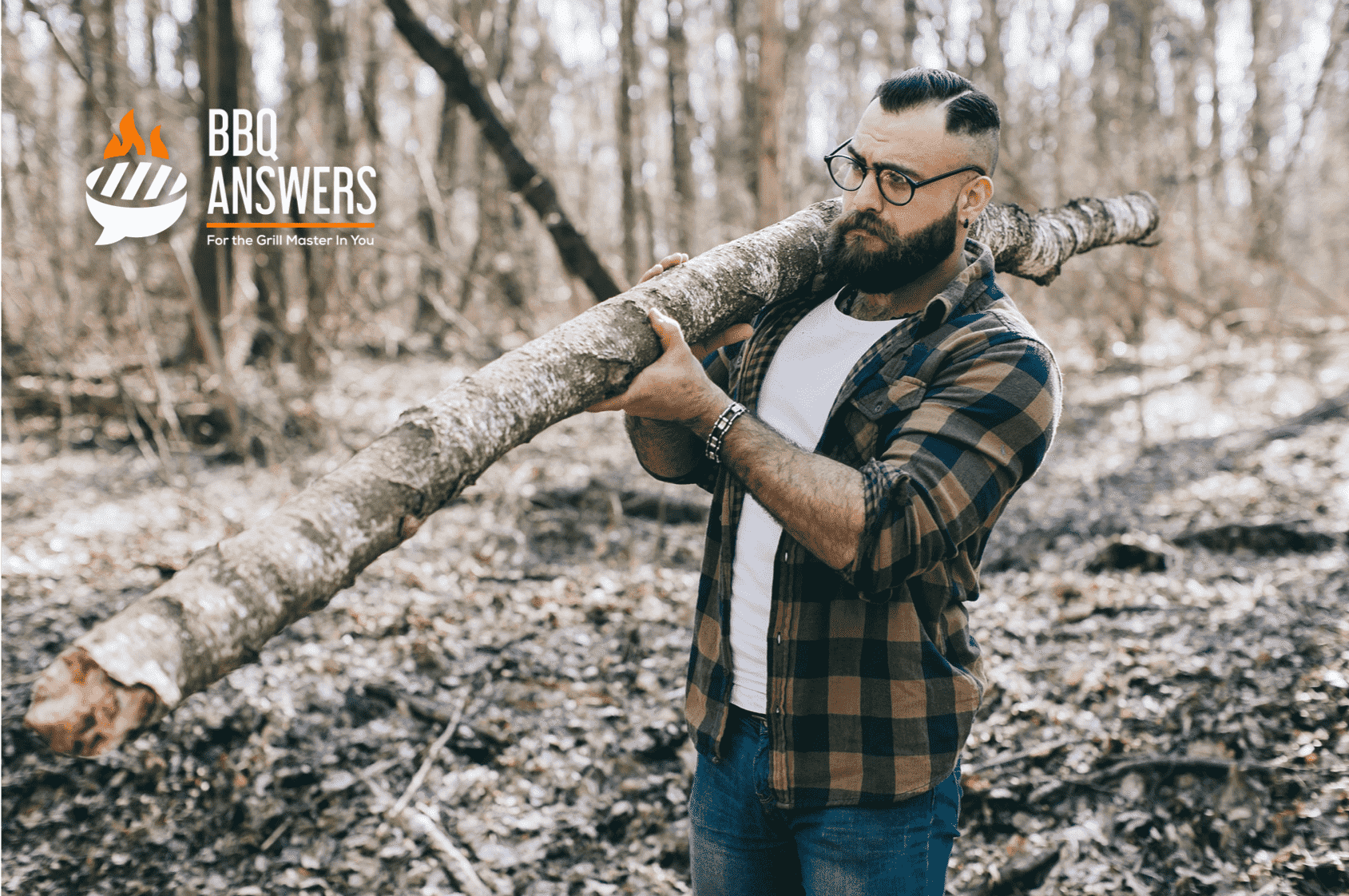 If you're familiar with grilling, you know that smoked meat is all the rage in the barbecue world. But before we learn how to make the perfect barbecue smoke, it's important to understand that there is no BBQ smoke without BBQ fire, and there is no BBQ fire without BBQ wood!
In this post, we're going to go through the basics of choosing the right variety of wood. This will help you get the best flavor, depending on the type of meat you are cooking. 
Let's get started!
How to Use Wood for BBQ
Before we choose the wood, let's understand how BBQ wood can be used:
Wood As a Primary Fuel Source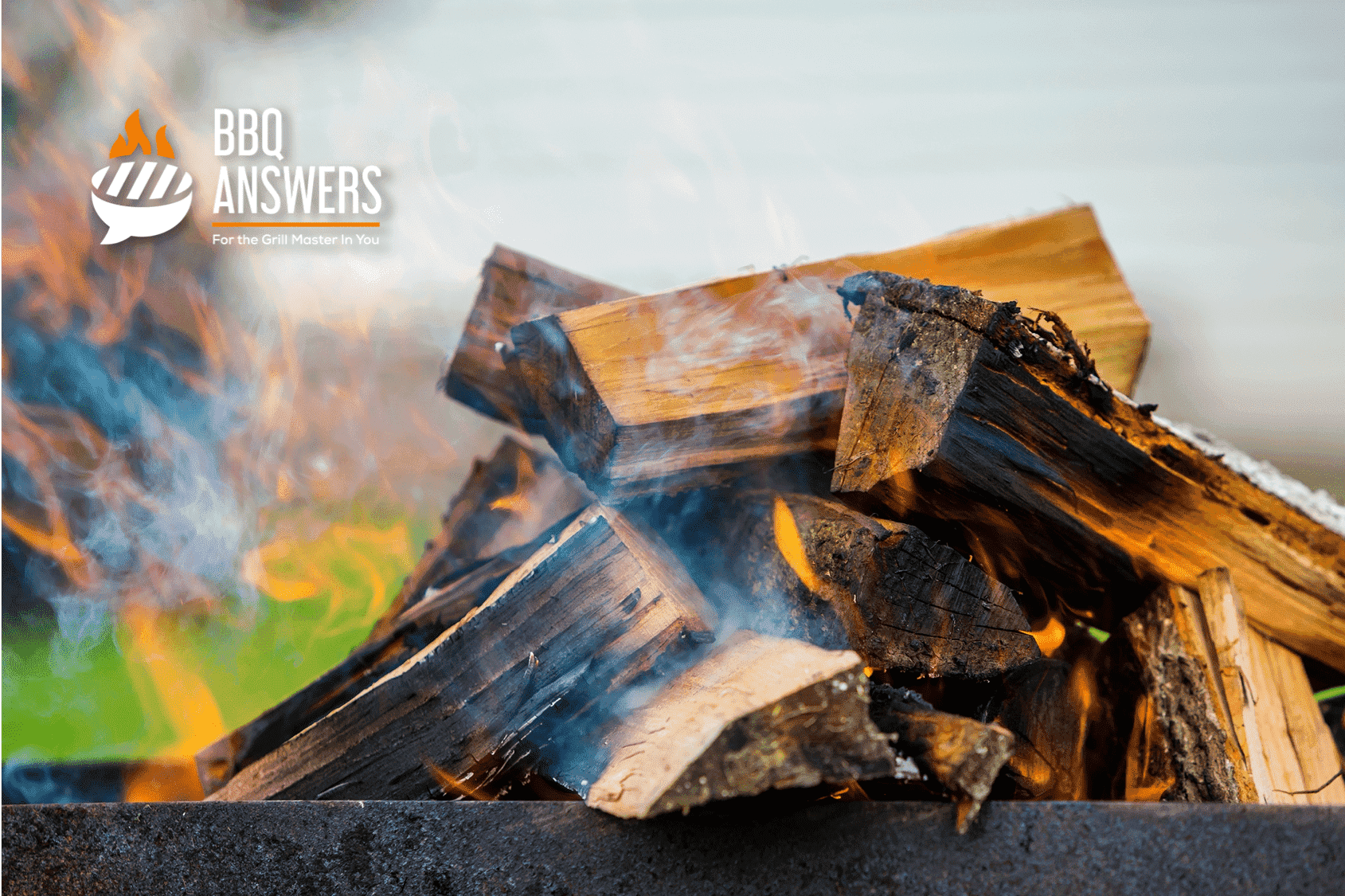 This is when the wood is used as the main fuel source. The wood combusts to produce heat and smoke, which cooks and flavors the food. 
The disadvantage of using wood as a primary fuel source is that controlling the flame is a challenge. Using wood to cook your food will require a lot of skill and attention, and the large amounts of wood used will result in a very intense flavor.
Wood Charcoal As a Primary Fuel Source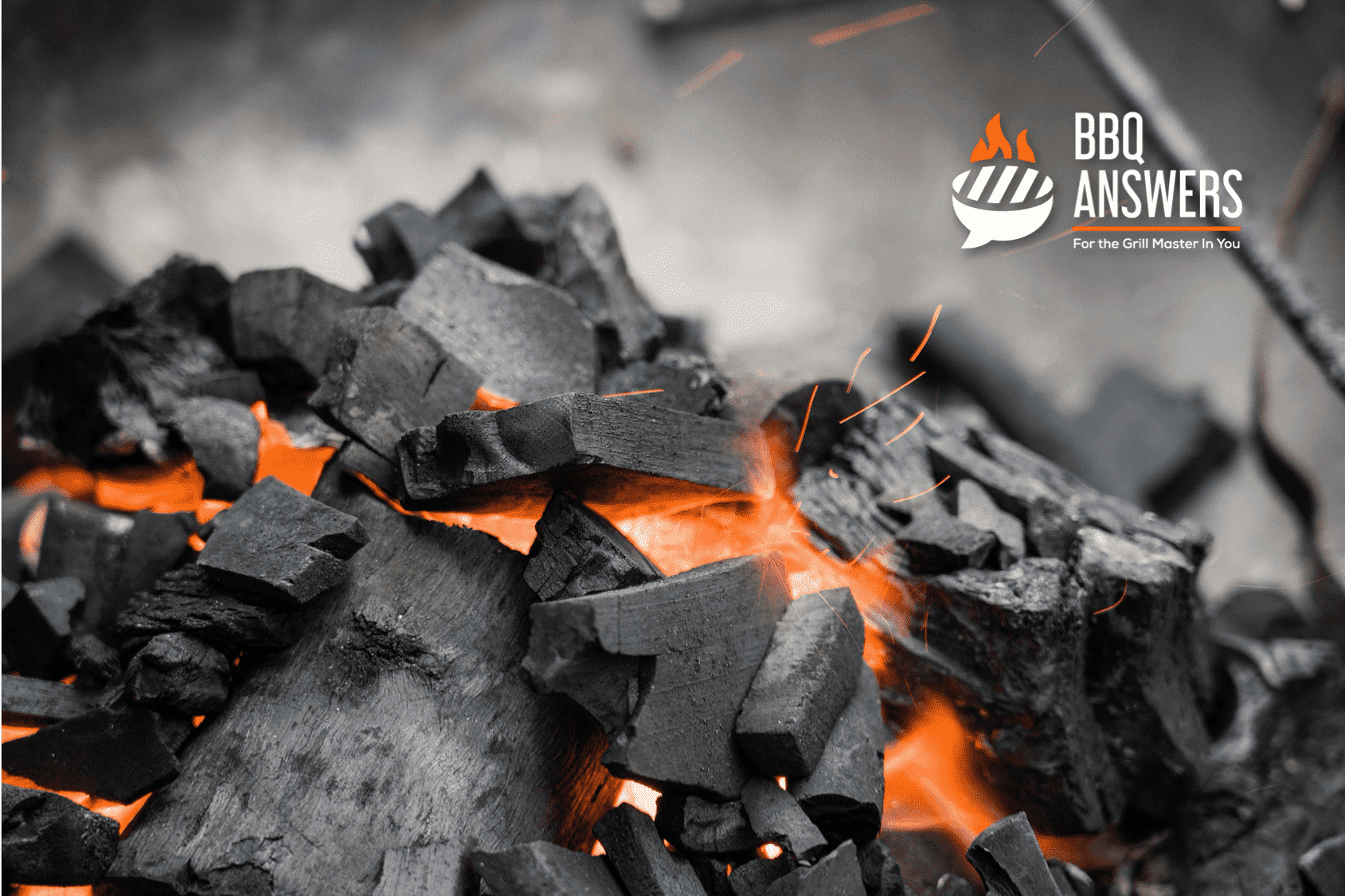 This is when the wood is first made into lump charcoal by slowly burning the wood in the absence of oxygen. This removes the moisture and other volatile contents from the wood. The wood charcoal is then burned to produce heat and smoke for cooking and flavoring the food.
Wood charcoal is easier to control than plain, dry wood, and the flavors aren't as intense as the previous method since charcoal doesn't have all the organic contents of plain wood. However, for those who prefer the smell of the smoke from plain wood, simply using lump charcoal will not suffice. They should try the next method of smoking.
Wood As a Source of Smoke Only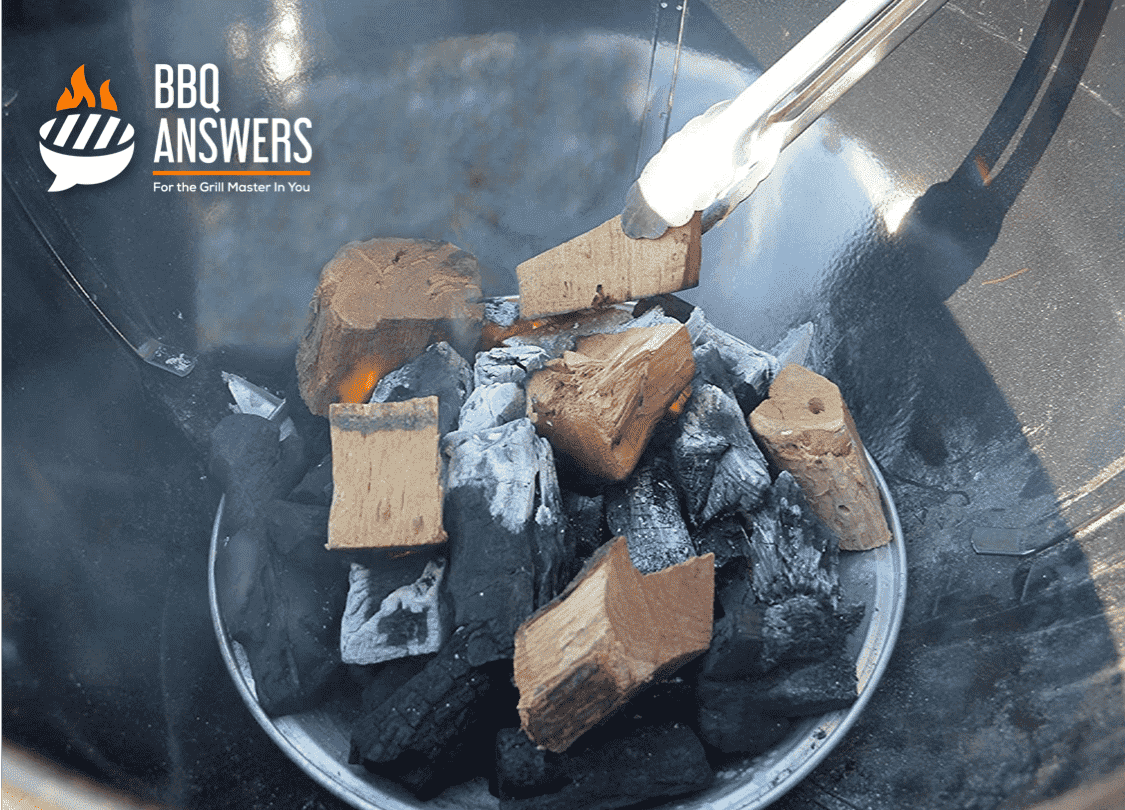 This is when plain, dry wood is added along with another fuel source like charcoal, gas, or electricity. This is the most convenient way to add a smoky flavor to the food.
Apart from the fact that this method can be used with any type of grill, this method is perfect for controlling the food's flavor since we can add exactly as much wood as required.
Once you've decided on which method to use, you will have to decide which plain wood you want to use. 
In case you have chosen to use wood charcoal as your primary fuel source, check our recommendations on the best natural lump charcoal.

Hardwood comes from deciduous trees, i.e., trees that shed their leaves every year. They commonly come from fruit and nut trees. 
On the other hand, softwood or coniferous trees are evergreen trees, i.e., they never shed their leaves. Pine, fir, spruce are some examples.
Choosing Between Hardwoods vs. Softwoods
The best wood for smoking, barbecuing or grilling, is always hardwood. This is because:
Hardwood Produces More Heat than Softwood


Most hardwood has more compact cell structures than softwood. This means there is less space for other materials like air and sap and more organic matter to be burned. This produces more heat when cooking.

Hardwood Burns Longer than Softwood


Hardwoods generally have more wood for the same volume because the wood cells tend to be tightly packed together. This produces a uniform burn rate that can be sustained for more time. 

Hardwoods are Safer to Use than Softwood


Because of their tightly packed cellular structure, hardwoods have less trapped air and liquids in the wood. So when they are heated up, they are less likely to burst open and endanger you or your loved ones.

Hardwood Smoke Has a Better Flavor than Softwood


Softwoods tend to have more pungent sap, that when burnt to smoke, has an unpleasant bitter flavor that you want to avoid. This is not a problem with hardwoods as they have little to no resin.

Hardwoods also produce carbonyl compounds when they smoke. This adds a natural caramelized flavor to the smoked food.

Deciding Between Fresh-Cut vs. Dried Hardwood
Most things in life are better when they are fresh. Barbecue hardwood is one of the exceptions.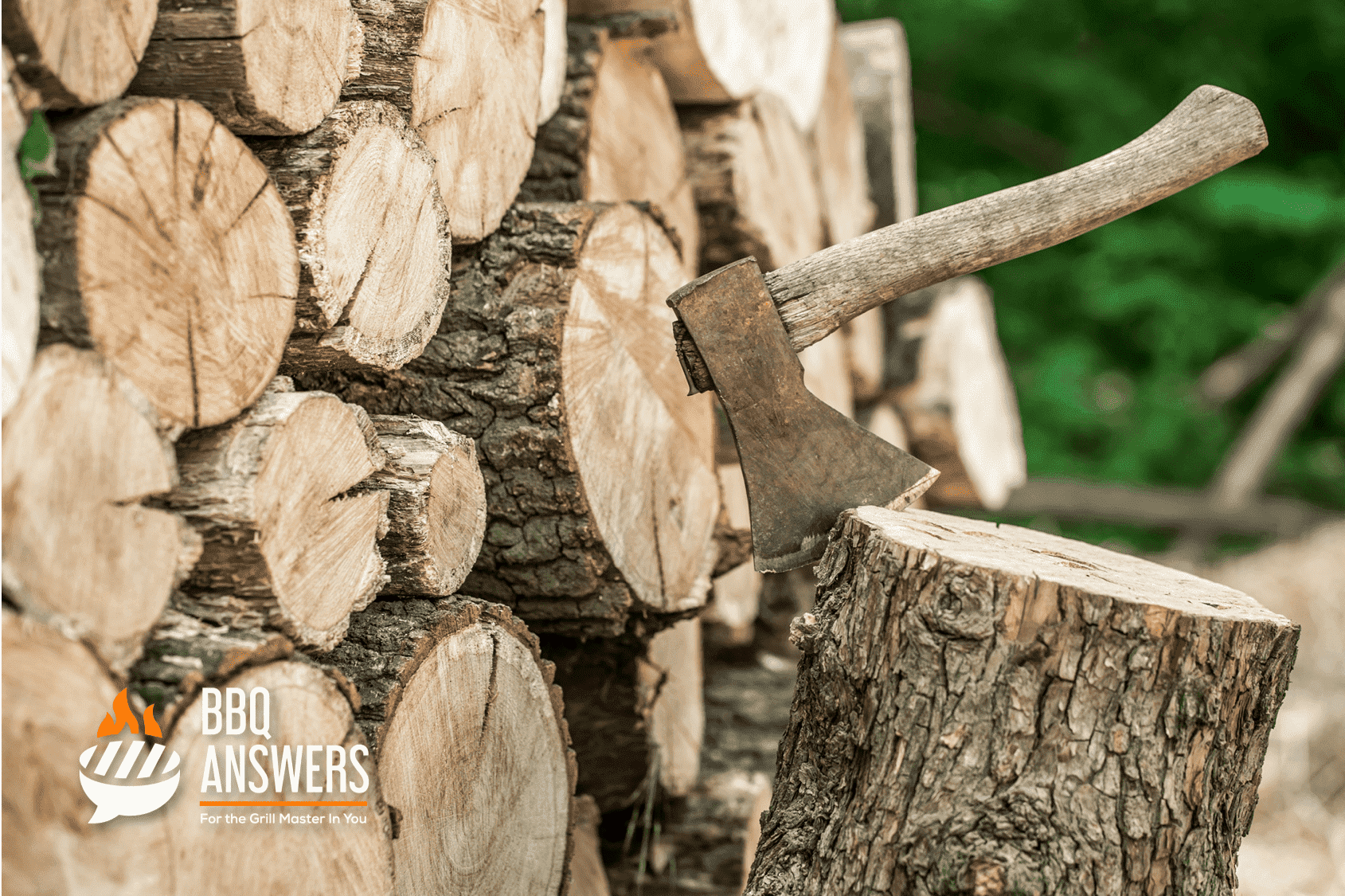 Fresh cut hardwood has a lot of water content, up to 50% by weight. This is not beneficial as it will take longer for the wood to start burning. This is because more energy is needed to pass the dehydration stage of wood combustion. 
For this reason, fresh-cut hardwood is cured to become dried hardwood. Curing is the process of removing the moisture content present in the fresh-cut hardwood. Dried hardwoods are also known as air-dried or cured hardwoods. 
Differentiating Between Various Hardwood Species
With so many hardwoods to choose from, choosing the best one for you can be confusing. To make things easier, I have listed the woods from mild smoke to intense smoke, and I have also mentioned the foods that they're best paired with. 
Mild-Smoke Hardwoods
Mild hardwoods include fruitwoods and flowering birchwoods like alder. When you smoke these woods, they impart a mild smokiness with hints of sweetness and fruitiness. 
Alder has a subtle smoke flavor with slight hints of sweetness to the taste. 
It is most commonly used to smoke fish (popularly salmon). It can also be used with other poultry cuts, pork, vegetables, fruits, and spices for natural wood flavor while smoking. 
Alder is also a popular option for cold smoking.
There are over 120 species of maple, and because of this, they are subdivided into hard maple and soft maple. This can be confusing because soft maple can easily be confused with softwood, but all maple wood is hardwood.
Sugar maple and black maple are popular hard maple varieties. In contrast, silver maple, boxelder, and red maple are soft maple options. Sugar maple is one of the most popular choices.
Maple imparts a sweet, light, and mild smokiness to the food. It also gives the meat a dark appearance. It's a great wood to mix with other woods like oak, apple or alder.
Maple goes well with pork, poultry, vegetables, and cheese.
Applewood has a light, fruity, slightly sweet aroma that pairs exceptionally well poultry, ham, and seafood. 
When using applewood to smoke red meats, remember to pair the applewood with more intense woods like oak and hickory since red meats often need a stronger smoky flavor.
Cherrywood is an all-rounder that pairs well with all meats like poultry, seafood, beef, and pork. It has a pleasant, mild, and fruity flavor. 
The smoke adds a reddish-pink hue to the meat, which can often be mistaken for under-cooking. It also gives a mahogany brown crust that might not be appealing with lean meats like chicken and white fish meat.
Be sure to pair cherrywood with other woods like hickory, oak, pecan, or alder when using them on red meats.
Oakwood is one of the best woods to smoke – especially if you're a beginner. It imparts a medium to an intense smoky flavor that doesn't overpower the meat. It also burns hot, making it an excellent option for blending with other woods.
Oak works well on just about any meat.
Pecan is actually from the hickory family of woods. It has a rich, sweet, nutty flavor that's not as intense as hickory. Avoid over-smoking the food with pecan unless you want a pungent and bitter smoke on your food. 
The wood burns with a steady heat and is an excellent pairing with meats like poultry or pork. If used in combination with other hardwoods, it can be used to smoke beef briskets, roasts, and ribs.
Walnut has an intense and slightly bitter flavor, so it is often used as a mixing wood. One of the properties of walnut is that it produces a very dark outer bark coloring.
Walnut wood pairs well with red meats.
Hickory has an intense, pungent smoke that has strong sweet and smoky flavors. It's definitely a southern barbecue favorite!
But be careful with this one, if you over smoke the meat, it will produce bitter-tasting food.
Hickory wood pairs well with red meat and poultry. It is recommended for big cuts of meat like ribs and pork shoulders.
Mesquite has the most intense smoke flavor of any smoking wood. It has a strong and earthy flavor that can turn harsh and bitter if used incorrectly.
It's an oily wood that burns fast with high intensity, so it's not ideal for long barbecuing or smoking sessions unless mixed with other woods.
It pairs well with most red and dark meats.
Pitmaster Wisdom
If you have access to lumber scraps, make sure that they're not sprayed with chemicals as this could get in your food. If you can't trust your contacts completely, purchase certified food-grade wood for peace of mind.
Choosing the Right Size of Hardwood
Now that we know what kind of wood to use, let's pick the right size of wood for you. 
The size of wood affects how long the fire burns. Larger pieces of wood burn longer than smaller pieces, even if they are of the same species and variety.
Hardwoods come in the following sizes: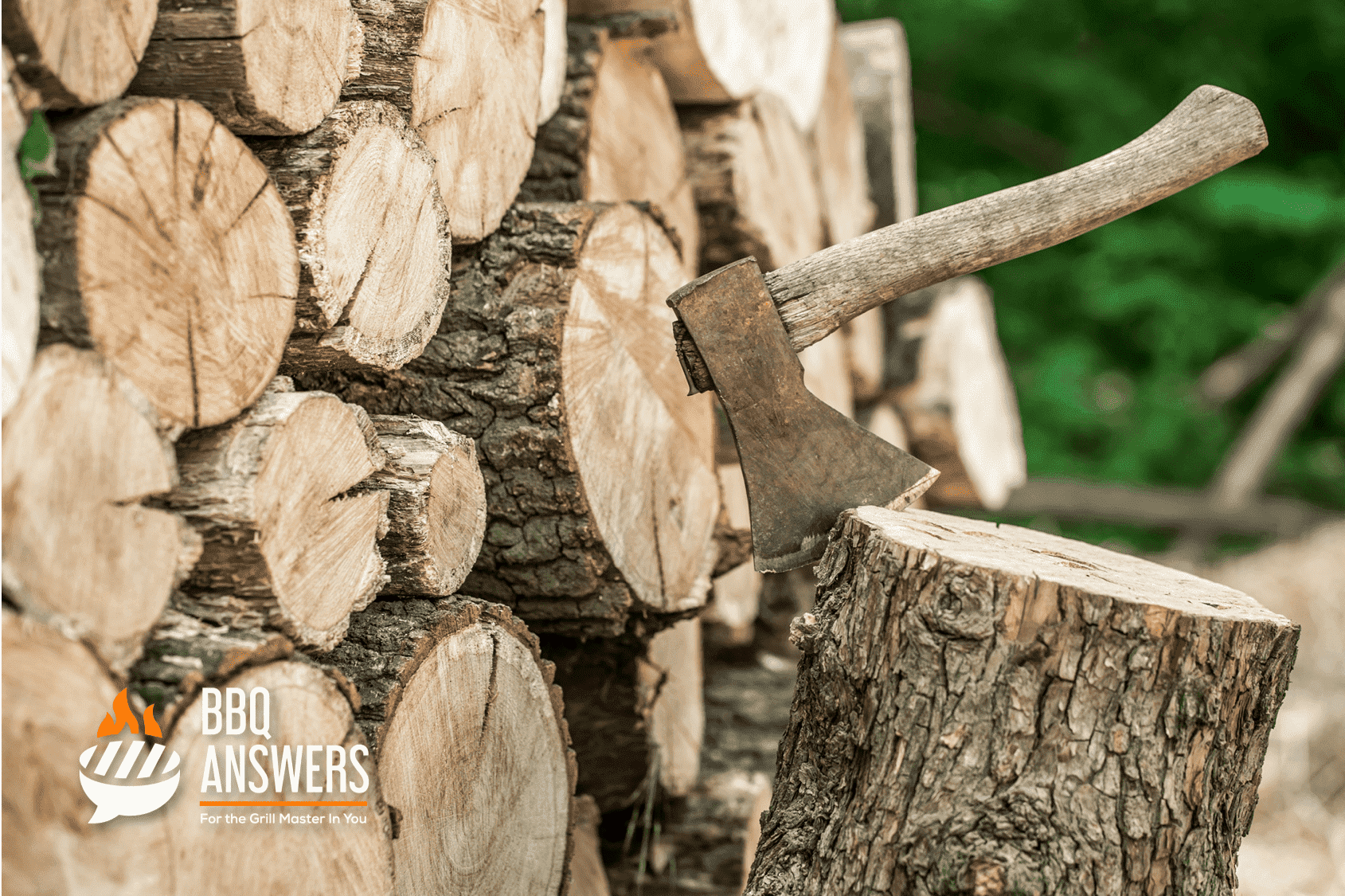 These pieces of wood can be up to 18 inches long! Takes a long time to burn but requires the right pit and skill set to pull this off.
Used for large offset smokers, they provide both heat and smoke to cook the food commercially. Because of their large size, wood logs can only be sourced locally.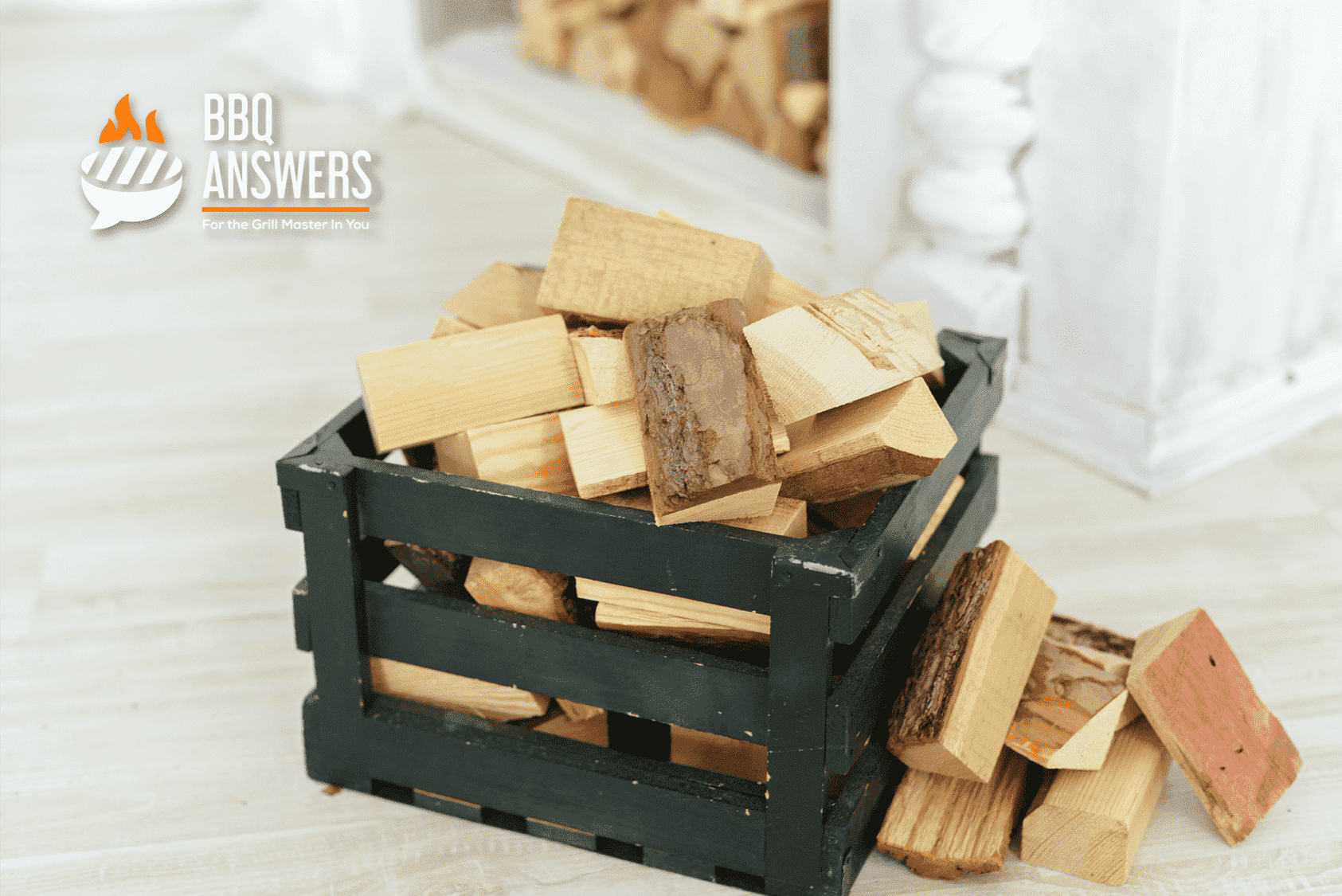 These pieces of wood can be up to 4 inches, roughly the size of a fist. It is often used in combination with charcoal. Charcoal supplies heat, while wood provides a steady supply of smoke. 
Commonly used for smokers like smaller offset smokers, kamado grills, drums, and so on. Check out our recommended wood chunks for smoking.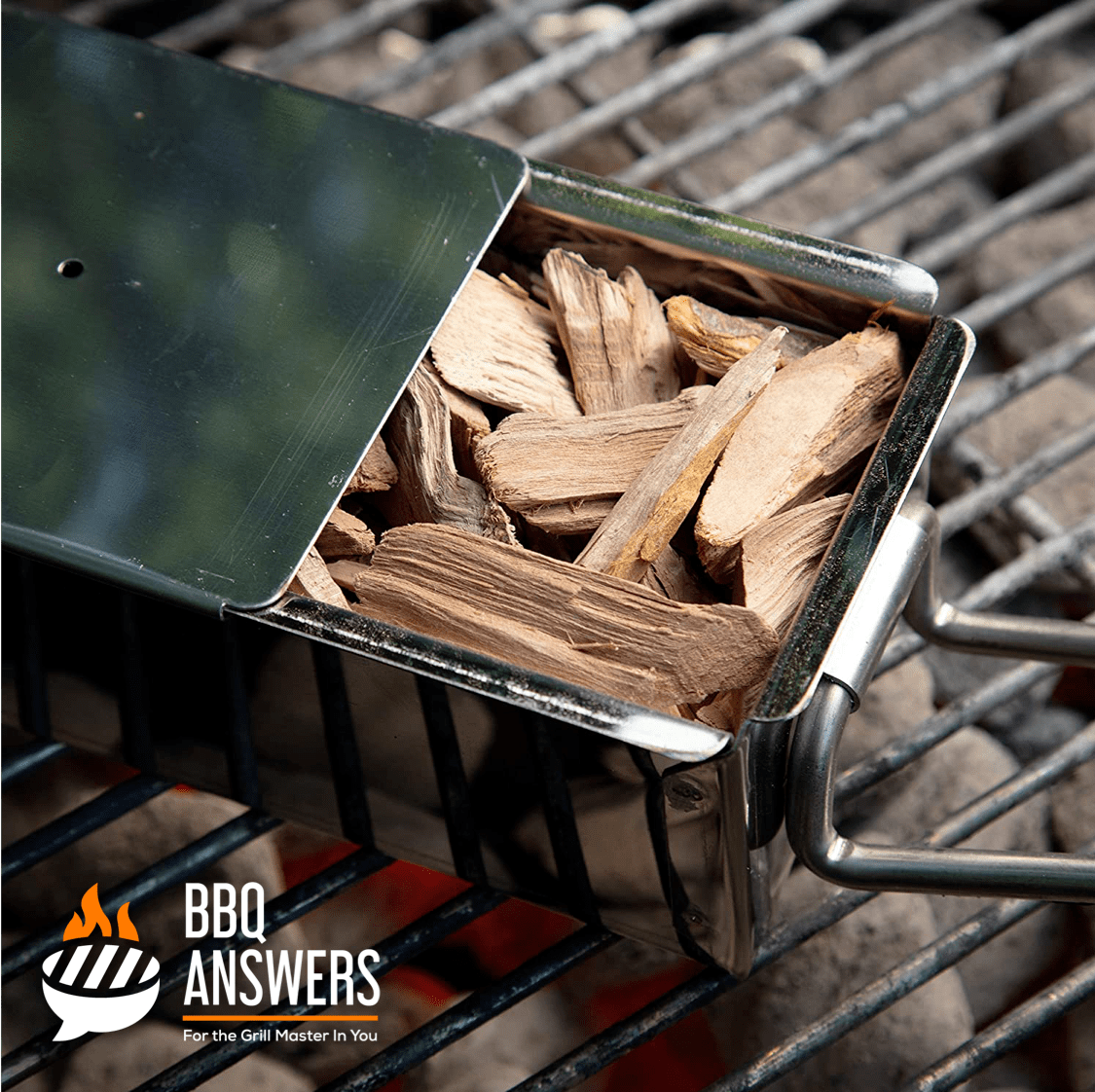 Wood chips are about an inch in length and width and around a quarter-inch thick. They are small and lightweight chips of hardwood, about the size of a coin, used to provide steady smoke for a short time. Avoid using these for long cooks because you will burn through your supplies very quickly.
When used on charcoal, electric, and gas smokers, they burn quickly and provide a lot of smoke. Check out our recommended wood chips for smoking.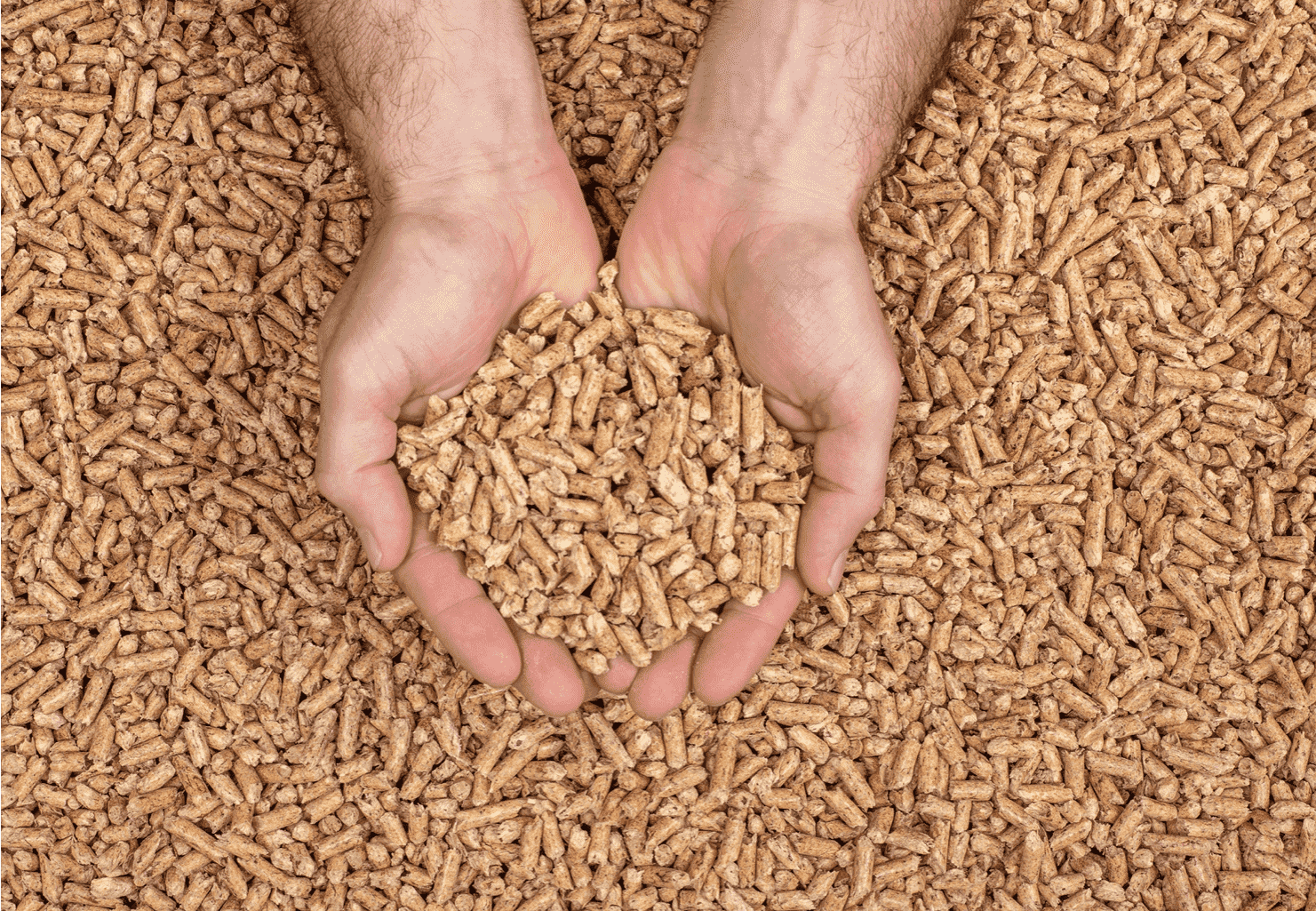 The wood is ground into coarse sawdust and then sold as pellets. Wood pellets are natural hardwood sawdust that has been condensed into pellet-sized bits, i.e., long rods with the thickness of a pencil and are about half an inch in length. 
They are most commonly used in pellet smokers and provide both heat and smoke. Check out our recommended wood pellets for smoking.
Pitmaster Tip
Sometimes you may find sawdust sold loose. I don't recommend buying this even if you trust your supplier to give you chemical-free sawdust. This is because sawdust burns away very quickly.
Final Thoughts
I hope this post helps you in selecting the best wood for your barbecue.
Remember to buy dried hardwoods of the appropriate size that pair best with the type of meat that you are cooking. Once you select your wood, learn how to get the perfect barbecue smoke, and you're on your way to Barbecue mastery!
Want to learn the best tips, tricks, and techniques around barbecuing, grilling, and smoking? Subscribe to BBQanswers.com by hitting the bell icon on the bottom-left corner of the screen.