Are Gas BottleS Safe in the Sun? Gas Bottle Safety 101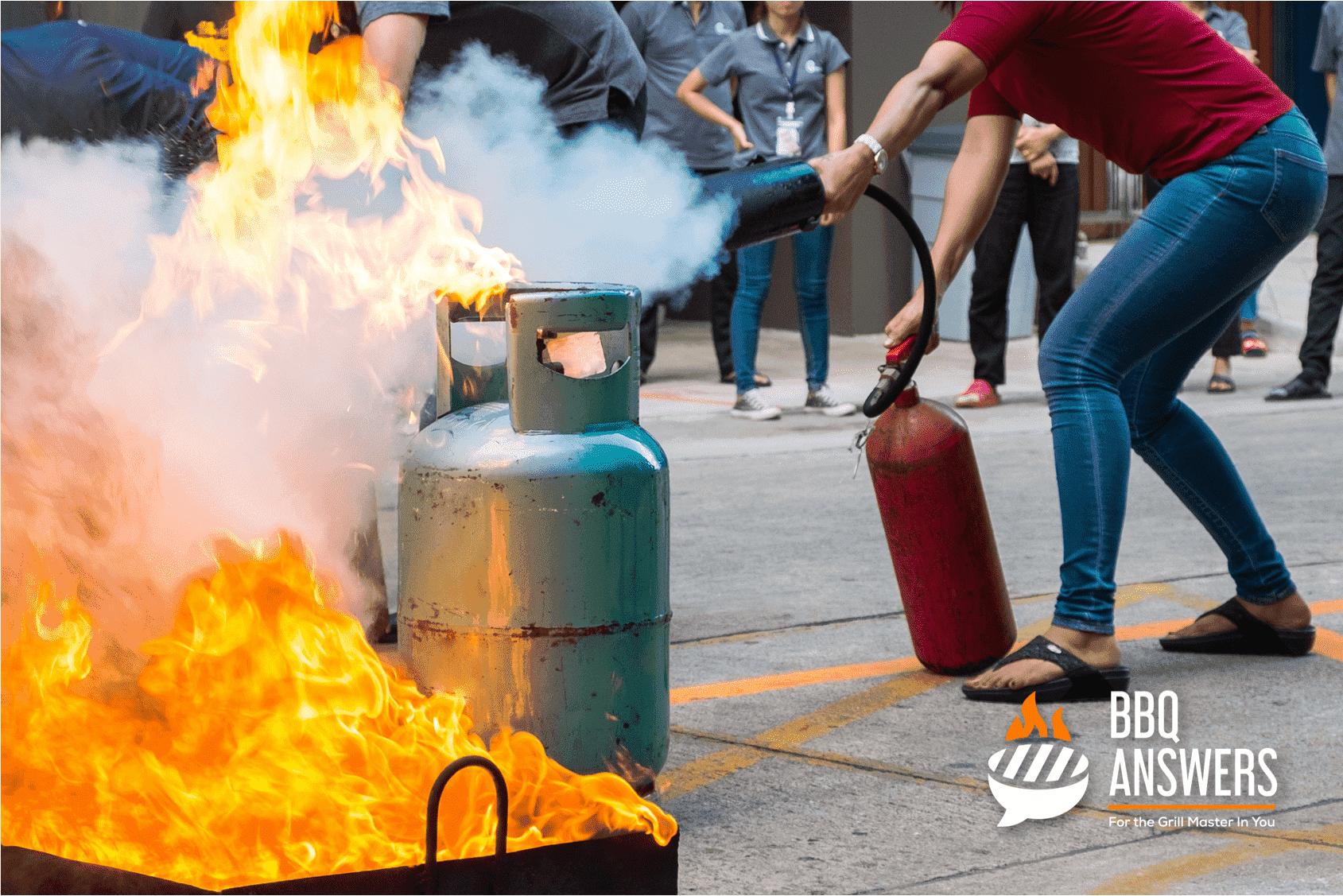 It's natural to be concerned about safety when you own a flammable device that has been the cause of explosions in so many movies. However, if you understand the sources of danger and take the right precautions, using gas bottles is completely safe. 
In this article, we'll talk about what makes barbecue cylinders safe, what could cause them to become dangerous, the safety tests and tips, and all the frequently asked questions.
But first, let's start with the most commonly asked question:
Are BBQ Gas Bottles Safe in the Sun?
BBQ gas bottles can safely be kept in the sun as long as the bottle is not damaged, the surrounding is well ventilated, and there are no open flames around it. However, it is best to keep the gas bottles in a cooler, well-shaded area as a precaution.
Direct sunlight causes a slight increase in the bottle's temperature and pressure, but this doesn't usually cause a problem because of the safety mechanisms incorporated.
What Makes BBQ Gas Cylinders Safe?
Given that gas cylinders are in every household, they need to be safe to prevent any mishaps. Apart from the strong body of the gas bottle, the following mechanisms make gas cylinders safer.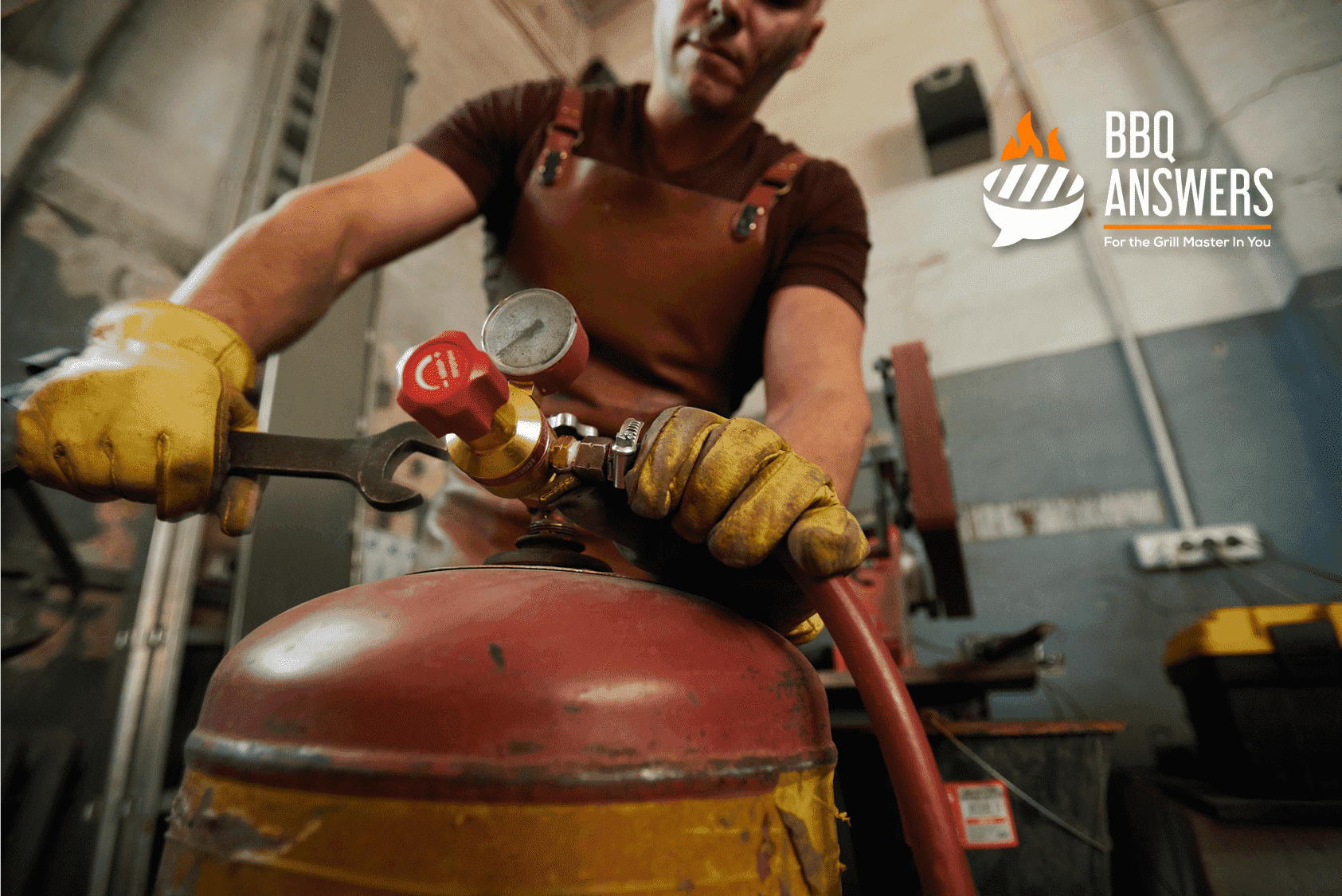 Built-In Room for Expansion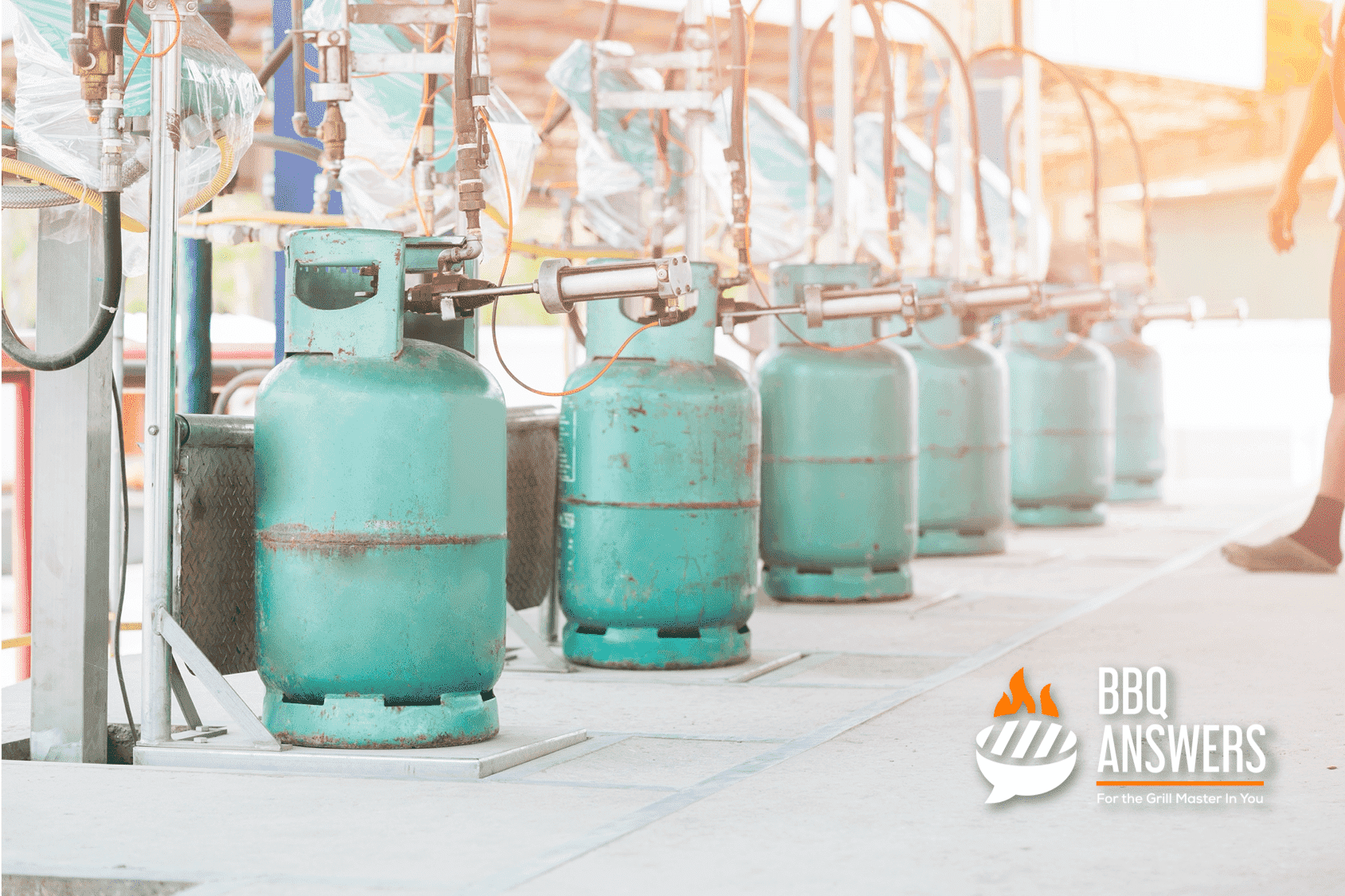 Your gas bottle is only filled to about 80% of full capacity, and it isn't because your dealer wants to shortchange you. The remaining room in the cylinder is left to allow for the expansion of gases. This extra room ensures that there's no unnecessary stress on the bottle and no needless waste of gas due to the pressure relief valve's activation.
Reflective Paint on Bottle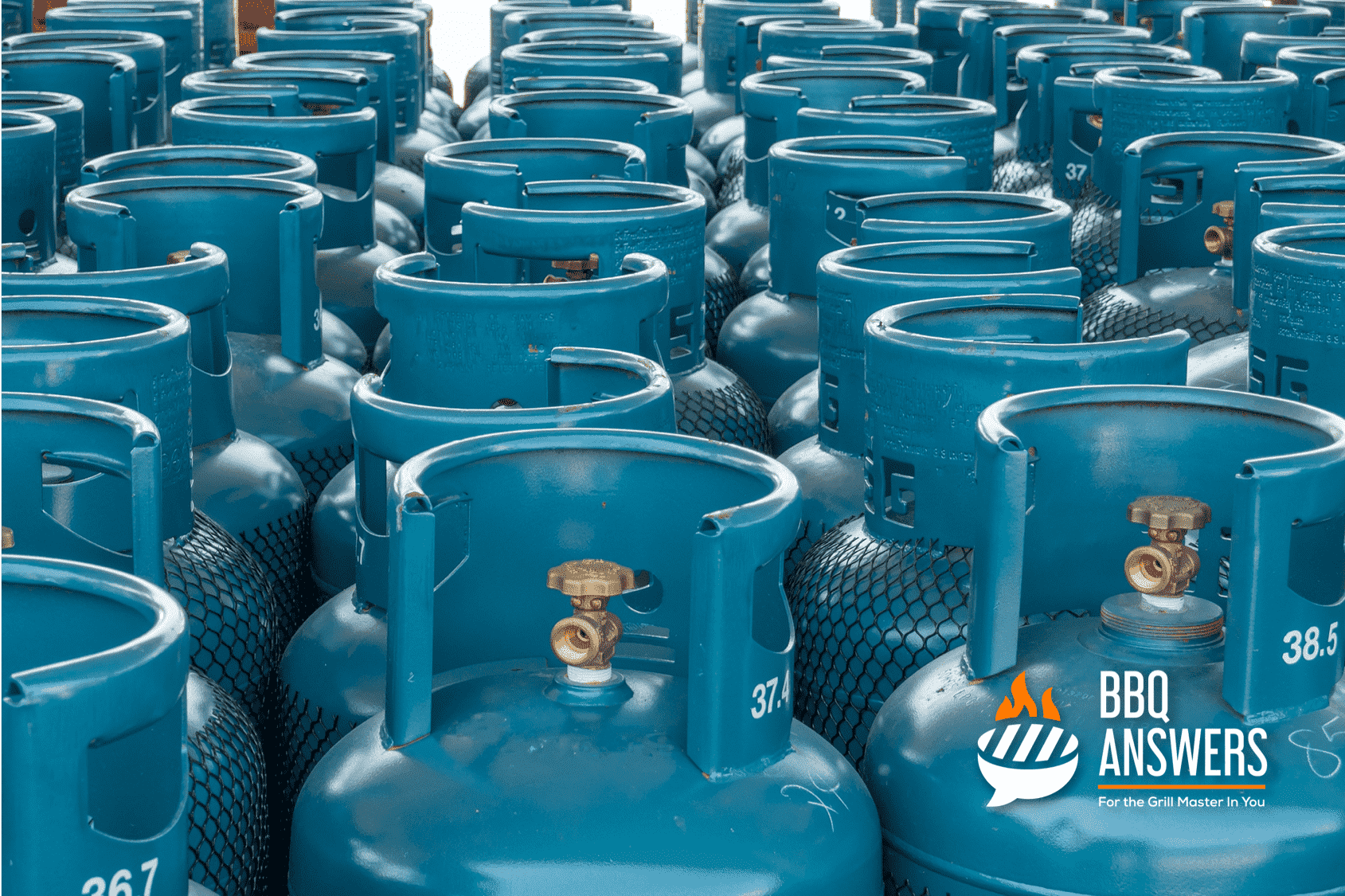 All standard gas bottles are coated with a layer of shiny paint to reflect radiant heat more effectively. White and silver paints help reflect the maximum amount of heat, keeping the gas bottles cool. 
What Could Cause Gas Bottles to Explode?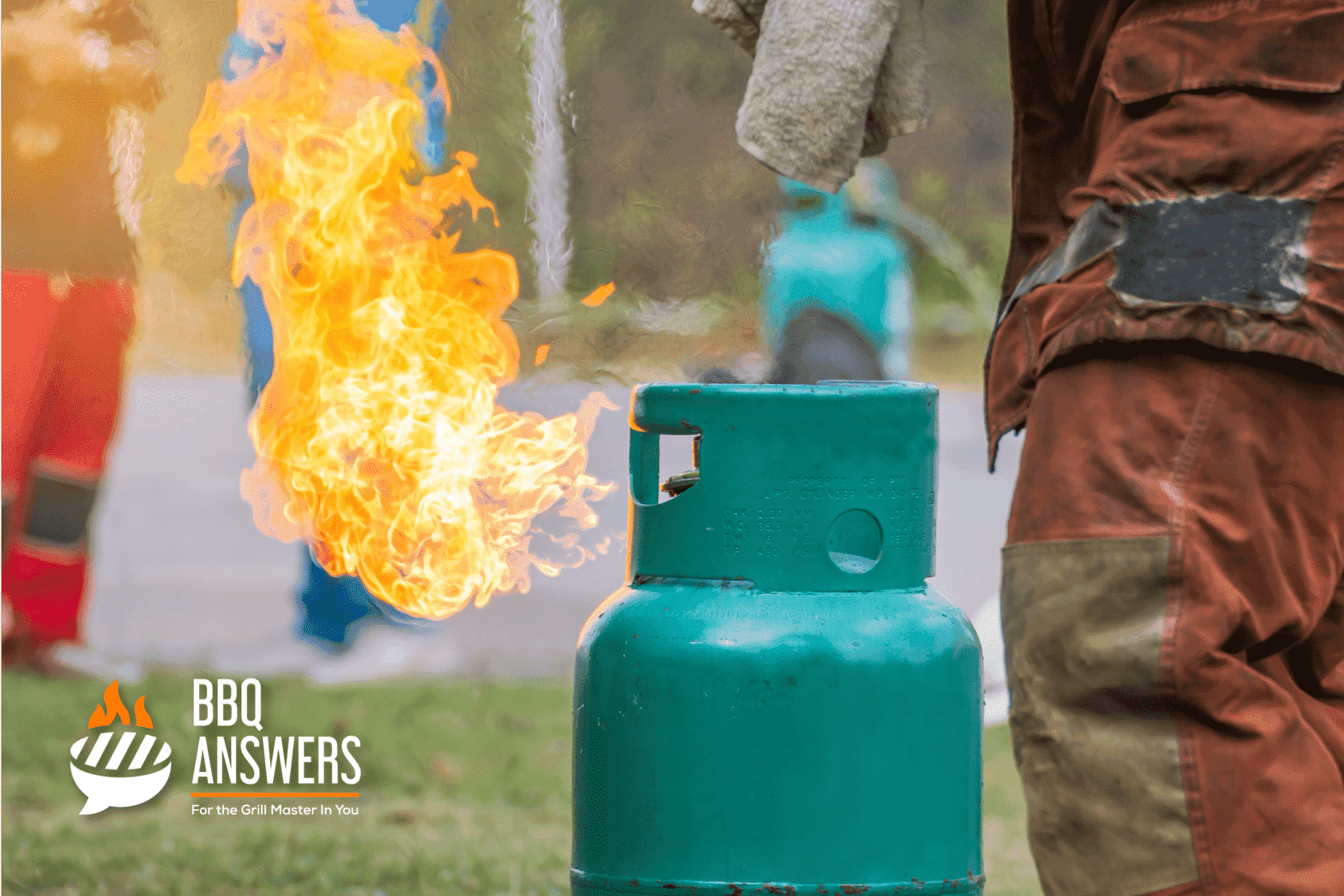 For gas bottles to explode, the container has to first rupture, and then the escaping gas has to catch on fire. 
The gas bottle ruptures or breaks open when the bottle's internal pressure is more than the stress that the weakest point in the gas tank can bear. This escaping flammable gas can cause the gas bottle to explode if it comes in contact with an open flame.
Here are the factors that could cause an increase in pressure in a gas bottle:
Sudden Increase in Temperatures
When there is a sudden increase in heat, it causes the gas in the bottle to expand. This increases the pressure in the gas bottle, which causes the pressure relief valve to release gas and reduce the pressure. If the pressure increase caused by the heat is so much that the pressure relief valve can't let out enough gas in time, the bottle will rupture. This would release a lot of gas, which would cause a big fire if it came in contact with a flame.
Accumulation of Flammable Gas
Accumulation of gas can cause a fire when it is exposed to an open flame. This fire can lead to a sudden temperature increase of the gas bottle, which will cause an explosion.
The best way to avoid a fire is to keep your gas bottle in a well-ventilated space because gas leaks are most dangerous when gas is allowed to accumulate. To find the gas leaks before they can accumulate, you must do the gas leak test. 
As mentioned before, gas cylinders are never filled to capacity. Overfilling your gas bottle increases the pressure in the container, causing a risk to your safety.
You will rarely find a pre-filled bottle overfilled because modern gas-filling centers use specialized equipment for refueling. However, if you get your gas refilled at a regular service station, they can overfill your bottle as they use the gravity filling method for refilling.
How to Ensure BBQ Gas Bottle Safety?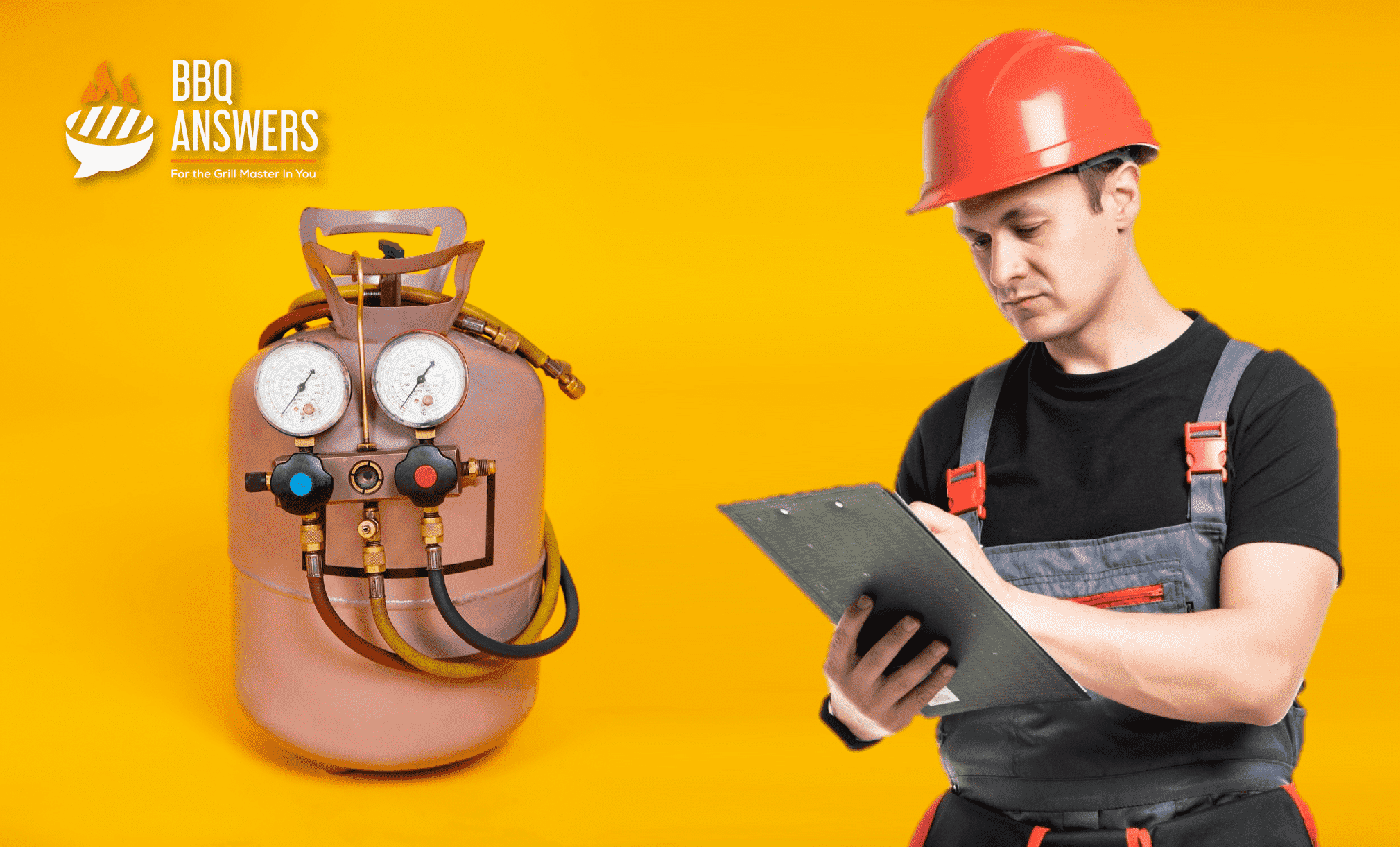 Gas leaks can occur from holes in the gas regulator, valve, or hose. These holes are often tiny, so detecting these leaks requires us to do a soap-water test. 
To do a soap-water gas-leak test, put some soapy water in a spray bottle, and spray it on your regulator, valve, and hose. Then open the valve of the gas bottle, but don't turn on the grill. If there is a gas leak, the soap around the hole will begin to bubble up. If you get close to it, you will even be able to smell the gas. To remedy this, immediately shut off the gas and replace the defective part.
I recommend doing this test after every time you assemble the gas grill. This not only ensures your safety but also gives you a clean grill to work with.
Even though the gas leak test can be done on the gas cylinder, it is not the best way to check for leakage because gas cylinders don't typically have small holes. They break suddenly, which is why gas bottles need to be inspected differently. 
When the expiry date of your bottle has passed, it is time to have it inspected. The expiry date will be stamped on the neck of the bottle. The gas cylinder inspection services cost around $30–$40, including valve replacement. If your cylinder is expired, the service stations can deny refilling your bottles until you complete the inspection. 
If you don't want to wait to have your gas bottle inspected, or you just prefer a newer bottle, you can trade-in your old bottle for a new one. 
Getting a new bottle may also be necessary if the container you have is no longer safe to use. Here are some signs that you need to have your gas bottle replaced:
The gas bottle is corroded

– The cylinder should be free of rust or scaling, especially near the container's neck.

The valve threads are damaged

– Burrs, cracks, and other imperfections affect the fit of the valve.

The bottle has dents or bulges – This is a critical sign of a safety issue and could be caused by poor handling of the container. 
BBQ Gas Bottle Safety Tips
Before grilling, ensure that you are not in violation of local fire regulations. Gas grilling is considered an open fire in many neighborhoods. You will need to abide by your local laws before you can begin. 
Once you have the permissions, ensure that you are in a well-ventilated space, and your grill is placed firmly on the ground. Your grill should also be sheltered from strong wind or rains and away from any flammable items or structures. 
Ensure that little children or pets stay away from the grilling area, and take the appropriate personal fire protection precautions.
Now that we're all set, here are a few safety tips specific to using and storing BBQ gas grilling: 
How to Use Gas Bottles Safely?
I have covered most of the general safety tips for using gas grills earlier, so I am only going to mention two tips that I haven't before:
Install Flame-Out Protection Devices
One of the most common reasons for fires is flame-outs, i.e. when the flame goes out but the burners are still releasing gas. This results in gas accumulation, which becomes a fire as soon as it comes in contact with a flame.
Various solutions that prevent gas accumulation because of flame-outs. Some solutions rely on timers that turn off the gas if there is no flame. Other solutions turn on the igniter when there is no flame, and yet others use a combination of these technologies. 
Remove the Grease to Avoid Flare-ups
Gas grills are infamous for flare-ups. To avoid this, be sure to clean your grill the right way. If you use products for heat distribution, make sure to clean them with special care since they need it the most. Here is some helpful information on:
How to Store Gas Bottle Safely?
As with the safety tips for gas bottle usage, I have covered most of the general safety tips for gas cylinder storage on a previous post. Here, I am only going to mention the ones that I haven't previously:
Keep the Gas Bottles in a Cool Space
When gas bottles heat up, the gas in them will expand, exerting pressure on the bottle. To avoid this, keep the cylinder away from all sources of heat, including the sun, fires, appliances, and machinery. 
Keep the Gas Bottles in a Ventilated Space
Even if you keep your gas bottle in a relatively cool place, there is a very small chance of gas leaking. If this happens, you want to make sure that this leak doesn't result in a fire. That's why it is necessary to keep your gas bottle outdoors. Avoid storing your gas bottles indoors – including garages, attics, basements, and cellars.
Keep the Gas Bottles Upright
It is important to keep gas cylinders upright and on a level surface. Keeping the bottle upright ensures that the pressure relief valve works correctly and doesn't expel liquid fuel instead of gas. If the pressure relief valve releases liquid fuel, it could cause a fire hazard because liquid fuels typically expand hundreds of times as they turn into vapor. This would pose a severe fire risk because of the large amount of flammable gas released. 
Keeping the cylinder on a level surface ensures that it doesn't topple over and injure someone.
Handle the Gas Bottles Carefully
Just like your gun, your gas bottles must be treated like they're always loaded. Make sure that the bottles aren't nonchalantly tossed about or picked up by the valve. Doing this could cause the gas bottle to break open, and they may still have some gas in them even if they seem empty. If you are careless when handling gas bottles, you'd be lucky to get away with an injury.
Frequently Asked Questions (FAQs)
Are Bigger Gas Cylinders Less Safe Than Smaller Ones?
Yes and no. Bigger gas cylinders have gas at a higher pressure than smaller cylinders, but this doesn't make them less safe. Gas manufacturers make appropriate considerations when designing both big and small bottles. 
However, in the event of a safety problem, the smaller cylinder will have lesser gas, posing a smaller fire hazard than the bigger ones. However, this scenario is next to impossible if you are following the gas safety tips mentioned above.
Is it Better to Store BBQ Gas Bottles Indoors or Outdoors?
It is best to store BBQ gas bottles outdoors. Storing it indoors can be dangerous because flammable gases will accumulate in case of a leak. When storing gas bottles, always keep them secure, upright, and in a shaded and well-ventilated area.
Does Shaking Gas Cylinders Cause them to Explode?
Not unless you have added mentos and cola to it. Joking aside, shaking gas cylinders cannot cause any explosions because it has no effect on the gas pressure of your bottle. However, rocking a large cylinder can be tiring, and if dropped, it may cause a leak that could lead to an explosion. 
Can I Transport Gas Bottles in my Car?
Gas bottles can be transported in the car but must never be stored in the car because cars can get hot when left out in the sun. This could cause gas to leak from the pressure relief valve. You must also secure your gas bottle in the upright position when traveling. 
Can I Lay a Gas Bottle on its Side?
No. Laying gas bottles on the side prohibits the pressure relief valve from working correctly. Instead of releasing the fuel as a gas, it will release the fuel in liquid form. This is very dangerous because the liquid fuel almost instantly turns to gas, covering a much larger space and posing an increased fire risk.
How Long Do Gas Bottles Last?
Smaller gas bottles, like the ones used for BBQ, expire in 10 years. The life of a cylinder can go up to 15 years for larger containers. After this time, these bottles need to be inspected before they are reused or discarded.
The expiry date can be found on the neck of the gas cylinder. If you are using a repurposed bottle, you may have more than one expiry date mentioned.
What are the Alternatives to Gas Grills?
If you are uncomfortable using gas cylinders, don't worry. There are many alternatives to gas grills, including charcoal grills, electric grills, smokers, and much more. Check this article to learn more about the different types of grills. 
Conclusion
Following the advice given in this article, you're guaranteed to have a safe gas grilling experience. Check out more fire safety tips by reading this article. 
If you have any questions, comments, or suggestions, please drop me a line below – I'll be sure to try my best to help you out!
For more tips, techniques, and answers to all your BBQ questions, subscribe to BBQanswers.com by hitting the bell icon on the bottom left-hand side of the screen.