How to Test Steak Doneness? From Rare to Well Done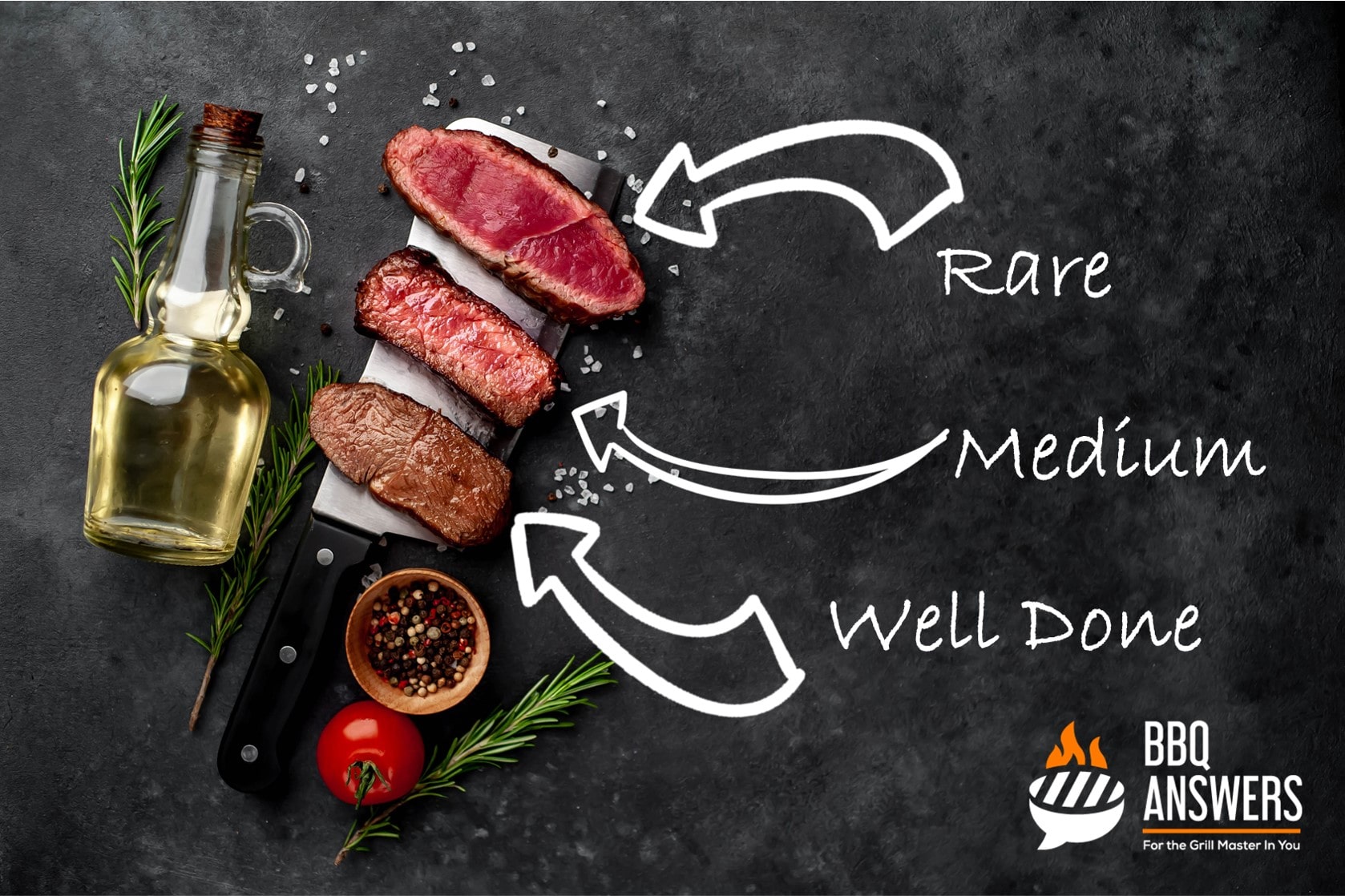 Is my steak ready? That's a question that we all have asked hungry selves, but what is a ready steak anyway?
In this post, we'll find out the answer to that question and other questions like: can you trust the finger/ palm or face tests? Should you be using a meat thermometer? Or should you do something else entirely?
We'll also discuss what each doneness level looks like and dispel some myths about cooking a steak. So get ready to enjoy consistent grilling results every time!
What are the Degrees of Steak Doneness?
There are many terms which people use to describe doneness. You have probably heard people throwing around many phrases like" Blue rare" and "Pittsburgh Rare" – the below image makes light of it. 
However, in essence, there are only three primary levels of doneness – Rare, Medium, and Well Done. If you want to be more specific when ordering at a restaurant, you can use the intermediate terms – "medium rare" and "medium done." 
Here are the five levels of Steak Doneness
Rare (120°F or 49°C):

 This steak has a seared exterior and dark red center that is almost as soft as raw meat. It is recommended only for leaner meat cuts because the short heating time required to produce rare steaks doesn't afford enough heat for melting the fat in fatty meat.

Medium Rare (130°F or 55°C):

 This type of steak has a bright red center with a nicely-seared exterior. Medium rare is perfect for meats with delicate intramuscular fat since the higher cooking times are enough to cook through tender fat. The fat renders to produce juice and flavor in your cut of steak.

Medium (140°F or 60°C):

 These steaks have even lesser redness than the previous steaks. They look pinkish and are firmer to the touch almost all the way through. Medium steaks are not as soft and juicy if you have a well-marbled steak, but if your steak has heavy fat, medium steaks will have the perfect juiciness.

Medium Well (150°F or 65°C):

 These steaks have a pink center and a thicker brown/greyish wall. If you love well-done steaks but still want to dip their toes into rarer steaks, this may be a good starting point. If you have a very fatty cut, this is the way you may have to cook your steak.

Well Done (160°F or 71°C):

 These steaks are brown/gray from wall to wall. They commonly receive a lot of flak since they are not as tender and juicy as rarer steaks. These steaks generally take longer to cook, which is unnecessary for any kind of cut unless that's what you enjoy.
Is Well Done Steak Really That Bad?
When it comes to the doneness of meat, people often have differing views. Some people prefer meat well done, while the majority are offended that I didn't tell you that it tastes terrible!
Despite the groupthink, I would recommend you to grill your meat to the level of doneness of your preference. Even though rare steaks are generally softer and juicier, you may prefer your meat to have less redness and a little more chewiness. 
You may instinctively not like the red color in your meat because having blood in meat is not permitted by Judaism, Christianity, and Islam. However, the next section addresses that concern better.
Do Rare Steaks Have Blood In Them?
Steaks generally do not have blood in them. The only way you will find a bloody steak is if you ask your butcher for one!
The meat's blood is removed during the slaughtering process. The red liquid we find in our meat is actually an oxygen-binding protein called Myoglobin. This is not a part of the blood. Myoglobin is generally found in the heart and skeletal muscles. It is only released into the blood when the muscle is injured.
Myoglobin looks red because this protein is distantly related to hemoglobin (the protein that gives our blood the red color). This Myoglobin changes into a darker color as it cooks, rendering the brownish-gray color found in well-done steaks.
So if the only reason you like well-done steaks was the blood issue, you could now try rarer steaks without worry – unless your concern is the next point!
Are Rare Steaks Safe for Consumption?
The USDA's Safe Minimum Internal Temperature Chart recommends cooking beef at a minimum temperature of 145°F (62°C). This is in between medium and medium-well on our degrees of steak doneness section.
However, this claim is disputed by doctors who believe that reaching this internal temperature is not necessary for a cut of meat that is intact. So the USDA's recommendation is valid when it's difficult to guarantee that the meat being used is fresh and not contaminated by cutting. 
I would recommend that you err on the side of safety. Only cook below the USDA's recommended temperatures if you trust the cleanliness of your meat supplier, butcher, and the person cooking your food.
What happens When You Cook Your Steak?
Before learning the steak cooking techniques, it's essential to understand what is happening when you cook your steak. This will help us focus on any of these aspects when we want to tinker with the steak's flavor. 
There are basically two processes that occur when you are cooking steak:
The Cooking Process
This is the part where we bring our steaks up to the desired internal temperature so that it kills the bacteria and breaks down the elements of the meat to produce a cooked flavor.
The elements that breakdown during cooking are:
Fat 

– If there's one thing all BBQ enthusiasts know, it is that fat is flavor. The intramuscular fat and fat caps in the steak melt to make the meat juicy and delicious. 

Protein 

– The proteins in the meat are irreversibly changed to have a different nature (called the denaturing process). This is what causes a soft and springy piece of meat to become firm as it cooks.

Water 

– Since most of the animals are made up of water, cooking the steak causes the water to evaporate. This reduces the cut's size and concentrates the flavor of the meat in a smaller area, thereby making it tastier. 
The Searing Process 
This is the process responsible for most of the flavor of the meat.
When the outside of your meat is exposed to high heat for a short time, it causes the Maillard reaction. This video explains the Maillard Reaction well:
This reaction occurs between 300 and 500°F (150 and 260°C) and causes the sugars and amino acids to react. This causes the meat's surface to turn brown and creates a lot of flavor and aroma compounds.
How to Know When Your Steak is Ready?
The best way to check for steak doneness is by checking for the internal temperature. 
External thermometers are not suitable because the meat's external temperature will almost always be high, regardless of internal temperature. This means you won't know whether the insides of your steak are rare or well done.  
If you don't have one yet, I would highly recommend investing in one because it will prove to be the most important tool on your journey to BBQ mastery.
Pro Tip:
If you don't want to exceed your target grilling temperature when using a grilling thermometer, you must take your steak off the heat around 5°F or 2.5°C before reaching the target temperature.
This is because your steak is hot on the outside and cold on the inside. And the internal temperature continues to rise as your meat reaches thermal equilibrium. 
Letting the meat rest as it comes up to temperature will also give you a more tender cut of meat. Rested meat is more tender because when the meat is hot, the water is trying to escape through the meat fibers, leaving the meat less juicy. But when the meat is rested, the juices are redistributed throughout it.
What Other Methods Can I Use to Check For Doneness?
If your meat thermometer hasn't arrived, and you still need to check for oneness, you can test for doneness using the method below.
However, please remember that this method will ever be as reliable as checking the internal temperature.
Testing Meat Doneness With the Finger/ Palm Method
This method entails checking for meat doneness by comparing the firmness of the meat with the firmness of your palm in different positions.
This video does a great job of visually explaining this method.
Even though this method is not completely reliable, it is not as bad as the methods in the next section. This method is not too bad because there is not too much variance in the firmness of the muscles in your palm.
Methods You Should Completely Avoid When Testing For Meat Doneness 
Testing Meat Doneness With the Face Method
This myth of checking for steak doneness won't die. Especially because celebrities like Gordon Ramsay have promoted this myth on cable tv!
This method is so ineffective because people have very different faces depending on genetics, diet, and lifestyle choices. Sometimes people have differing levels of facial puffiness at different times of the day!
If you cook as often as Gordon, and your face hasn't changed in years, you may be able to manage by poking yourself in the face. But for most of us, this is not a reliable way to cook, and getting a cooking thermometer is a must!
Testing Doneness By The Color of The Meat
This is the worst method of guessing at the doneness of meat because when the meat is seared on the outside, it looks the same despite how much it is cooked on the inside.
Testing Doneness By External Temperature
Theoretically, it is possible to cook meat by checking the external temperature. You will need to chart the time it takes to cook a particular meat cut at precise external temperatures.
However, this is not practical because if you change the grilling method, the ambient temperature, the grade of the meat, the thickness of the cut, or when you choose to calculate the temperature – all your calculations will prove useless!
Besides, even if you are cooking in a laboratory where you can control all of the above variables, it is complicated to keep time on multiple steaks that go onto the grill at different times and need to be cooked to differing levels of doneness.