Infrared Vs. Charcoal Grills: Latest Tech Vs. Greatest Taste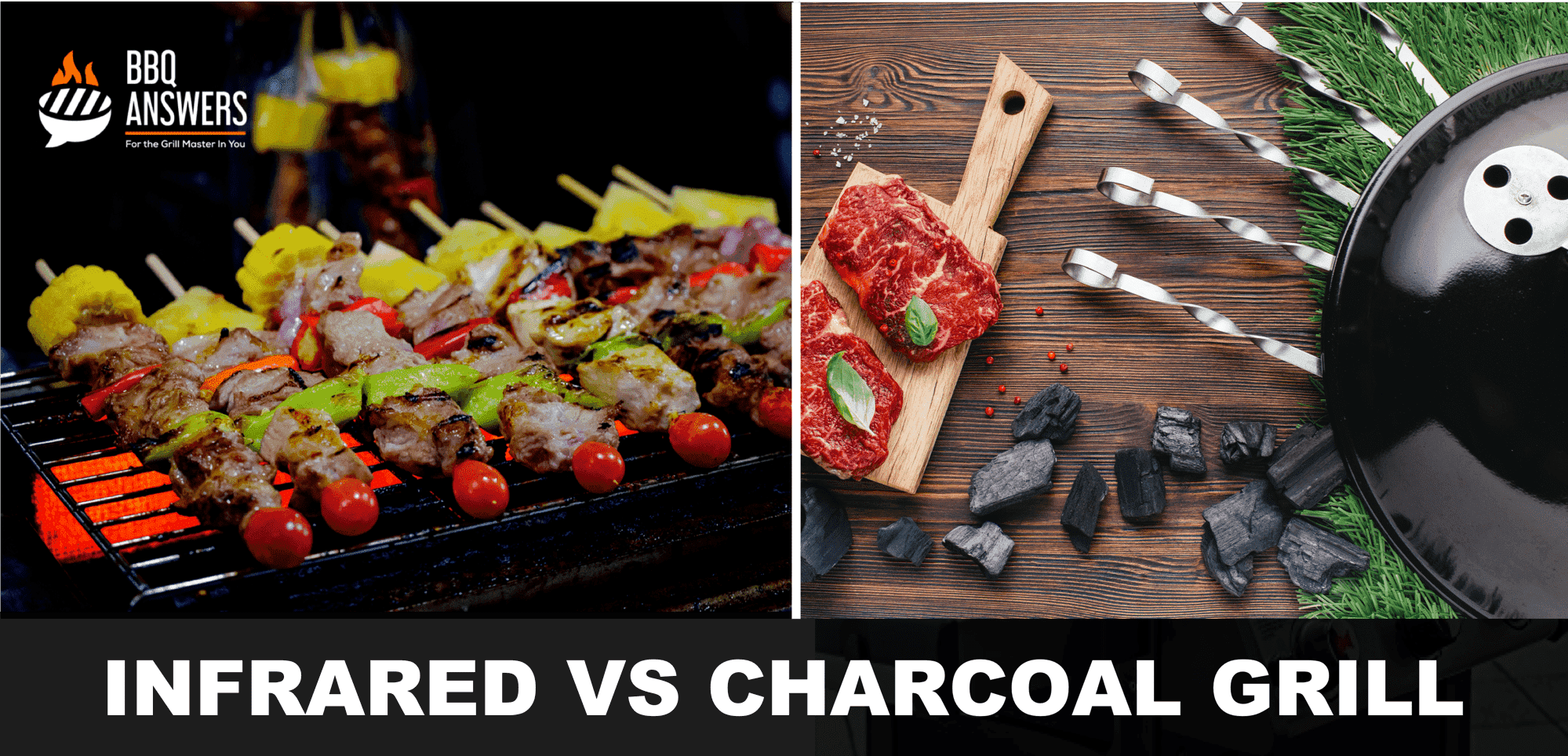 The world of BBQ can often be like Disney World. It's a beautiful place with all these exciting adventures and rides. But sometimes, all the amazing options can get overwhelming. With scores of people lining up in support of their favorite grills, making an objective decision seems impossible.
However, by the end of this post, I hope you will be able to sort through the confusion and know which grill is best for you – charcoal grills or infrared. I have drawn a comparison between grills, highlighted the pros and cons, cleared a few misconceptions, and addressed a few frequently asked questions. 
Let's get into it!
Types Of Heating Methods
Before we get into the differences of each grill type, it helps to understand the three main heating methods found in a grill:
Conduction
Conduction is the direct transfer of heat between two objects that are in direct contact with each other. 
Conduction occurs between the grill grates and the food since they are in direct contact with each other. It also happens when the flame comes in direct contact with the food that you're grilling. This type of heating is seen in electric grills.
Conduction helps us get beautiful sear marks on food, but flames coming in direct contact with grease are also the cause of flare-ups in overly greasy grills.
Convection
Convection is when heat energy is transferred between two objects indirectly through fluids.
Convection occurs when the flame inside the cooking appliance heats the air, which then heats the food. This type of heating is the most common form of heating – seen in all grills except for electric and infrared grills.
Convective heat enables you to heat your food for a long time without burning it, but it also causes heat loss since not all the air comes in contact with the food.
Radiation
Radiation heat transfer is when the heat is transferred between two-bodies through electromagnetic waves (including visible light) without the need for an intermediary medium (like air). 
Radiation is how we receive heat from the sun and also how infrared grills cook your food. This type of heating is seen in infrared grills.
Radiation helps you avoid heat loss when cooking your food, but it can often be unsuitable for slow cooking because sufficient heat is only generated at higher temperatures.
Introducing the Grills – Infrared and Charcoal Grills
What are Infrared Grills?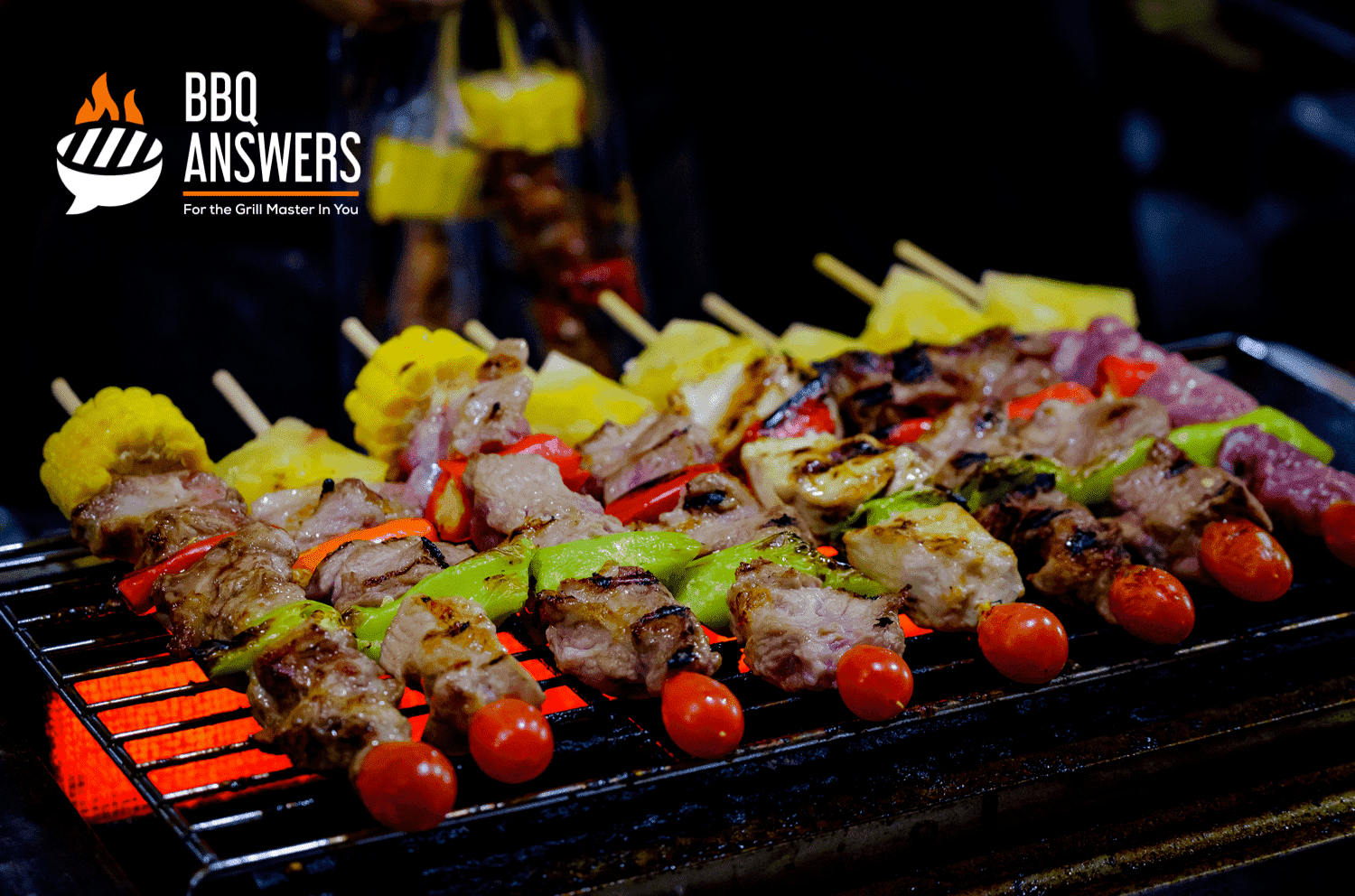 Infrared grills heat food using radiation heat transfer. While this grill is fueled by gas, do not mistake it for a traditional gas grill. The gas is used to heat the infrared element, which then produces infrared rays. These grills have the fastest heating times and can reach very high temperatures to have your meal ready in a jiffy.
Even though infrared grills were introduced in the 1980s, it is still growing in popularity. It's not uncommon for BBQ enthusiasts to have never heard of infrared grills! That was mainly due to its high price, but today, these grills are becoming more affordable with advances in technology.
What are Charcoal Grills?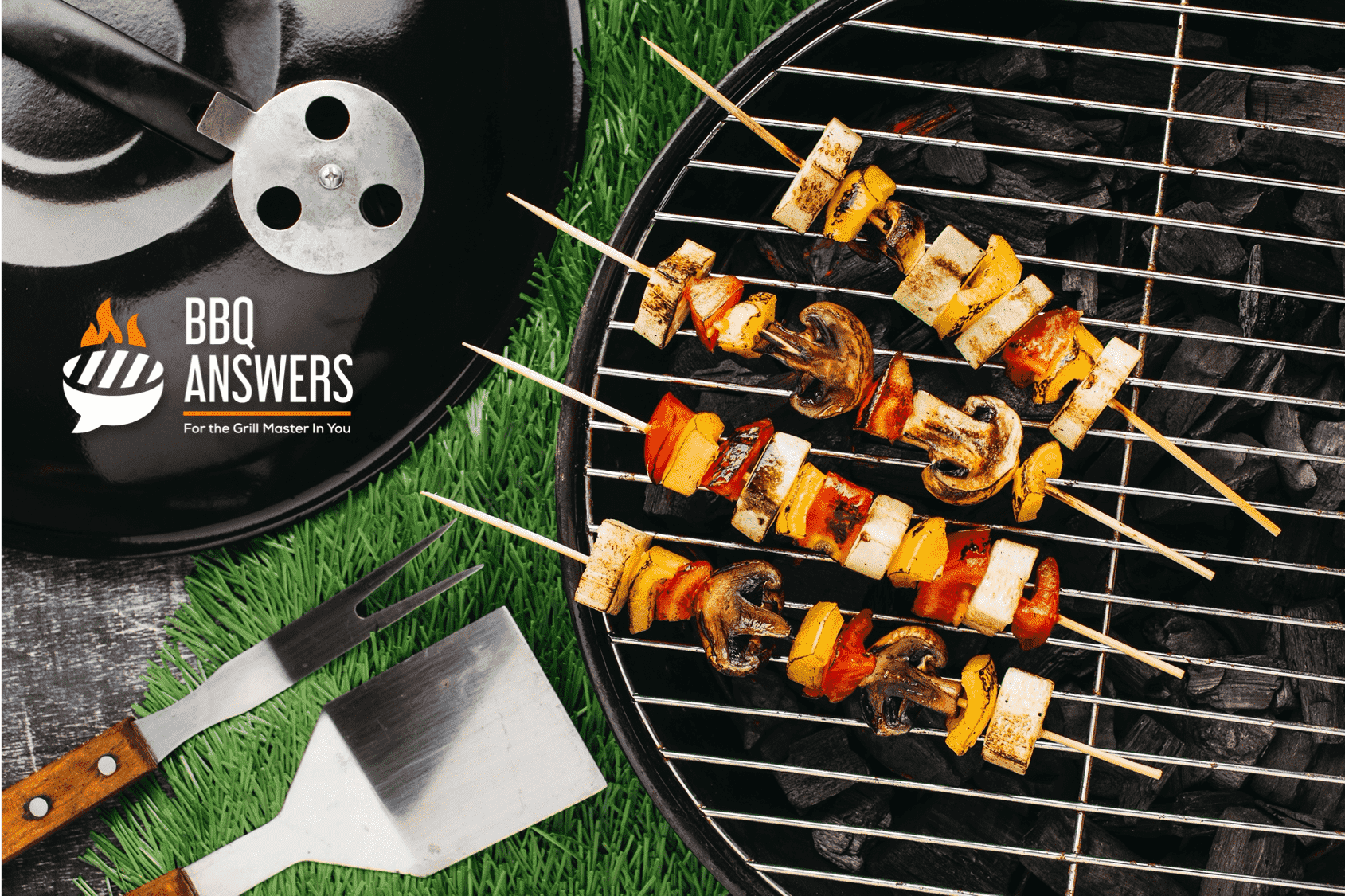 Charcoal grills use charcoal for cooking the food. It has two main components – a base that holds the charcoal and a grilling rack to cook food. The heat and smoke from the burning charcoal cooks and sears the food while inside remains moist and juicy.
Charcoal grills are the first type of grill created, and nothing beats the authentic charred, smoky, and woody flavor that these grills produce. This is why, despite all the advances in technology, it's not uncommon to find charcoal grill evangelists in BBQ circles.
Looking to Buy a Charcoal Grill?
You can choose from the best Barrel, Kettle, and Kamado Grills available in the USA, Canada, Australia, and the UK.
What's The Difference Between Infrared And Charcoal Grills?
Authentic Flavor
You cannot discuss BBQ without talking about flavor. Even though charcoal grills are widely known for their fantastic flavor, infrared grills are not far behind.
You can get an authentic charred, smoky, and woody flavor with charcoal grills, but the meat loses juiciness in long cooks. You can remedy this by using a water pan for improving moisture.
Infrared grills won't give you the charcoal-smoke and wood smoke flavor, but it does produce a lot of smoke by vaporizing the fat and juice drippings that fall off the food.  Infrared grills perform better than charcoal grills in ensuring soft, juicy meats. This is because radiative heat doesn't heat the air, and therefore, it doesn't create air streams that dry out the meat by displacing the moisture.  
Heating Method
Charcoal grills use convection to heat the food. This leads to a lot of heat lost to the surroundings when the air escapes through the vents. When the fat from the food falls directly on the coal. Be sure to minimize excessive food drippings because the coal cools down when the food is vaporized. Also, if you use excessive grease, it could lead to flare-ups.
Conversely, infrared grills operate with the radiation heating method. The food is cooked under direct heat from the heating element without heat losses to the surrounding air. This results in a high heat that is perfect for searing meat. Any food drippings are also vaporized because of the high temperatures. Infrared grills also guarantee uniform cooks since they distribute heat evenly across the cooking surface.
Apart from the primary heating method, the food on both grills is also heated conductively since the heated grill grate is in direct contact with the food.
Temperature Control
One of the key advantages of infrared grills is that they can produce temperatures higher and faster than standard grills. Because infrared grills are heated by gas, controlling the temperature only requires you to turn the knobs on your grill. However, beware that you cannot get temperatures below 200⁰F (90⁰C) on most infrared grills.  

On the other hand, starting and maintaining temperatures on charcoal grills can be challenging, especially for newcomers. With the lid closed and charcoals burning hot, you can get a good 500⁰F (260⁰C) on the grill, and if you open all the vents, it can rise to a temperature of 700⁰F (370⁰C). It is also possible to maintain lower grilling temperatures with charcoal grills.
Pitmaster Tip
If you are using charcoal grills for the first time, you may end up with burnt food in the first couple of attempts. This may be off-putting, but with a little persistence, you are bound to succeed.
Heat-up And Cooking Time
It is fairly common for infrared grills to reach a surface cooking temperature of 700⁰F (370⁰C) in under 8 minutes. This remarkably short heat-up time is unique to infrared grills. These grills are unaffected by wind or external weather, which reduces the cooking time. Additionally, infrared grills heat the food efficiently since they don't heat the air that eventually escapes whenever you open the lid to check on your food!
Charcoal grills take about 15-20 minutes to start up. Using a chimney starter may quicken the process. The cooking time required also depends on the external climate since cooler temperatures result in more heat loss due to convection.
Multi-zone Cooking
Infrared and charcoal grills both come in a variety of sizes. Infrared grills are often larger, making them a favorite for commercial purposes. However, the amount of food that can practically be cooked on infrared grills is limited because the entire cooking surface has an even cooking temperature. This means that you can't pair any two types of food that need different cooking temperatures. 
With charcoal grills, you can easily set up multiple cooking zones by offsetting the food in relation to the charcoal. 
Portability
Another great feature of charcoal grills is their portability. Charcoal grills have many lightweight variants like kettle grills that can be dismantled and packed into your car's trunk. If you're planning to grill outdoors, please ensure you know how to prevent BBQ fire hazards when camping.
Even if you have a small infrared grill, transporting a grill powered by a massive gas bottle is not easy. However, infrared grills have portable variants too. Electric infrared grills are perfect for you if you love the outdoors, but also love technological convenience. 
Cooking Method
With charcoal grills, you can grill as well as smoke your food. By creating a two-fire zone, you can sear your food over the hot coal or smoke it by indirect heating.
Infrared grills are usually only suitable for hot-and-fast grilling since they cannot maintain low temperatures. However, on some of the recent models, it's possible to lower the temperature to 148⁰F-200⁰F (64℃ to 93℃) to cook lean meats, fish, and veggies.
Fuel Cost
Since infrared grills heat up quickly, the reduced cooking time saves you a lot on fuel. It's not uncommon for infrared grills to last twice as long as conventional gas grills, saving you a lot of money. 
Running charcoal grills is generally more expensive than infrared grills. However, how much more you spend will depend on what kind of charcoal you use. Charcoal briquettes are much cheaper and last longer than natural lump charcoal. However, if you want to grill on high heat with charcoal briquettes, you will need many briquettes since they don't burn as hot as lump charcoal. 
Clean Up
Even though many people claim that infrared grills are self-cleaning – it is nothing but a ploy to increase sales. Sure, infrared grills require much less cleaning than other grill types because the fat and food juices are instantly vaporized by the infrared rays. However, if you don't believe in cleaning your grills the right way, please let me know before you invite me to your barbecue!
Charcoal grills are more difficult to clean because of all the ash they produce. Disposing this ash is often a challenge unless you use natural lump charcoal and have a garden that needs fertilizer. If you use charcoal briquettes to heat your grill, you have to deal with more ash, and you can't even put the ash to good use. 
Grilling Safety 
Infrared grills are less likely to be a fires safety risk because the grease is vaporized before coming in direct contact with the flame. 
Charcoal grills can be risky if not handled with care. Managing the fire is a manual task that requires a lot of skill. Even a strong gust of wind can often send embers flying onto flammable objects. Neglecting the fire safety guidelines could land you in hot waters.
Cost
There's no doubt that charcoal grills, which sometimes is as simple as a cooking grate and a drum, are inexpensive cooking devices. You can get charcoal grills for as little as $100, while the quality ones will cost you around $500.
Infrared grills are much more expensive than charcoal grills because of the technology used. They cost about 15% more than conventional gas grills, but they could be a good investment if you cook commercially. 
Benefits And Drawbacks of Each Grill
Now that you are familiar with the differences between both grills, let's talk about the pros and cons.
Pros and Cons of Infrared Grills
Benefits of Infrared Grills
They guarantee a uniform heating surface.

Because of the high heat on an infrared grill, your food will cook much faster than other grill types.

They ensuring juicy results by retaining the moisture of the food.

They require minimum cleaning.

The grill temperature isn't affected by wind or other external factors since the heat is transferred directly to the food.

They can attain very high temperatures.

They are inexpensive to operate since they have minimum fuel consumption.

Their electric models are portable.
Drawbacks of Infrared Grills
They are costlier than traditional gas grills.

Setting up multiple zones with different cooking temperatures is not possible.

They cannot maintain the lower temperatures needed for grilling lean meats and veggies. However, some of the latest grill variants make that a possibility.

It can be challenging to cook at its high temperatures without burning your food.

The high temperature can burn your food, which can pose a health risk.
Pros and Cons of Charcoal Grills
Benefits of Charcoal Grills
Charcoal grills add a smoky and charred flavor to the food that other grills cannot imitate.

The charcoals can rise to very high temperatures, especially if you're using lump charcoal.

Some charcoal grill models are portable.

Charcoal is inexpensive and readily available.

You can cook both lean and tough varieties of meat on a charcoal grill.
Drawbacks of Charcoal Grills
Cleaning charcoal grills isn't easy because of the excessive ash.

Sometimes you can get ash in your food.

Heating the grill can take as long as 30 minutes, depending on the external weather conditions.

Igniter fluid, if used to light the charcoal, can leave a bad chemical-like taste on your food.

The high heat can be dangerous if safety measures are not followed.

Cooking over charcoal needs to be done with precaution and discretion. 
Looking to Buy a Charcoal Grill?
You can choose from the best Barrel, Kettle, and Kamado Grills available in the USA, Canada, Australia, and the UK.
Myths And Misconceptions
One of the main reasons people get persuaded or, in other cases, dissuaded from purchasing a particular grill type is the many myths and misconceptions surrounding them. 
This could be due to creative marketing by companies or the misinformation spread by rivals. Either way, we need to settle these matters once and for all to make an unbiased and informed choice.
Infrared Grill Myths
Infrared Grills are a Fire Hazard
People sometimes assume that because infrared grills produce higher temperatures, they may be more likely to cause fires. However, this is not the case because the further an object is placed from the burner, the heat output diminishes quadratically.
Infrared Grills are Always Extremely Expensive
While it is true that infrared grills are mostly expensive, you can find budget models for around $200. However, don't expect them to function like their highly-priced counterparts.
Charcoal Grill Myths
Charcoal Adds a Woody Smoke Flavor to the Food
It's not the charcoal but the volatile elements of wood that gives you the smoked wood flavor. You will need to choose the right smoking wood for a perfect wood-smoke flavor.
Charcoal Lumps are Better than Charcoal Briquettes
Although charcoal lumps are the natural option that demands a premium, each type of charcoal serves a unique purpose. Read here for a detailed comparison between the two.
Charcoal Grills Always Cook Food Unevenly
This may be true for your first few tries, but with a little practice, you can master cooking on a charcoal grill. 
It Is Impossible To Control The Temperature On A Charcoal Grill
While temperature control in charcoal grills isn't as simple as turning a knob, it isn't impossible. Armed with a thermostat and a few pro tips for maintaining a charcoal BBQ fire, you'll be on your way to BBQ mastery.
Frequently Asked Questions
Are Infrared Grills Better Than Traditional Gas Grills?
Infrared grills are better than traditional gas grills at producing juicy meat, whereas gas grills are more versatile. Here's a detailed comparison between infrared grills and gas grills.
Are Charcoal Grills Worth It?
Yes. If you have a little bit of skill, charcoal grills give you the most authentic flavor and experience.
Looking to Buy a Charcoal Grill?
You can choose from the best Barrel, Kettle, and Kamado Grills available in the USA, Canada, Australia, and the UK.
Concluding Thoughts
Sometimes it's challenging to make an objective decision with so many differing opinions, but you know what's best for you. I told you the facts in this post, and I'm sure it made one option more favorable in your eyes.
If you like what you just read or would like to know more, don't hesitate to drop a comment. If you're passionate about barbecue, subscribe to BBQanswers.com by clicking the bell icon on the bottom-left corner of the screen.