Which Type of BBQ Heat Diffuser is the Best?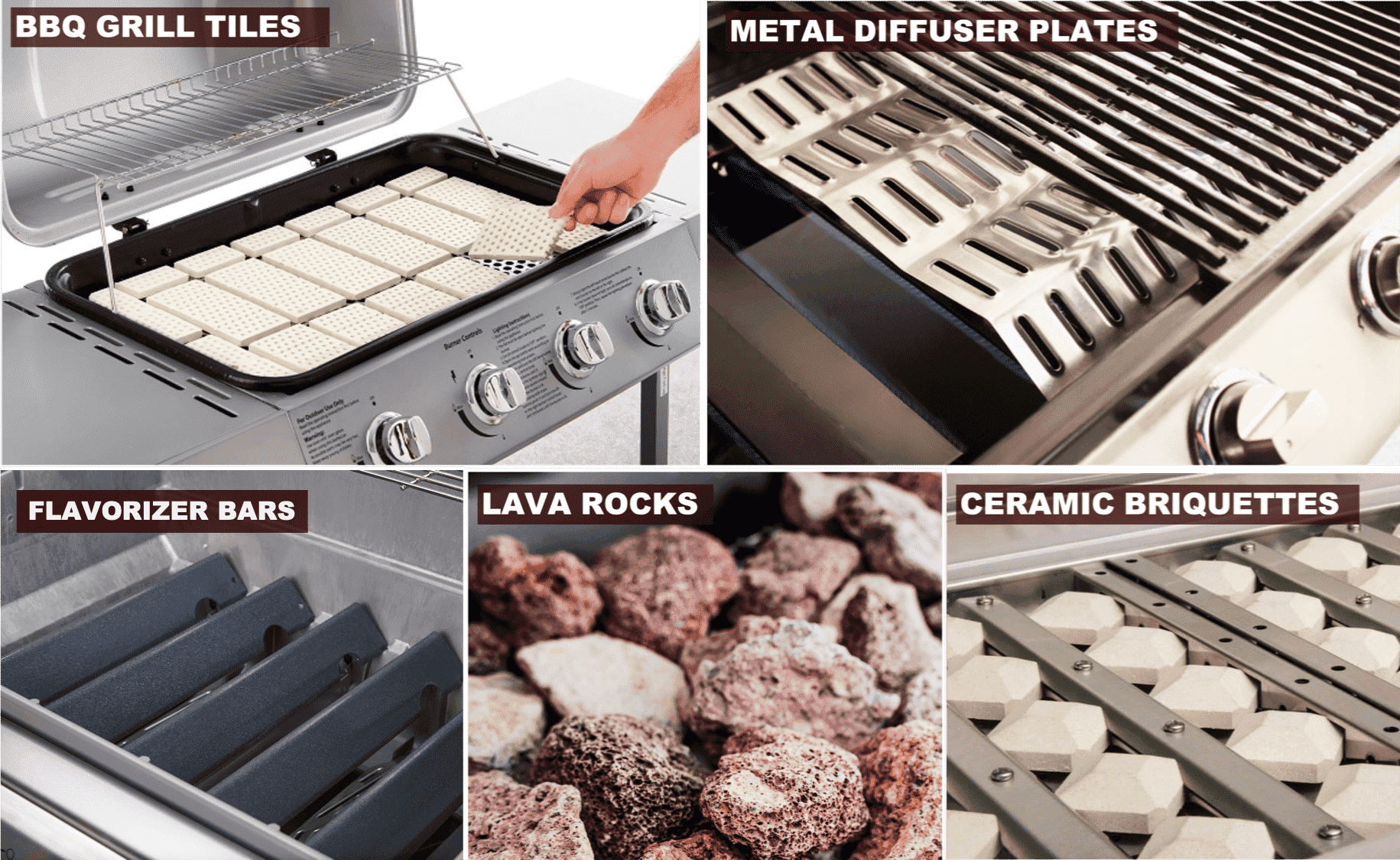 Barbecue heat diffusers make gas grilling enjoyable and help gas grills reach their full potential. Gas grills are the most popular grills in the market, but sometimes they struggle to achieve and maintain the right temperatures without incinerating your food. 
In this article, I will give you an introduction to the various types of BBQ heat diffusers. Then I will help you compare the five most popular alternatives – Lava Rocks, Metal Diffuser Plates, Flavorizer bars, Ceramic Briquettes, and BBQ Grill Tiles.
Let's get right into it!
What Are BBQ Heat Diffusers?
BBQ Heat Diffusers, also called BBQ Flame diffusers, are gas grilling accessories that help distribute heat evenly and prevent flames from coming in direct contact with food. Since heat diffusers create a separation between the fire and food, they prevent food drippings from clogging the burners and are also crucial in avoiding flare-ups.  
You must also choose the heat diffuser material wisely as they undergo a lot of stress since they are so close to the flame. This also has an impact on how much heat the diffuser can hold. 
What Are the Different Types of Heat Diffusers?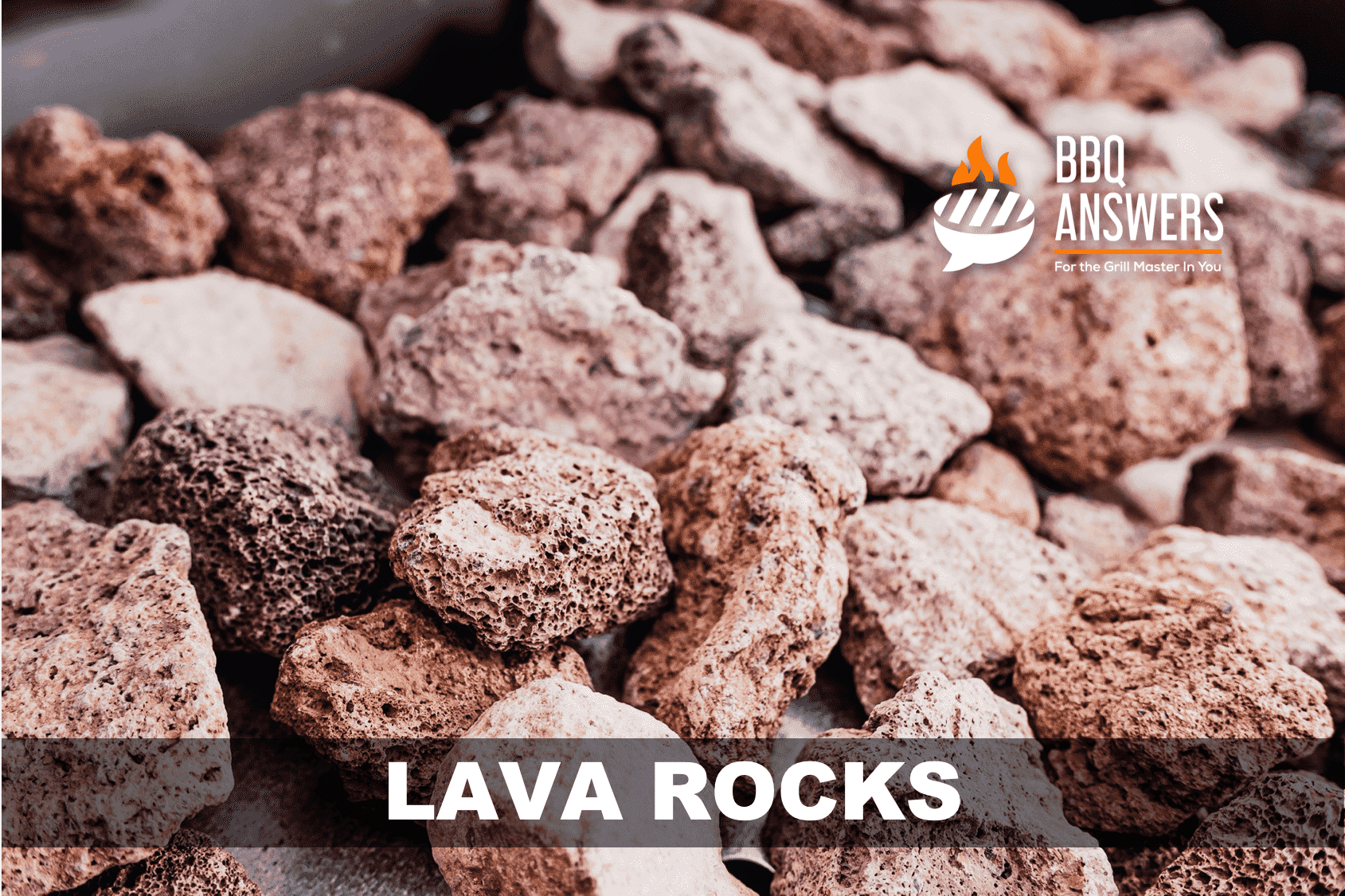 BBQ Lava Rocks are fragments of igneous rocks that are formed when lava cools down over time. These rocks have these small empty pores on their surface that help it retain heat in a gas grill.  
The rocks are placed on a wide-holed rack made of cast iron or stainless steel. They are then placed between the burners and grill grates. 
Lava rocks were the first heat diffusers and are still used today because they have many benefits. They are the most cost-effective alternative and will last you a long time. Learn more about BBQ Lava Rocks.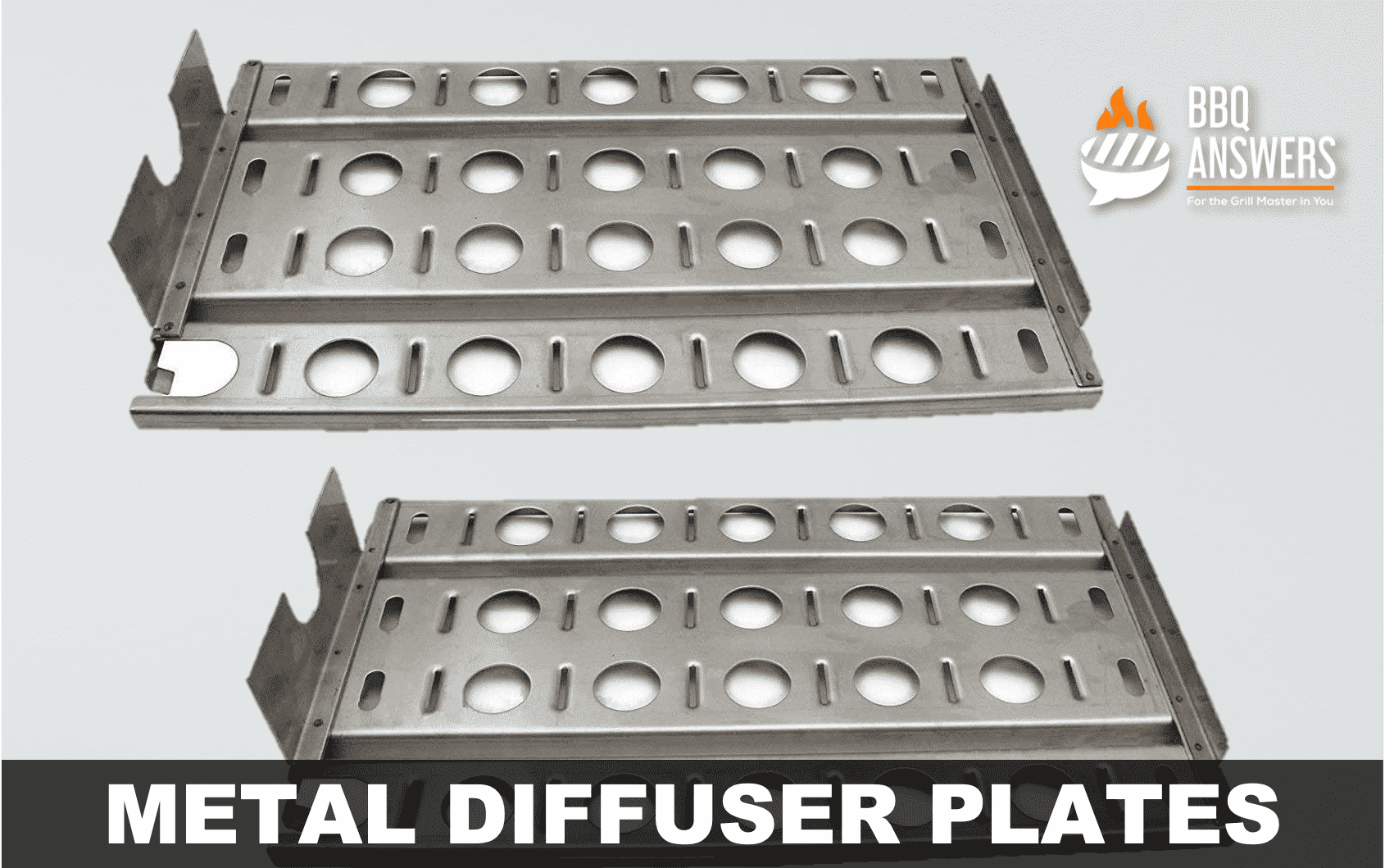 BBQ Metal Plates are sheets of metal that form a separation between the flame and the food in a gas grill. Metal Diffuser Plates are an excellent alternative to Lava rocks since the plates are more convenient to clean and can be handled as a single unit. 
They are commonly made from cast iron, stainless steel, or porcelain-coated metal. Cast iron plates retain heat the best, but they aren't corrosion resistant. Stainless steel plates are corrosion resistant, but they don't hold heat very well. Porcelain-coated plates give you the best of both worlds when they have a thicker body and are maintained appropriately.
The heat distribution on Metal diffuser plates is not optimal because the metal surface didn't have the same distance from the burners. This is why they were replaced by Flavorizer Bars.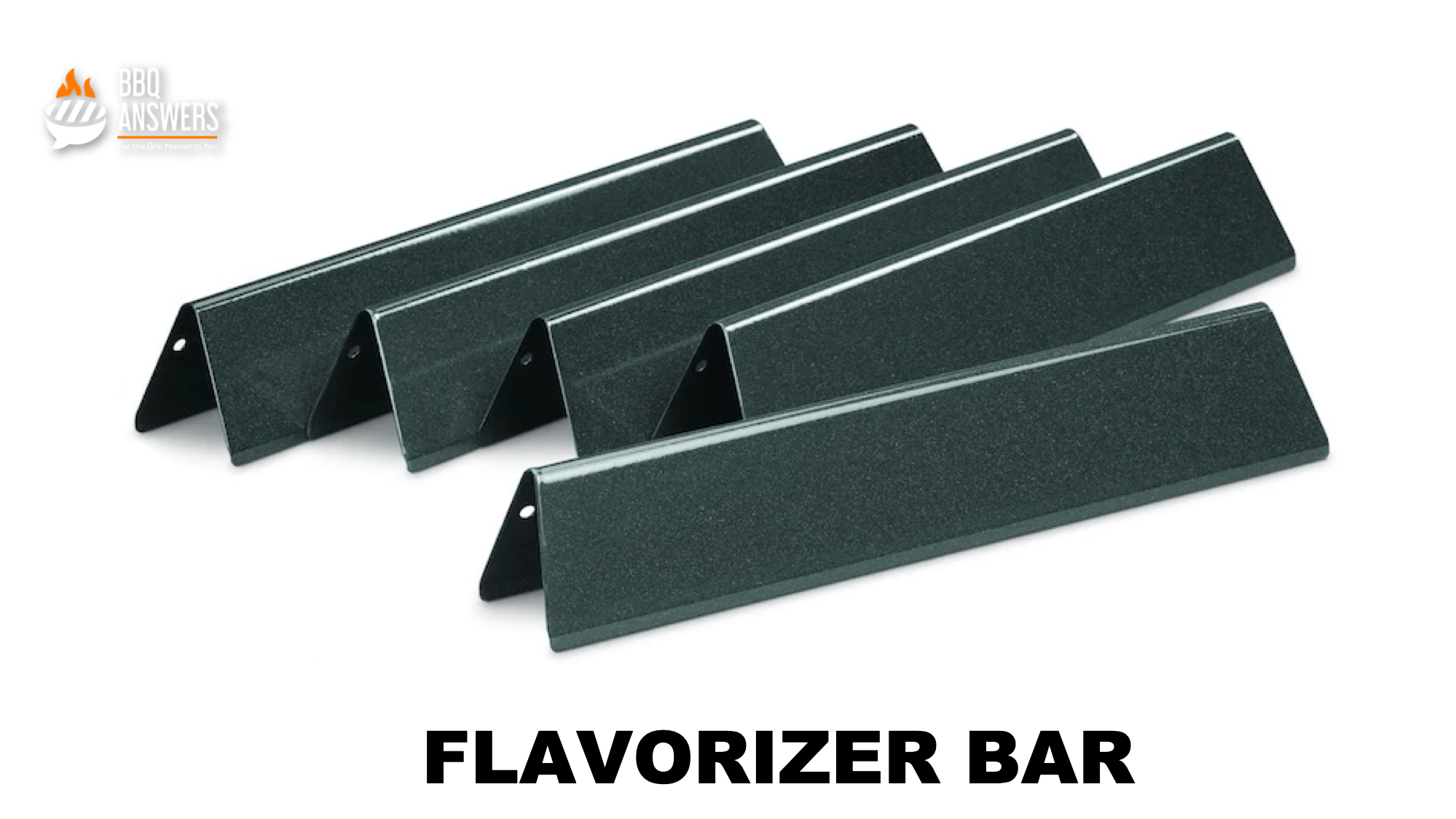 Flavorizer bars, also known as Heat Tents or Heat Shields, are these v-shaped metal bars that sit on top of the burners inside the grill. They replaced Metal Diffuser Plates since they had all their benefits, without their problem of uneven heat distribution. Since Flavorizer Bars are shaped like a tent, the distance between the flame and metal surface remains constant along the bars.
 Their shape of Flavorizer Bars makes them easier to handle. The shape also enables the bars to deflect food particles away from the burners while vaporizing juices that drip off the food.
Flavorizer Bars are also made from cast iron, stainless steel, or porcelain-coated metal. However, today almost all cast iron bars come coated with porcelain enamel. Learn more about Flavorizer Bars.
Ceramic briquettes are small brick-shaped heat diffusers that help gas grills reach higher temperatures while consuming less fuel. Apart from distributing heat evenly, they can also hold heat for long, making them ideal for gas grilling.
These accessories are my personal favorite since they can maintain steady heat in a wide temperature range. They may be a little pricey, but they will also last you the longest. This makes them the most cost-effective option in the long run.
Ceramic briquettes come in different shapes and form factors. They are often fixed on briquette trays, but they can also be used on a charcoal fire rack. Learn more about Ceramic Briquettes.
BBQ Grill Tiles or Fire Bricks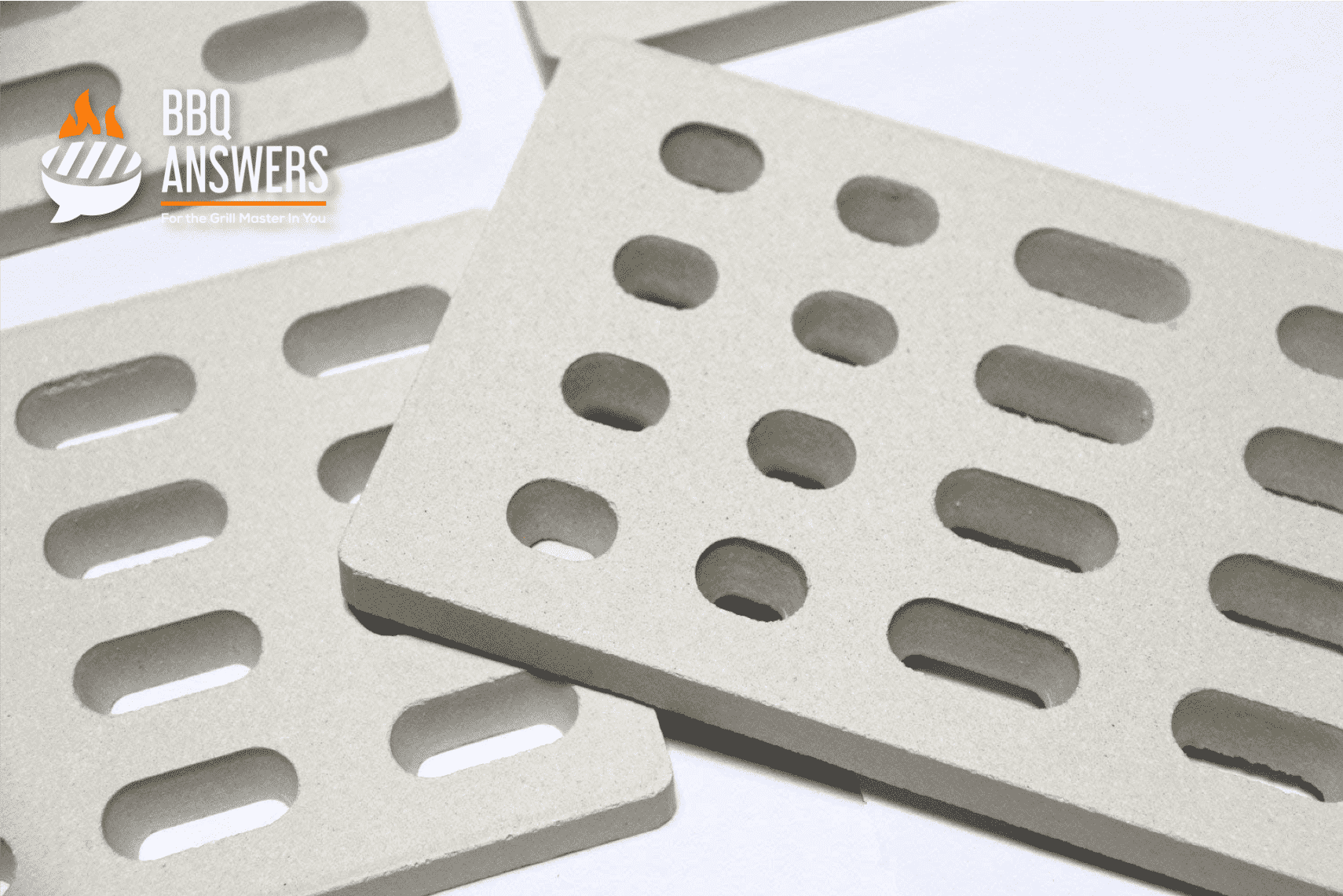 Barbecue Fire bricks, also known as BBQ Grill Tiles, are large porous bricks used as barbecue heat diffusers in gas grills. Their large volume enables them to retain a lot of heat and maintain a steady grilling temperature. 
 BBQ Fire Bricks can be made of two types of materials – clay and ceramic. 
 The clay tiles are affordable and come without holes across their surface. However, they don't last very long and are difficult to clean after use. 
 Ceramic tiles, on the other hand, have holes that make it easy for you to snap it into any size to perfectly fit your grill. Ceramic grill tiles also have the best heat holding capacity amongst all heat diffusers. 
Lava Rocks vs. Flavorizer Bars vs. Ceramic Briquettes vs. Ceramic Grill Tiles
Given the variety of heat diffusers on the market, making a choice can be difficult. For your convenience, here's a table comparing all the features of the most popular alternatives.
Feature
Bbq Lava Rocks
Diffuser Plates
Flavorizer Bars/ Heat Shields
Ceramic Briquettes
Ceramic Grill Tiles
Ideal Cooking Temperature

Medium Heat Only

Medium Heat Only

Both High And Low Heat

Both High And Low Heat

Medium-low Heat

Flare-up Prevention 

Fair

Fair

Great

Excellent With Briquette Tray

Good

Heat Distribution

Good

Good

Great

Great

Excellent 

Heat Retention Capacity

Good

Poor

Poor

Great

Excellent 

Time To Heat Up

Fair

Quick

Quick

Long

Very Long

Ease Of Cleaning

Fair 

Easy

Very Easy

Easy

Very Difficult

Approximate Usable Life

1 To 2 Years

1 To 2 Years

2 Years

4 To 5 Years

0.5 To 1 Year

Weight (Affects Portability)

Heavy

Fair

Lightest

Fair

Heavy

Grill Size Adaptability

Excellent

Poor

Good

Good

Excellent

Damage If Dropped

Negligible

Negligible

Negligible

Could Break

Breaks 

Maintenance Required

Medium

Low

Low

Low

Medium

Price

$15 To 30 (6 Pounds)

$10 To 40 

$10 To 35 (Pack Of 4) 

$25 To 50 (50 Pcs)

$40 To 60 (For Briquette Tray)

$10 To 40 

Best Picks

View Now

Unavailable

View Now

View Now

View Now
Final Thoughts
I hope this post helped you pick the best heat diffuser. Choosing the best heat diffuser makes gas grilling all the more worthwhile. 
If you have any questions about heat diffusers or any other grilling equipment, please leave me a comment below. I'll be sure to respond at the earliest.
To learn more about all things barbecue, subscribe to BBQanswers.com by hitting the bell icon on the bottom left-hand side of the screen.