Turn Your Grill Into a Smoker – the Charcoal Snake Method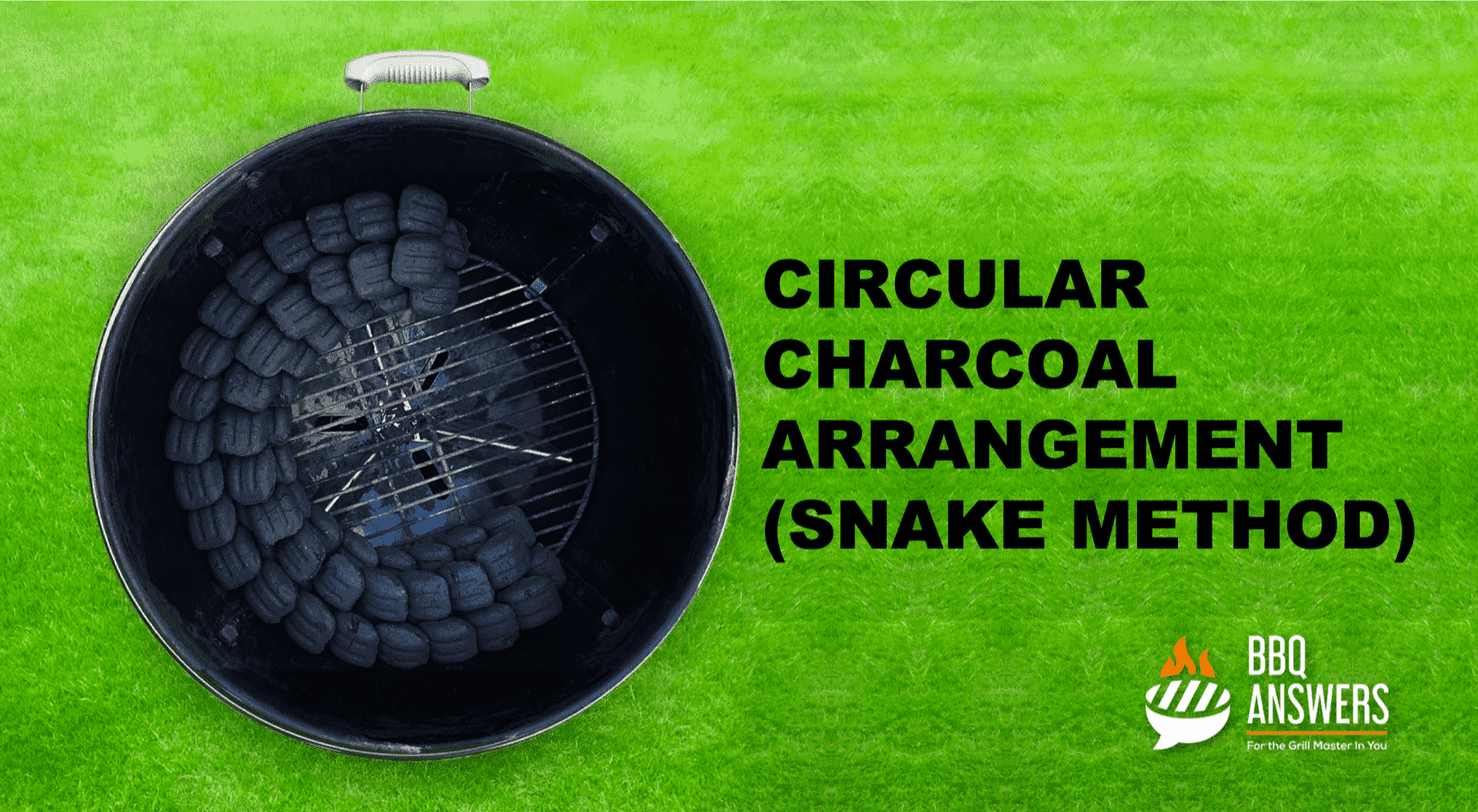 If you love the taste of smoked barbecue but don't want to invest in an expensive smoker, you must try the snake method of smoking.
In this article, we'll learn how this simple technique can give you stable cooking temperatures for up to 12 hours and help you smoke meat low-and-slow in a charcoal grill. 
Let's discuss the charcoal snake method in detail!
How Does the Charcoal Snake Method Work?
The snake method, also known as the circular coal arrangement method, is the arrangement of charcoal in a circular arrangement on the grilling grate.
This method is also often called the fuse method of charcoal burning in Australia. This is because, just like a fuse, it guarantees you steady temperatures by preventing your grill from overheating. 
Burning charcoal briquettes are placed on one end of the arrangement, which sequentially ignites adjacent charcoal briquettes till all of them reduce to ash. 
This progressive burning of the charcoal briquettes renders stable temperatures that can be used for barbecuing over extended periods. 
This method is ideal when you want to smoke your meat for several hours without continuously adding charcoal during the cook. Paired with one of our recommended wireless grilling thermometers, It gives you the freedom to set-it and forget-it till it is time to eat! 
When set-up correctly, the snake method guarantees 12 hours of steady, low heat for your cookout! This constant heat is especially helpful in kettle-style charcoal grills and affordable barrel-style charcoal grills since these grills don't have well-insulated walls.
To improve heat retention in thin-walled charcoal grills, it's best to use a water pan. The water pan absorbs excess heat and releases steam instead. This prevents your meats from drying out and acts as a natural reservoir of heat when the charcoal dies down. 
High-quality Kamado grills have much better insulation than their charcoal counterparts, but you can use the snake charcoal burning method with these grills too. Just be sure that you are not using a heavily stacked snake because the cook may become too hot.
Do Charcoal Briquettes Affect the Taste of the Food?
Only if you don't know which one to choose!
Regular charcoal briquettes often use wood byproducts, binders, and chemicals to make charcoal briquettes. These elements give you a strange aftertaste that you will not get with lump charcoal. This is why you must only opt for 100% Natural Charcoal Briquettes.
Another source of an aftertaste when grilling with charcoal briquettes is attributed to the lighter fluids you often need to start charcoal briquettes. Since charcoal briquettes burn slowly, they're not easy to light either. You can use all-natural charcoal briquette fire starters and a quality chimney starter to start the fire to remedy this.
Snake Method Charcoal Setup
The snake method is a straightforward and effective method for low-and-slow cooking. This video gives you a quick summary of how to do it. You can also follow the step-by-step outline below.
How to Build a Charcoal Snake
Arrange your briquettes in a circular pattern on the fire grate, against the wall of the grill. The subsequent rows of briquettes can be added against the inside of the first row. 

If you are using a thin-walled grill, you may need to set up more rows than using a premium or kamado-style grill. To set up more rows of briquettes, you can stack another row or two of briquettes on top of your first layer. The snake length will depend on the length of the cook and the size and type of your smoker. Longer snakes provide heat for extended periods, while shorter snakes give you more space for placing the meat.

Stack your smoking wood of choice on top of the snake. Place them about two inches apart. If you want more of the wood smoke flavor, they should be placed closer, and vice versa. 

Place your water pan on the fire grate in the middle of the charcoal snake. As explained before, the water pan prevents your meat from drying up while acting as a heat reservoir to stabilize the temperature. The water pan can be an aluminum foil filled up to about three-fourths of the way.
How to Light a Charcoal Snake
Place around 8-10 briquettes in your chimney starter (the number can vary depending on the size of the briquettes, grill, and meat being cooked).

Place one of the fire starter cubes/ rolls under the chimney and light it up.

Once the briquettes start developing a thin white ash layer, use a pair of tongs to place them at the start of the snake. Put them both above and against the start of the snake to completely cover the beginning of the snake.

Place your BBQ smoking wood directly on the lit charcoal.

Reposition the grill grate after placing the water pan on the grill grate, and you're now ready to cook!

Ensure that the opening of your grill lid is as far from the fire as possible. This will force the smoke to travel across the entire length of your meat, guaranteeing an even cook.
How to Control Smoking Temperatures?
Now that you've got your charcoal snake fired up, we need to maintain precise control over the internal temperatures. This can be done by controlling the top and bottom vents of your grill. 
Here is how you can do it:
First, crack both the grill vents open.

You will most likely be recording temperature between 225-250°F (105-120°C), depending on the weather conditions.

When the temperature reaches 200°F (90°C), throttle the grill's bottom vent to reduce the airflow of the grill. This, in turn, will stabilize and reduce the temperature in the grill.

You can then make small adjustments to the vent to achieve the target temperature. Opening the vents will increase the oxygen and temperature of the grill and vice versa.

Once you make an adjustment, be sure to give the grill 15 minutes to reach a stable temperature. Changing the vent position sooner will only result in erratic temperatures since you will not be giving the grill time to stabilize.
Want a Deep Dive into Managing Grilling Temperatures?
This article will give you a detailed crash course on managing charcoal fires.
In Summary 
The Charcoal Snake Method is a great, budget-friendly way to get smoker-like results on a regular charcoal grill. It is simple enough for people starting their BBQ journey, yet reliable enough to be depended upon by BBQ veterans. 
I hope this article helps you try out the BBQ snake method, and I will have my eyes on the comments to see what you smoked using this method. 
If you want to learn more about BBQ smoking, I recommend reading about the Fundamentals, Science, and Techniques of BBQ Smoking.