What is Japanese BBQ? The 5 Types You Need to Know!
Are you confused about Japanese BBQ? Do you want to have a better idea about what to order at a Japanese steakhouse? Want to know about some of the must-try items of Japanese BBQ? You're in the right place!
What is Japanese BBQ?
Japanese BBQ is made up of five different types of BBQ –  Yakiniku (焼き肉), Kushiyaki (串焼き), Teppanyaki (鉄板焼き), Robatayaki (炉端焼き), and Kabayaki (蒲焼). Each style has its own quirks and traditions.
In this article, we will talk about these different Japanese barbecue styles along with the meat cuts they use. We'll touch upon all essential topics to help you appreciate Japanese Barbecue cuisine better.
Let's get started!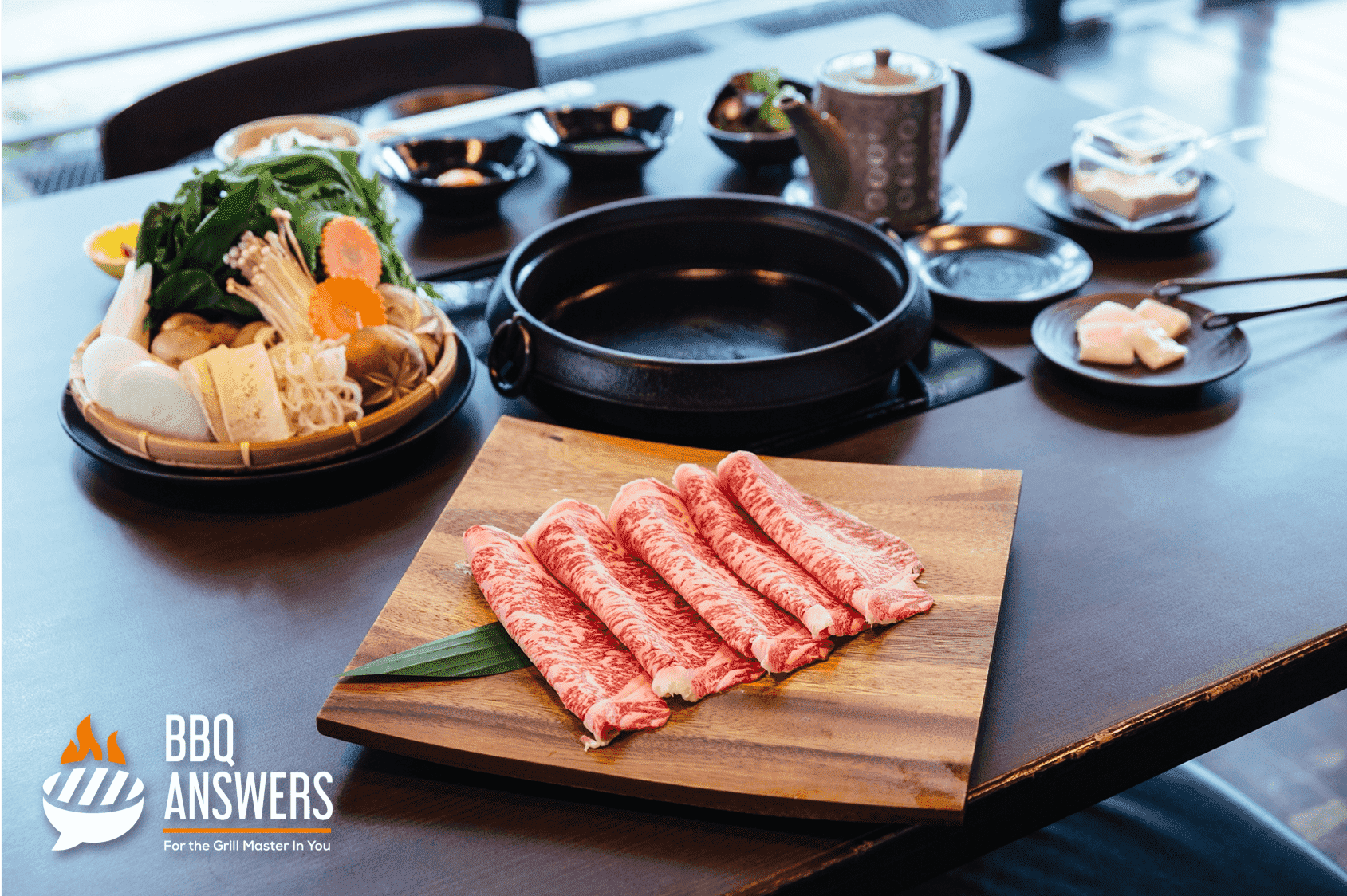 What Is Yakiniku?
Yakiniku(焼き肉 or 焼肉) is a Japanese word that translates to 'grilled meat' (Yaki=grilled and niku=meat). It is a traditional Japanese style of grilling small, bite-sized pieces of meat and vegetables over a charcoal flame.
Yakiniku is essentially the Japanese equivalent of a barbecue!
Juicy, bite-sized bits of meat like beef or pork are grilled on top of a charcoal flame.
The charcoal traditionally usually used is Binchotan charcoal. Binchotan charcoal is made from the wood of the native Japanese Ubame oak tree that is processed into white charcoal. Binchotan charcoal burns cleanly at high heat, without giving much odor.
Yakiniku has its origins in Korean-style barbecue, but it is now considered as a cuisine itself. Just as pork is held in high esteem in a Korean barbecue, beef is a prized meat in Japanese barbecue. The different dipping sauces paired with the succulent Wagyu breeds in Japan give Yakiniku its signature taste. 
Traditional Yakiniku restaurants serve only beef.
The meat is served raw and grilled on a Yakiniku grill. The Yakiniku grill is a circular grill that is sunken into the middle of the table. A traditional charcoal grill or a flat teppan (flat, solid, griddle-style surface) can be placed on top to grill the meats.
The Japanese focus on drawing out the natural flavor of the meat, so the use of marinade or pre-seasoning is minimal.
The Cuts
Beef can primarily be cut into 10 major sections with smaller sections under each portion.
In each cut, factors like amount and quality of fat, texture, and the umami (savory) flavor vary, giving you an adventurous prospect while trying the barbecue.
Some of the popular cuts are:
Gyutan (Japanese beef tongue)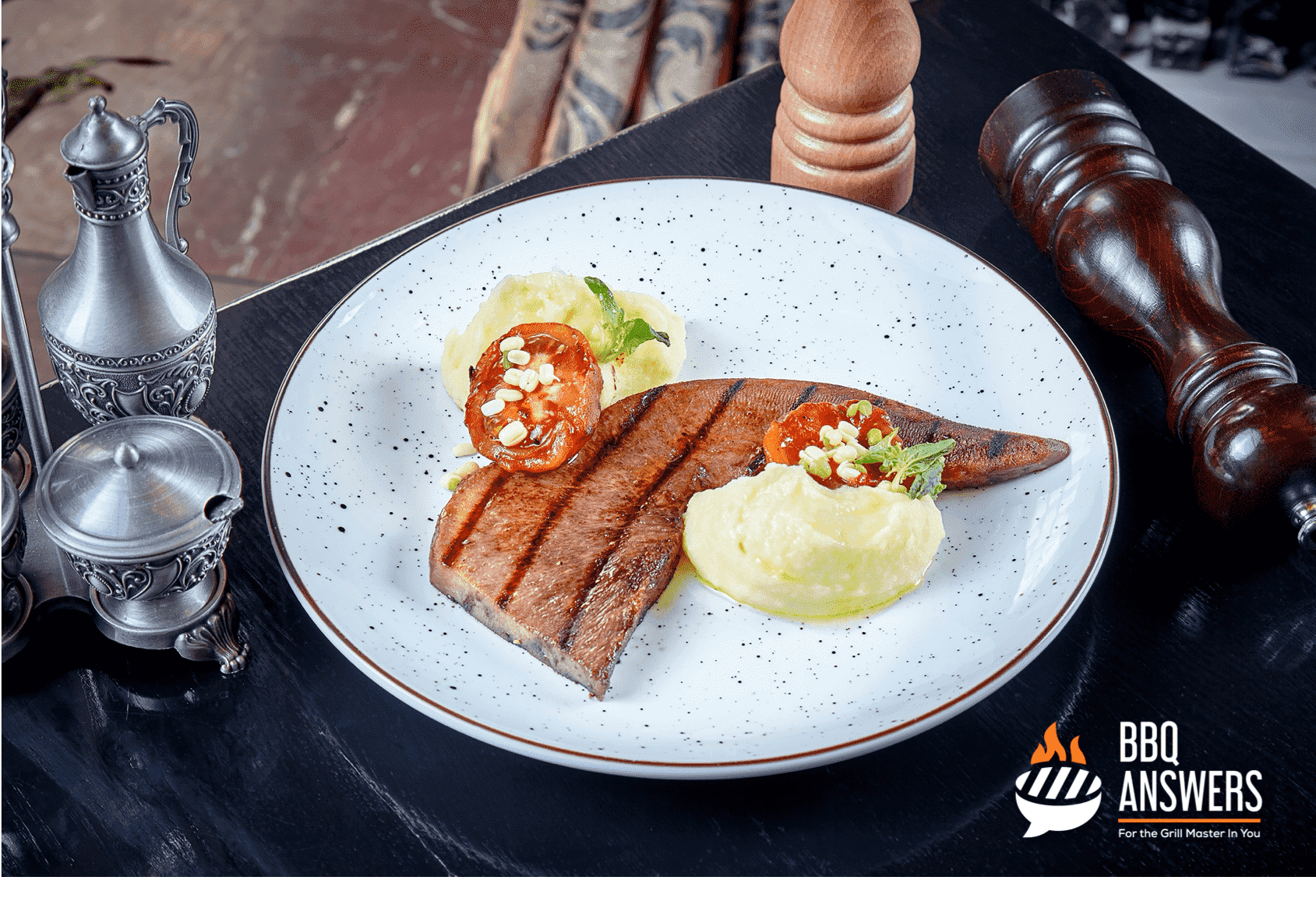 Gyutan or Japanese beef tongue is considered a delicacy in Japan! 
Since the tongue takes a long time to cook, it is sliced into thin strips, which help it cook fast. It has a clean, rich, and deep flavor that should be grilled or consumed before the other meats.
They are grilled until rare or medium-rare.
Did you know?
It is a common practice to grill one side of the Gyutan for a longer period while keeping the other side a bit rare.
Karubi (boneless short rib)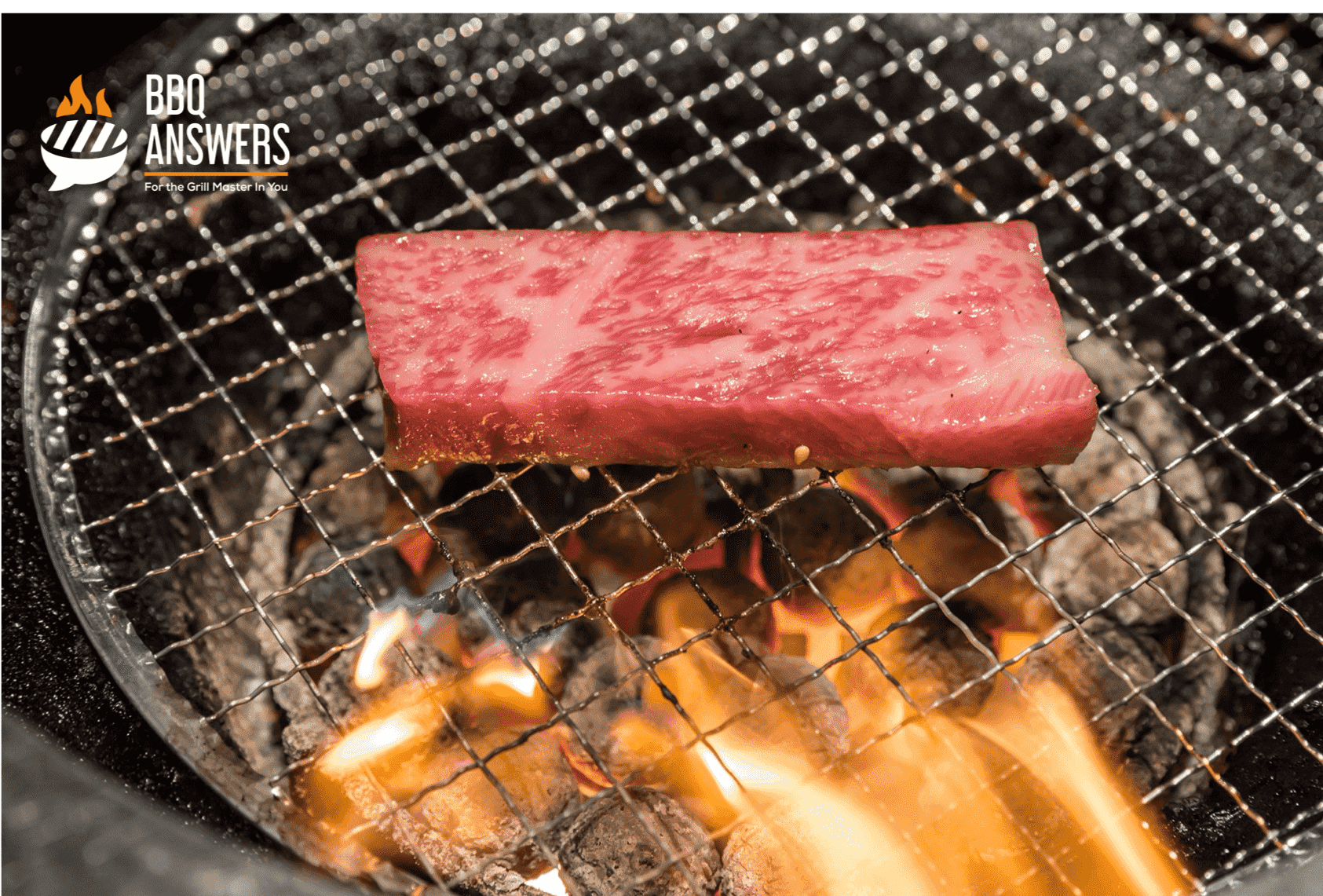 Karubi or boneless short rib is one of the most popular cuts for Yakiniku! This cut is juicy, tender, and exceptionally marbled and a must for Yakiniku!
If you want a more marbled piece, go for one called Sankaku Karubi or Jo-Karubi.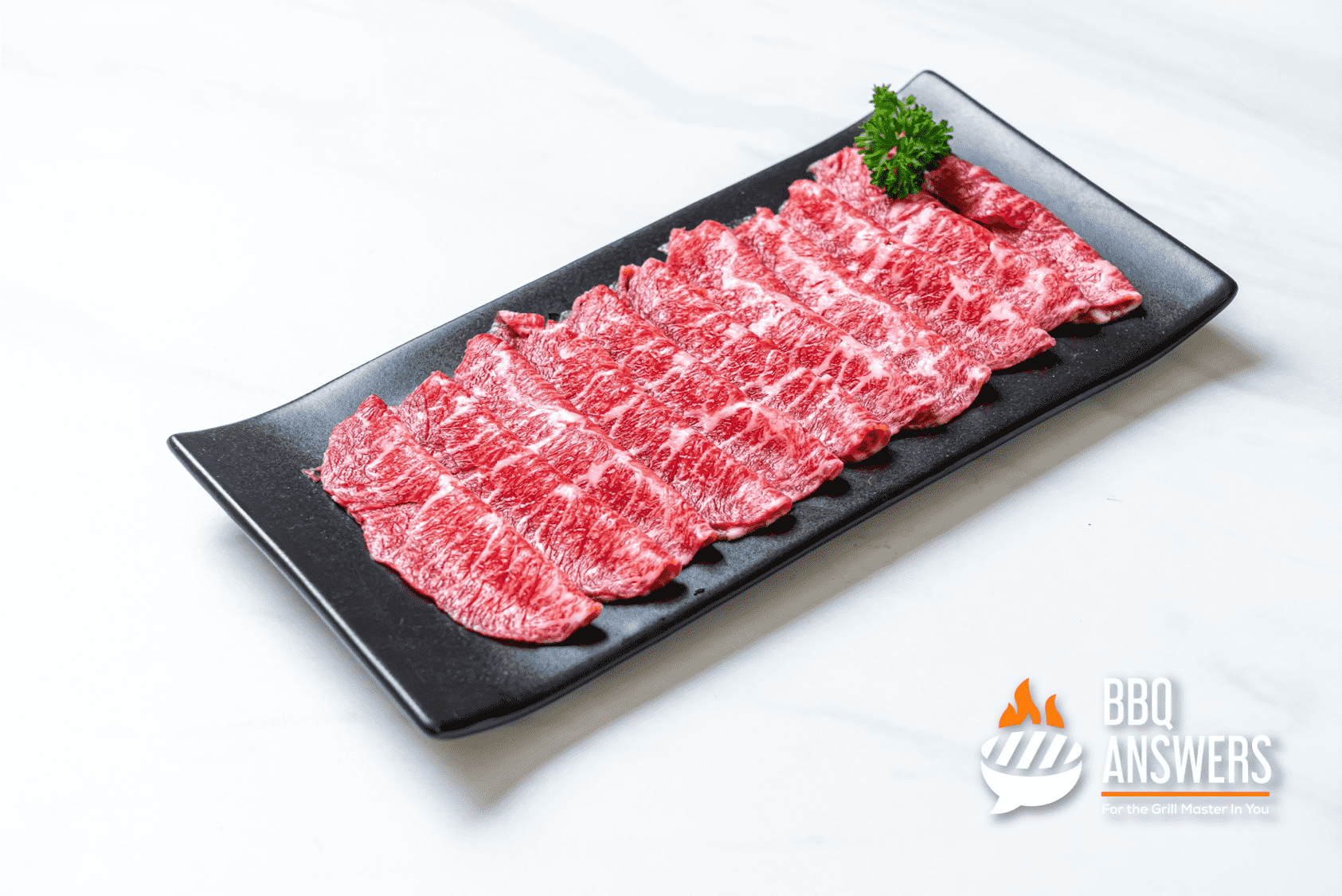 Sirloin comes from the back of a cow. It is one of the highest quality cuts of beef and is a popular cut for Yakiniku as well as steak. 
This is because of its perfect balance of tenderness, juiciness, and flavor!
Rib and Rib Roast are leaner meats that come from the shoulder and back of the cow. Rib roast has slightly more marbling. 
Usually served as thick cuts, it takes quite some time to cook, but trust me, it's worth the wait!
Jo-rōsu or Zabuton (chuck)
Jo-rōsu or Zabuton is considered a prime cut from the rib cage because of its rare flavor that melts in your mouth.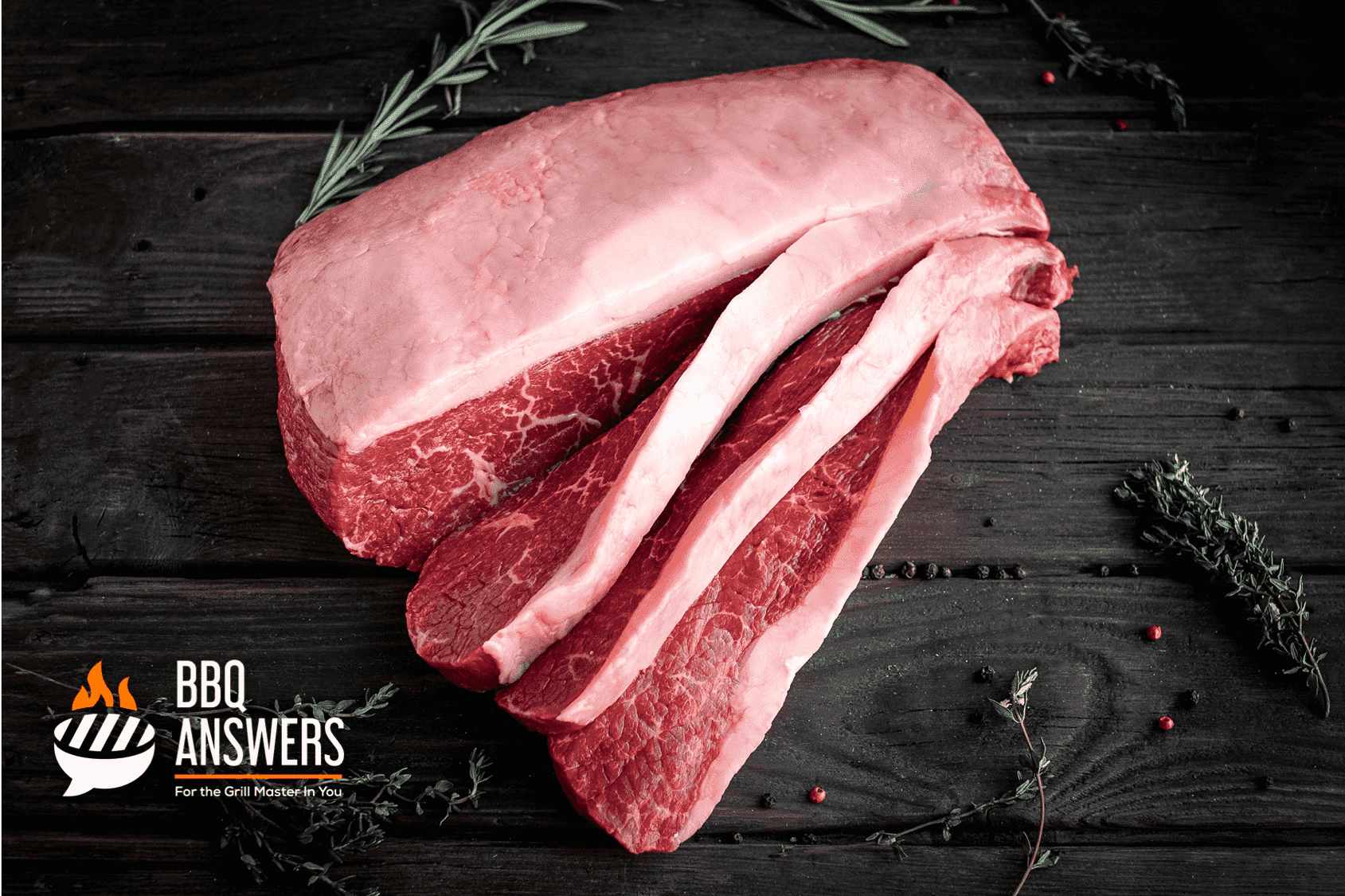 Misuji is a cut from under the shoulder blade.
Like the Jo-rōsu, it is a rarer cut of meat with distinct lines of gristle and marbled fat lining the meat, which is rich in umami.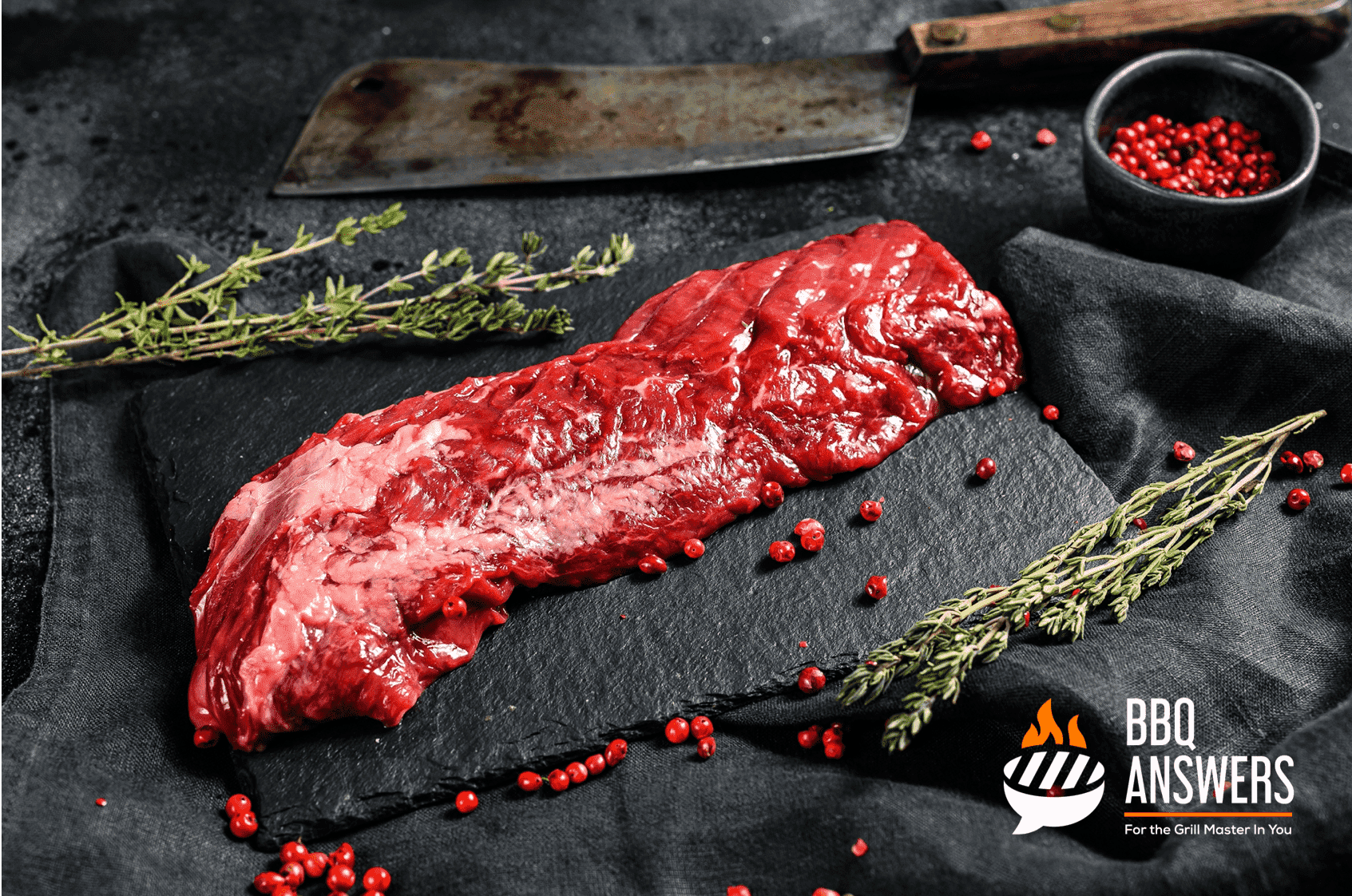 Harami or skirt steak comes from the diaphragm area of the cow.
It has a bold umami flavor that takes marination well. Usually marinated in miso or soy sauce, which have strong flavors.  
Harami is left on the grill rare to bring out its flavor. The well-grilled outside but tender inside will leave you drooling for more!
For extra marbling, look for Jo-Harami or special Harami.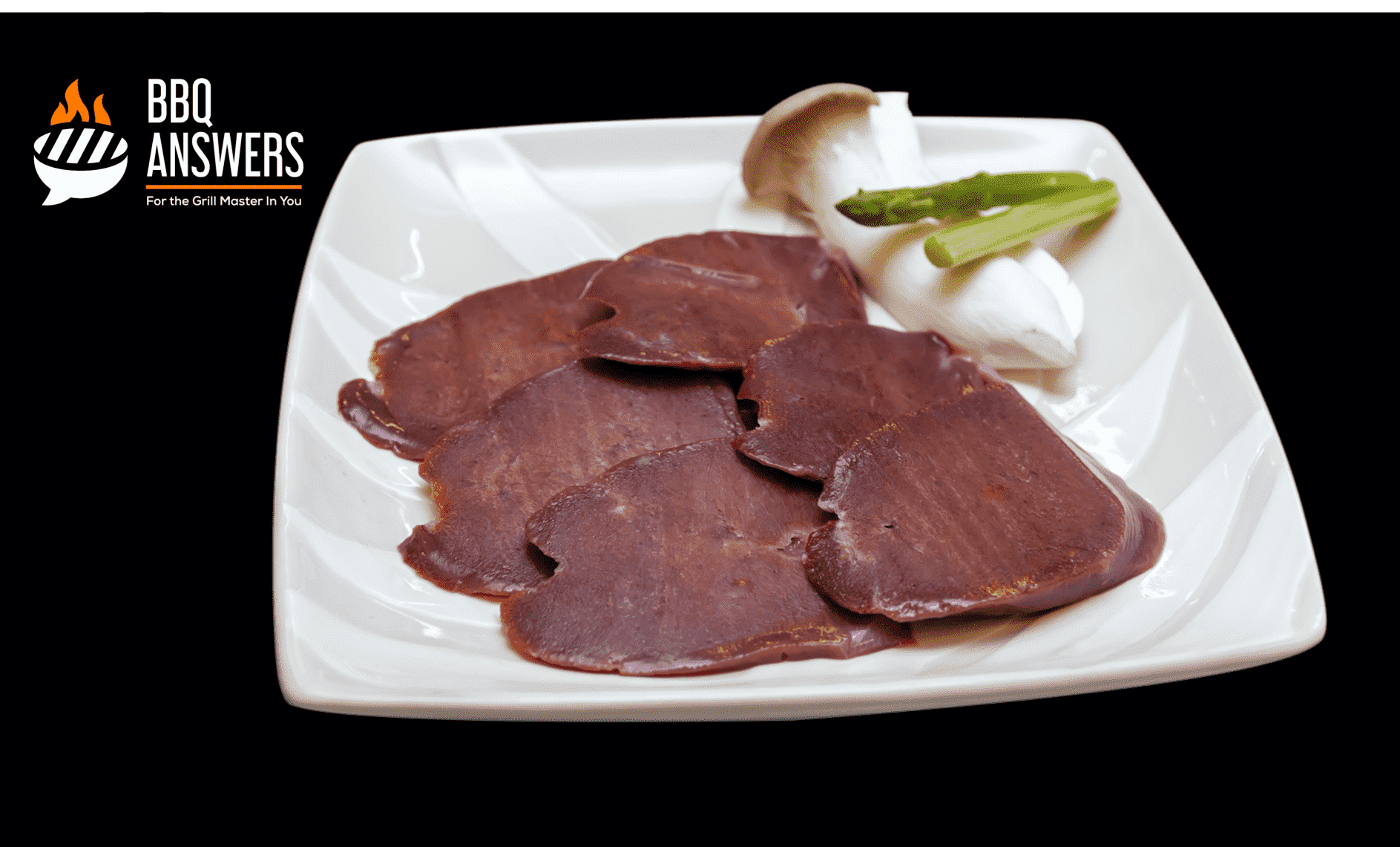 Horamon is an umbrella term for offal cuts or the internal organs of the animal that are popular in Yakiniku menus. 
Heart, liver, stomach, and intestines are commonly seen on the menu.
A popular one is Maruchou or small intestines, which has a rich, chewy texture and is a great pairing with alcoholic drinks due to its strong, distinct flavor.
Pitmaster Tip:
Whenever you're grilling, It's recommended to start cooking the unseasoned meat first and save the seasoned meat for later.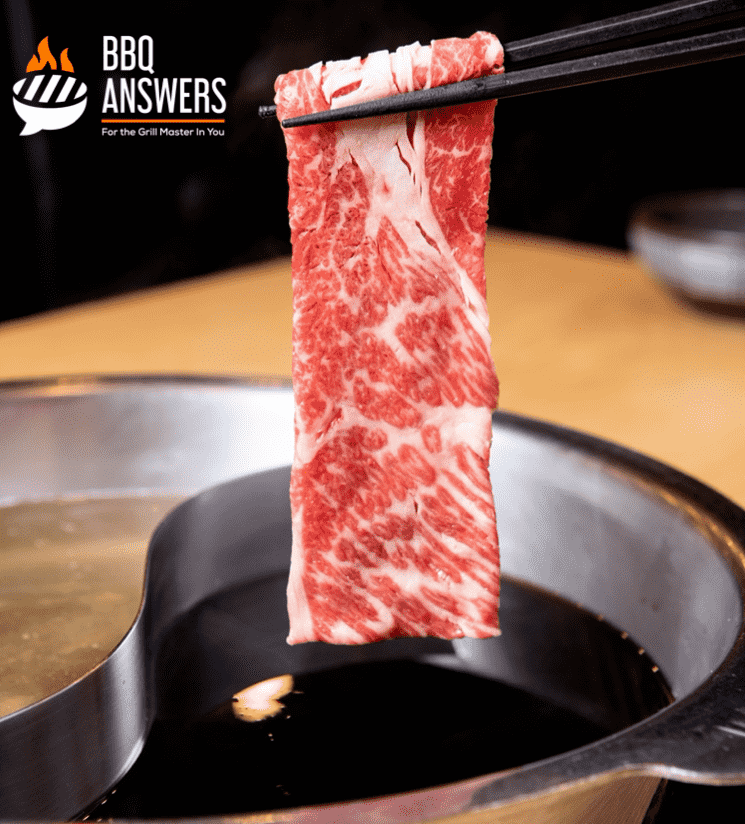 Many dipping sauces (Tare) and seasonings are served in Japanese Yakiniku as most of the meats are not marinated beforehand.
The sauces are mainly divided into Tare, Shio Dare, and Miso Dare.
Popular ones are:
Tare


A simple sweet & flavorful sauce made from soy sauce, sugar, sake, garlic, black pepper, ginger, and other ingredients.

Other variations to the sauce give it a spicy kick, but most enjoy its sweet counterpart.

Best paired with fattier cuts like Karubi (short rib) as it helps cut through the richness of the fattier meats. 
Shio Dare


A simple salt-based sauce made from ingredients like salt, sesame seeds, and sesame oil. Other ingredients like lemon can be added to for an extra punch.

Best paired with leaner meats like rib roast! 
Miso Dare


Miso Dare is a rich, creamy sauce made from thick Miso paste. Miso is fermented soybean paste, rice, or barley that has been fermented with salt, water, and koji (a fungus).

Best paired with Horamon (offal cuts), especially as a marinade. 

But Miso Dare burns easily, so it's a good idea to keep an eye on the meat!
Shio (Salt)


Simple salt or rock salt is a rudimentary condiment that can bring out the umami flavors of your meat!

It is best paired with meat cuts with high umami like brisket and chuck, to bring out the natural umami flavors, but it also works with high-fat content cuts. 
Lemon


Beef tongue is always paired with a splash of lemon after it's grilled to give it a tangy punch!
Soy Sauce or Soy Sauce with Wasabi


Soy Sauce, just like salt, is a very rudimentary condiment that adds flavor to the meat! The Wasabi adds earthy rooty flavor, which might not be for everyone.

Soy Sauce pairs well with any meat but may not suit some offal cuts.  
Gochujang


Gochujang or red chili paste is a thick and spicy-sweet sauce made from red chile pepper flakes, fermented soybeans, and glutinous rice (also known as sticky rice).

You can add it to any cut for a spicy flavor!
What Is Kushiyaki?
Kushiyaki (串焼き) translates to 'skewers' and is a Japanese method of skewering and grilling meat over charcoal (usually Binchotan charcoal). It includes both poultry and non-poultry items.
Some types are:
Yakitori (Chicken)

Yakiton (Pork)

Gyu-Kushi (Beef)

Unagi-Kushi (Eel)
The most popular is Yakitori, followed by Yakiton. Gyu-Kushi and Unagi-Kushi are the least common ones but definitely worth the try!
Let us look into the two popular ones – Yakitori and Yakiton!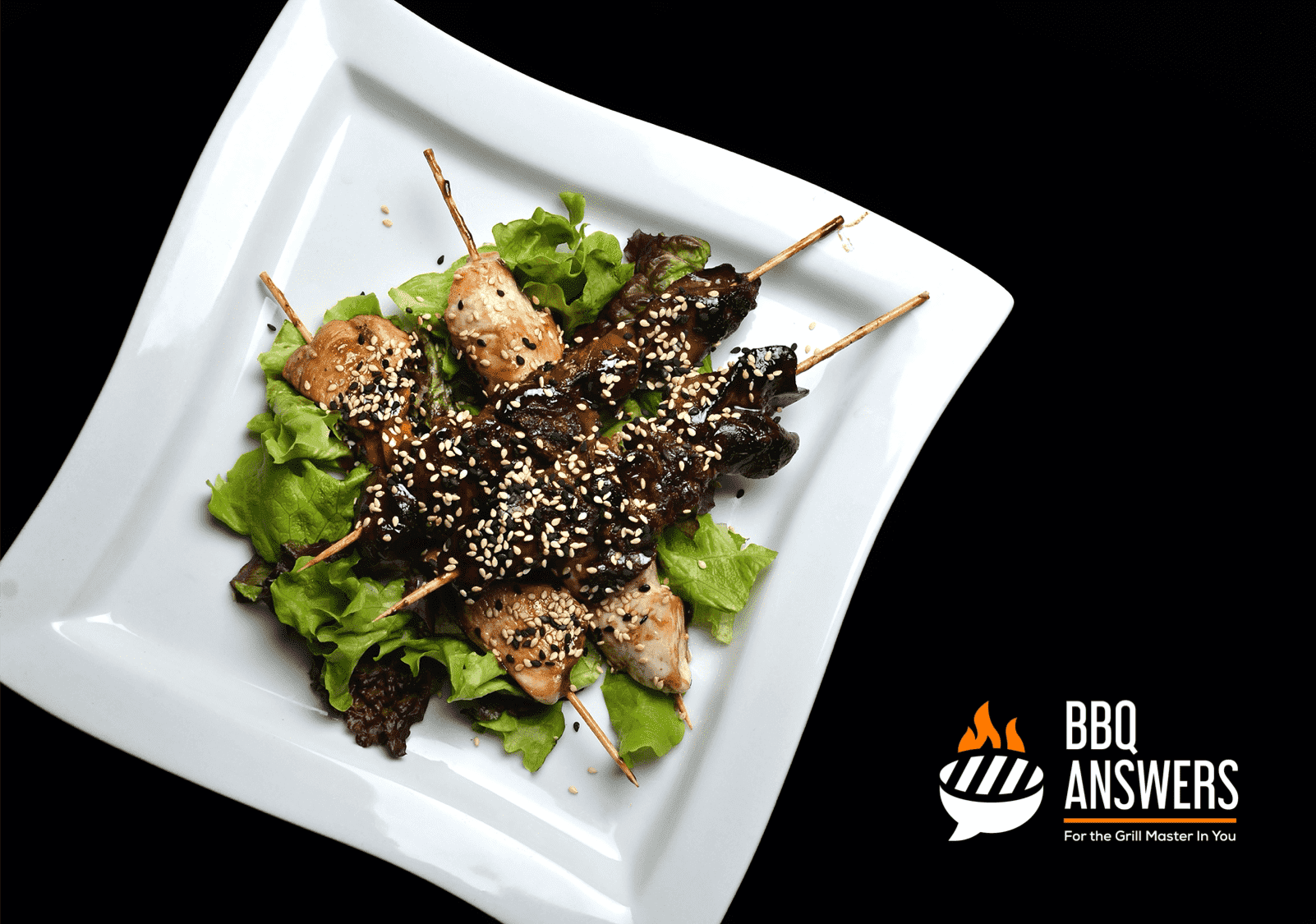 What Is Yakitori?
Yakitori( 焼き鳥) literally translates to 'grilled chicken.' (yaki=grilled and tori=chicken). Yakitori is a traditional Japanese style of skewering small, bite-sized pieces of chicken onto bamboo skewers and grilling over a charcoal flame.
Yakitori is a popular street food where bite-sized pieces of chicken are skewered on bamboo sticks and grilled over charcoal. They are grilled until it is crispy on the outside but tender on the inside. It is inexpensive, served straight off the grill, and frequently pairing with alcohol like Japanese beer or sake.
Restaurants that specialize in Yakitori are called a Yakitori-Ya. Yakitori is also served in Izakayas – casual Japanese bars that serve alcoholic drinks and snacks.
All parts of the animals are cooked, so you can find items like heart, liver, and intestines being grilled too!
The Cuts
The Japanese aim to utilize all parts of the chicken. The cuts you can try are
Negima
Breast or thigh meat with pieces of Naganegi (Leeks).
Momo
Thigh meat.
Tsukune
Chicken meatballs made of ground chicken, egg, vegetables, spices, and even potato starch.
Torikawa or Kawa
Fatty chicken skin that has been grilled until it's crispy.
Tebasaki
Chicken wings that have been grilled until a crispy golden brown exterior is formed.
Reba or Kimo
Chicken livers that have a rich, creamy texture with a meaty flavor. Definitely try if you have an adventurous side!
Nankotsu
Grilled cartilage that has a crunchy texture and very little meat attached.
Sasami
Tender cuts of meat from either side of the breast.
 Seseri
Neck meat of the chicken. Seseri is a juicy cut rich in fat but also chewy because of the muscle movement seen in this region.
 Bonjiri / Sankaku
Tail meat of the chicken. It is the chicken's juiciest cut because it is one of the fattiest meats with a melt-in-your-mouth kind of texture. The meat is tender and muscular, and the cartilage from the surrounding area gives it an extra crunchy texture.
Hatsu / Hato
Chicken hearts have a tender meaty flavor too. it's just not as strong a flavor as the liver.
Sunagimo
Chicken gizzard. Gizzard has a unique, crisp texture and a mild flavor.
What Is Yakiton?
Yakiton(やきとん) literally translates to 'Grill Pork.' (yaki=grill and ton=pork). Yakiton is a traditional Japanese style of skewering small, bite-sized pieces of pork onto bamboo skewers and grilling over a charcoal flame.
Yakiton, also known as "Butakushi" or "Buta No Kushiyaki," are bite-sized pieces of pork grilled and served hot. They're also commonly served at Izakayas (a casual Japanese bar that serves alcoholic drinks and snacks), specialty stores, or street food stands.
The Cuts
As mentioned above, the Japanese aim to utilize all parts of the meat. Some popular cuts are:
Buta Bara 
Buta Bara or Pork belly is one of the most popular cuts enjoyed in a Yakiton. It has a rich flavor.
Kashira
Kashira is roughly translated into pork jowl and is the meat found around the temple and cheeks. It has a dense, meaty yet juicy texture because this area of the pig gets a good amount of exercise.
Hatsu
Hatsu or Buta Hatsu is a cut of pork heart, and it is a delicacy in Japan. It has a firm, refreshing texture without strong odor or flavor.
Tan
Tan is thinly sliced cuts of pork tongue that has a milder taste than beef-tongue. Perfect with a splash of lemon.
Reba
Buta Reba or Pork liver. Best when grilled outside but left rare on the inside for a deliciously creamy texture
Harami
Harami or pork flank steak is a thin cut of meat from the diaphragm that is a popular cut in Yakiton. It has a chewy yet tender texture.
Shiro 
Shiro is the intestines of the pork.
Teppo 
Teppo or the rectum. It might not sound like the most appetizing cut, but it has a bold flavor that's delicious when grilled with miso paste.
Nankotsu 
Nankotsu is cartilage with a crunchy texture.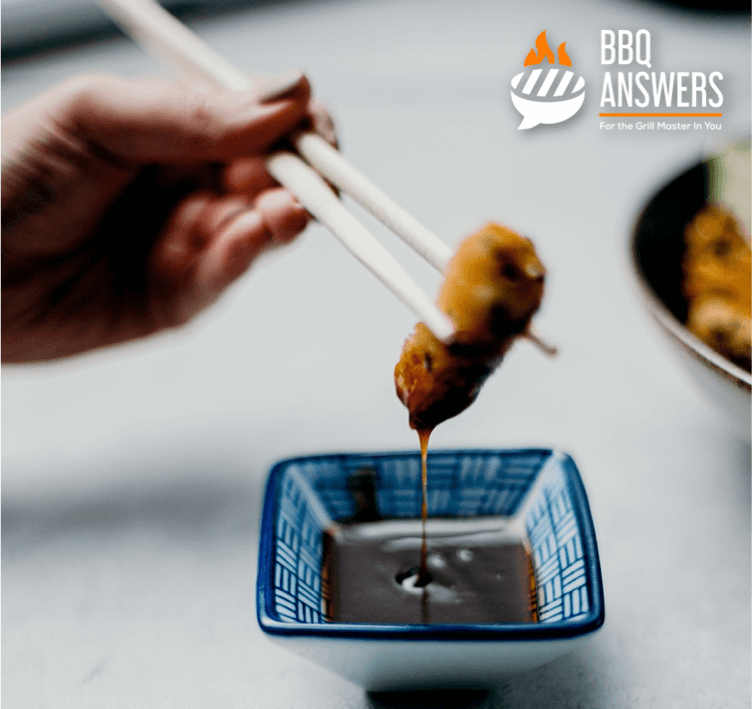 When ordering Kushiyaki, your meat can typically be flavored in two ways: seasoned with Shio(salt) or marinated/dipped in Tare sauce.
Other condiments like Wasabi, miso paste, and Japanese spices can be served, but that varies from restaurant to restaurant.
Tare
A sweet and savory sauce made various ingredients like soy sauce, sake, Japanese rice wine (Miren), scallions, ginger, sugar, and spices.
It is used as both a dipping sauce and basting sauce. 
When the meat is being grilled, and your option is Tare, the chef usually cooks the meat halfway before dipping it into the tare sauce and grilling it into perfection. Before you pop the grilled meat into your mouth, you can dip in once more into tare sauce to relish the sweet and salty sauce paired with the savory flavor of the meat.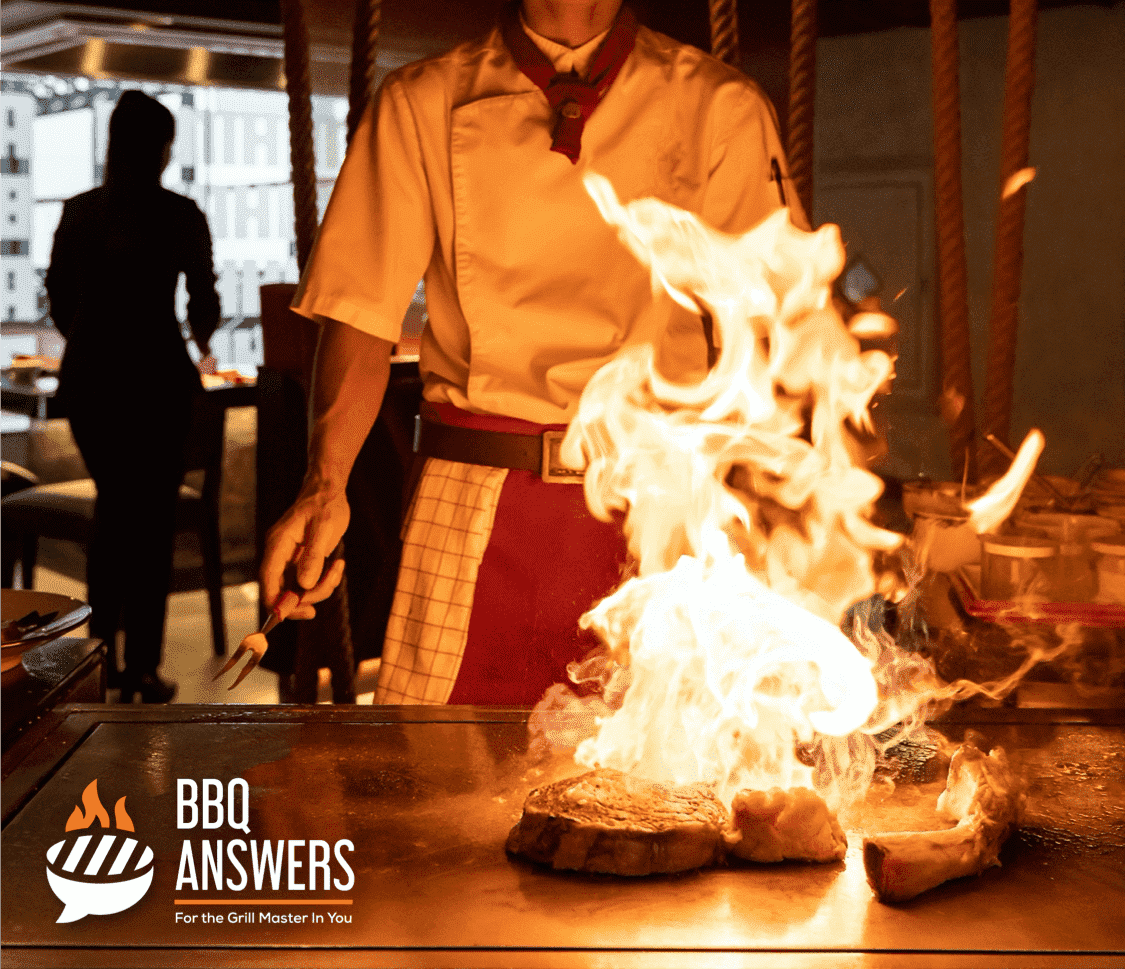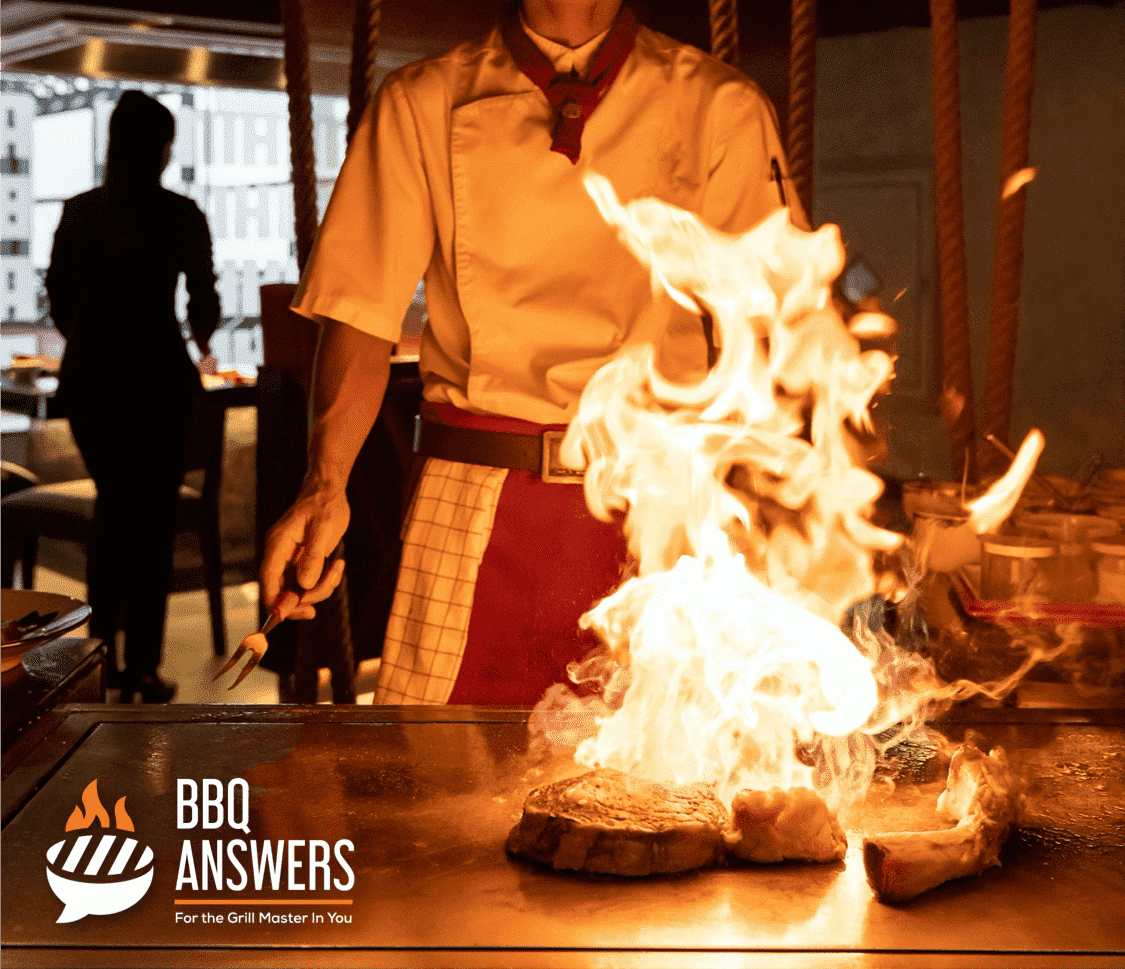 What Is Teppanyaki?
Teppanyaki(鉄板焼き) is from two words 'teppan' meaning iron plate and 'yaki' meaning 'grilled.' Teppanyaki refers to the Japanese cuisine of cooking in teppan-style, where meats and vegetables are cooked on top of a large, flat griddle-style propane-heated grill.
At a Teppanyaki restaurant, guests sit around the large flat grill and order food while enjoying the chef's cooking artistry and enjoying the food fresh off the Teppan.
Teppanyaki-style cooking is a comparatively new style of cooking in Japanese compared to the traditional styles of cooking. It became popular in the 1940s and was a big hit among foreigners. Benihana restaurants were the first to introduce Teppanyaki to the United States, and today, Teppanyaki is the cuisine served in Japanese Steakhouses.
The ingredients used are fresh and packed with flavor.
Meats such as chicken, steak, and seafood (shrimps, lobsters, scallop, etc.) are cooked on top of the teppan with finely chopped vegetables like carrots, mushrooms (shiitake), onions, bean sprouts, and so on.
Popular seasonings include soy sauce, vinegar, pepper, salt, garlic, ginger, and wine.
Savory pancakes, called Okonomiyaki and Monjayaki, are popular off the teppan grill. Dough-based foods such as yakisoba (fried noodles) and rice tossed with other fresh ingredients are also famous.
Food Play:
Teppanyaki is also an art form, so don't be surprised if the chef whips out some cool tricks. Fancy knife and spatula tricks, flipping cooked prawns into guest's mouths, precise cutting/slicing of the food, and creating fire-shooting volcanoes from onion rings are all a part of the performance!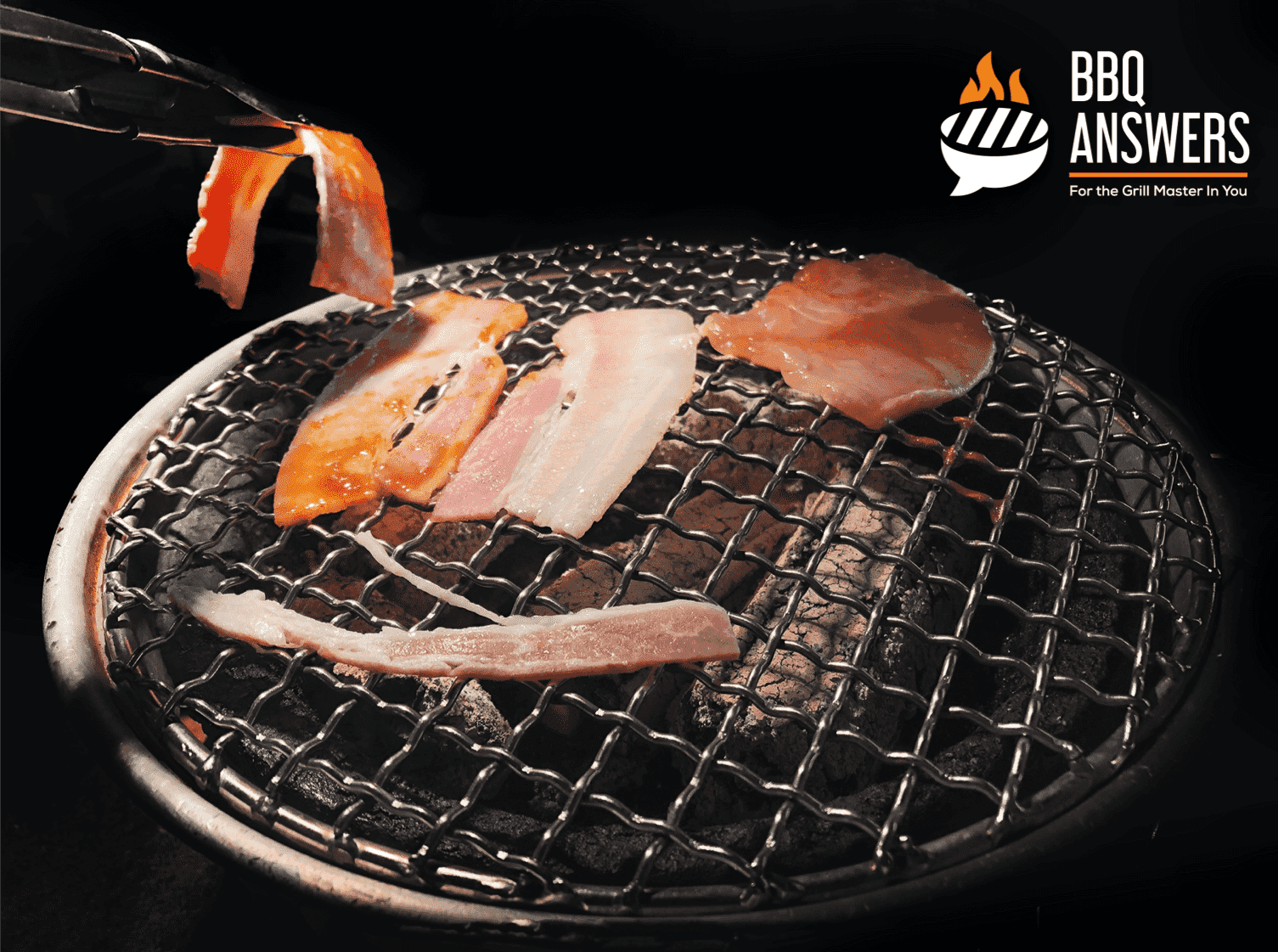 What Is Robatayaki?
Robatayaki, sometimes shortened to 'Robata' comprises of two words: 'robata' referring to charcoal grill that is used (which is similar to a hearth on the floor), and 'yaki' which means grilled.
Robatayaki(炉端焼き) roughly translates to 'fireside cooking.' It is the authentic Japanese technique of slow-grilling food items over hot charcoal, traditionally Binchotan charcoal. Foods like seafood, chicken, beef, pork, and vegetables are commonly cooked.
It originated centuries ago on the northernmost island of Japan—Hokkaido. Traditionally, Hokkaido fishermen lit the charcoal at the beginning of their day and carried it in fire-resistant stone or wood boxes that they used for extended fishing trips.  They placed the box on top of an oar and cooked fish inside the box when making the trip back to shore. Once they reached land, they just picked fish out of the box, and enjoyed themselves some Robatayaki!
Even today, some traditional restaurants serve Robatayaki on oars!
Since the charcoal used is Binchotan charcoal, there are no unwanted odors, and the juices and true flavors of the meats are preserved. 
The menu varies from restaurant to restaurant and season to season, but common ingredients are mushrooms (shiitake), asparagus, onions, and peppers.
You can popularly see seafood like Scallop, Sazae (Horned turban shell), Hokke (Okhotsk Atka mackerel), Kinki (deep sea perch), Ayu (sweetfish) and so on on the grill. The fish are usually salted (called Shioyaki) and grilled to perfection.
Nowadays, one can popularly see chicken (especially thigh cuts), beef, and pork being cooked in Robatayaki.
Condiments that accompany Robatayaki dishes are Shio (salt), Tare (a sweet and savory sauce),  Yuzukosho (a green paste made from the Yuzu citrus, salt, and chili), Wasabi and so on.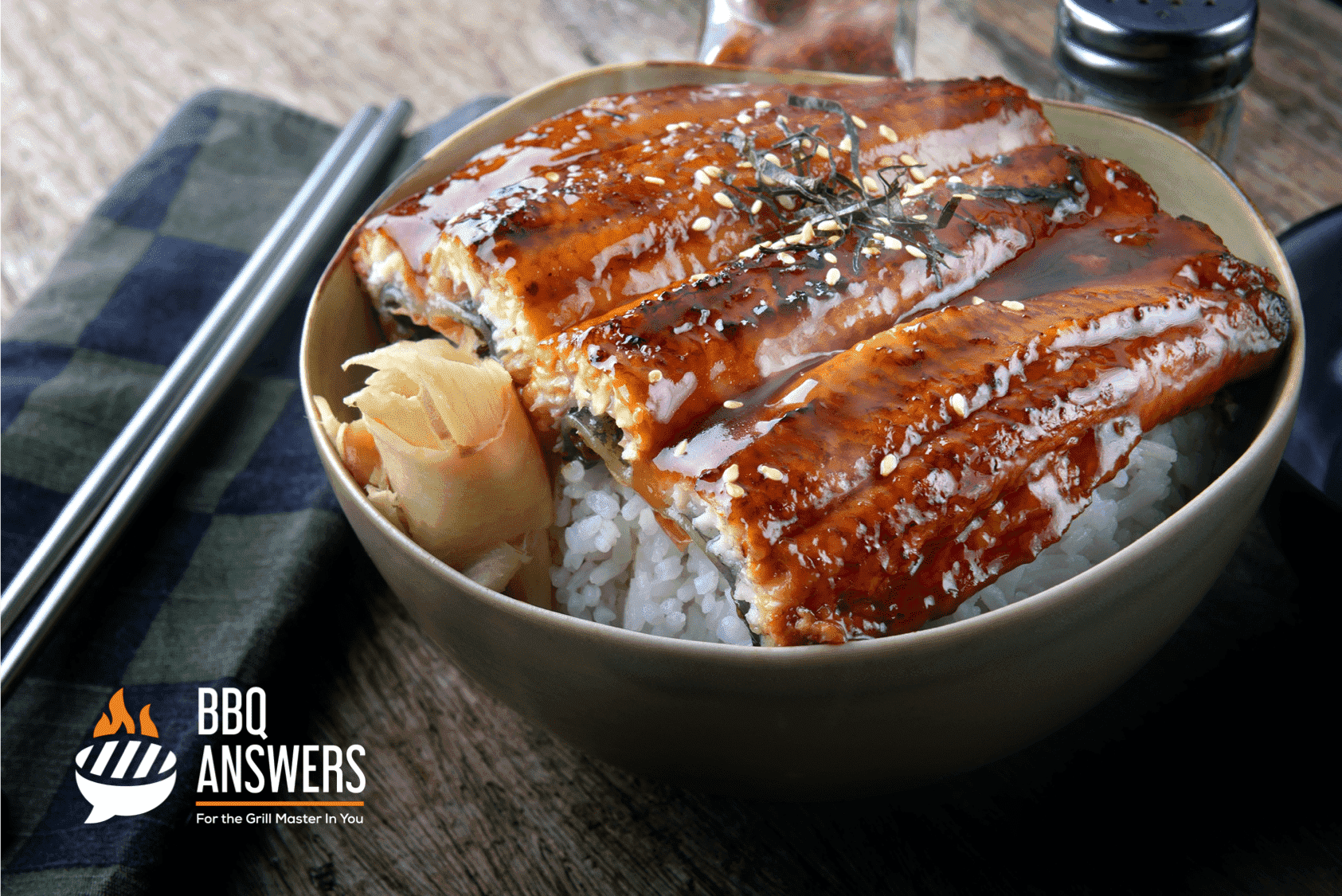 What Is Kabayaki?
Kabayaki(蒲焼) is the method of grilling seafood (especially eels and fish). The meat is split down the back (or belly), filleted, butterflied, seasoned with a sweet soy sauce-based sauce, and broiled over a grill. 
In Kabayaki, fish or eel is gutted and deboned before being butterflied or squared into pieces. It is then cooked over a grill or griddle until a crispy exterior and tender interior are formed. It is popularly served along with, or on top of, steamed rice.
Popular since the Edo period (1603 – 1868), grilled eel is traditionally a popular and inexpensive dish enjoyed by the Japanese! 
Broadly, there are two styles of preparing Kabayaki [especially Unagi No Kabayaki (grilled eels)], Kanto (eastern Japan), and Kansai (western Japan). 
In the Kanto region, eel is slit down its back and butterflied before being grilled. This style of cooking is known as Shirayaki. Then it is steamed to get rid of excess fat, flavored, and then grilled again. The result is a tender, flaky eel.
In the Kansai region, the eel is slit down the belly and grilled without steaming, and for longer – this makes the meat a little crispier and chewier.
The most popular grilled dish in the unagi eel.  When served separately with rice, it is called Unagi No Kabayaki. When only the eel is served, it is called Nagayaki. When served on top of a steaming bowl of rice, it is called unadon.
What Kind of Charcoal is Used in Japanese Barbecue?
Binchotan charcoal, also known as white charcoal, is the most commonly used charcoal in Japanese barbecue. It is a type of activated charcoal made in Japan from the wood of the native Japanese Ubame oak tree. 
It is the highest grade of charcoal (up to 98% carbon!) and is renowned for its natural purification properties. Binchotan charcoal burns cleanly at high heat, without giving much odor or smoke. It helps preserve the flavorful juices, give the meat a good sear, and makes anything barbecued on it delicious.
Conclusion
Phew, that was a lot!
I'm sure this article helped give you a better idea about the different kinds of barbecue seen in Japanese cuisine!
Now you don't have to be scared to try out all those items on the menu! Let us know what you enjoyed in the comments section below.
To learn more about barbecuing, subscribe to BBQanswers.com!