A Guide To Chinese Barbecue: Recipes and More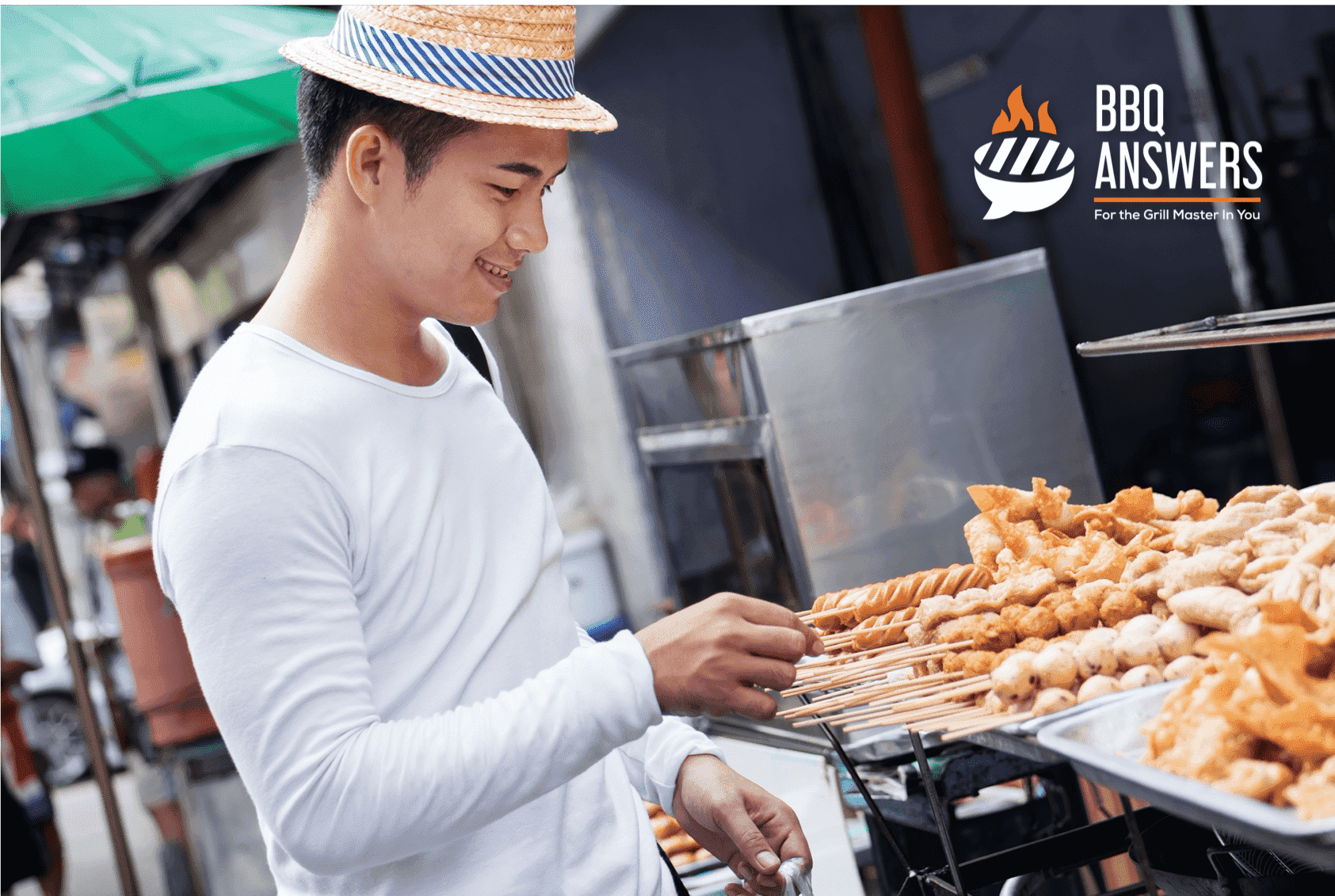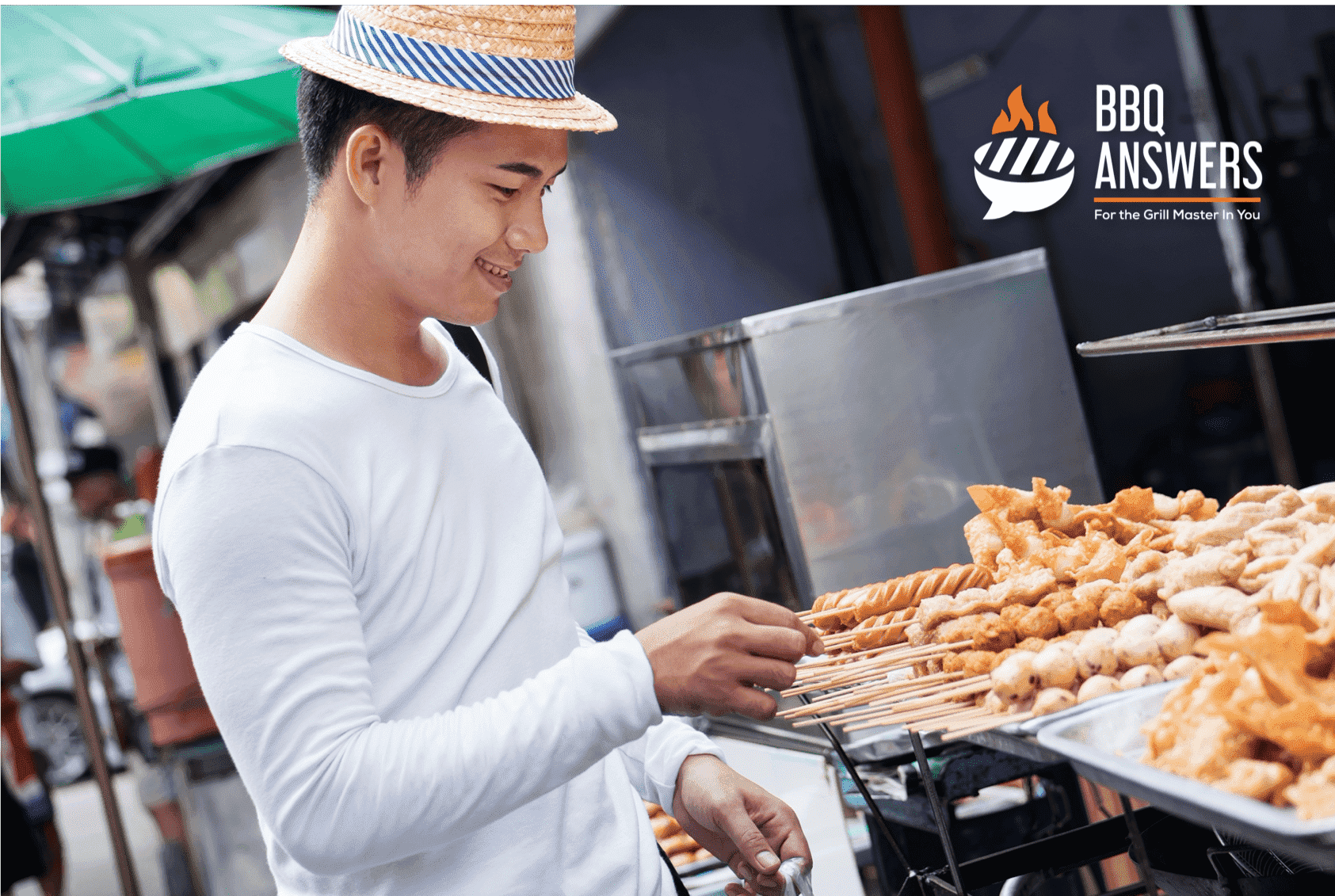 You've probably heard of the Korean BBQ and Japanese BBQ cuisines, but you may not have come across Chinese BBQ? If you haven't, let me assure you that it's not because it isn't tasty. If you're familiar with Chinese food, you know that the traditional Cantonese-style meat tastes other-worldly, and Chinese BBQ is no exception!
In this article, I'll cover the topic of Chinese Barbecue – from its meats to marinades! We even have a few recipes for you to try at home!
Chinese Barbecue Basics
Chinese BBQ can be broadly put into two categories – Siu Mei and Shaokao.
In the west, barbecuing is considered as a social event held on special occasions. In contrast, Chinese Barbecue like Siu Mei and Shaokao is an everyday food of the Chinese people. Families, businessmen, people getting out their jobs will all stop at these shops to grab a quick bite for an early dinner or snack.
Also, unlike Western Barbecue, Siu Mei is usually served at room temperature rather than piping hot. 
Chinese Street Food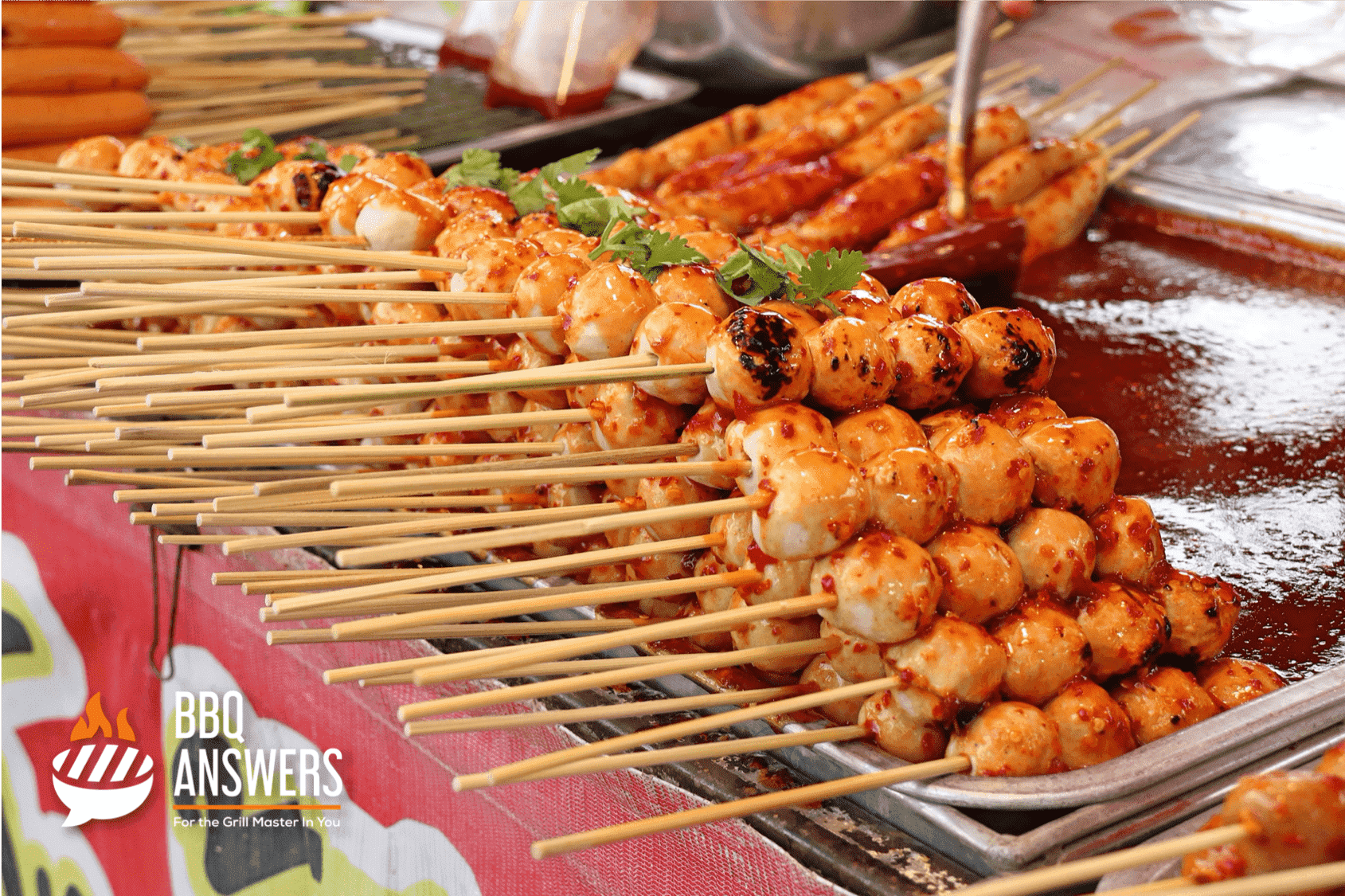 The street-side shops that sell Siu Mei are called Siu Laap shops. They're easily recognizable with their trademark rotisserie meat hung on wires as a display to attract customers.
You can also find small snacks, called Xiaochi( 小吃), that can be with alcoholic drinks like Baijiu and Chinese beer.
Since making Siu Mei is a lot of hard work, it usually employs an automatically rotating rotisserie.  Also, since Siu Mei takes long to cook, it is almost always served as takeout. You can find it sold in boxes and paired with rice. 
What is Siu Mei?
Siu Mei (Chinese: 燒味), roughly translated to 'Burnt-flavor' or 'Roast,' is a Cantonese style of roasting where different kinds of marinated meats are rotisseried over an open fire or in a special wood-fired oven. These ovens emit hot, dry heat until the meat is crisp and has a rich, smoky flavor from the fat drippings.
It is a famous cuisine sold in the streets of Hong Kong and Southern China. 
Some popular Siu Mei dishes are Char Siu (barbecued pork), Siu Yuk (roast pork or pork belly), Siu Ngo (roasted goose), and Siu Ngaap (roasted duck).
How is Siu Mei Cooked?
A popular method of cooking Siu Mei uses large, firewood-heated ovens. 
Various Siu Mei meats like pork, chicken, duck, goose, and cuttlefish are cooked. The meat is hung vertically in the oven, and each meat is coated with a marinade distinct to it.
Popular Siu Mei Dishes
Char Siu (叉烧) – BBQ Pork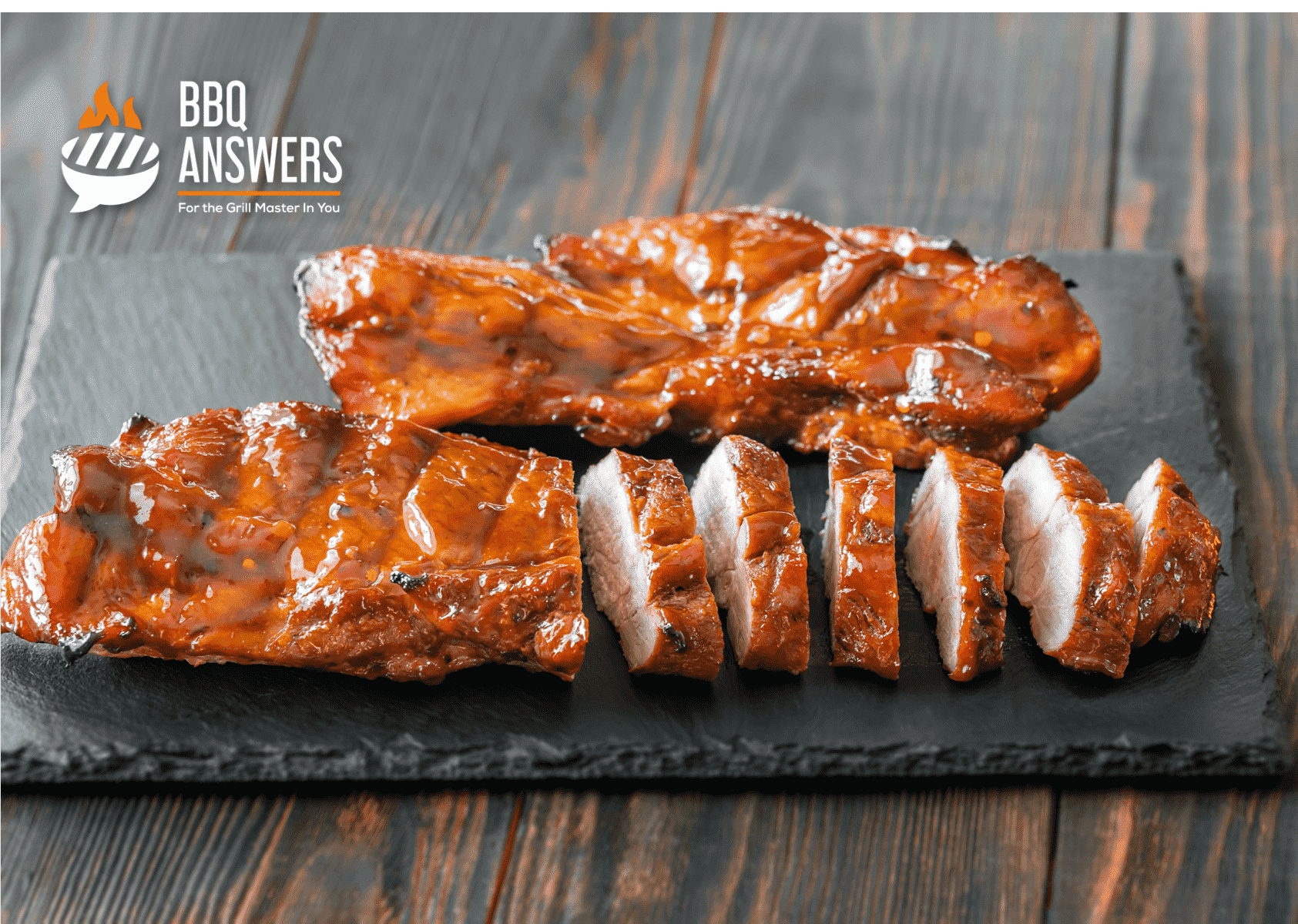 Char Siu is one of the most popular types of Siu Mei. It is made from strips of boneless cuts of pork coated with a signature red-colored sauce. 
The sauce has a sweetish flavor and is made from dark soy sauce, hoisin sauce, five-spice powder, fermented red tofu, and rice wine. Honey is drizzled on the outside to give it a shiny glaze. After the meat is coated with the sauce, it is skewered and grilled inside an oven or over an open fire. 
Char Siu is a tender, juicy, and fragrant dish with sweet and umami flavor.
Siu Yuk (烧肉) – Whole Roasted Pig
Siu Yuk is a traditional dish of a pig, roasted whole. 
The pig is seasoned with salt, spices, vinegar, and so on. It is then placed in a furnace and roasted at high temperatures until the skin is crispy and brittle. They are often cut into bite-sized cubes after roasting.
Siu Yuk has crackly skin on the outside with juicy, tender meat on the inside. It has a savory flavor from the seasoning with subtle hints of sweetness from the pork.
Siu Zyu (燒豬) – Roasted Suckling Pig
Siu Zyu, or roasted suckling pig, is not commonly seen in street shops (Siu Laap). It is a more expensive food compared to the others on this list and is more common in restaurant menus.
Unweaned piglets aged between two and six weeks old are cooked similar to Siu Yuk (烧肉) and produce the same flavors, except the skin is lighter and crunchier. The meat is also much more juicer, succulent and tastier. 
Siu Ngo (烧鹅) and Siu Ngaap (烧鸭) – Roasted Goose and Roasted Duck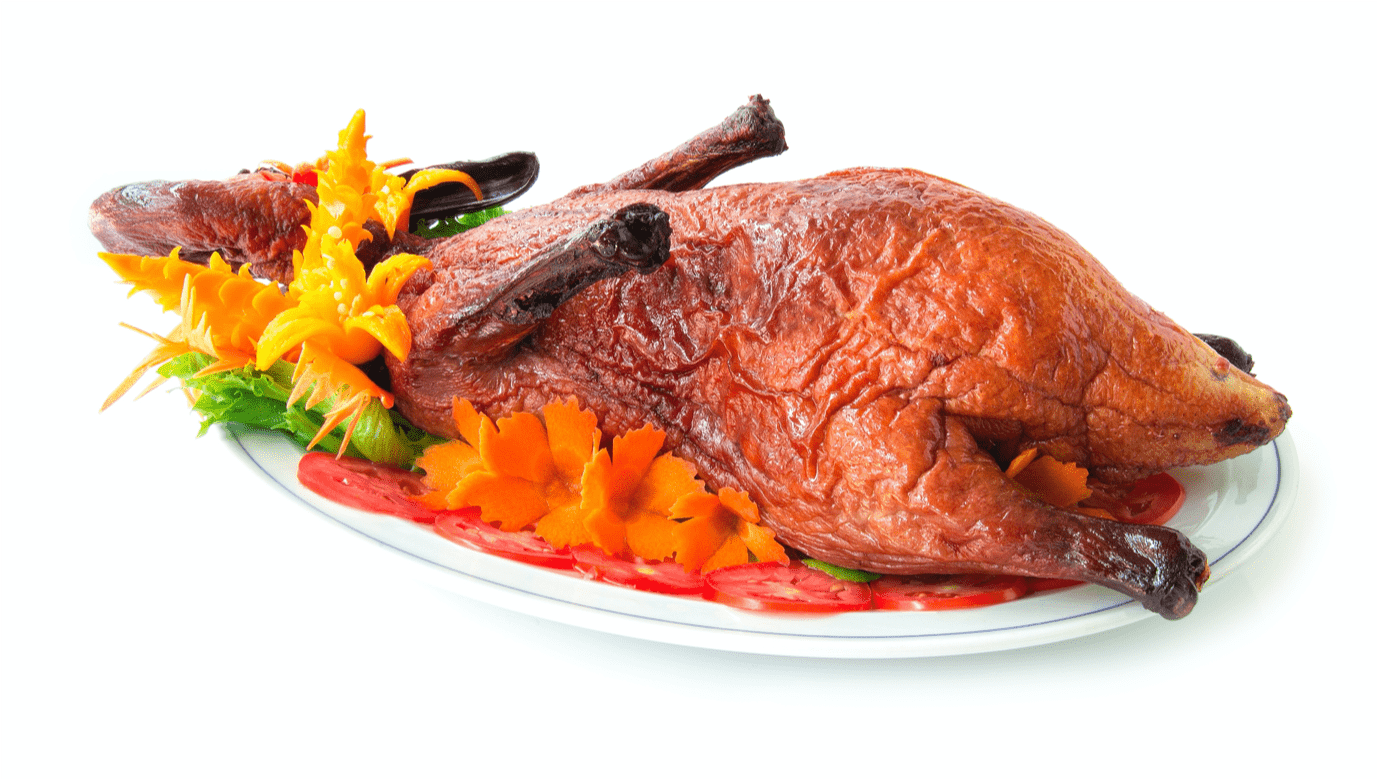 Siu Ngo (烧鹅) and Siu Ngaap (烧鸭) are respectively called roasted goose and roasted duck (also called Pekin duck). Roasted goose is more expensive than ordering a roasted duck.
The whole bird is seasoned with ingredients like ginger, Dang Gui (female ginseng), and five-spice powder. The five-spice powder includes star anise, cloves, Chinese cinnamon, Sichuan pepper, and fennel seeds.
Then it is roasted and cooked until the skin is slightly crispy and the meat tender and juicy. It is then served alongside with plum sauce or a sweet and sour sauce. It has savory flavors.
Pitmaster Wisdom:
The following dishes are not roasted dishes but still classified under Siu Mei since they are prepared and sold along with Siu Mei meats listed above.
Baat Cit Gai (白切雞) and Si Yao Gai (豉油雞) – Steamed White Chicken and Soy Sauce Chicken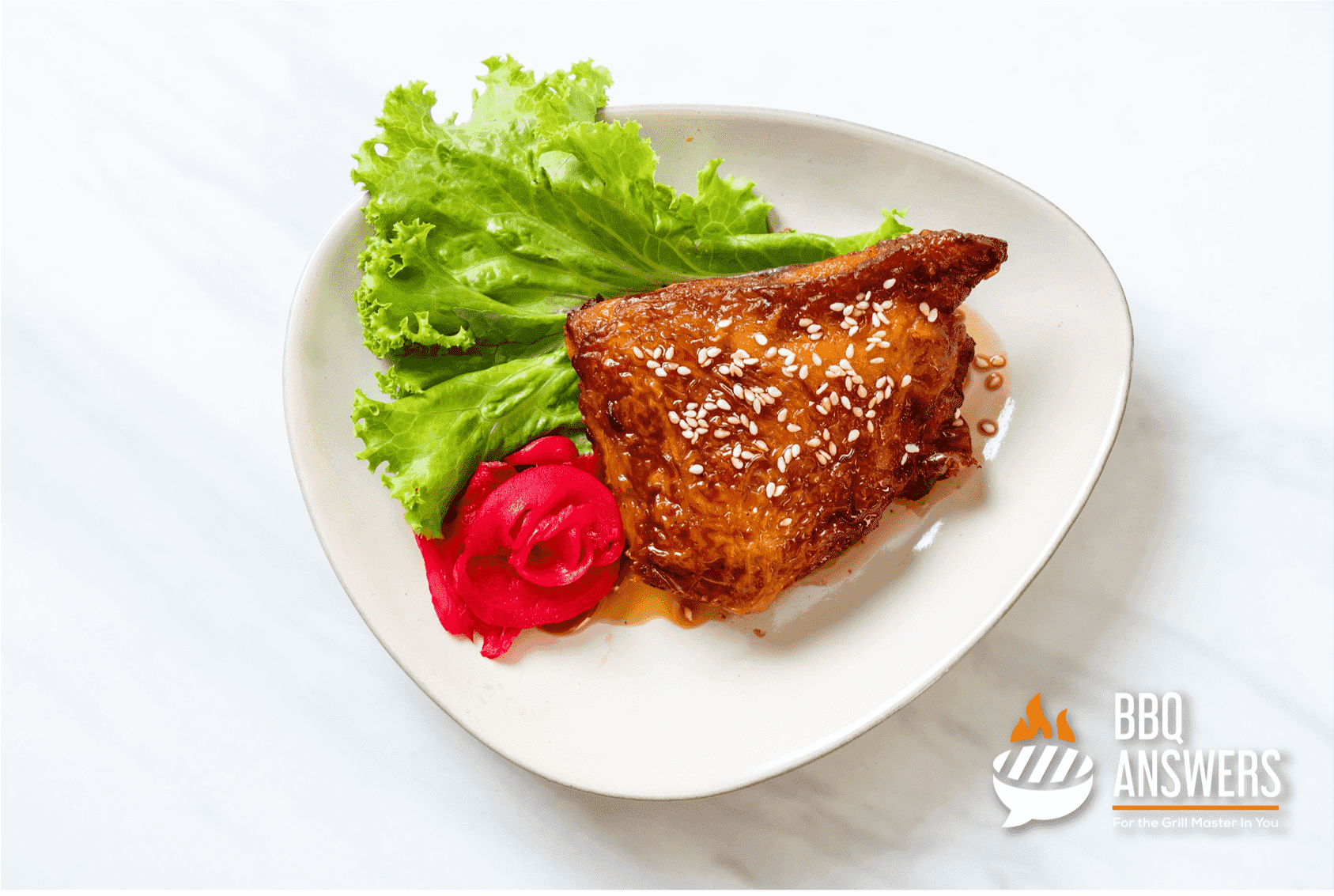 Both of these dishes are steamed chicken dishes.
To make Baat Cit Gai ( or steamed chicken), cut chicken is seasoned with salt and boiled or steamed. It is served with minced garlic and scallion sauce and has a fresh, natural bird flavor that is incredibly juicy.
To make Si Yao Gai (豉油雞) on the other hand, the chicken is marinated in soy sauce before being steamed or boiled in a pot with ginger, and star anise, light soy sauce, and dark soy sauce (sweet). It is also served with minced garlic and scallion sauce. It has a bird flavor with a rich, savory taste of the soy.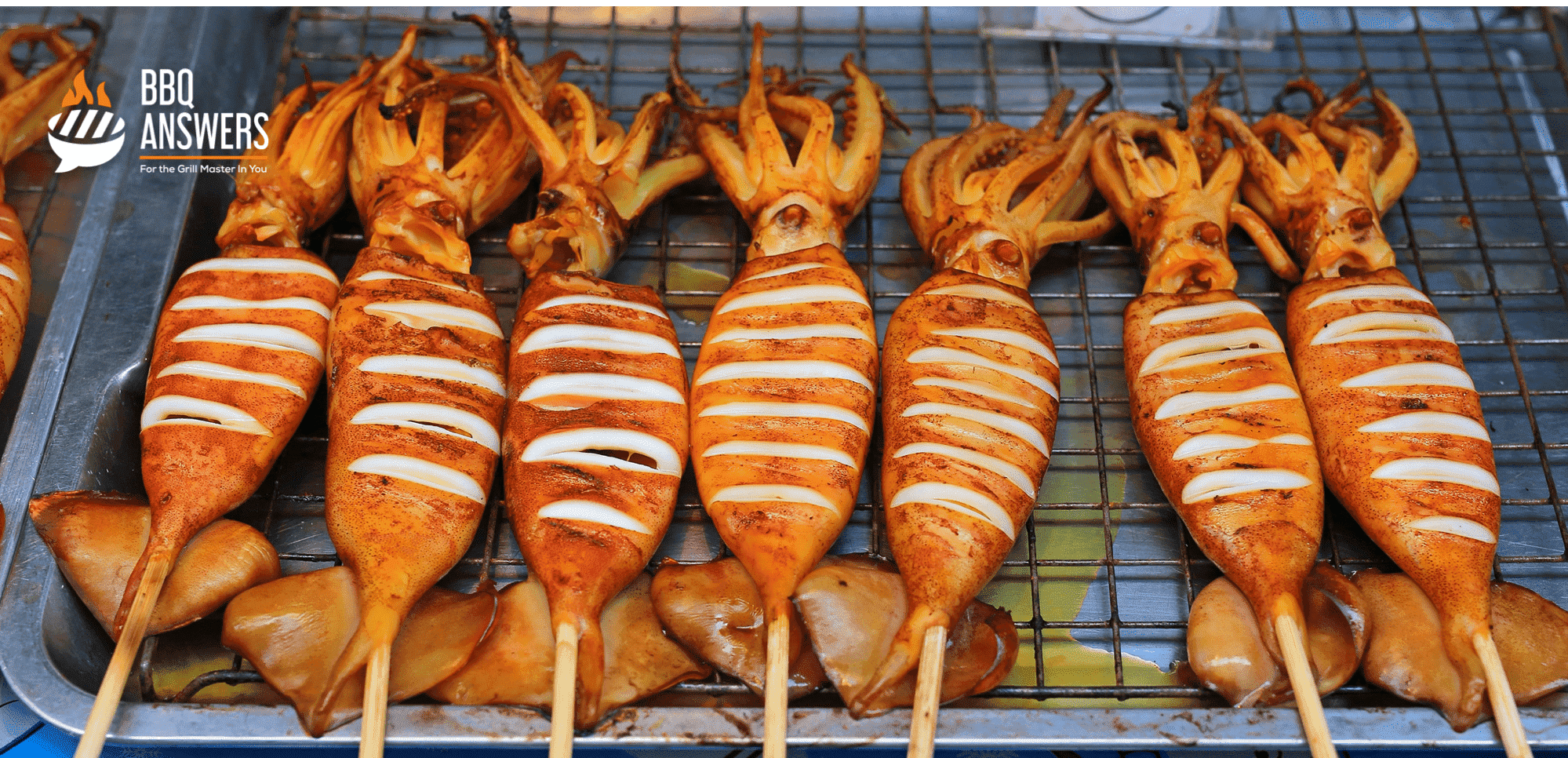 In this dish, cuttlefish are braised in a savory stock and served with black soy sauce-based dipping gravy. 
It has a  unique soft-crisp texture, and food coloring is used to give the dish its signature orange color.
What is Shaokao?
Shaokao or Shao Kao (Chinese: 燒烤) or also known as Chuan'r (Chinese: 串儿) is a kind of Chinese Barbecue where meat is skewered and grilled over charcoal.  It is a well-loved street food found in the northern and western parts of China.
Shaokao is a form of Chinese Barbecue where the meat is cut into smaller pieces, skewered, and grilled over charcoal. It is popular in the northern and western parts of China. As you move across China, the variations in the taste and cooking methods are as drastic as the change in the landscape.
Shao Kao is made from meat, fish, and vegetables that are heavily seasoned with local condiments and spices from the different regions of China. 
In the western province of Xinjiang, you will find skewered lamb that is heavily seasoned with cumin and chili powder. This is largely owing to the large Muslim population that lives there. This practice is also seen in other parts of the country, but they add their own twist to it. Common ingredients used are soybean powder and coriander leaves. 
In the coastal regions of Shandong, you can get a taste of Barbecued Starfish. 
The dipping sauce in Chinese BBQ also varies from place to place. People often use sweet and sour sauce, soybean powder, chili powder, peanut powder, and sesame powder.
Shaokao also goes by other names like Chuan( 串) or Chuan'r(串儿).
The meats are skewered onto bamboo or metal skewers and placed on a wood charcoal grill. Then they are doused in condiments and spices like salt, Sichuan peppercorn, black cardamom, and ground pepper.
Popular Shaokao Meats and Veggies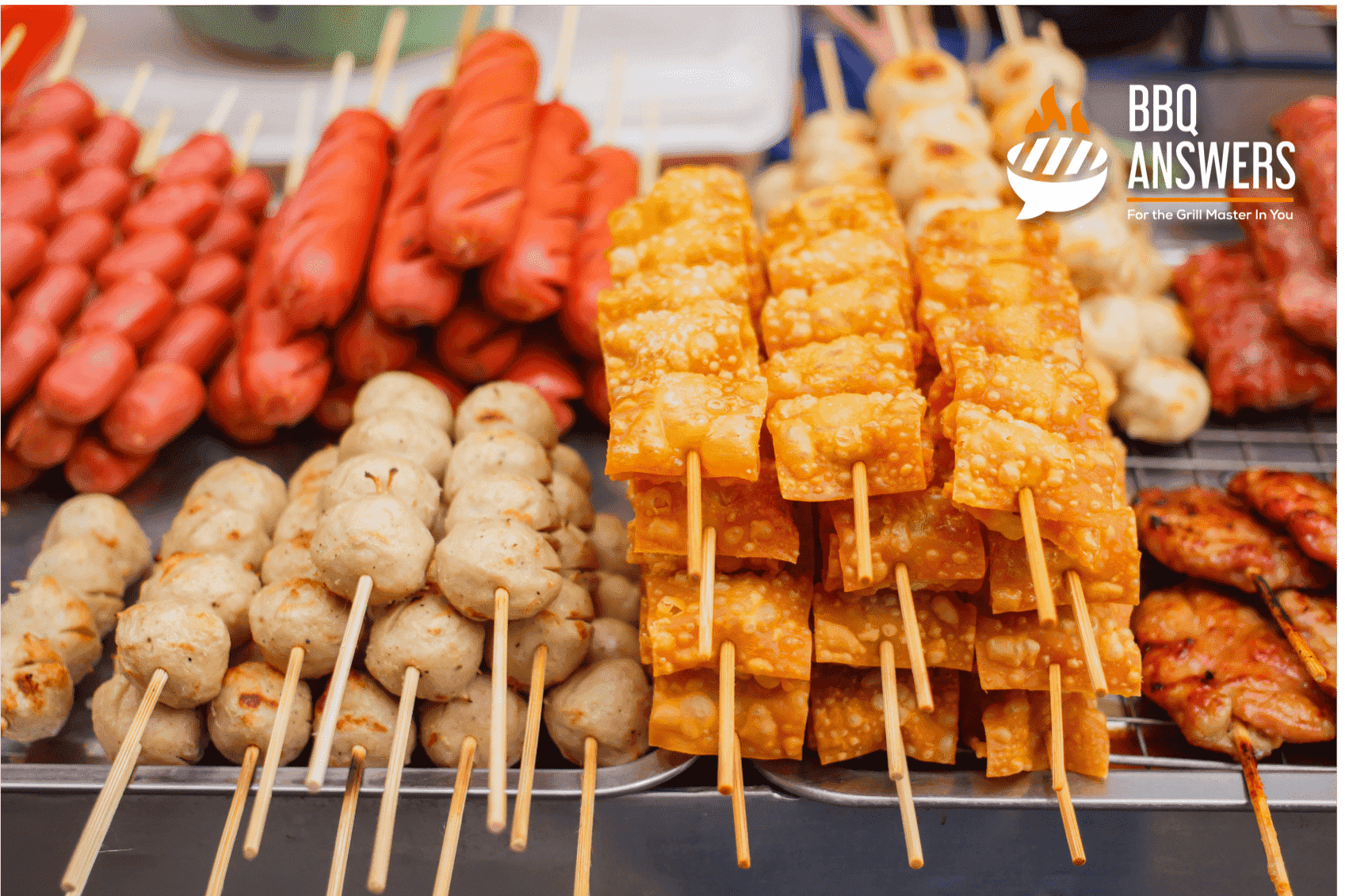 Shaokao uses a large variety of meats and vegetables. Here are some of the popular ones:
Pork
Pork Shoulders

Pork Loin

Pork Belly

Offal meat like pork kidneys and intestines 

Pork Sausages
Lamb/Mutton
Lamb Ribs

Lamb Shoulders

Lamb Legs

Offal meat like liver and kidneys

Lamb Sausages
Beef
Beef Tenderloin

Beef Ligament
Poultry (usually chicken, but duck and goose are also common)
Soft knee bone

Wings

Heart

Gizzard

Quail eggs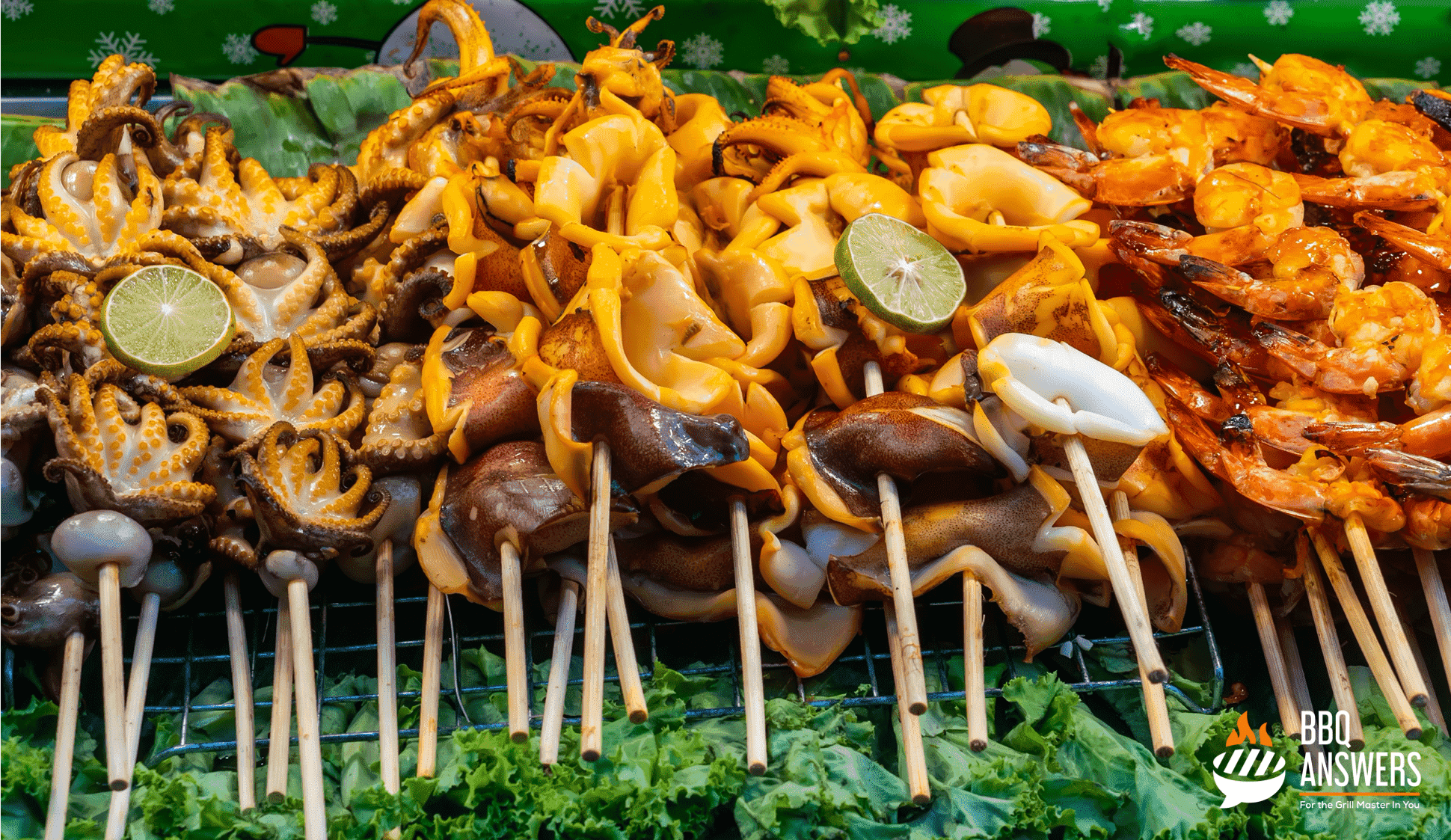 Freshwater and marine fish

Fish Ball/ Fish-ball paste (yu yuan)

Prawns and Shrimps

Various types of Shellfish

Squid and Cuttlefish
 Vegetables/plant-based 
Kelp

Mushrooms

Bok Choy

Lotus root

Tofu
Recipes
Siu Mei Recipe – Char Siu (Cantonese BBQ Pork)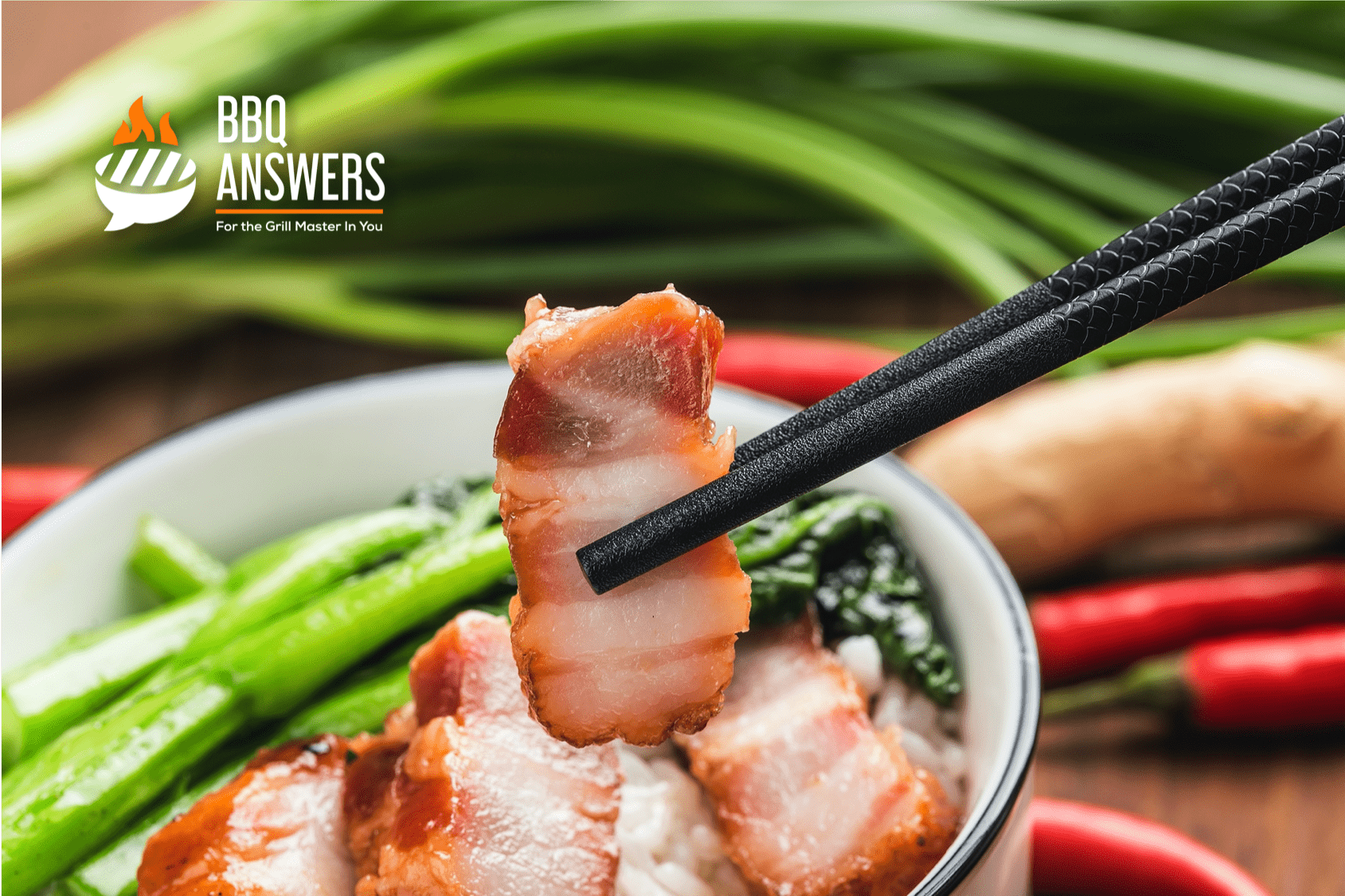 Here we have 2 ways-grilling or oven roasting-that you can try to make this delicious recipe at home! 
Overall
Prep time: 35 minutes
Cook Time: 50 minutes
Serving size: 4-6 people
Equipment
Barbecue grill and charcoal (if using a grill)

Oven and Oven Rack (if using an oven)

Meat Thermometer

Ziplock bag or Large bowl (for marination)

Small bowl

Mixing spoon

Measuring cups and spoons
Ingredients
Meat
2-3 pounds (0.9-1.3 Kg) pork shoulder roast
For marinade
2 tablespoons of soy sauce

2 tablespoons of hoisin sauce

2 cubes red bean curd

1 tablespoon of red bean curd liquid

1 tablespoon of five-spice powder

2 cloves of garlic (finely grated or mashed)

2 tablespoons of honey

½ teaspoon of ground white pepper

1 teaspoon of sesame oil (optional)

2 tablespoons of Chinese cooking wine (optional)
For glaze
2 Tablespoons of honey

Leftover marinade (or 2–3 teaspoon of red bean curd liquid)
Method
Cutting and marinating the meat
Cut the pork shoulder roast into thin 2-3 inch thick strips. Make sure to cut it along the meat grain. You can trim the chunks of fat, but don't trim off too much!

Take a ziplock bag or bowl to combine ingredients for the marinade section. Start off by mashing the red bean curd cubes until there are no more big chunks left. Continue to add the rest of the ingredients in the marinade section along with the pork.

Close it and marinate in the fridge for at least 24-48 hours.
Preparing the Glaze
Remove the meat from the marinade vessel and let it sit for an hour at room temperature.

Take the leftover marinade and add it to a small pot and remove the chunks of garlic and ginger. If you don't have leftover marinade, you can take 2–3 teaspoons of red bean curd liquid instead.

Add 2 tablespoons of honey to the mixture.

Move it to the stovetop and cook it on low heat for 5 minutes or until the mixture starts to boil. Set aside to use later.
Cooking method 1: Grilling the Pork on the BBQ
Heat up the barbecue grill to 325°F (162°C).

Cook the meat for 15 minutes on one side, then flip it for another 10 minutes. The temperature reading on the meat thermometer should be around 145°F (62°C). If not, keep the meat longer until the internal temperature is right.

Once the internal temperatures hit 145°F (62°C), take the glaze that we prepared before and glaze the meat 4-5 times.
Note:
When glazing the meat, keep flipping it every minute or so to prevent burning. If you burn the honey that's in the glaze, you will end up with a bitter glaze that tastes bad.
4. When the meat looks red, sticky, and slightly burnt, remove it from the BBQ and let it rest for 20 minutes or so on a plate.  Once it cools down a little, you can dig in and enjoy it!
Cooking method 2: Cooking Pork in the Oven
Preheat the oven to 400°F(200°C).

Line a baking sheet with foil, then put a roasting rack or tray on it. Place the pork on the rack.

Roast the pork on one side for about 20 minutes and then flip it and roast for another side for another 20 minutes.

Now for the next 20 minutes, remove the pork, flip and glaze the meat every 5 minutes. Apply the glaze generously so that all the glaze is brushed on at the end.

Take it out when the meat's internal temperature hits 145°F (62°C)

. Let it cool for 10-15 minutes.

Serve!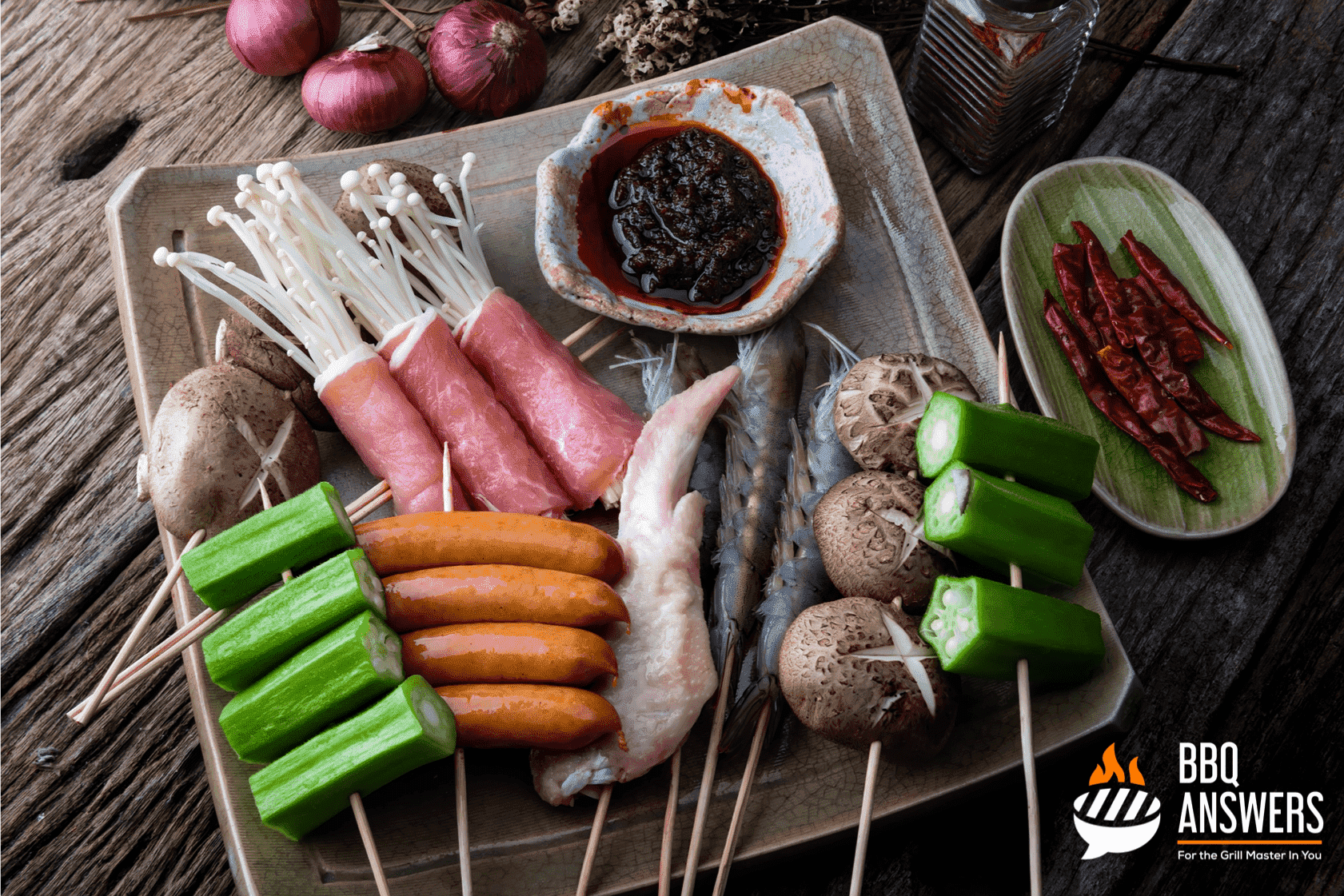 Overall
Prep time: 30 minutes
Cook Time: 50 minutes
Serving size: 4-6 people
Equipment 
Barbecue grill or the modified two-zone grill (Equipment below)

Extra-thin bamboo skewers (soak them in water overnight to prevent burning)

Charcoal

Mixing bowl

Measuring cups and spoons
If you want to try a modified two-zone grill like the ones used in China you need:
2 disposable foil loaf pans

2-4 bricks

1 wire grate (optional)
Ingredients
Meat
1 pound of meat ( Beef, Pork, Chicken, etc.)
Note:
1 pound of meat should make around 12 skewers, depending on how you cut them. So if you want to increase serving size, go ahead.
Vegetable options
Mushrooms

Bok Choy

Tofu

Carrot

Onions
Spice Mix
1 tablespoon of + 2 teaspoons of ground dried chili (Korean Chili can be used)

2 ½ teaspoons of ground Sichuan peppercorn

1 tablespoon of ground white pepper

1 tablespoon of + 1 teaspoon of ground black cardamom

1 tablespoon of + 1 teaspoon of salt

1 tablespoon of Chinese five-spice powder.

2 teaspoons of ground cumin
Basting mix
2 tablespoons of peanut oil (or vegetable oil)

½ teaspoon of salt (add more to taste)
Method
Setting the grill.
If you are using a modified grill, here's how to set it up
Take the two loaf pans and cut one end off of each so that they'll nest together to create one long trough.

Poke small holes at the bottom of the pan. Add extra holes to one end (This will be where the charcoals will be placed).

Place two bricks on either side of the foil loaf pans. Set the pan on top of two bricks so that the bricks carry the weight of the pan.

Pile charcoal on the side of the pan with the most number of holes in the bottom and light them. On the other side, leave it without any charcoal (or a very less amount). This will be the cooling end or the end where the meat can be kept slightly warm if you are placing some charcoal.
Cooking the meat
Mix all the ingredients under the spice mix list and keep it aside.

Cut the meat into ½-1" cubes. Dice the vegetables too.

Skewer all the meat and vegetables onto skewers and set aside.

Get the grill going.

Set the skewers on the hotter side of the grill. Make sure to keep the skewers away from the heat so

that

it doesn't burn. 

Grill the meats and vegetables and brush them with the basting mix. Don't forget to flip them often.  The vegetables should soften and char a bit while the meat should cook until well done.

When they're done, move the skewers to the cooler side of the grill and douse them with a generous amount of spice mix.

Serve and enjoy!
Final Thoughts
Congratulations! You now know much more about Chinese Barbecue. It's time to head out to the grill and flex your newfound skills!
Try out different types of meats and play with the flavors to make it your own. Don't forget to share your tasty experience in the comments section below!
For answers to all your BBQ questions, subscribe to BBQanswers.com!