Why Do BBQ Grills Rust? Removal, PRevention, & Safety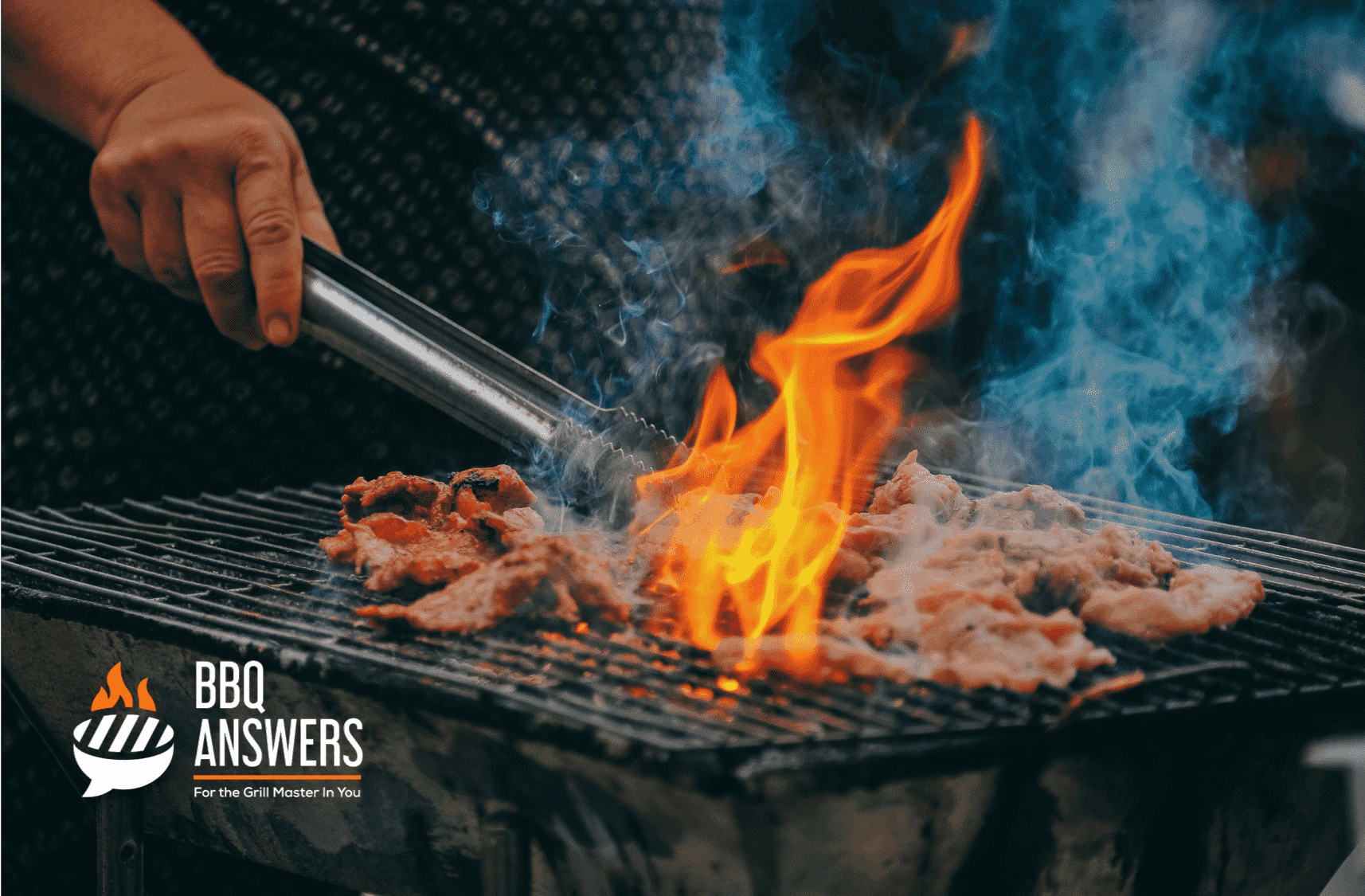 If you've been barbecuing a while, you have come across grill rust. 
When I first came across grill rust, I had many questions in my mind like: 
Why does it happen? 
How can I avoid it? 
Is it harmful? 
Do I need a better grill?… etc.
If you want all of these questions, you're in the right place! 
Grill Rust is reddish-brown corrosion that forms when iron particles of steel are exposed to oxygen and moisture. Grill rust peels off layer by layer, thereby weakening and damaging the grill.
When iron is exposed to oxygen, it forms a ferric oxide (Fe2O3) layer since iron particles have a strong affinity for oxygen. These molecules of ferric oxide have a much larger volume than steel molecules. This causes stress between the two types of molecules and causes the rust layer to separate from the steel. This results in more steel being exposed to the atmosphere, and the rust cycle continues to damage the steel.
Here are some causes of grill rust:
A lot of food particles get lodged in your grill when grilling. Acidic foods like sauces and marinades can cause your grill to rust if they're let to sit for a long time. 
This is why it is essential to clean your grill after every cookout. Doing a burner blast and dumping out the residue isn't enough. Cleaning your grill can be quick and easy if you have the right tips.
Chemicals used in swimming pools, like chlorine and bromine, are corrosive agents that can cause your grill to rust. These chemicals escape the pool as a vapor and can even damage high-quality grills. Even chemicals in your fertilizers and pesticides could cause your grill to rust.
To avoid this, place your grill away from the pool and lawn. If you can't keep the grill away, consider using a grill cover to protect the grill from these chemicals. Also, place the grill in the direction the air is coming from. This will reduce its exposure to chemical vapors.
Leaving your grill exposed in the winter is a bad idea. The least you should do is get a good grill cover for your grill. But what is worse is trying to get rid of the ice with a chemical agent. Chemicals that are used to melt ice can increase the chances of your grill rusting.
To remove the snow formed on your grill, use the heat from the grill itself. Buy a grill cover to avoid this problem in the future.
If you were thinking of applying salt to melt the snow, think again! Salt causes a lot of corrosion to metal. If you live near the ocean, the humidity and salt in the air will cause your grill to corrode even if you own a premium grill.
To avoid saltwater corrosion, coat all the surfaces of the grill with oil or wax and reapply the coat every time you clean your grill. 
Pitmaster Tip:
Don't mistake grill discoloration for rusting. The discoloration is caused by smoke and high heat and doesn't eat away the metal. To avoid discoloration, clean your grill regularly.
Why Do Stainless Steel Grills Rust?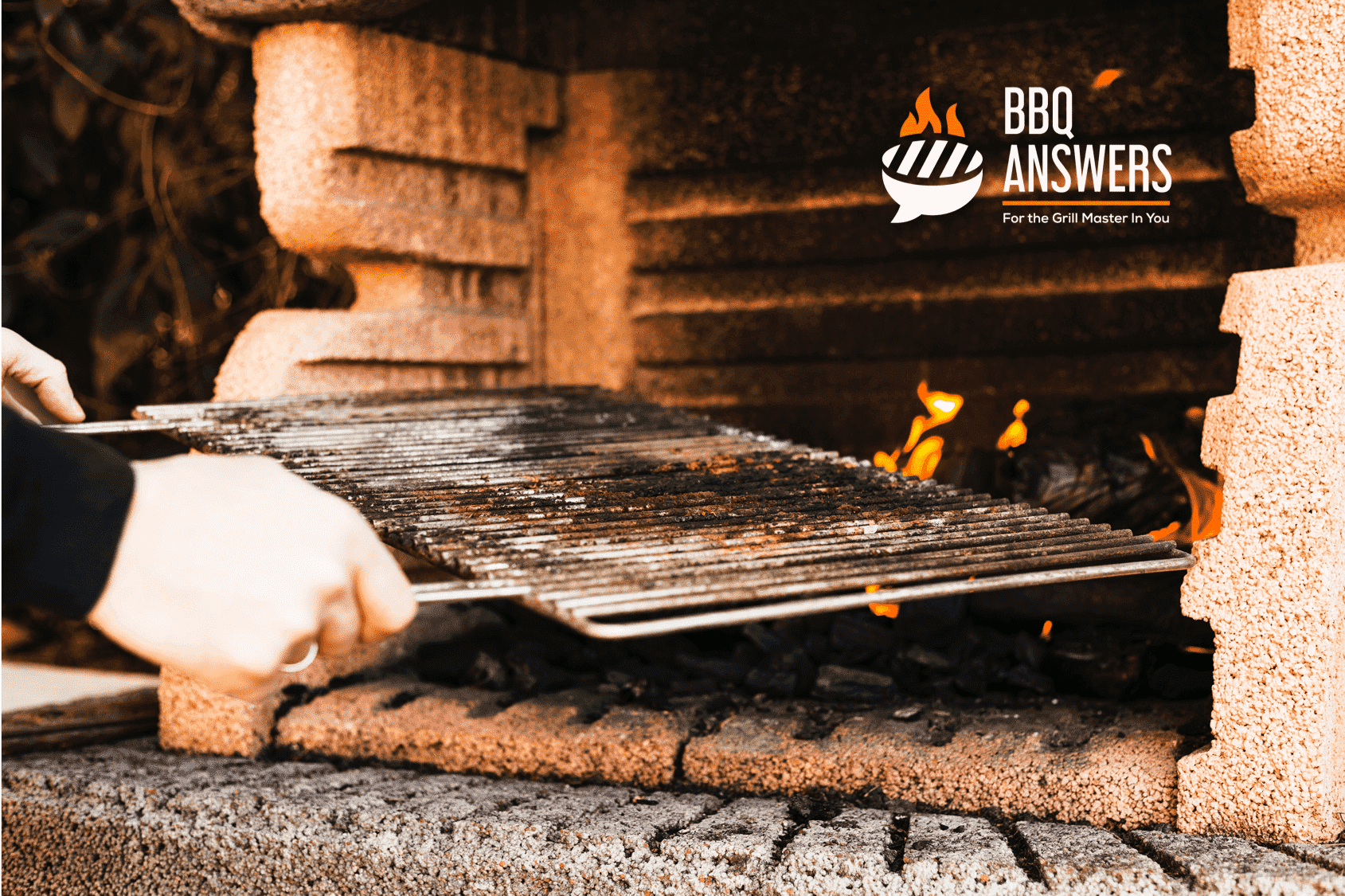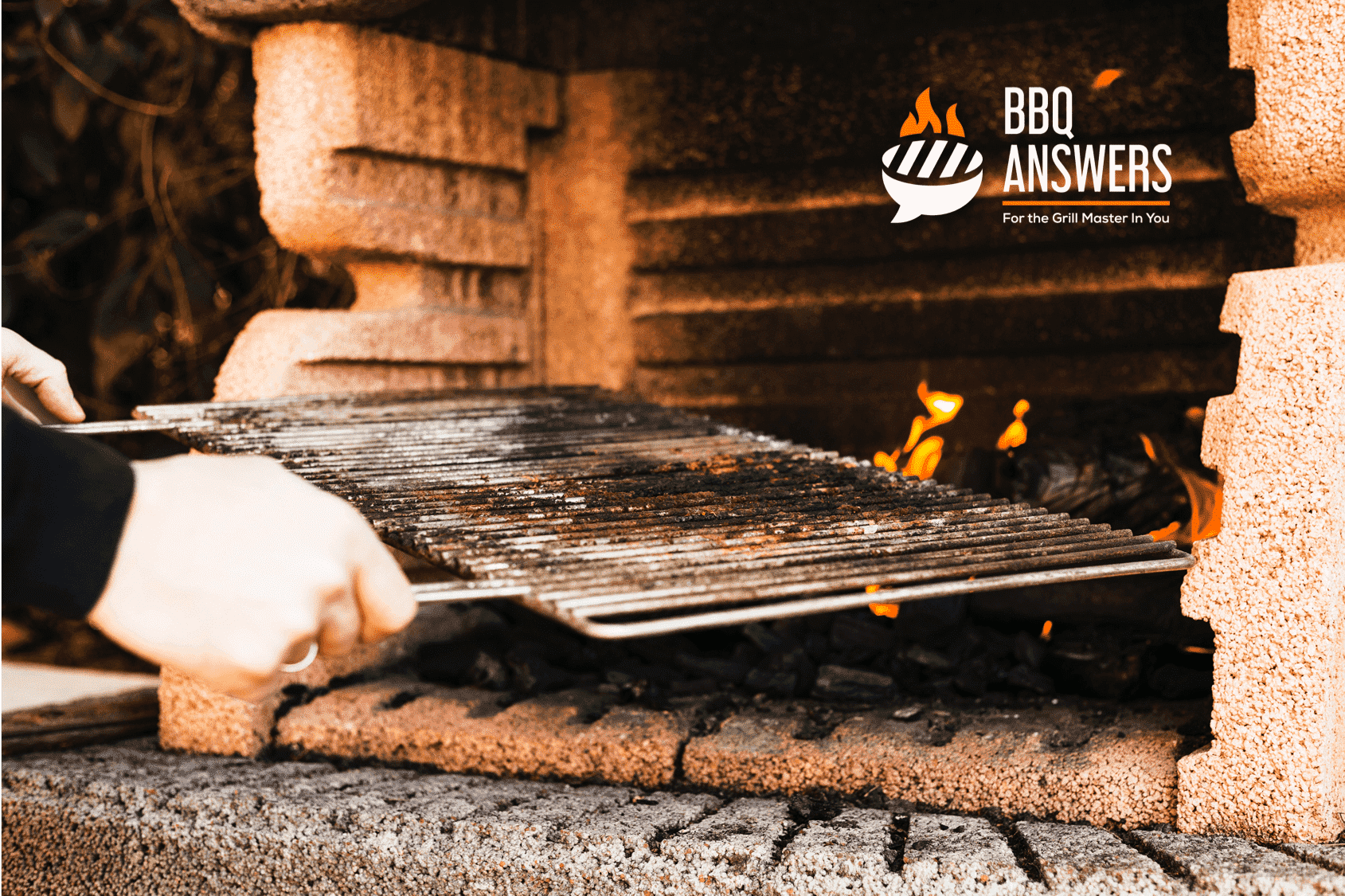 Even though stainless steel grills are less prone to rusting, they do rust.
Stainless steel is rust-resistant as compared to regular steel because it contains 12-30% of chromium. Chromium makes stainless steel rust-resistant because chromium is more reactive than iron, but it doesn't cause an adverse reaction. When chromium reacts with oxygen, it creates a layer of chromium oxide. Chromium oxide doesn't have large and differently colored molecules like ferric oxide, so the metal does not deteriorate.
However, there are a few reasons why you could see rust on stainless steel:
Superficial rust is the rust that has settled externally on the stainless steel. This could happen if you use utensils or fasteners (nuts, bolts, washers, etc.) that are not made of stainless steel. When water runs over rusted items, it results in a reddish-brown deposit of rust on the stainless steel. 
The best way to remove superficial rust is by wiping it off with a solvent. Solvents used with a soft cloth prevent the rust from lodging into the steel and causing further problems. Here's my recommendation for the best rust cleaners on the market.
Insufficient Chromium Concentration 
When the stainless steel surface is scratched during washing, there could be localized spots where small fragments of steel wool or wire are lodged. In such spots, the chromium concentration is less than 12% and therefore fails to protect the stainless steel. You can avoid this problem by avoiding harsh cleaning tools when cleaning your grill (especially when cleaning the grill exterior).
In case your grill is already scratched, you will need to scrub off all the rust and then use a solvent for cleaning off the remaining rust. Here's my recommendation for the best rust cleaners on the market.
Extremely High Temperatures
This is the least common reason for grill rust, but it is possible to have this kind of rusting if you're using a superpowered grill. When the temperature of stainless steel reaches the 750-1550°F (400-840°C) range, the chromium and carbon in the stainless steel can bond together, reducing the percentage of chromium molecules in the steel. This causes the stainless steel to lose its rust-resistance resulting in corrosion.
This problem is the hardest to rectify because it involves a complex heat-treatment process. Even if you find someone with the expertise to be able to do this process, it is bound to be expensive. You may have to replace the part if possible or look into buying a new grill. To avoid this problem, don't heat your grill to extremely high temperatures.
Is It Safe to Cook on a Rusty Grill?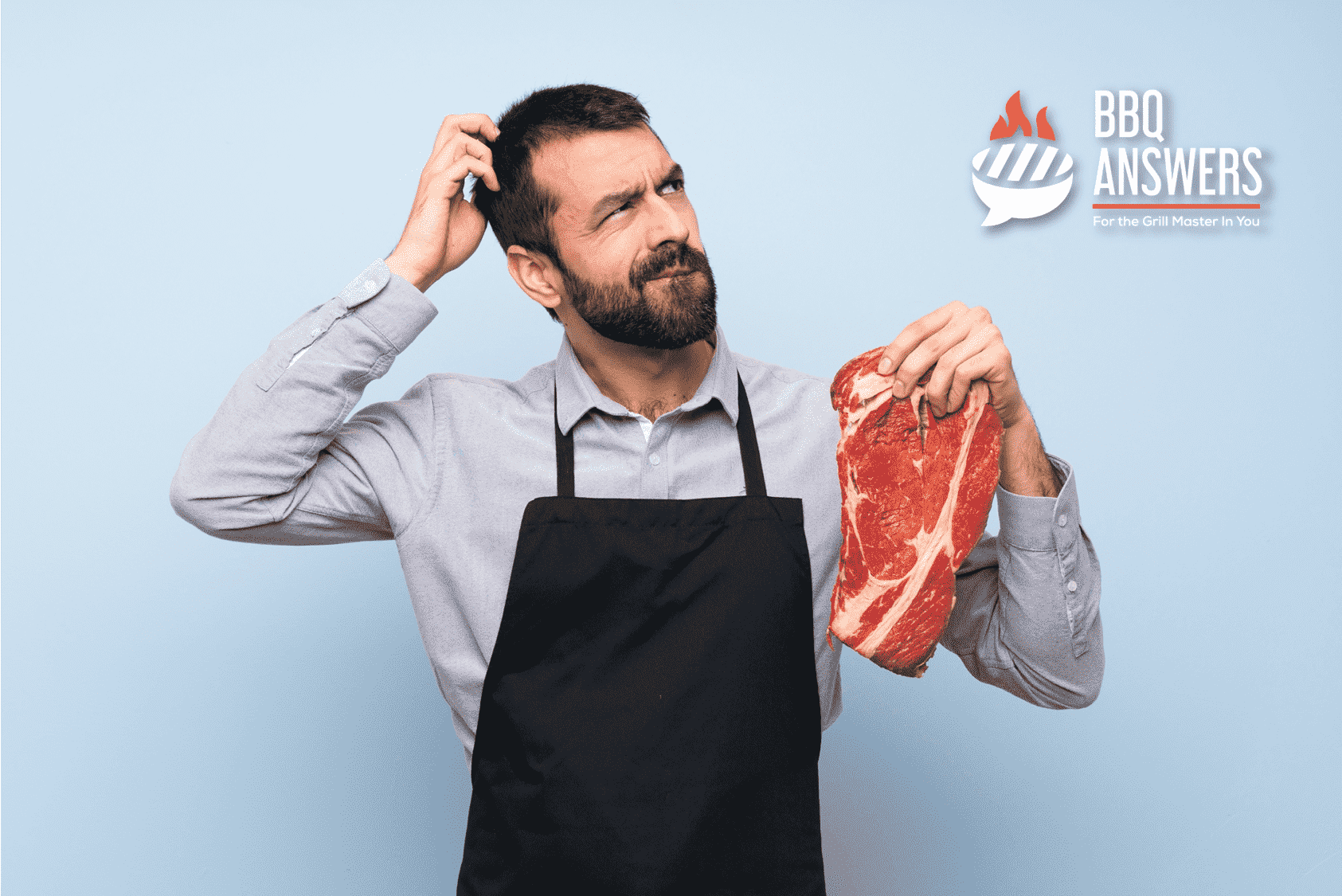 You must always try to wash off all rust from your grill because rust is not a food-safe material, as confirmed by the USDA.
However, almost all culinary experts agree that ingesting small amounts of iron oxide particles is not harmful. So if you thoroughly wash the rust off your grill, you have no reason to worry. 
A concern that's often cited with rust is tetanus infection. However, tetanus is not caused by iron oxide but by bacteria that is most often found in soil and animal feces. The reason tetanus is commonly associated with rusty objects is because sharp, rusty objects are typically found in a wasteland where they're exposed to these bacteria. Read more here.
Ingesting more than 40 mg of iron per kilogram of body weight leads to death. Iron toxicity causes the kidneys to fail, but it's improbable that so much iron can be ingested by an adult. Women and children are more susceptible to iron toxicity because of their lower body weight.
If you are concerned that you may have ingested too much rust, consume fruits rich in Vitamin C. Fruits like blueberries, grapefruit, kiwis, oranges, pineapples, strawberries, raspberries, and cranberries have antioxidants that can help counteract iron toxicity. 
How to Remove Grill Rust Easily?
Grill rust is almost inevitable after a few years of use since grills are subject to a lot of harsh conditions. From the weather to the chemicals, and the cooking heat to wear marks, your grill has been with you for better and for worse. You can almost hear your grill asking you for a day at the spa.
Here are a few ways you can get your grill shining as good as new:
Always start your cleaning ritual by cleaning off any food residue and rust using a grill brush. Here are the best grill brushes on the market.
To have an easier time scrubbing, fire the grill up for 15 minutes before scrubbing the grate from both sides. This makes the food and grease easy to peel off. 
Sometimes it's best to keep things simple. Using soap and water is a good way to clean the exterior of the grill. However, soap and water are only useful for removing superficial rust that forms as a result of keeping a rusted item on the grill. 
Add some dish soap to a bucket of warm water, and use a sponge or a soft cloth to wipe the grill. If the rust is stubborn, try the next method of cleaning your grill.
Lemon juice works similar to vinegar, although it's a little milder than vinegar. Mix the lemon juice with some powdered detergent and apply it like onto the grate. After waiting for 8-10 hours, scrub it with a soft bristle brush and rinse it with water.
As you probably know, vinegar works wonders for getting rid of corrosion. Spray some vinegar on your grill grate and cover it with a plastic sheet or a garbage disposal bag. Leave it on overnight and rinse off the vinegar while scrubbing with a soft bristle brush.
If you have stubborn rust, add some salt to the vinegar. The salt acts as an abrasive to get rid of rust.
Fire it Up With Baking Soda
Baking soda is a great option to clean your grates. 
First, brush the grates with a soft bristle brush to remove as much rust as possible. Then sprinkle the grates with baking soda and set it on your grill. When you fire up the grill, the heat will cause the powder to bubble up and remove the rust. 
Once the bubbling dies down, turn off your grill and let it cool down. Take the soft bristle brush and scrub the grates again.
An alternative way to use baking soda is by soaking the grill grates in a bucket. Letting the grill grate soak in the baking soda solution for about an hour will allow the baking soda to break down the rust.
Use Baking Soda and Vinegar Paste
Baking soda by itself can work wonders on rust, but when mixed with vinegar, it forms a potent paste that can get rid of most stains. 
To use this paste, simply rub the paste on the rusted area and let it sit for half an hour. After this, rinse with warm water while scrubbing the grates with a soft bristle brush.
If you've tried the preceding methods and failed, it's time to pull out the big guns.
When buying a rust removing solution, don't use a generic solution that is made for household use. These rust removers may get into your food, and therefore you must ensure that they're non-toxic.
If you're not comfortable using chemicals on your grill, you are not alone. You could use sandpaper to get rid of the stubborn rust. However, keep in mind that sandpaper is a destructive way of cleaning rust because it will create scratches. So be sure to reserve sandpaper cleaning only for the toughest of cases.
Just place the sandpaper on the rusted part and scrub it while applying pressure. Once you finish sanding down the rusty parts, be sure to apply moisture resisting oil or wax to protect the scratched surface. 
How to Prevent Grill Rust?
Here are the do's and don'ts to adequately protect your grill from rust:
It is best to clean your grill grates after every cooking session. The food remains like sauces and marinade are notorious for causing rust if not cleaned. Additionally, be sure to clean both on the inside and outside of the grill. If you have burners, be sure you are cleaning them too since food particles often get lodged inside them.
Here's a post detailing how to clean your grill the right way.
Dry The Grill After Washing
Remember to dry the grill after washing it, or your efforts in getting rid of the dirt may all be in vain. Moist surfaces of the grill are very prone to rust, so be sure to wipe it dry (especially the corners and crevices).
If you have a gas grill, it's easier to get rid of residual moisture. Simply fire the grill up for 10-15 minutes, and the moisture inside the grill should evaporate.
Apply a Moisture Resistant Coating
If your grill is not porcelain-enamel coated or made from stainless steel, rub it down with a little bit of oil or wax before putting it away. 
Applying oil or wax isn't a bad idea even if your grill is rust-resistant. After a while, even rust resistant grills become vulnerable to rust. If you have a habit of oiling your grill, you won't have to find out the hard way that the porcelain coating has chipped off or the stainless steel has gotten scratched. 
Not covering your grill leaves it vulnerable to the elements. This means that your grill will ultimately need more cleaning and maintenance. Using a grill cover goes a long way towards protecting your grill. Remember to place your grill upwind, as explained earlier. Here are some great grill covers for your consideration.
If you have a garage, you may also want to consider keeping your grill inside your garage. The garage will protect your grill from extreme weather conditions, and the humidity in your garage is typically less than your backyard. Your backyard may have high humidity from watering plants and having a swimming pool.
Which Grill Grates are Least Prone to Rust?
Theoretically, porcelain-enamel coated grates can't get rusted, but the enamel coating often chips off. This results in rust spots on your grate. 
Stainless steel grates are least prone to rust, but they don't hold heat well. Also, if you superheat stainless steel grates to very high temperatures, they may lose their rust resistance, as explained earlier. 
Cast Iron Grill Grates are most prone to rusting.
When choosing a grill grate, there are other factors you may want to consider, such as durability, how well it holds heat, etc. Check out this post for more info. 
Final Thoughts
I hope this post helps you, your family, and friends have a safe and tasty barbecue.
If you found this post helpful, give me a shout out in the comments section below!
For more tips on how to have a safe and healthy barbecue, subscribe to BBQanswers.com