Recipes for Vegan BBQ Sides – Beans, Fritos, and Chips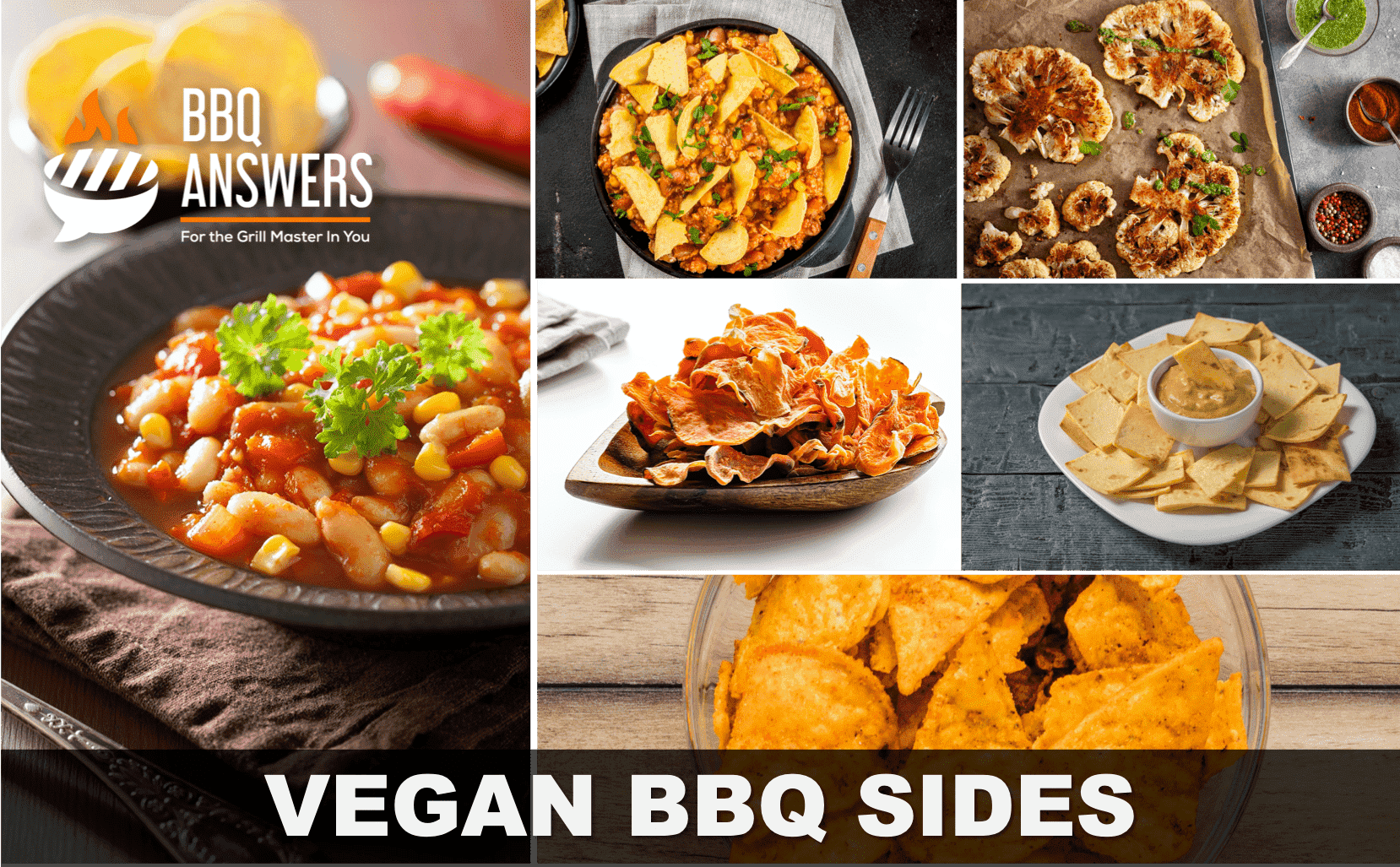 BBQ side dishes are known to be the show-stealers at barbecues. Whether you are planning a backyard BBQ, a potluck, or a simple meal with your friends and family, don't forget to add some tasty BBQ side dishes to the menu. They can entertain your taste buds before you dig into your main course, and they're not just made for non-vegans either! 
Vegan BBQ side dishes include a variety of amazing recipes, thoroughly enjoyed by vegans and non-vegans alike. You can have it along with your main courses such as vegan burgers, steaks, sandwiches, and more. 
Some of the most popular side dishes in a vegan kitchen are vegan BBQ beans, vegan mashed potatoes, fresh corn salsa, Fritos, classic vegan coleslaw, vegan chips, and herbed rice. 
In this post, we'll dive into knowing about three of the most popular vegan side dishes-vegan BBQ beans, chips, and Fritos! They are easy to make and can be eaten with almost every meal. And don't worry- they're healthy too!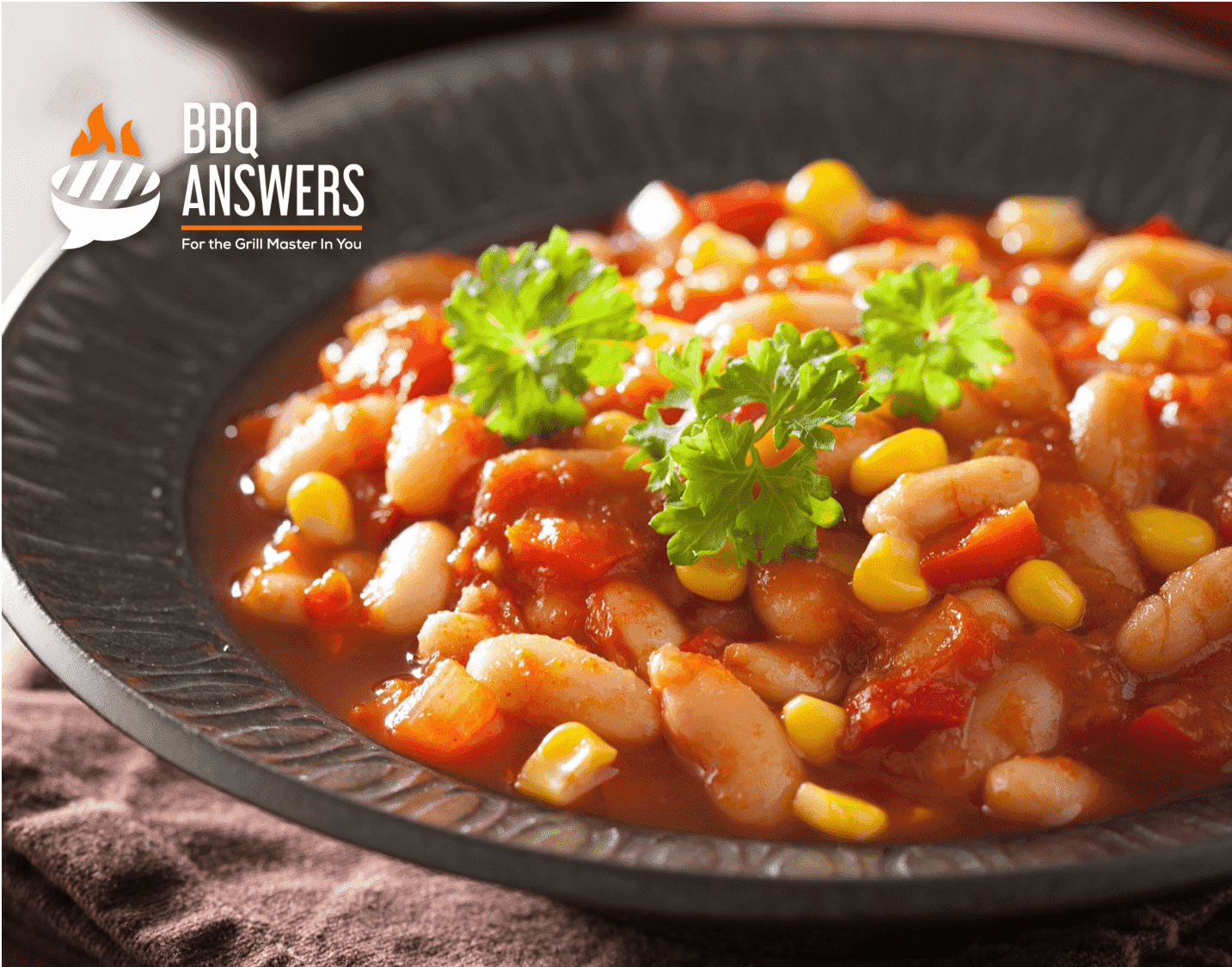 Vegan BBQ beans are basically beans that are baked for an extended period at a low temperature. It is mixed with sauce and is part-boiled before being baked. 
Preparation time: 15 minutes
Cook time: 45 minutes
Servings: 4
Ingredients:
¼  cup brown sugar

¼  cup maple syrup

1 Tablespoon dark molasses

1 Tablespoon tomato paste

1 Tablespoon vegan Worcestershire sauce

1 teaspoon yellow mustard

1 teaspoon liquid smoke

1 teaspoon apple cider vinegar

1 teaspoon extra-virgin olive oil

 ½ teaspoon garlic powder

 2 cans navy beans(15 ounces, undrained)

 1 yellow onion, chopped
Instructions:
Preheat the oven at 163

°

C (325

°

F).

Take a small bowl. Add the sugar, molasses, vinegar, maple syrup, mustard, tomato paste, garlic powder, Worcestershire sauce, and liquid smoke in the bowl. Whisk them till they are combined thoroughly.

Take a 10-inch (25 cm) pan, pour the oil and heat on a medium-high flame. Once the oil is heated, add the onion and stir it till they are slightly caramelized. This should take around 5 to 7 minutes. 

Reduce the heat now and add the beans with the liquid in the cans to the pan. Add the maple syrup mixture and stir till they are mixed thoroughly. 

Once they are mixed, place the pan in the oven and bake it for 30 to 45 minutes. They should be baked uncovered.

Once the sauce gets sticky, and the beans begin to caramelize, take the pan out of the oven.
Serve it on the plate and relish this dish to your heart's content! 
You can make a big batch of beans and store it in the refrigerator for 6-7 days in an airtight container.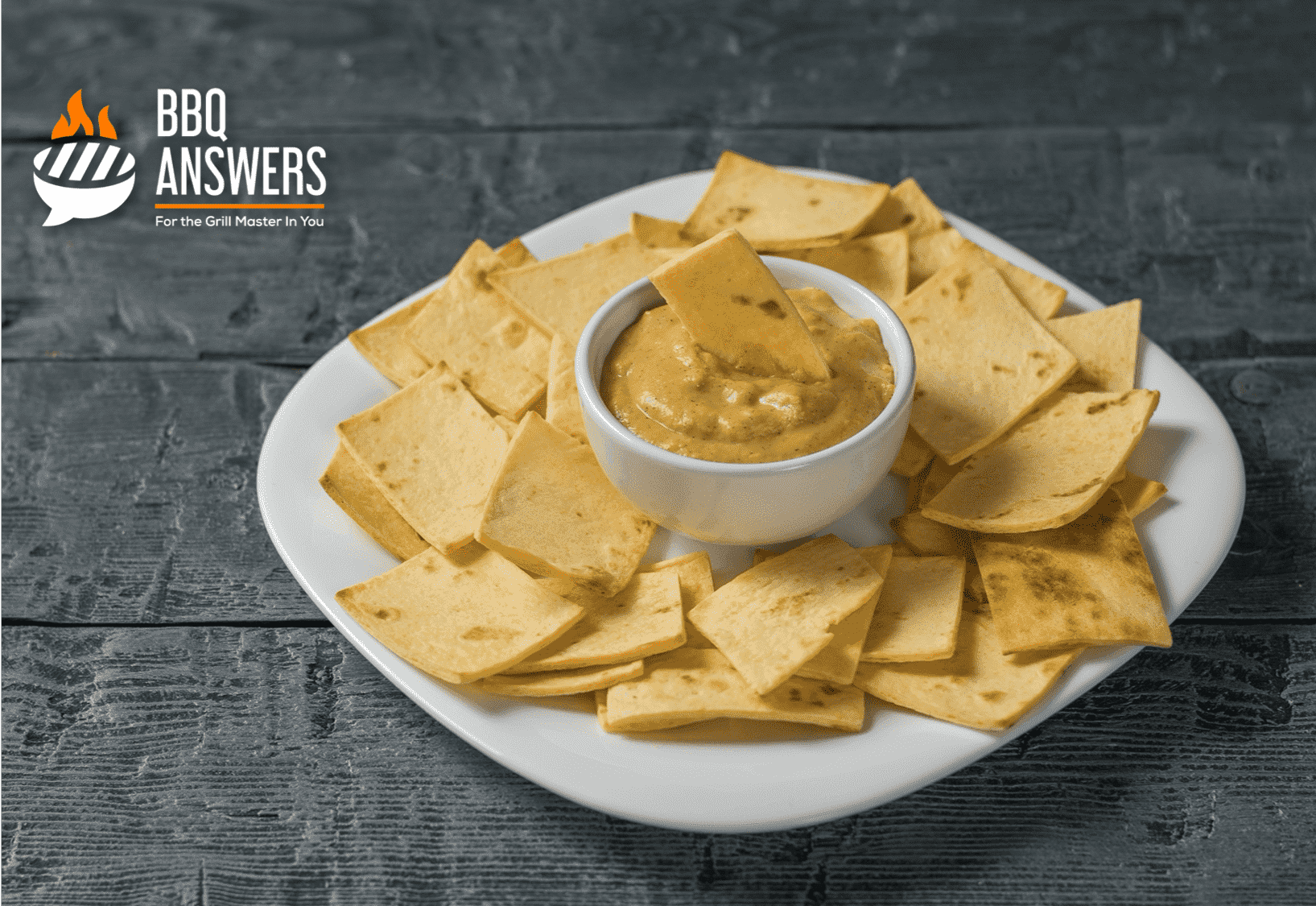 Fritos are made of whole cornmeal and are generally orangish-golden in color. They are thin corn chips and are considered to be healthy compared to other chips. 
Though its texture is very close to tortilla chips, they aren't the same. This is mainly because of the difference in corn processing for both kinds of chips.
Amazing 'Frito' Fact!
For years, this snack had been consumed and enjoyed by almost every household in the US. However, in 2018, a decision was taken to stop the production of the BBQ Fritos. Instead, Frito-Lay, the company manufacturing it, decided to replace this with Chili Cheese flavors and Honey BBQ Twists, much to its fans' dismay.
One such fan, David D., began an online petition to get back the original BBQ Fritos back into the market, which received more than 21k signatures. Soon enough, the company decided to reintroduce it into the market. However, the BBQ chips were to be available only at Dollar General stores.
Fritos can be used in various items. Here we look into two different recipes:
Vegan Frito Pie:

This pie recipe uses Frito-Lays' Fritos. 

Homemade Baked Chili Cheese Fritos:

This recipe, as you guessed, is for making your own, HOMEMADE Fritos!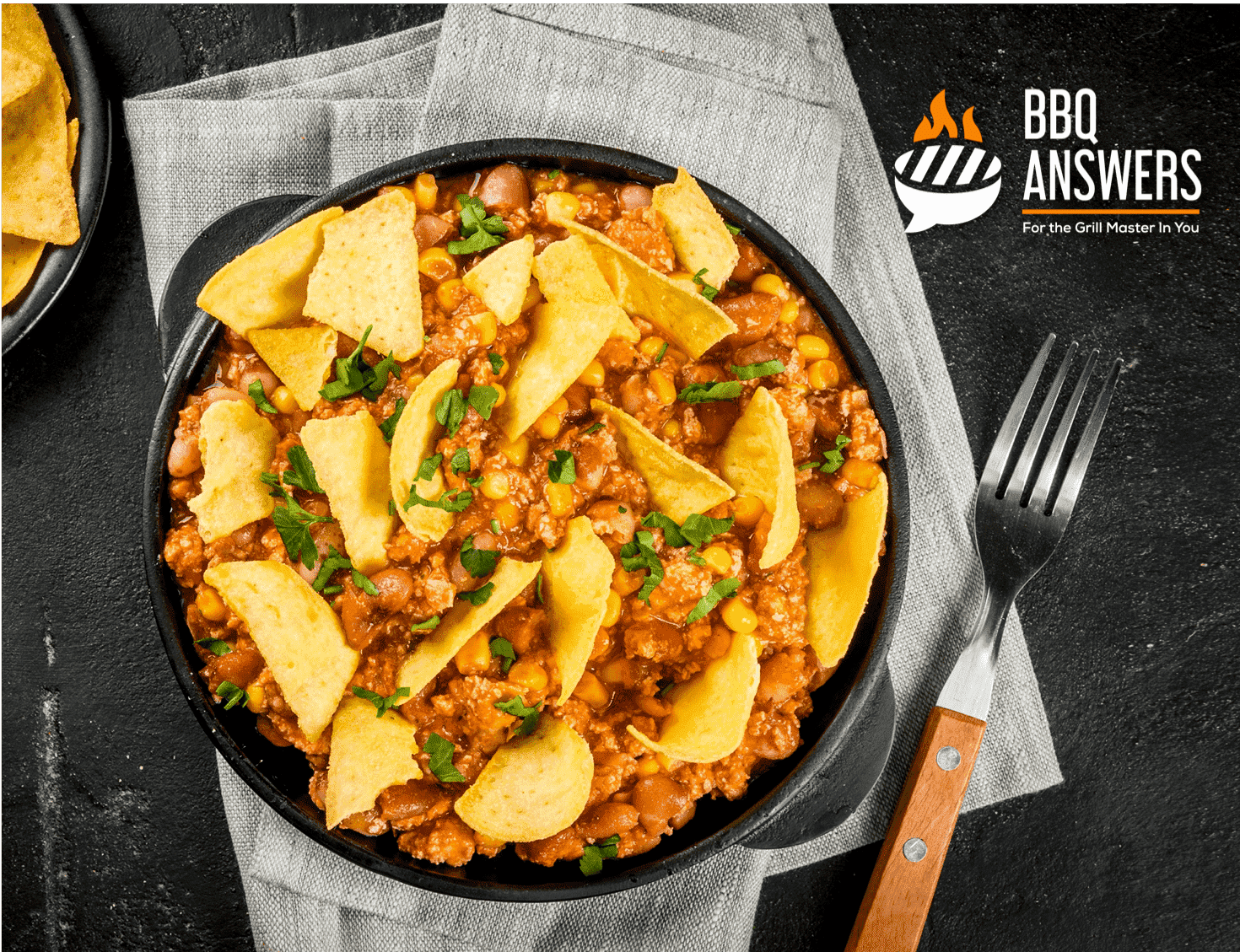 Preparation time: 15 minutes
Cook time: 10 minutes
Servings: 4
Ingredients:
1 Jalapeno, sliced

1 bag of Fritos

¼ cup vegan white sugar

¼ cup rice wine or white vinegar

1 Tablespoon salt

¼ cup of water

½ avocado (optional)

1 Tablespoon chopped cilantro (optional)

1 small red onion, thinly sliced

1 cup vegan or vegetarian chili, heated
Instructions:
Begin with making the jalapeno sauce. For that, place a small saucepan in high heat and add water, salt, vinegar, and sugar. Mix well and heat it to a boil.

Add the red onion and jalapeno to the mixture. Cook till the onions become translucent. This should take approximately 2 minutes.

Remove the saucepan from the heat and keep it aside till you finish the next part of the preparation. 

Slit open the Fritos bag and pour it in a bowl. Add half cup of the chili to Fritos and mix it thoroughly.

Add the jalapeno sauce, avocado cilantro, and the remaining half cup chili. 

Allow it to soften till you get your desired texture. 
Your Vegan Frito Pie is ready! 
This is a refreshing break from nacho bowls and a great, southern twist to the good old Fritos!
Homemade Baked Chili Cheese Fritos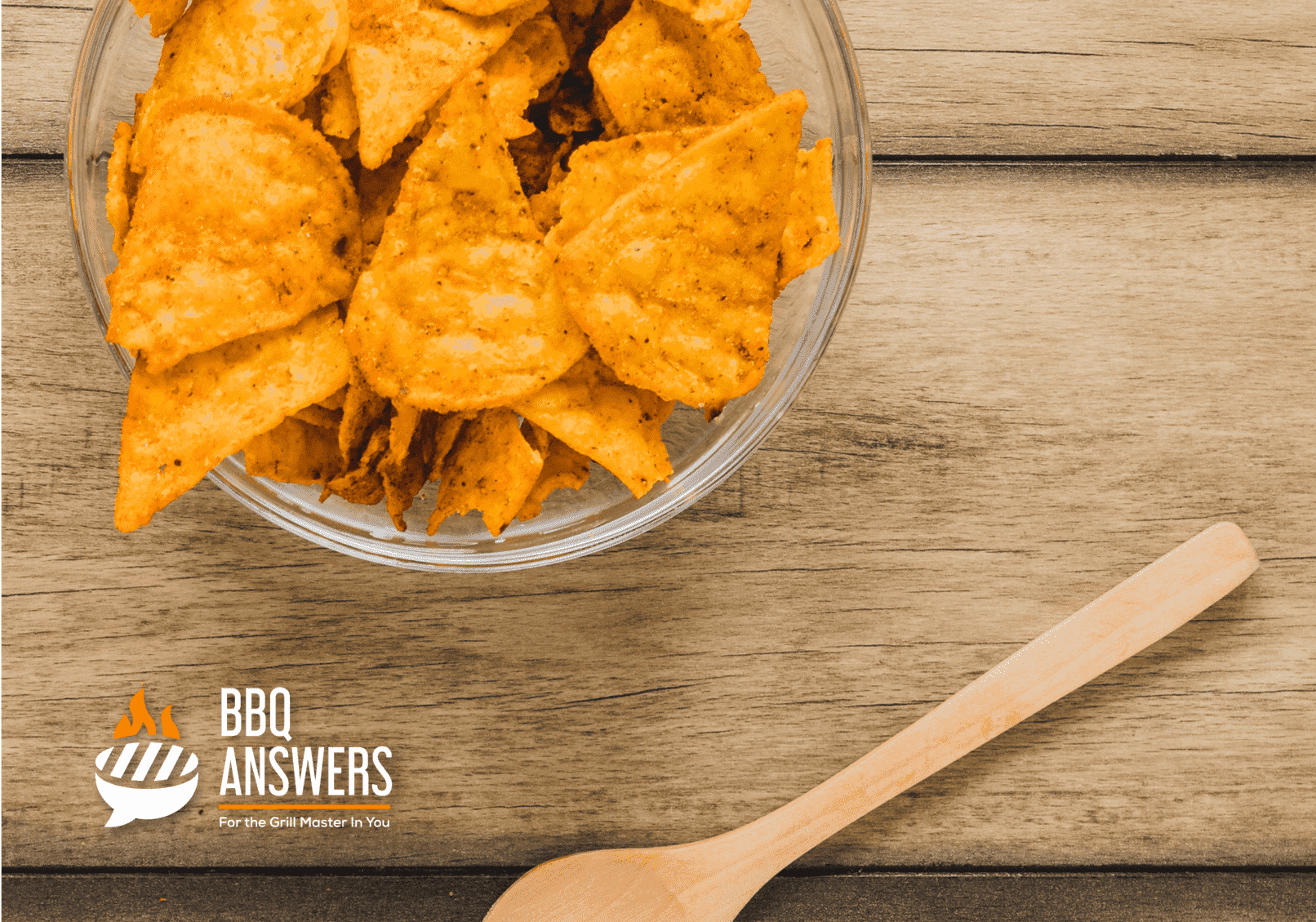 Preparation time: 5 minutes
Cook time: 12 minutes
Servings: 6
Ingredients: 
2-3 tablespoon avocado or olive oil

1 teaspoon cumin

1 teaspoon garlic powder

1 teaspoon onion powder

6 yellow corn tortillas

½ teaspoon of sea salt

½ teaspoon nutritional yeast

½ teaspoon chili powder
Instructions:
Preheat the oven to 380

°

F (193

°

C).

Take a large bowl and add all the spices and seasonings. Mix it well and keep it aside till the next part of preparation is complete. 

Cut the tortillas into equal thin strips and transfer them to a baking sheet.

Coat it thoroughly with oil and place it to bake for 12 to 15 minutes.

Once they turn golden brown and crispy, take them out of the oven.

Immediately add these tortilla strips to the seasoned mixture and coat it thoroughly by tossing. In case they look a little dried, sprinkle some oil on it to make the seasoning stick better. 

Transfer the entire thing to a plate and shake off the extra seasoning (if any).
You can now serve this delicious Baked Cheese Chili Fritos with soup or a dip of your choice. 
BBQ chips are definitely a snack loved by people of all age groups. 
While it may be difficult to find packaged vegan BBQ chips, it is convenient to prepare different kinds of vegan BBQ chips at home. 
Below are the recipes of two such types of vegan BBQ chips. They are:
BBQ Sweet Potato Chips

Cauliflower BBQ Chips
Preparation time: 10 minutes
Cook time: 25 minutes
Servings: 8
Ingredients:
For Sweet Potato Chips:
2 tablespoon extra virgin olive oil

2 large sweet potatoes, peeled

1½ – 2 tablespoon BBQ seasoning mix
For BBQ Seasoning Mix:
¼ cup paprika

1 teaspoon salt

¼ cup brown sugar

1½ teaspoon chili powder

1 teaspoon freshly ground black pepper

1½ teaspoon garlic powder

¼ teaspoon cayenne pepper
Instructions:
For preparing the BBQ Seasoning:
Place all the ingredients in a container and mix them well. Store it in an airtight container. 
For preparing Sweet Potato Chips:
Preheat the oven to 400

°

F (204

°

C).

Cut the potatoes into thin slices. 

Mix the potatoes with olive oil and the BBQ seasoning thoroughly.

Place it in a single layer on a baking sheet.

Bake it for 20 to 25 minutes. Halfway through, flip it once to ensure it is cooked well. 

After it is done, take it out of the oven and let it cool. 
You have your BBQ Sweet Potato chips ready to be served!
Vegan Cauliflower BBQ Chips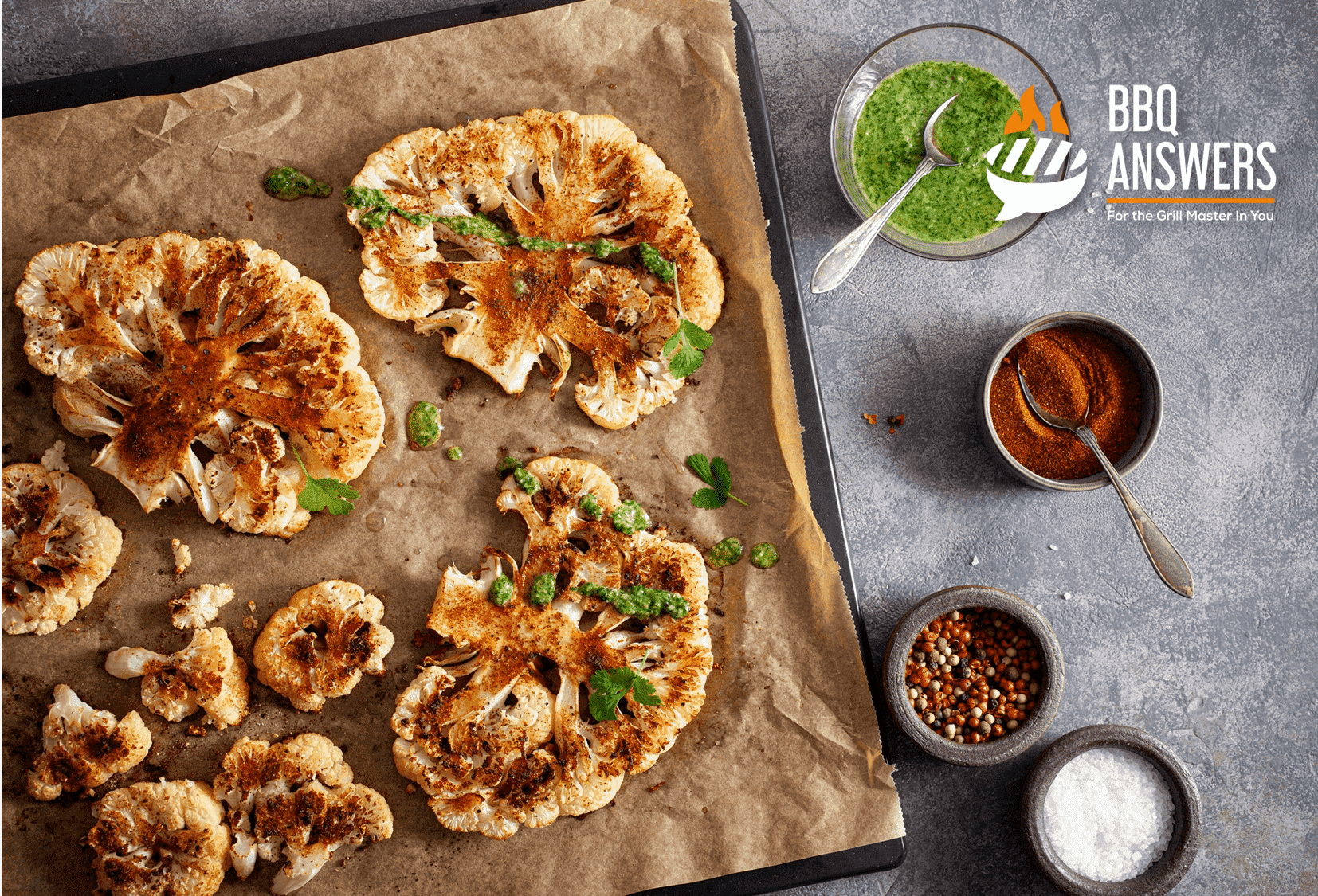 Preparation time: 20 minutes
Cook time: 40 minutes
Servings: 6
Ingredients:
For the chips:
4 cups vegetable broth

1 medium cauliflower

Olive oil spray

½ teaspoon minced garlic

¼  teaspoon onion powder

1 teaspoon vegan Worcestershire sauce

Pinch of parsley flakes

¼  teaspoon paprika

1 sachet of low-salt tomato paste

½ teaspoon stock powder
For the topping:
1 teaspoon stock powder

½ teaspoon garlic powder

1 teaspoon onion powder

2 teaspoon dried parsley flakes
Instructions:
Preheat the oven to 356

°

F (180

°

C).

Place a pot in medium heat. Add the cauliflower and vegetable broth and cook till the cauliflower becomes soft and begins to fall apart. This should take about 25 minutes.

Drain the cauliflower properly over the kitchen sink. The cauliflower should be completely dry for the following steps.

Put the dry cauliflower in a bowl. Add onion powder, garlic, stock powder, Worcestershire sauce, parsley, and paprika to the bowl. Blend the mixture well and make it into a ball shape. 

Place a piece of baking paper on a flat oven tray and rub olive oil on it.

Place the mixture ball on the oven tray and press it down to flatten it. You can use a rolling pin to make the ball thinner and further flattened. 

Spray some olive oil on top again. Then add a layer of tomato paste. On top of that, add half of the topping mixture. 

Take a knife and cut it into biscuit shapes. 

Place it in the oven and bake for 20 minutes. 

If needed, respray some olive oil and place it back in the oven for 10 more minutes. You can repeat this step one more time as per the requirement of the texture.

Remove from the oven and let it cool and get crispy. 

Spray a bit more of the topping mix. 
ENJOY these beautiful, vegan BBQ Cauliflower chips!
Final Thoughts
Vegan or not, I hope this post inspired you to make some vegan side dishes for your next barbecue. They're fun to make, easy to be served, and enjoyable for any time or event. 
So, step into your kitchen and begin experimenting with these mouth-watering Vegan BBQ side dishes. Let me know how they turned out in the comments section below!
Thank you for visiting us and stay tuned to BBQAnswers.com for vegan recipes, and all things BBQ.