Charcoal Briquettes Vs. Lump Charcoal. Which is the Hotter Pick?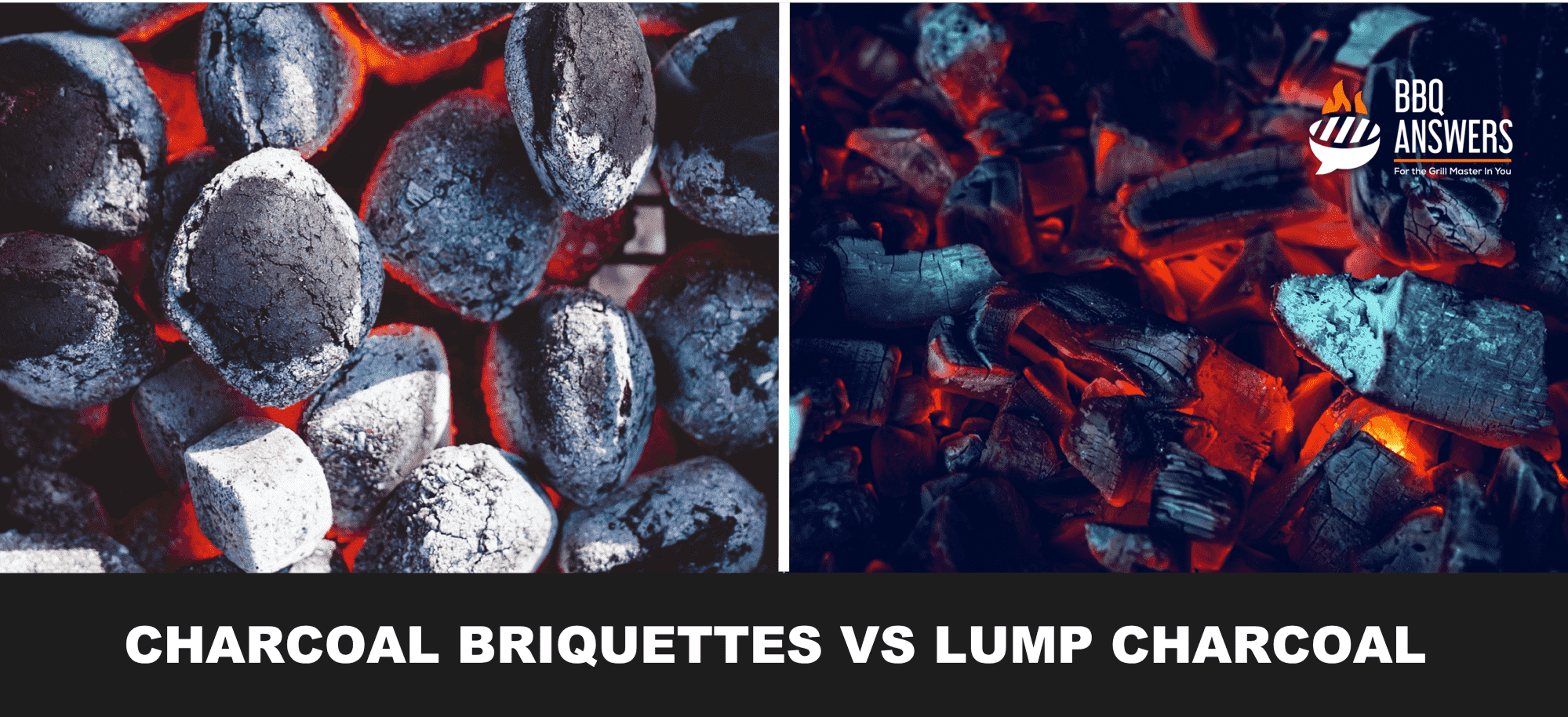 In the smoky grilled world of charcoal BBQ, lies a deep-seated dispute that remains unresolved to this day. While they both share a common name (charcoal), charcoal briquettes and lump charcoal are very different from each other. 
This is why we have lump charcoal enthusiasts unwilling to give up their stand while charcoal briquette supporters rigidly swearing by its superiority.
Caught between this crossfire are regular folks like you and me who own charcoal grills or smokers. I was unsure which type of charcoal is better myself. That's why I did my research, and I am laying the facts down for your convenience.
Let's get right into it!
What Is Charcoal?
Charcoal is a lightweight, black carbon residue produced by heating organic matter like wood, bone, etc. The temperature is held between 500°F to 700°F (260°C to 370°C) in an oxygen-free environment to rid the materials of their moisture and other volatile elements.
This charcoal is used for cooking food and adding a unique smoky charred flavor to the dish. In BBQ, charcoal is considered to be the 'the' most authentic method of outdoor cooking. Even to this day, it is highly favored over gas and other forms of BBQ.
However, charcoal is found in two forms. This difference has fueled the debate between BBQ buffs, and before we jump onto the bandwagon, let's get to know them a little better.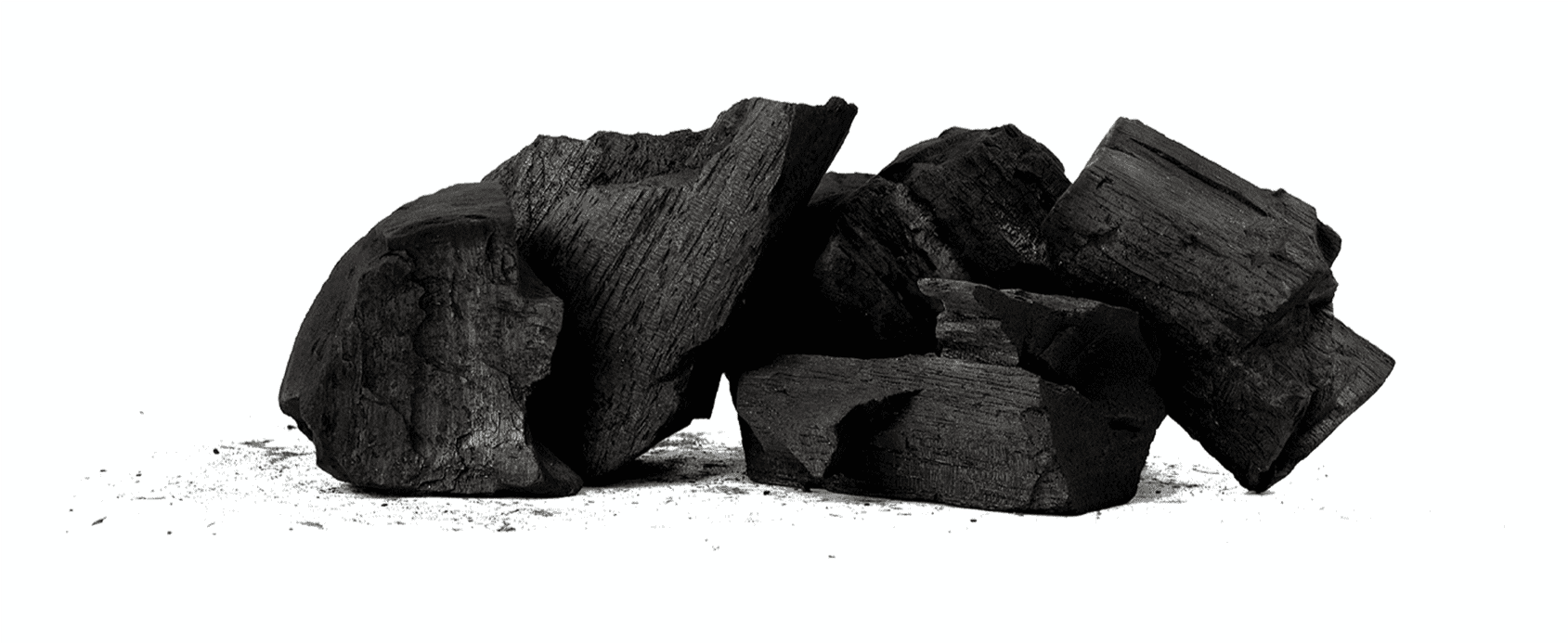 Lump charcoal is mostly made from wood that is burnt in a furnace. It is also called 'natural lump charcoal' because the absence of additives and fillers makes it the most natural form of charcoal. That's why it's no surprise that classicists prefer it over briquettes. 
Like the word suggests, 'lump' charcoal is simply pieces of chopped wood with no uniformity in their shape and size. Some grillers choose to break down the large chunks into smaller bits for easier cooking. It is known for the distinctive flavor that it gives the meat.
Before briquettes came around, charcoal lumps were the only fuel option for charcoal grillers. This drove up the price, which increased the demand for an alternative. Enter charcoal briquettes!
Pitmaster Wisdom
Even if you are a lump charcoal lover, you can't deny that charcoal briquettes greatly benefit you. They are the reason why natural lump charcoal prices haven't gone through the roof.
What are Charcoal Briquettes?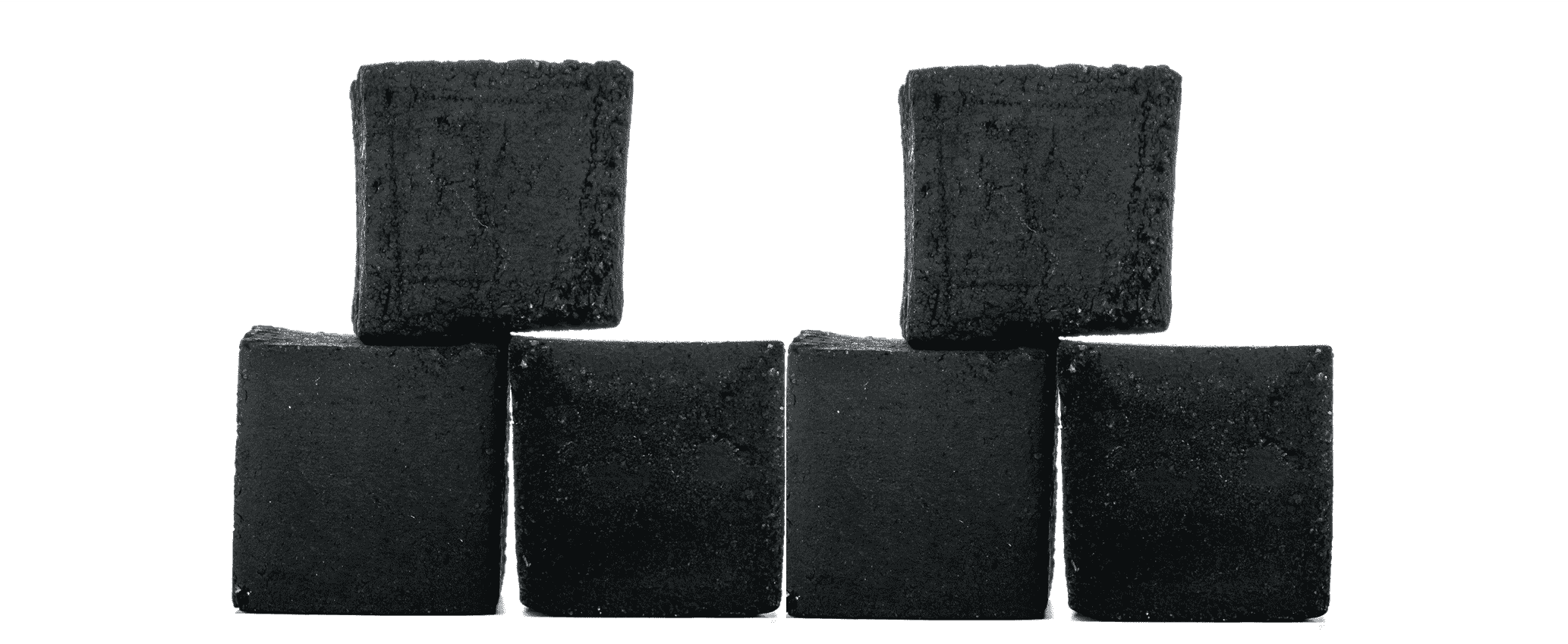 Charcoal briquettes are manufactured by compressing wood by-products with additives that help them bind firmly, light quickly, and burn consistently. They are made from leftover wood that is usually crushed down to sawdust and pressed together with binders such as cornstarch. This is why they have a consistent shape and size.
The word 'briquette' is derived from the French word 'brique,' meaning 'brick.' The first mass production of charcoal briquettes was manufactured by Henry Ford. He discovered that leftover sawdust from his car manufacturing factory, combined with a few other ingredients, could be compressed into these small cube-like bricks. 
These briquettes were an excellent alternative for lump charcoal since they solved the problem of high prices and unstable charcoal fires. 
What Are The Differences Between Charcoal Briquettes and Lump Charcoal?
It is not without reason that BBQ enthusiasts so strongly disagree on the matter. Besides the difference in composition, there are many differences between briquettes and lumps that can affect the quality of your food. Read on to find out what they are!
Burn Temperature

Achieving a higher temperature is essential when you want to quickly sear your meat. Lump charcoal comes out on top here. These burnt chunks of wood can rise to a temperature of 1400⁰F to 2000⁰F (760℃ to 1093℃). On the other hand, the hottest charcoal briquettes fire can achieve is from 800⁰F to 1000⁰F(426℃ to 537℃). The exact temperature of charcoal depends on the wood it is made of and other materials added (in case of briquettes).

Duration of Burning

The longer the charcoal burns, the lesser fuel you will need, and the steadier temperatures you can work with. Charcoal briquettes typically burn longer than lump charcoal. Charcoal lumps start to cool down rapidly after about 45 minutes, while charcoal briquettes begin cooling down after 60 minutes. However, charcoal briquettes really outshine lump charcoal at lower temperatures. They can last you four to five hours straight, making low-and-slow cooking really easy.

Fuel Cost 

When compared pound-for-pound, charcoal briquettes are comparatively less expensive than lump charcoal. If you are planning on a long cook, opting for using charcoal briquettes will save you a lot of money in refueling your grill or smoker.

Materials Used 

Lump Charcoal is the better option in terms of the material used since it only has one ingredient – wood. It is the purest form of charcoal since it is 100% natural burnt wood. Charcoal briquettes, on the other hand, are not as pure. To make charcoal briquettes, ingredients like chemical binders and fire accelerants are used, which could be harmful to your health.
These health concerns caused manufacturers to begin manufacturing charcoal briquettes with natural ingredients like lignite coal, anthracite coal, starch, wax, borax, chaff, etc. These products tend to be safer than traditional charcoal briquettes. However, many people still distrust charcoal briquettes because of how often the word "natural" is used as a marketing buzzword.

Comparing Charcoal Briquettes and Lump Charcoal
Here is a side-by-side comparison of two types of charcoal:
| | | |
| --- | --- | --- |
| Features | Charcoal Lumps | Charcoal Briquettes |
| Shape | Uneven chunks | Small cube-shaped |
| Temperatures Achieved | 1000℉ to1400℉ (537℃ to 760℃) | 800℉ to 1000℉( 426℃ to 537℃) |
| Residual Ash  | Low | High |
| Burn Time | 1 hour | 3-4 hours |
| Ideal Cooking Method | Hot and fast | Low and slow |
| Composition | Pure wood | Sawdust, starch, chemical, grounded charcoal, etc. |
| Cost | $40 (20 lbs.) | $14-$15 (12 lbs.) |
Now that we've understood the basic differences between each type of charcoal, let's examine the benefits and drawbacks:
Lump Charcoal Pros and Cons
Benefits of Lump Charcoal
Lump charcoal can burn hot and rise to very high temperatures. 

They produce a beautiful, aesthetic sear on your meat that we all know and love.

After the cook, lump charcoal leaves very little ash behind.

They can light up much faster than charcoal briquettes. You do not need lighter fluids to ignite them, instead use substitutes like newspaper or wax sticks.

Lump charcoal is pure because it is made from 100% natural wood without any chemicals or additives.

Lump charcoal gives your food a delicious chargrilled flavor.
Limitations of Lump Charcoal
Lump charcoal has shorter burn times. After 45 minutes or so, they begin to rapidly cool down.

The uneven sizes of the charcoal make it challenging to cook at even temperatures. Sometimes the bag can contain tiny bits that are difficult to work with.

They are expensive, resulting in a high refueling cost.

Controlling temperature can be tricky with lump charcoal.
Charcoal Briquettes Pros and Cons
Benefits of Charcoal Briquettes
They are evenly shaped, which makes for steady grilling temperatures.

It's easy to make charcoal formations (the snake heating method and two fire zones) to increase the duration of the cook or manage different heat levels.

They are less expensive.

They can burn for longer.

Because of their standard size, they are more convenient to move around.

The temperature is easy to control when cooking with charcoal briquettes.
Limitations of Charcoal Briquettes
The additives in the briquettes can add a bad aftertaste to your food.

The additive can be harmful to your health.

They leave behind heaps of residual ash that can make cleaning up difficult.

They take longer to light up.

They burn at lower temperatures than lump charcoal.

Less smoke is produced from the briquettes, which results in less flavor.
How to Choose The Right Type Of Charcoal?
Now that you are familiar with the contrast, you're sure to know which one you want to buy. But it all 'broils' down to one question: What should you look for when purchasing charcoal?
Features Of Good Charcoal Briquettes
Longer Burn Time: A long-lasting burn time is a sign of quality charcoal briquette.
Firmness: Another sign of a good charcoal briquette is its ability to hold its shape. It's a sign of briquettes that last longer.
Fewer Additives: Try and look for a charcoal briquette that is close to 100% additive-free as possible. You cannot have a charcoal briquette that doesn't use binders, but the more additives, the lesser the coal.
Less Residue: Good charcoal briquettes should leave less ash at the end of the cook.
Features Of A Good Lump Charcoal
Bigger Pieces: Good lump charcoal doesn't have small charcoal bits that slip through your fire grate. You will want big chunks so that you can use all of them for burning.
Quick Ignition: Good charcoal lump is that it will light up quickly.
Made from Hardwood: Hardwood charcoals are the only ones worth buying since they produce more heat, last longer, taste better, and are safer than softwood.

Learn more about Hardwoods vs. Softwoods

.

100% Natural:

Ensure that your lump charcoal is 100% natural wood. The presence of additives and chemicals can result in bad tasting food.
Frequently Asked Questions:
Which Is Better Lump Charcoal Or Briquettes?
Lump charcoal works best when you want to sear the meat and charcoal briquettes are ideal for smoking. Read here to learn more about their differences.
Does Lump Charcoal Burn Faster Than Briquettes?
Yes, lump charcoal burns faster than briquettes. To slow down the burn rate of lump charcoal, you can use good quality hardwood charcoal and restrict the amount of oxygen available for combustion. 
Can You Mix Lump Charcoal With Briquettes?
Yes. If you have no problem using either kind of charcoal, you can mix lump charcoal with briquettes. You can try experimenting with different ratios of charcoal to see what works best for you. 
Are Charcoal Briquettes Bad For You?
Charcoal briquettes that contain chemical additives can pose a health risk. If your briquettes are all-natural briquettes, you should not have a problem as long as you don't use lighter fluid to get the fire started.
Does Charcoal Need To Be Grey Before Cooking?
Yes. When the charcoal is whitish-grey, it's a sign that it is ready for use. You can use a chimney starter to quickly light the charcoal and pour it into the grill once it looks ready.
Can I Use Lump Charcoal for BBQ Smoking?
You can use lump charcoal for producing the heat for barbecue smoking if you manage the airflow well. However, charcoal briquettes are better for low and slow cooks. If you are looking for flavor, you want to know how to choose the right wood for BBQ smoking.
Concluding Thoughts
I hope this post helped you choose the charcoal that is best for you without being swayed by the fanaticism online. Remember that at the end of the day, you need to pick the option that works best for your cooking style.
If you found this article helpful or would like to know more, don't hesitate to drop me a line in the comment section below. 
For answers to all your barbecue questions, subscribe to BBQanswers.com by clicking the bell icon at the bottom-left corner of your screen.