What is South African BBQ? Ultimate Guide to Braai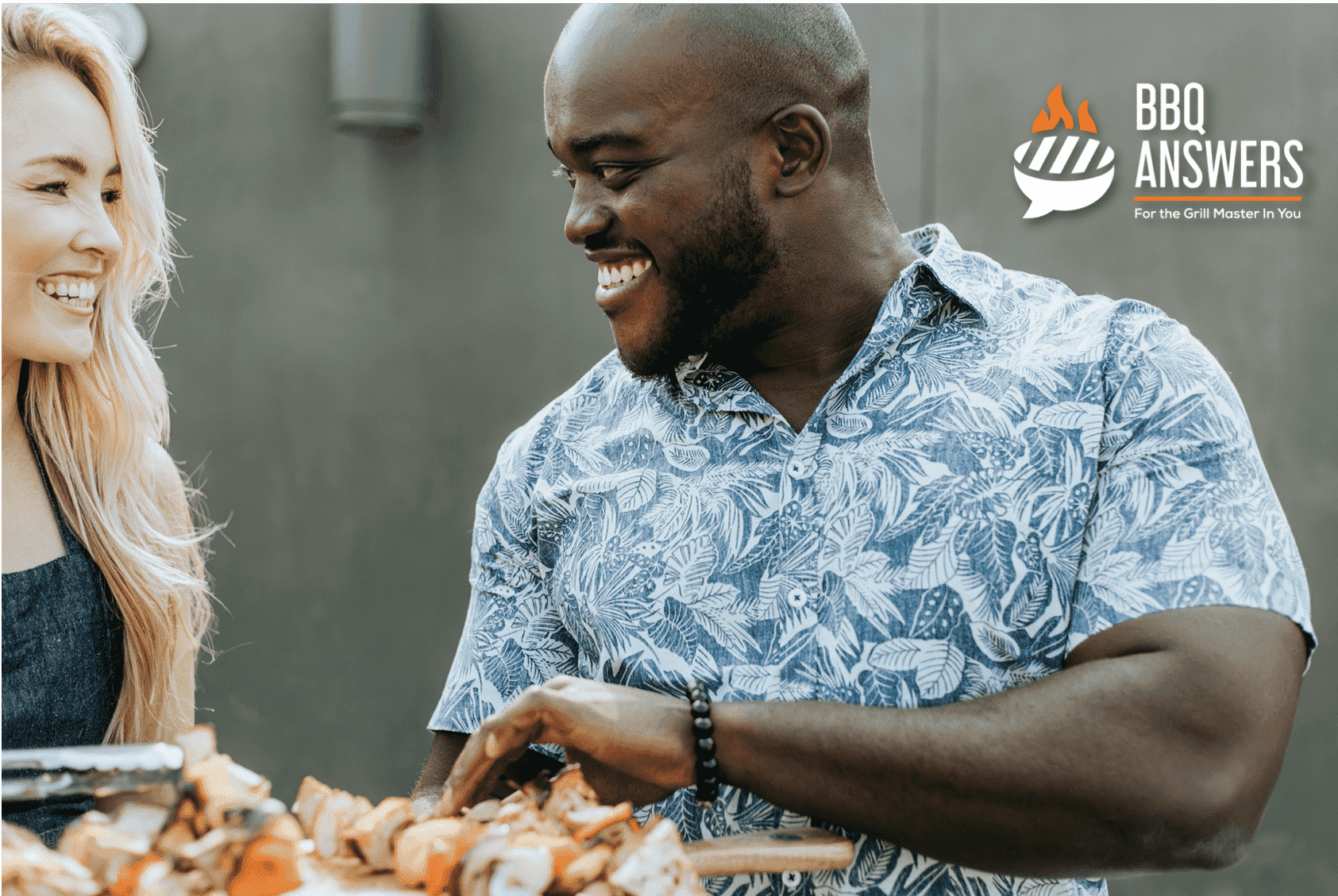 If you're around Cape Town, you're sure to be enticed by the aroma of Braai wherever you go. Braai isn't just an African take on Barbecue, it's a part of the African heritage and a source of pride for every South African.
Whether you are reading this article to understand South African BBQ or simply want to refresh your basics before hosting the summer Braai, this article has something for you. 
This article covers the food, equipment, and etiquette of Braai. Let's get started!
What Is South African BBQ (Braai)?
Braai (rhymes with fry) is the South African equivalent of a Barbecue! It is Afrikaans for "barbecue" or "roast" where meat is cooked over a wood or charcoal fire. Braai may also refer to the event where grilled food is enjoyed with friends and family. 
Braai can be commonly found in South Africa, Botswana, Lesotho, Malawi, Namibia, Swaziland, Zimbabwe, and Zambia. 
Traditional Braai uses local wood for cooking, as it brings out the best flavors of the meat. Charcoal is often used for convenience, but it doesn't bring out the traditional taste.
Being a family gathering, Braai can go for hours on end. This is why there is often a designated Braai master who does the job of tending the fire and keeping track of the meat's doneness. 
The Origins of South African BBQ (Braai)
The word 'Braai' originated from the Dutch word 'Braden,' which means to roast in Dutch. It evolved over the years to the name we know today. 
The atmosphere of a Braai is always celebratory and enjoyable. People share stories and have fun while stuffing themselves with food and drink. This is why people find any excuse to do a Braai – be it birthdays, engagements, graduation, national holidays, or even lazy Sunday afternoons.
Braai is a prevalent and common social practice in most South African households. There's even a day dedicated to Braai! September 24th, which is also Heritage day, is celebrated as 'Braai Day' by cooking some delicious meat! It is not only the day devoted to celebrating the cultural diversity of South Africa but a unifier for South Africans of all ethnic backgrounds!
Equipment used in South African Braai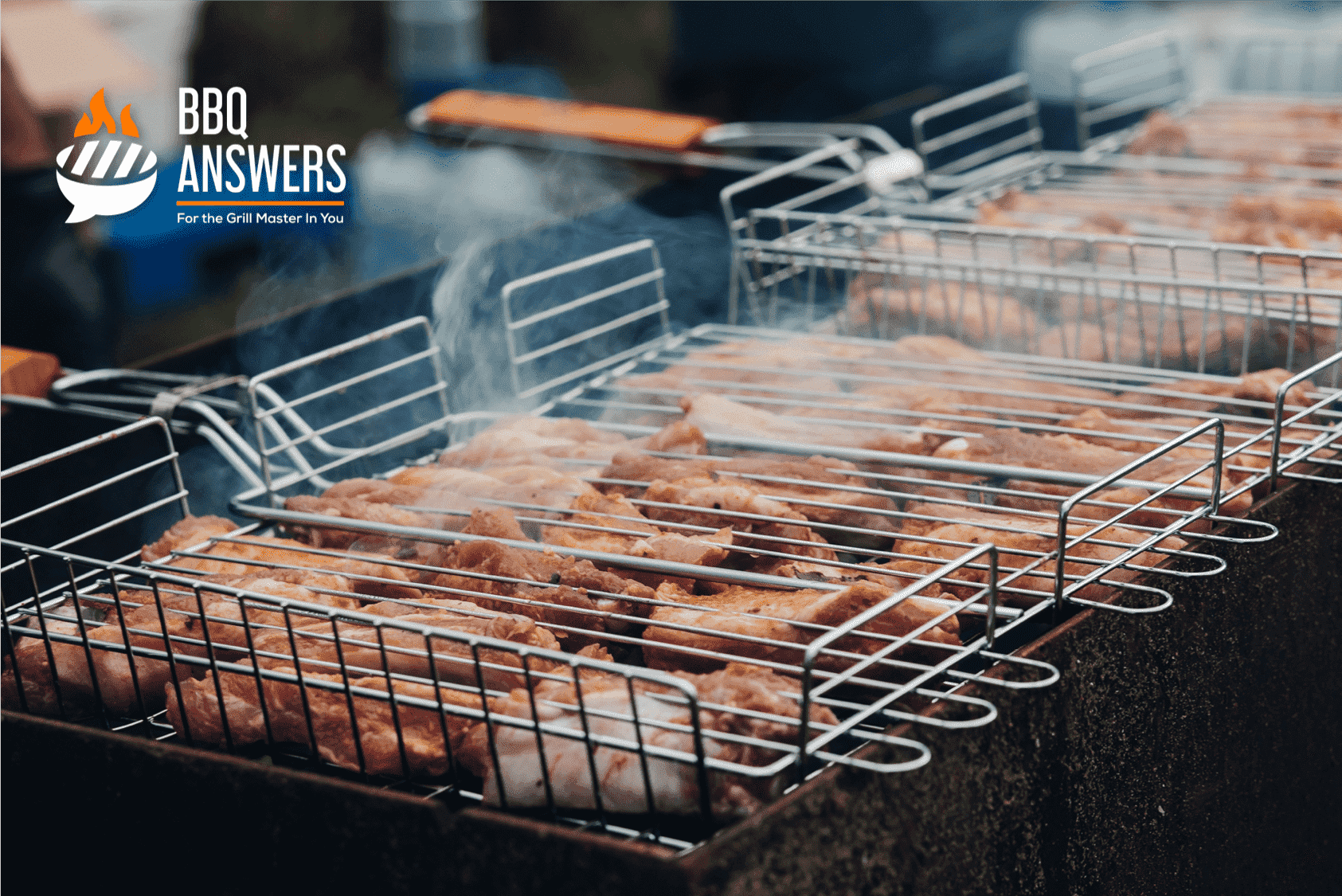 The key to good Braai is having the right equipment. 
Grill
The most important thing for any Braai is the grill. Make sure to have an open pit-fire or a wood-fire grill. Many Braai Masters usually have more than one grill to prepare multiple items. Check our Buyers Guide for Charcoal Grills if you're looking for one.
Fuel
Wood is the key here. It imparts a wonderful smokey flavor to the meat. Charcoal can be used if you are short on time.
Pitmaster Tip
Gas Grills are a big no-no when cooking Braai.
Some common woods used for Braai are:
Rooikrans (or Red Garland)
It burns quickly but renders excellent coal.
Kameeldoring (or camel thorn)
It burns slowly and burns with intense heat.
Wingerd (vine wood)
It burns very fast and doesn't provide lasting coal, but is useful for starting fires, aroma, and flavoring.
Mopani
It's very dry and hardy wood.  It's a bit of a struggle to get the fire started but makes extremely hot coals in very little time, and it stays hot for a very long time.
Sekelbos 
This is a popular pick that is extremely dry and hardy. Sekelbos burns with intense heat for a long time. It has natural oils known to enhance the flavor of the meat by imparting a lovely smoky flavor to the meat.
Black Wattle 
Black Wattle is excellent for hotter and sustained fires. It is an invasive species, so cutting it down for Braai barbecues and bonfires is encouraged.
Pine
Pinewood, or even Pine cones, are great fire starters for a Braai. However, they are not meant to be used as the primary firewood. 
Applewood
It's an excellent wood for a sweet, aromatic smoke. The only downside is that it's a little hard to come by.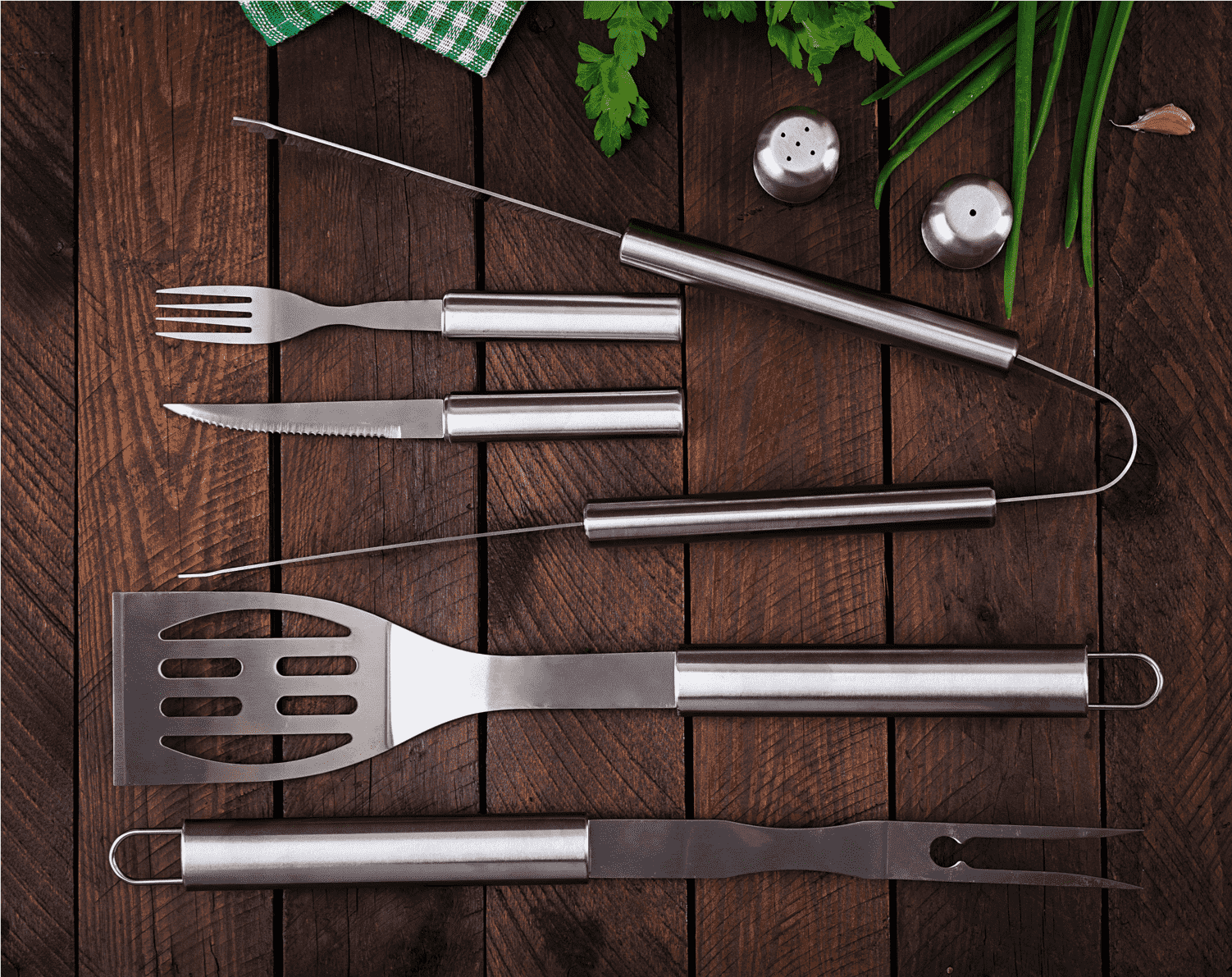 You'll need a sturdy cleaver and extra-long grill tongs to help you cut the meat up and toss it on the grill.
Don't forget to keep some fire starters like matches, papers at hand. And remember to keep a fire extinguisher nearby too!
Other than the essentials, you can carry skewers, a spray bottle for basting, a large-hinged grill basket, and a fish grill basket.
When cooking Braai, oil is not used on the meat, so you'll need a well-greased or cured grill to prevent sticking.
Pitmaster Tip
You may also use an onion to prevent food from sticking to the grill grates. Just cut the onion in half, rub it over the grill, and you're good to go!
What Food Does South African Braai Consist of?
Now to talk about the star of the show – the food served!
Snacks Served at South African Braai
Since a Braai is known to go on for hours on end, they always have small bites, and you can snack on while the meat is grilling.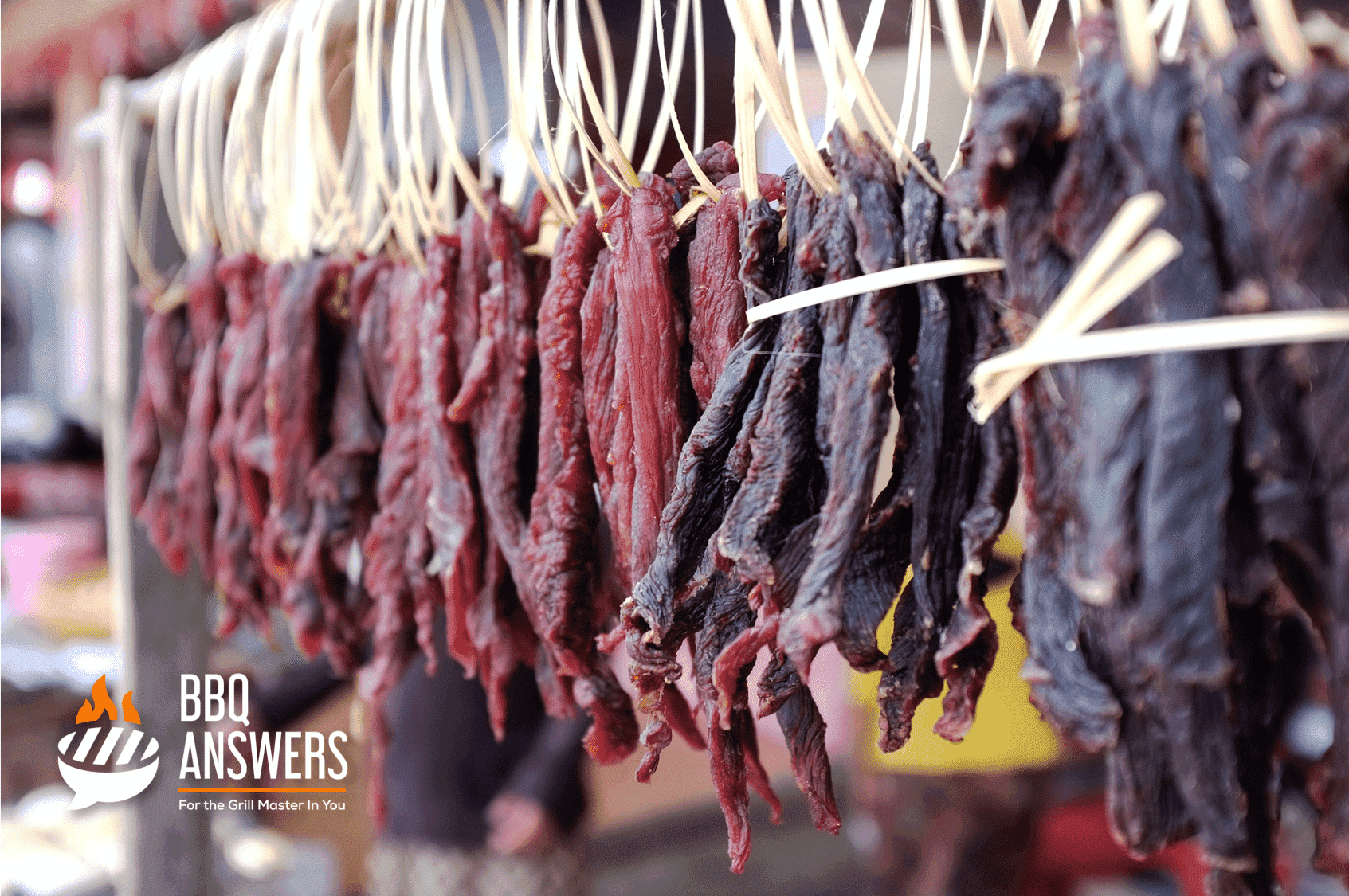 Biltong and Droewors is most definitely a trademark South African snack.
Biltong and Droewors are dried, cured meats seasoned with a unique blend of spices. The most common meat used is beef, but you can even find game, ostrich, impala, kudu, warthog meat used too!
Biltong is made by marinating the meat in vinegar before adding spices and hanging them to dry.
Droewors are thin, coriander-seed flavored dry sausages.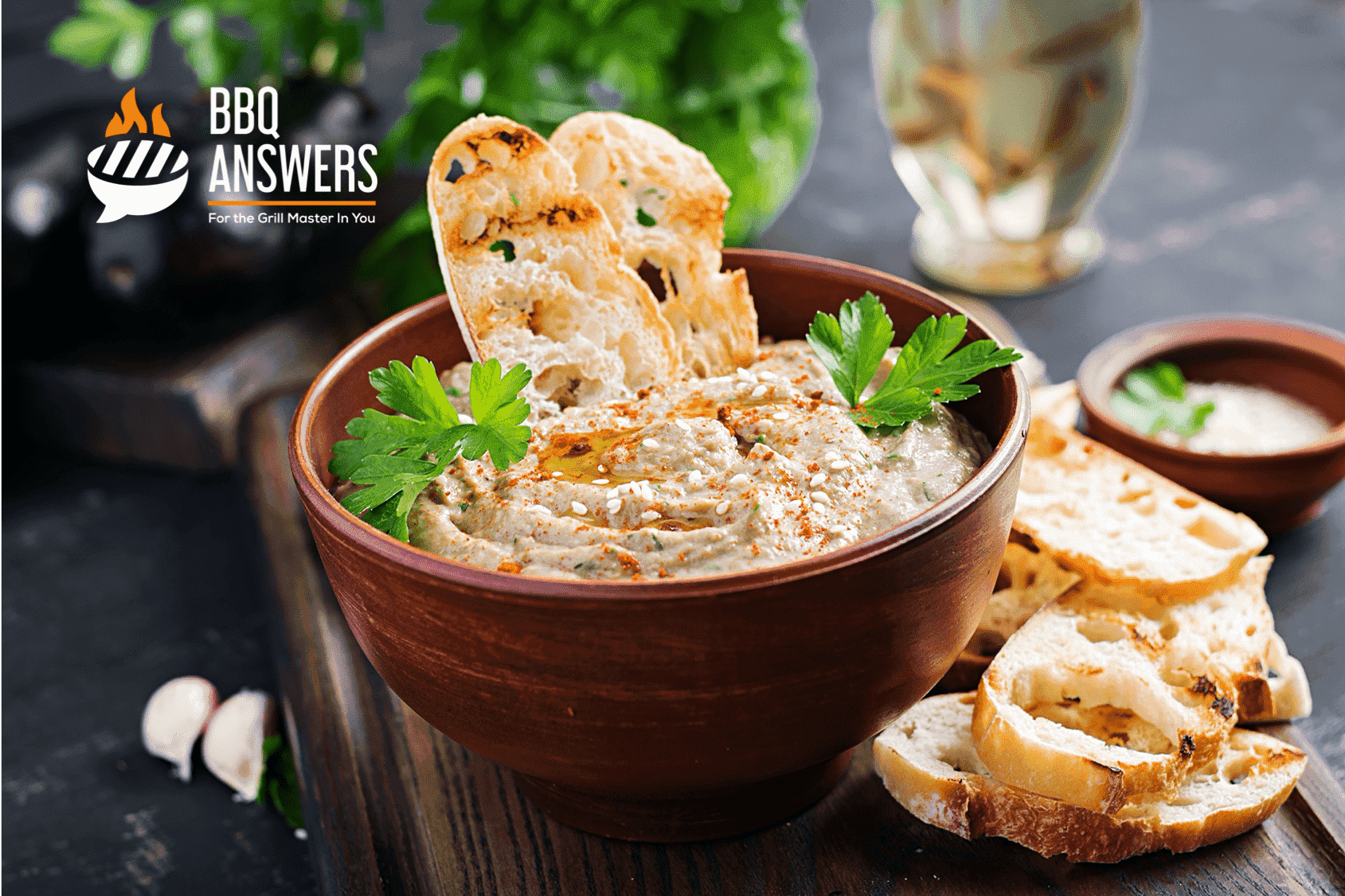 A classic all over the world, chips 'n dips are enjoyed at a Braai. The dips commonly used are snoek pate and hummus. 
Main Dishes Served at South African Braai
As with any barbecue around the world, the meat takes center stage.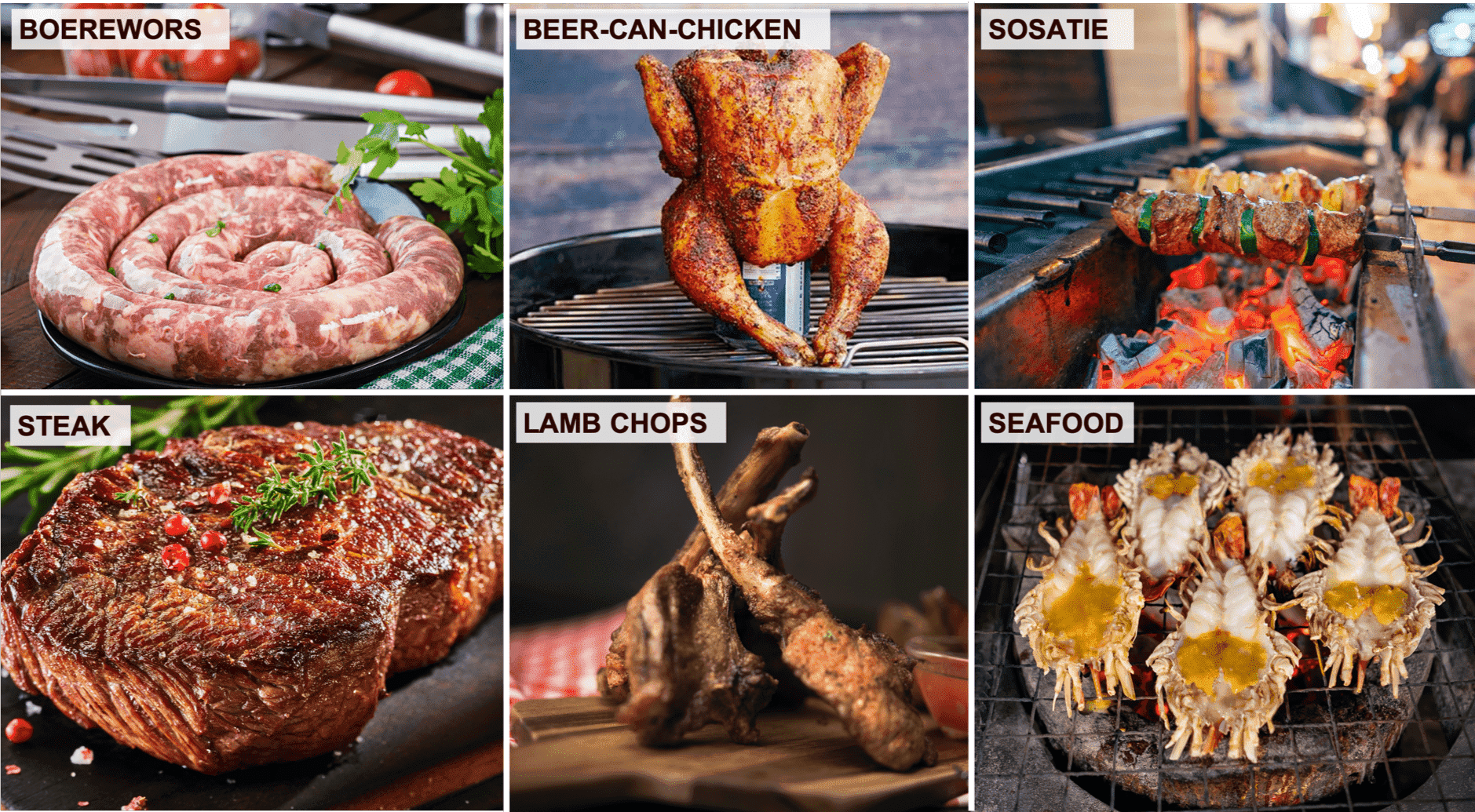 Boerewors
Boerewors means 'farmer's sausage' in Afrikaans. It is a traditional South African sausage made of either just beef or a mixture of pork & beef.
It is made with at least 90% meat and 10% spices, seasonings, and preservatives like dark vinegar (malt vinegar) and salt. The spices used include coriander, black pepper, nutmeg, and allspice. 
Other than the spice blend, what makes Boerewors unique is the way the meat is ground. Boerewors is a coarse-ground sausage, which gives it a more chunky and coarse texture. Boerewors are shaped into a continuous spiral, around a foot in diameter, and grilled while coiled.
It is common to place it in bread and relish with a tomato and onion mix. 
Lamb Chops 
This popular serving is a Braai favorite.
They are marinated in garlic, rosemary, and thyme for an hour before they hit the grill. 
Karoo lamb is a famous local variety that is sought after for its intense herbaceous aroma. 
Steak
There are different cuts and meats used as steak. Rump is grilled for the flavor, a fillet is cooked for the tenderness. Don't be surprised to come across the famous Ostrich steak either!
Sosatie
Sosatie is a popular dish made where the meat is cooked on skewers. The meat can be lamb, mutton, or chicken. They are threaded on skewers with meat and vegetables alternately and Braaied over the coals.
Chicken
An innovative dish of Braai is the 'Beer-Can Chicken Braai'. The whole chicken is grilled with a can of beer stuffed into its cavity. The beer in the container evaporates when heated and provides the dish with moisture and flavor. Talk about being inventive with recipes!
Seafood
Seafood Braais is popular in the coastal areas. Snoek, tuna, or locally caught crayfish (called Kreef in Afrikaans) are local favorites!
Side Dishes Served at South African Braai
Every tenured pitmaster knows that the sides are what make barbecuing memorable.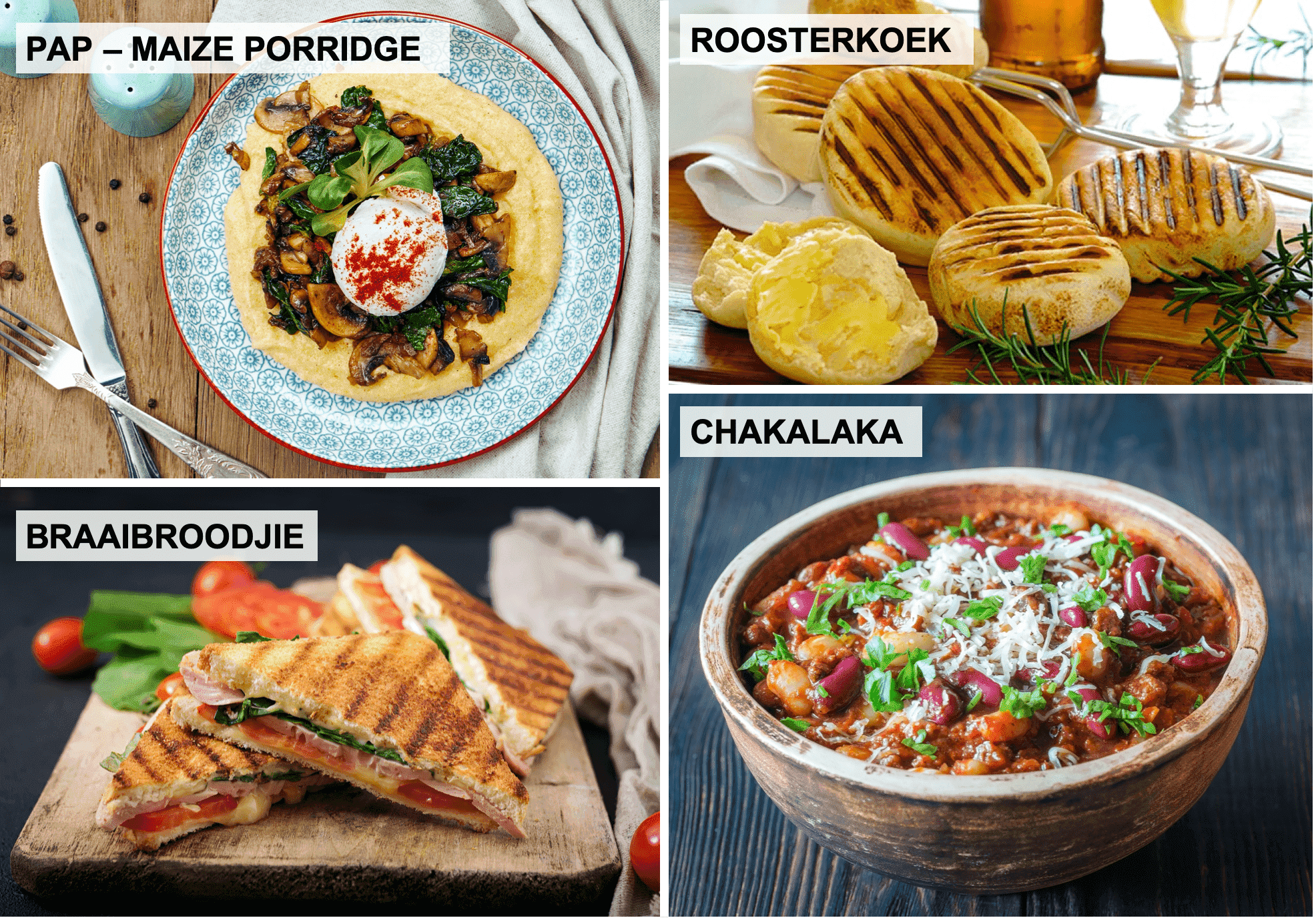 Braaibroodjie
Braaibroodjie translates to 'barbecue bread', and is a grilled sandwich filled with sliced tomatoes, onions, cheddar cheese, and sweet chutney. Mrs. Ball's sweet chutney is a famous and iconic chutney made from dried fruits and vinegar. But don't fret if you can't get it! Any Sweet and sour chutney will do.
Pap
Pap, also called Mielie Pap, is "maize porridge" in Afrikaans. This traditional porridge dish has the consistency of mashed potatoes. It is served with a tomato-onion relish or mushroom cheese. 
Roosterkoek
Roosterkoek, literally translated as 'grill cake,' is the traditional bread for Braai BBQ. To make it, balls of dough are cooked on the grill until they turn golden. They are best-eaten piping hot -straight off the grill.
Chakalaka
Chakalaka at Braais is often recognized as 'Belangrikste,' i.e., the most essential condiment! Chakalaka is a spicy dish made of onions, tomatoes, and occasionally other veggies like beans. It can be served with meat, pap, bread, stews, or curries. 
Alcohol Served at South African Braai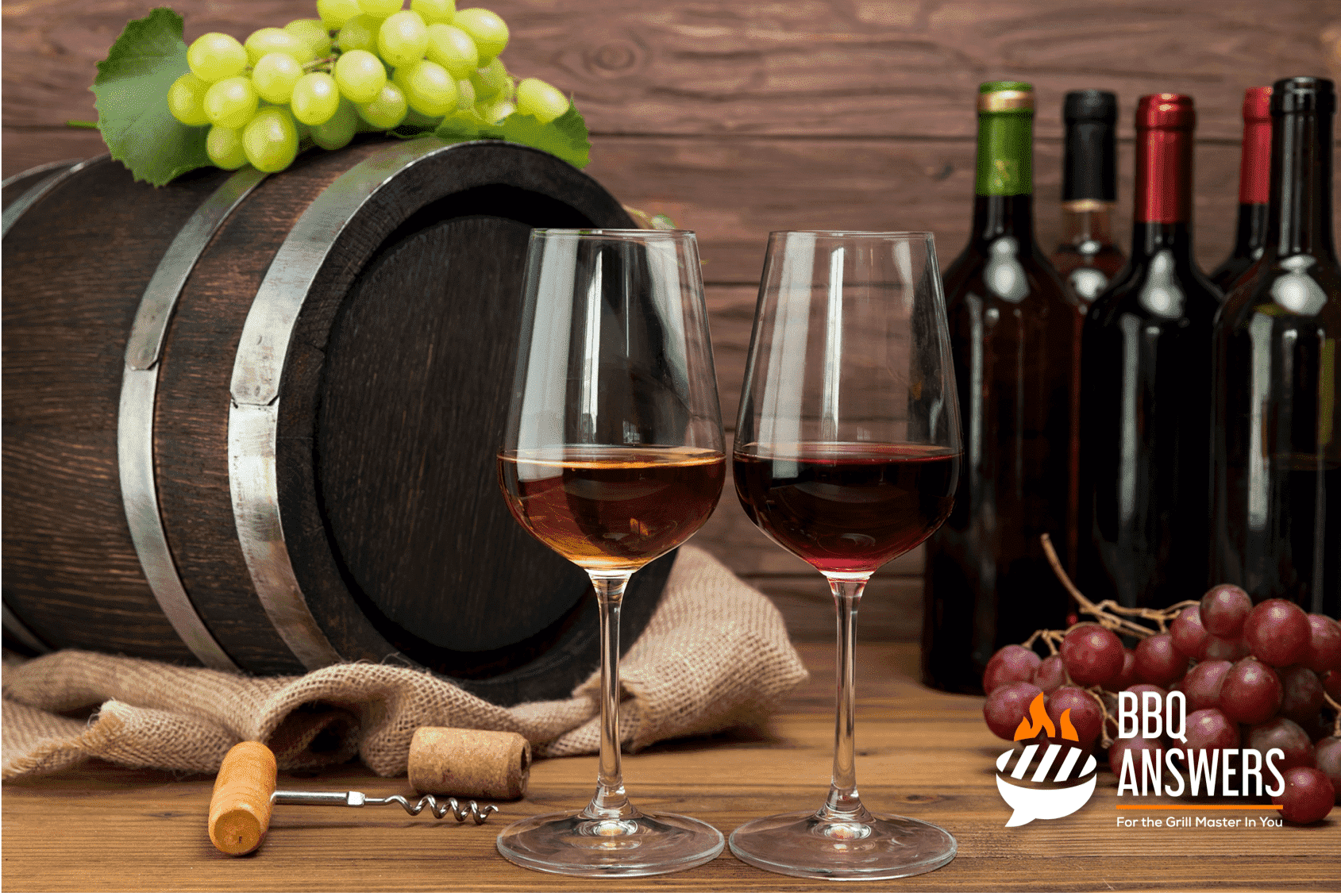 Wines, beers, and other drinks are commonly served at a Braai. It's customary to have a swig as the Braai progresses. 
South Africa has some of the best wines in the world! 
White Wine and Rose
You must try Chenin blanc from Mullineux & Leeu or A.A. Badenhorst.
Red Wine
Cabernet Sauvignon from Warwick First Lady and Red Blends from Newton Johnson Full Stop Rock are great choices.
Beer
Stellenbrau, Jack Black, & Union are some excellent brews.
Etiquette of South African BBQ (Braai)
As with any social event, there are a few etiquettes that everyone is encouraged to follow.
The host or hostess will usually give instructions about the occasion. If it is a 'chop 'n dop,' you are expected to bring your own drinks and meat. The host or hostess will provide salads, snacks, grills, and fuel! 
If you are invited to a 'bring and Braai,' it's more of a potluck. You are expected to contribute one type of meat, one type of side or salad, and one type of beverage. You can even bring dessert! Make sure you have enough for everyone!
When going to the Braai, it's good to bring small gifts like flowers or snacks to thank the host.
Here are some dos and don'ts to keep in mind at Braai: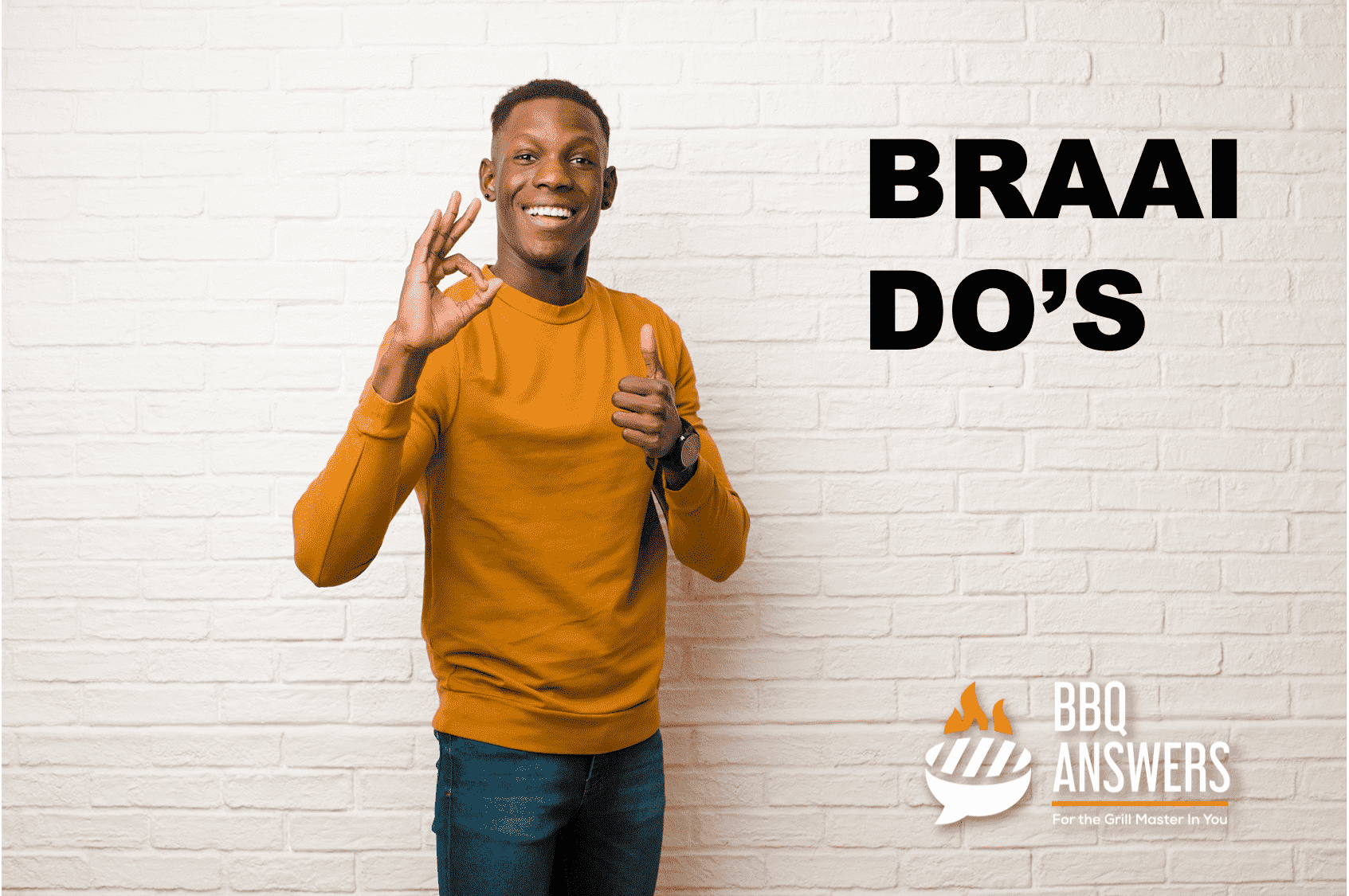 Do Braai on wood (most preferred) and Charcoal. 

Do ask the host what you should bring and make sure to bring it!

Do buy good quality meat and ingredients.

Do keep the Braai master company while he grills.

Do compliment them on their marinade and cooking style.

Do offer to replenish the Braai master's drink frequently.

Do bring extra everything! Drinks (both alcoholic and non-alcoholic), meats, sides, salads, and snacks. It's better to have more than enough than not enough.

Do offer to help set and clear the table.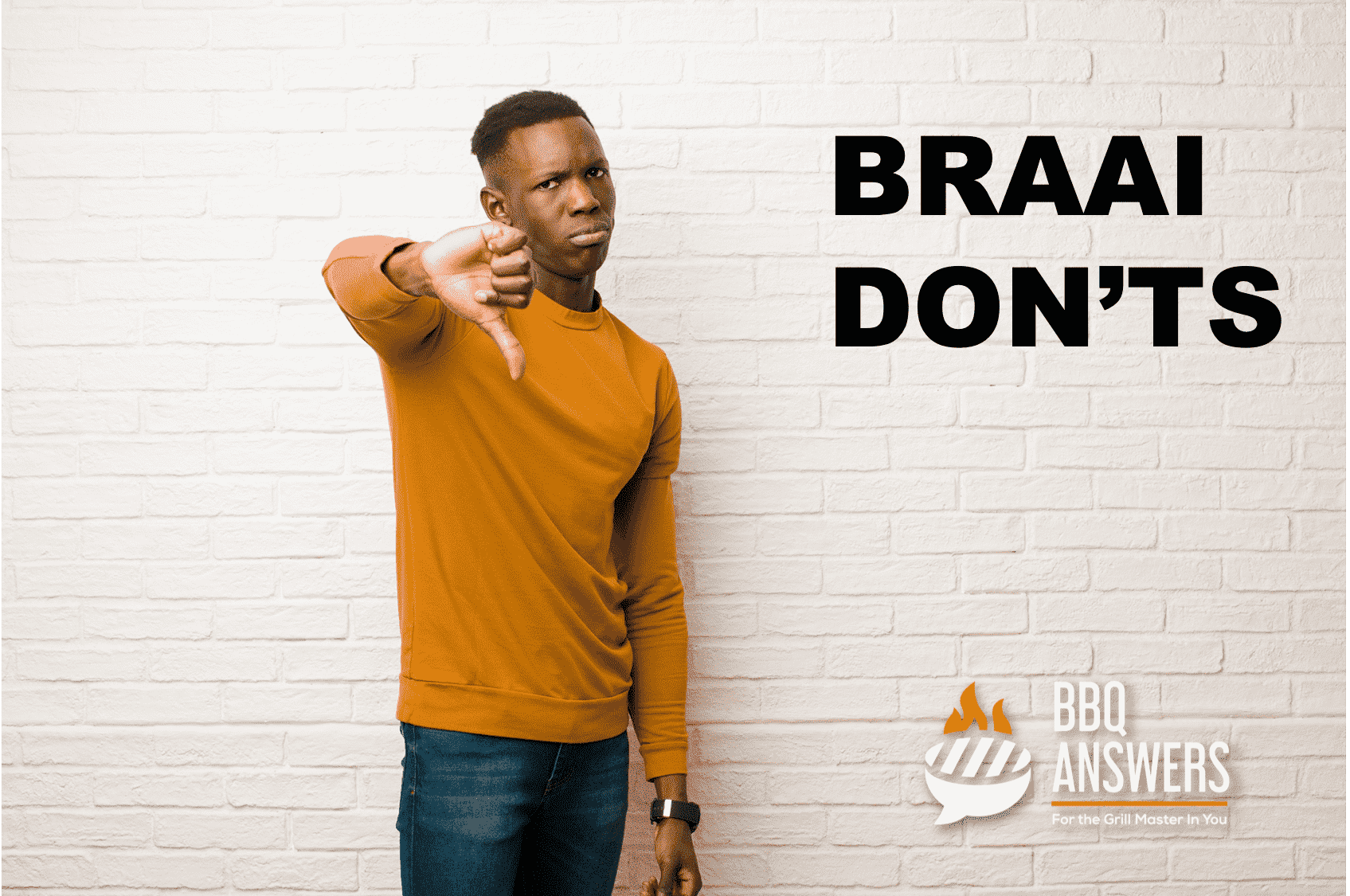 Don't use gel, paraffin, or other lighter fluids to start the fire. Regular matches or barbecue lighters should do the trick.

Don't use gas grills unless it's your only option.

Don't give the Braai master cooking advice of any kind.

Don't ask for the marinade recipe – it's almost always a secret!

Don't bring your own tongs to Braai.

Don't complain about the music.

Don't bring additional people without asking the host and/or Braai master.

Don't come on an empty stomach cause the Braaing doesn't happen until a few hours later.

Don't be in a rush! It's a social event, take time to enjoy and socialize with the guests.
Conclusion 
I hope you could get through this article without your stomach rumbling too much! If it did, it's time to head out to the nearest Braai BBQ and stuff yourself to your heart's content!
If you're planning a Braai, send this article to your friends and family to give them ideas on what to get. This way you can enjoy a tasty variety of food.
Don't forget to subscribe to BBQanswers.com for mouthwatering BBQ facts and recipes! 
Happy Braaing!