How to Use BBQ Ash For Plants and Projects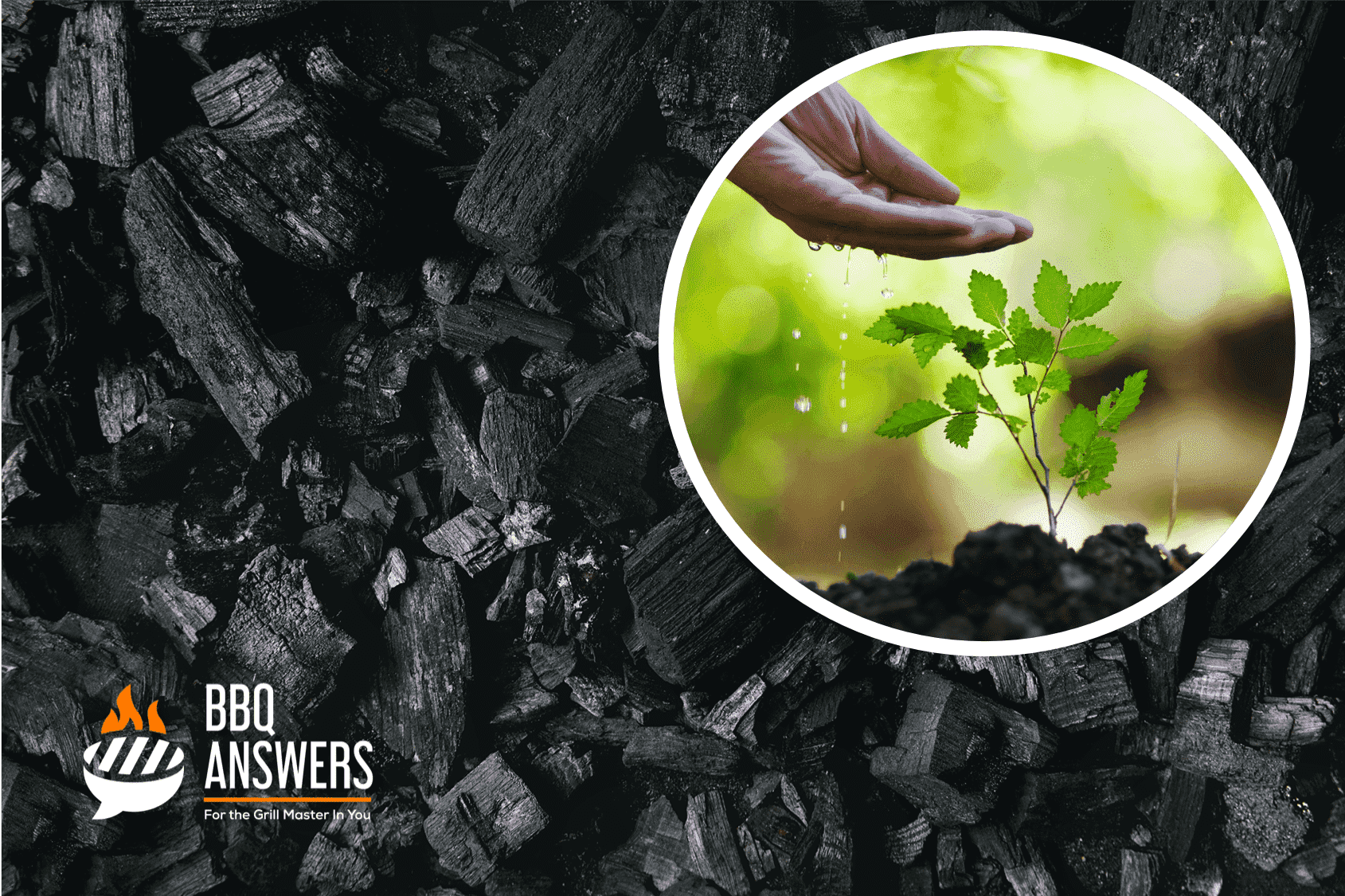 When starting your barbecue journey, you may not think about what to do with your barbecue ash. You have enough on your plate as it is (pun intended). But as you progress on the road of Barbecuing mastery, you're sure to wonder if there are some perfectly good uses of Barbecue ash that you're unaware of.
Through this post, I am going to help you understand what kind of BBQ ash you can use as fertilizer, discuss other applications of barbecue ash, and also answer all the other popular questions related to BBQ ash.
Let's get right into it!
Is BBQ Charcoal Ash Good for Plants?
BBQ charcoal ash is good for plants if you use Natural Lump Charcoal. It is made from hardwood scraps, which makes it a great source of nutrients for the soil. However, ash from Charcoal Briquettes should be avoided as harmful additives are used to manufacture it. 
Understanding the Types of Charcoal
To understand why ash is good or bad, we must understand the source of this ash. Here are two types of charcoal commonly used for barbecuing: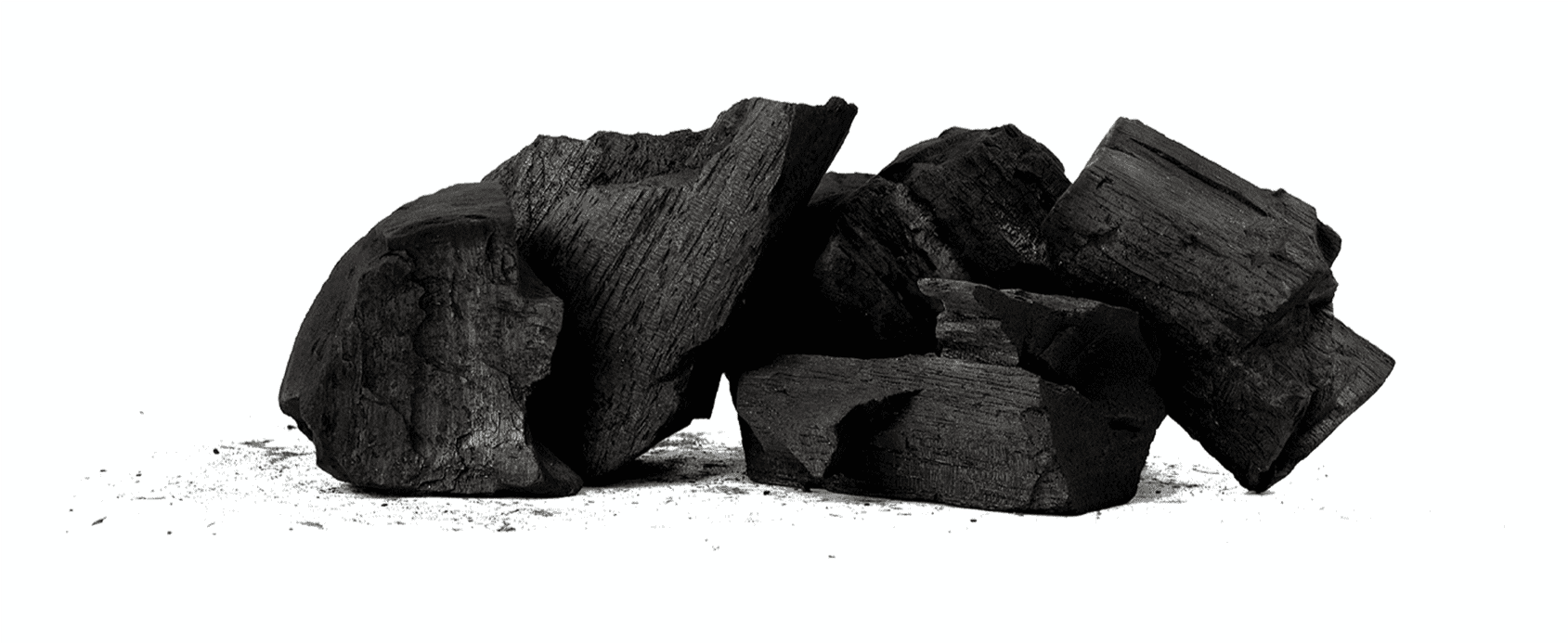 Natural Lump Charcoal is unprocessed wood made into charcoal by slowly burning wood in the absence of oxygen. This process, known as pyrolysis, removes the moisture and other volatile contents from the wood. 
Unlike Charcoal Briquettes, Natural Lump Charcoal is an excellent fertilizer for plants and has a non-uniform, "lumpy" shape.
Natural Lump Charcoal is made from hardwoods and contains no fillers or additives. The hardwood used helps the charcoal light faster, burn hotter, and leave behind very little ash on burning.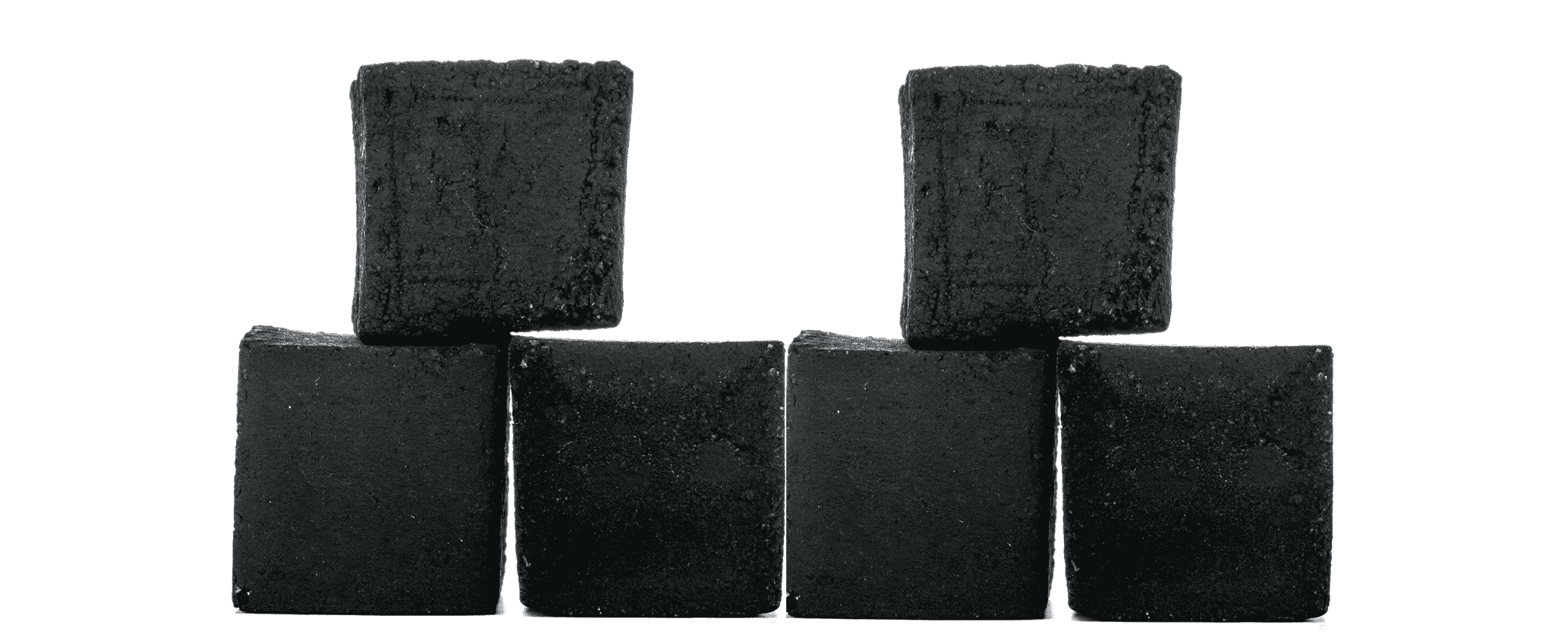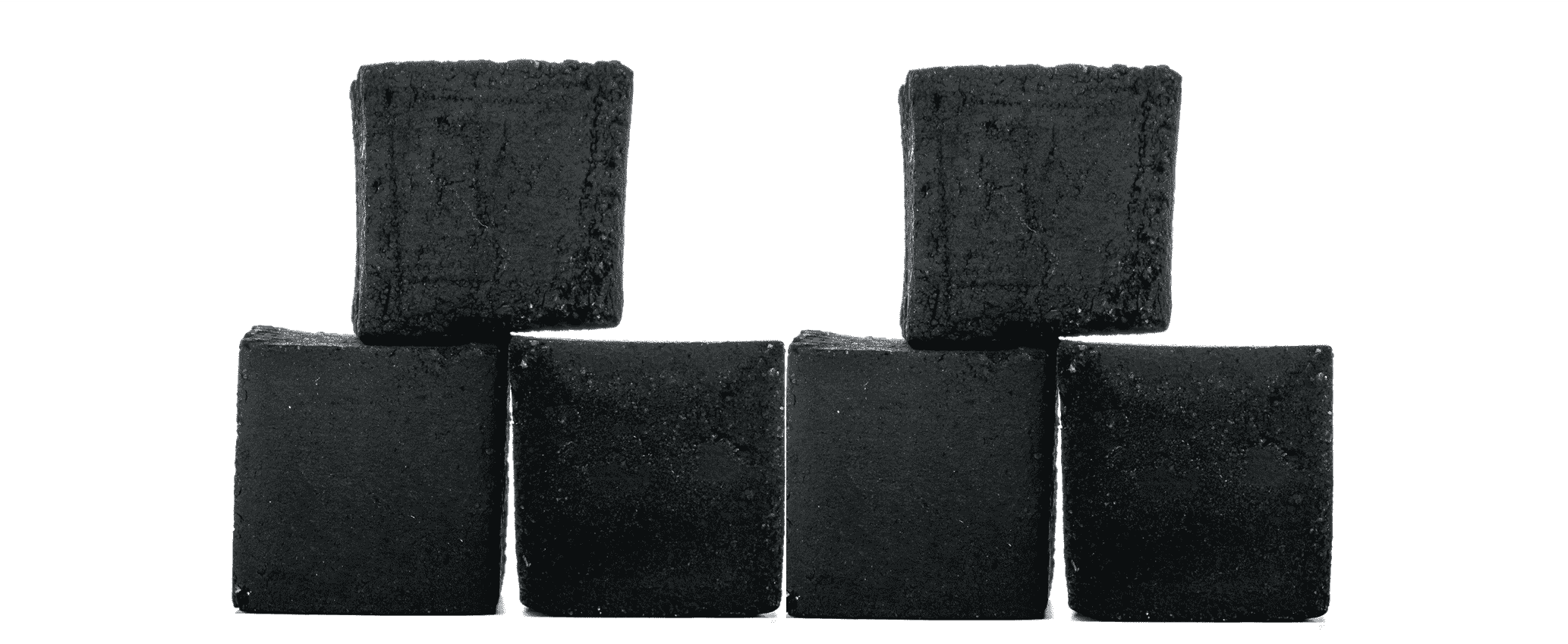 Charcoal Briquettes are made by pyrolyzing wood just as for Natural Lump Charcoal. Briquettes are the best option for low and slow cooking, because they burn evenly and for longer periods as compared to Lump Charcoal. 
Regular briquettes are made from sawdust and leftover wood and use additives to bind the materials together.Regular briquettes produce ash that is harmful to the plants because of the chemical additives it uses.
What Makes Regular Charcoal Briquette Ash Harmful?
Regular briquette ash often needs lighter fluid to light up which results in a residual lighter fluid flavor on your food and plant poisoning in your garden. Regular briquettes also have traces of heavy metals like cadmium, chromium, or lead which and heavy metal stress. 
I don't recommend using regular briquette ash even in small amounts. Even though smaller amounts may not visibly damage the plants, it could be harmful to your loved ones. These toxins are often absorbed by plants and can indirectly enter your body by consuming the fruits and herbs of your garden. 
Don't worry, you don't have to stop barbecuing low and slow – just get yourself 100% Natural Charcoal Briquettes!
Natural Briquettes do not use harmful chemicals. Instead they use natural additives like starch to bind the Briquettes together, and borax, which helps in releasing the Briquettes from the molds. These organic ingredients are safe to use!
Here are some safe Charcoal Briquettes that you could use.

Wood ash is added to increase the alkalinity of the soil. Depending on the plants you're growing, your soil will need to have a certain pH level for optimal growth. Adding wood ash also supplies the soil with required minerals and nutrients.
What Are the Benefits of Adding Ash to the Soil?
Improves pH Balance


Depending on the type of plants you are growing, the soil needs to be in a specific pH range. BBQ ash is apt for increasing the alkalinity of the soil quickly since ash is water-soluble. In contrast, limestone takes six months or more to change the pH of the soil.

Fosters the Growth of Clover


Ash makes clover growth easier. Clover plants are crucial to the environment since they provide nectar for the bees that, in turn, play a vital role in pollination. 

Packed with Minerals


Ash contains other trace elements that are essential for the growth of plants. 

Generally, the ash contains 25 to 45% calcium carbonate – a common liming agent for plants. Liming agents improve plant growth and increase the bacterial activity of soil.

Other minerals that are found in ash are some phosphorus, aluminum, magnesium, and sodium. BBQ ash also includes micro-nutrients like boron, copper, molybdenum, and zinc. 

Potassium Boost for Plants


Potassium, one of the main ingredients in fertilizers, helps regulate the opening and closing of stomata for plant respiration during photosynthesis. Lump Charcoal ash is made up of about 10% potassium. 

Pest Control


BBQ ash contains salt, which helps kill pests like snails, slugs, and other kinds of invertebrates. Sprinkle the ash around the base of the affected plants. If the ash gets wet while watering the plants, you need to reapply the ash as water washes of the necessary salt.

Weed Suppression


In the right amounts, BBQ ash helps suppress weeds in your garden. It helps increase the alkalinity of the soil and absorbs toxins from the soil. 
Is it Possible to Add Too Much Ash to The Soil?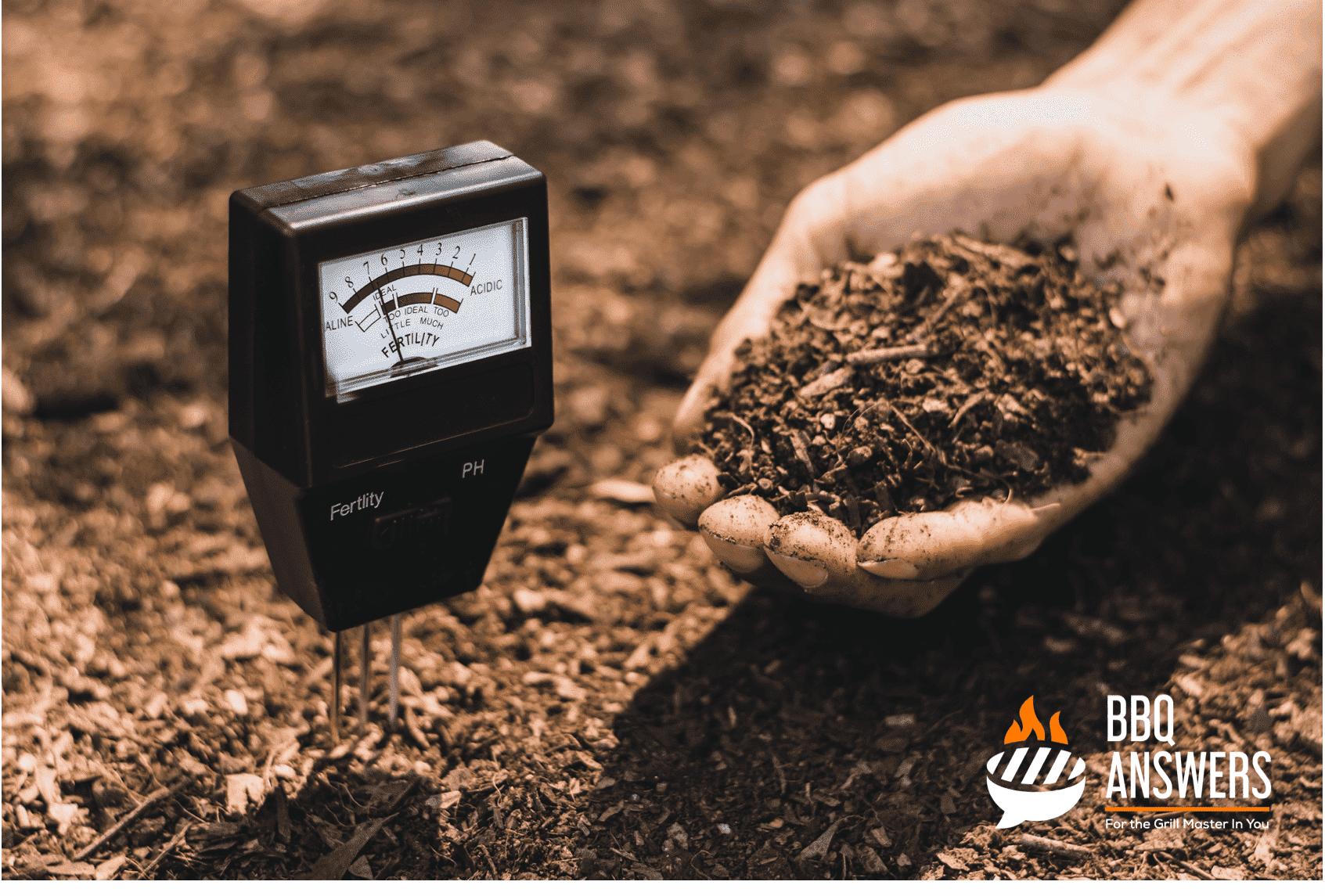 Now that we know the benefits of ash, it's a good time to warn against excesses. Just like all good things in life, ash is detrimental in excessive amounts.
Adding excess ash can result in excessively alkaline soil, which can damage or even kill your plants. Many plants stop absorbing nutrients if the pH of the soil gets too high. This often manifests as discoloration in the leaves. 
Adding excess ash can also cause fertilizer overuse problems like unpleasant odors and gases, bacterial contamination of underground water, and weed/ algae infestation.
Before adding ash to the soil, you should test the soil to know if it's actually needed. You can get a testing kit from your local extension office or any garden store. The pH of the soil is measured on the 14 point scale of acidity. Below 7 is considered acidic, 7 is neutral, and above 7 means alkaline. 
Some plants prefer a fairly acidic soil between 5.5 to 7. You should never add ash to acid-loving plants like blueberries, strawberries, potatoes, parsley, etc. Check the pH level requirements for each type of plant.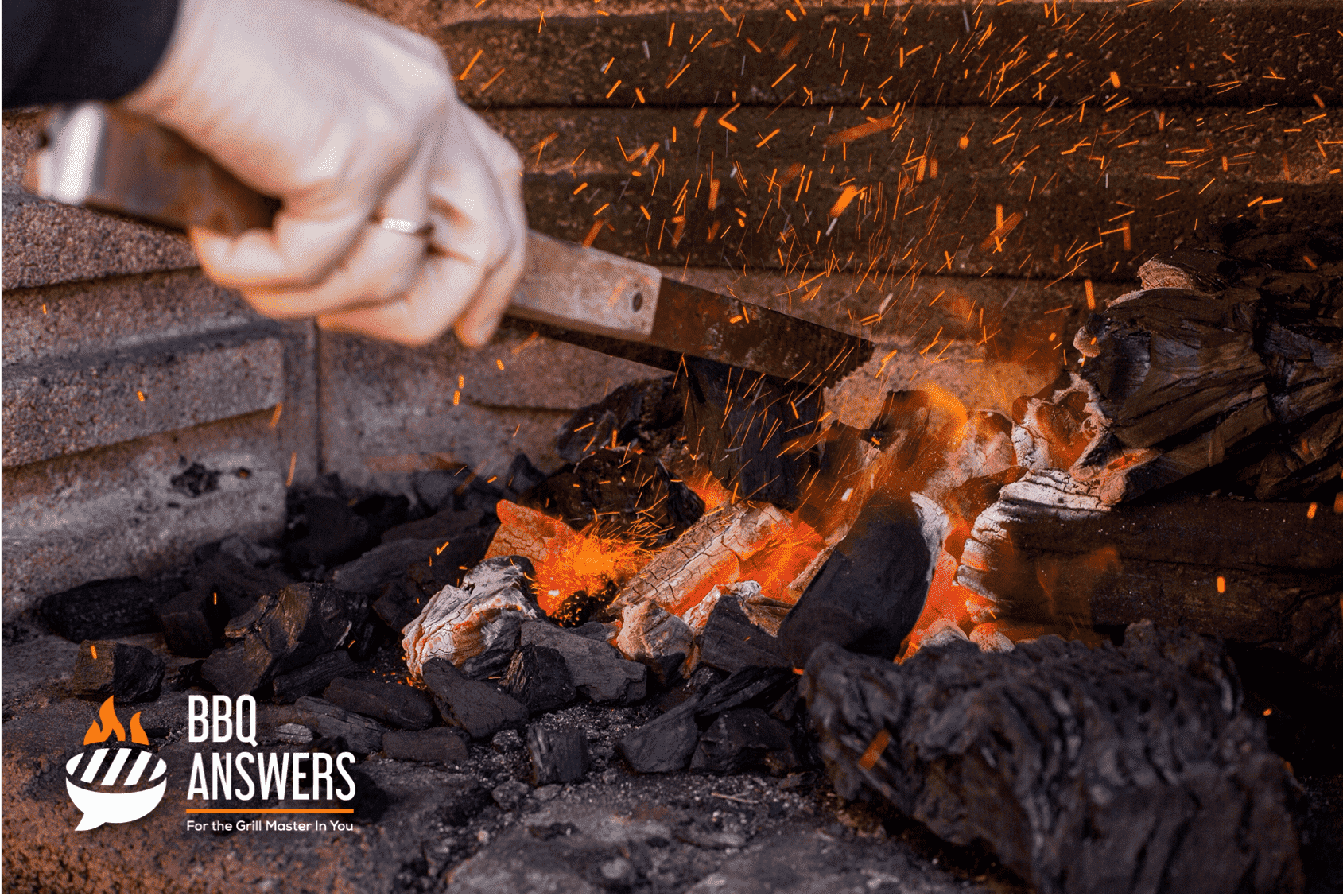 Safety Tip
Before you start collecting the ash for disposal, you should wear a face mask so that you don't inhale the ash. Also, get a pair of fire-resistant gloves to avoid burning your hands. 
After you are done grilling, check the size of the remaining pieces of remaining charcoal.
If there are big pieces of charcoal, cut off the supply of air to put out the flame and allow it to cool down. This way, you can salvage these pieces for your next cookout.
If you can't find any sizable pieces of charcoal, leave the coals burning until everything turns to ash. This takes longer, but it will also yield more ash.
Either way, make sure the charcoal is cooled down completely before handling it. Charcoal can take a long time to cool down. This is because the ash surrounding the charcoal acts as an insulator and keeps the heat inside. So even if the charcoal is not radiating any heat, it is still possible to have hot coals underneath the ash. 
Pitmaster Tip
Don't use sand to extinguish the fire, as it will make it difficult to remove the ash's saltiness. This could damage the plants. Avoid using water to cool off the charcoal if you have not thought about how you can collect the runoff.
Once they cooled down, collect the charcoal in a non-combustible container. You can use an old coffee jar or empty paint-can for this purpose. If there are small pieces of charcoal left behind, don't worry, you can still put them to good use.
You can wrap the ash in some of the used aluminum foil that you will have at the end of the barbecue.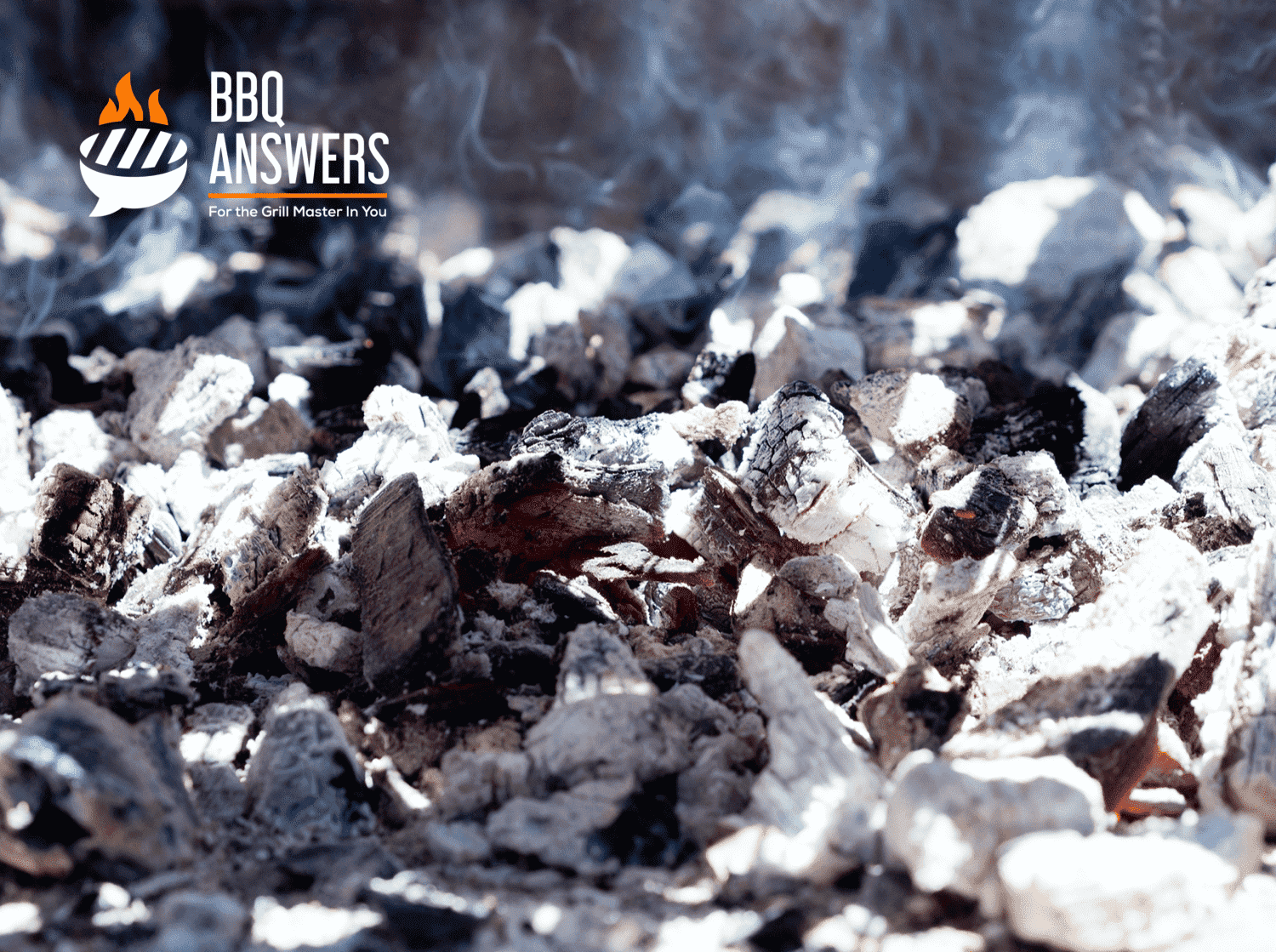 Spread the ash above the soil evenly and make sure that the ash layer is no more than 1.5 inches thick. Moreover, don't put the ash right at the bottom of the stem of the plant. You should spread the ash around the base of the plants and trees. This ensures that the alkalinity of the ash doesn't negatively affect the plants.
When adding ash to the soil, as a rule of thumb, add about 5-10 pounds (2-5 Kgs) per 1000 square feet (92 square meters) of the garden for every 0.5 increase on the pH scale.
The best time of the year for spreading ash is between winter and early spring when you are not using other fertilizers. This gives the ash enough time to work, and you can avoid unnecessary reactions with the other fertilizers. 
Then all you have to do is be patient. It takes time for dry ash to give up its nutrients to the soil. Watering the plants could speed it up, but then you'd miss out on the pest control benefits of ash.
How to Use Small Pieces of Charcoal?
After you're done grilling, you may find some pieces of charcoal that typically remain unused after grilling. Instead of throwing them away, you can reuse the BBQ ash and unused charcoal in the following ways: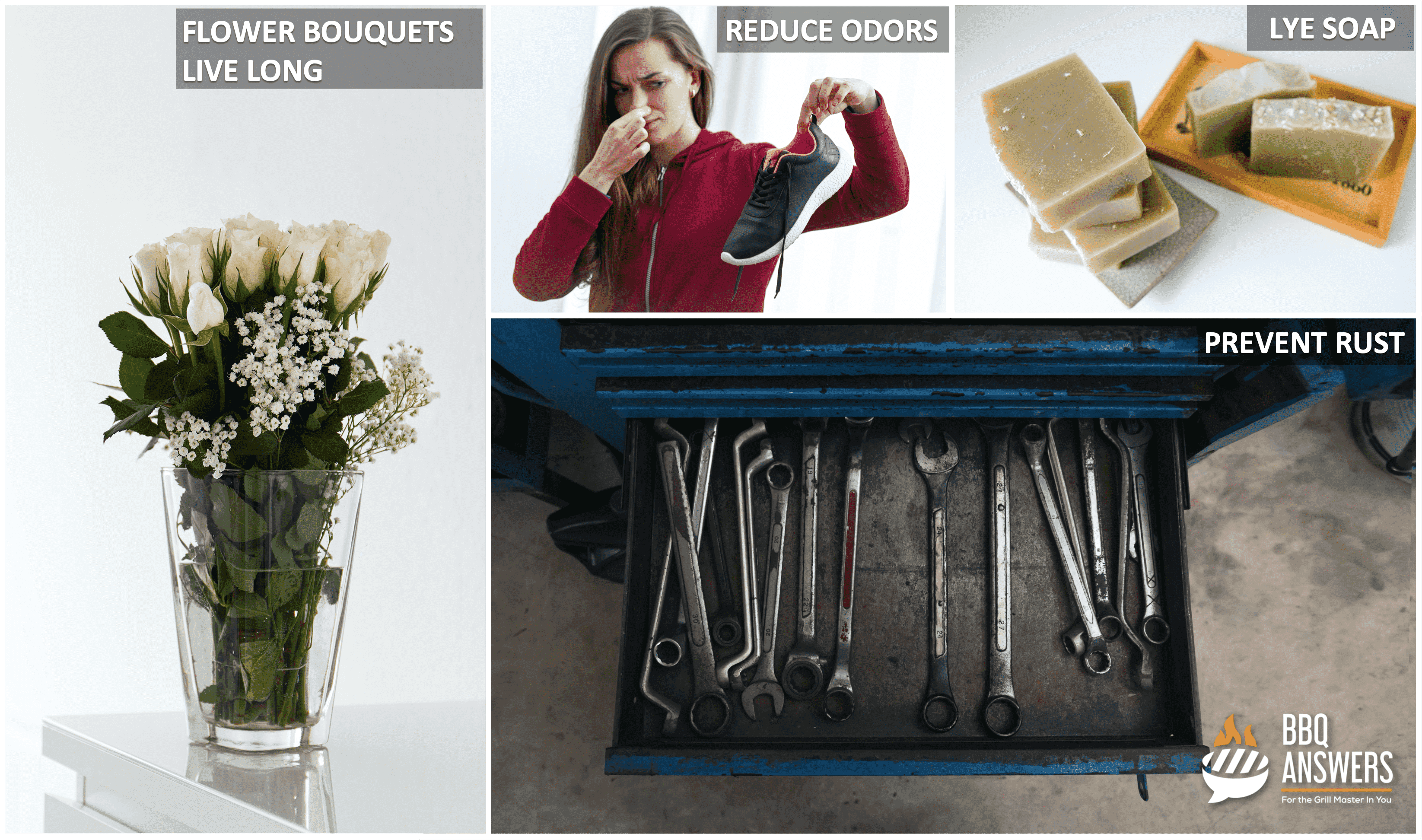 Reduce Odors


Charcoal absorbs moisture and odors from the environment. Put some pieces of charcoal in a perforated bag and place it inside your refrigerator or shoes to eliminate any unwanted odors. 

Make Flower Bouquets Live Long


Adding a piece of charcoal in a vase (under the cut flower stems of flower) will help flowers live much longer than usual. 

Prevent Rust


Charcoal can absorb moisture naturally. Placing a piece of charcoal into your toolbox will keep your tools from rusting. 

Make Lye Soap


Making lye soap is one of the most common uses of ash. Most campers make lye soap to wash the tin plates and hunting knives. Here's an interesting video on how to do it.
Can BBQ Ash Be Composted?
Yes, ash from Natural Lump Charcoal can be composted. It is the recommended method of using Natural Lump Charcoal as fertilizer once your soil has reached the desired alkalinity. Ensure that you are not using Charcoal Briquettes since they are harmful.
Basics of Composting
Composting is a form of waste disposal in which organic waste decomposes naturally. The compost pile should consist of three basic ingredients in equal amounts. You can spread everything in alternate layers of organic materials. 
Browns


It includes dead leaves, branches, and charcoal ash. The browns provide carbon for the compost pile. 

Greens


It includes all the food waste, such as fruit scraps, coffee grounds, and vegetable waste, that is often thrown away. It provides nitrogen to aid the composting. 

Water


Lastly, you need to add water in the right amount so that moisture can help speed up decomposition.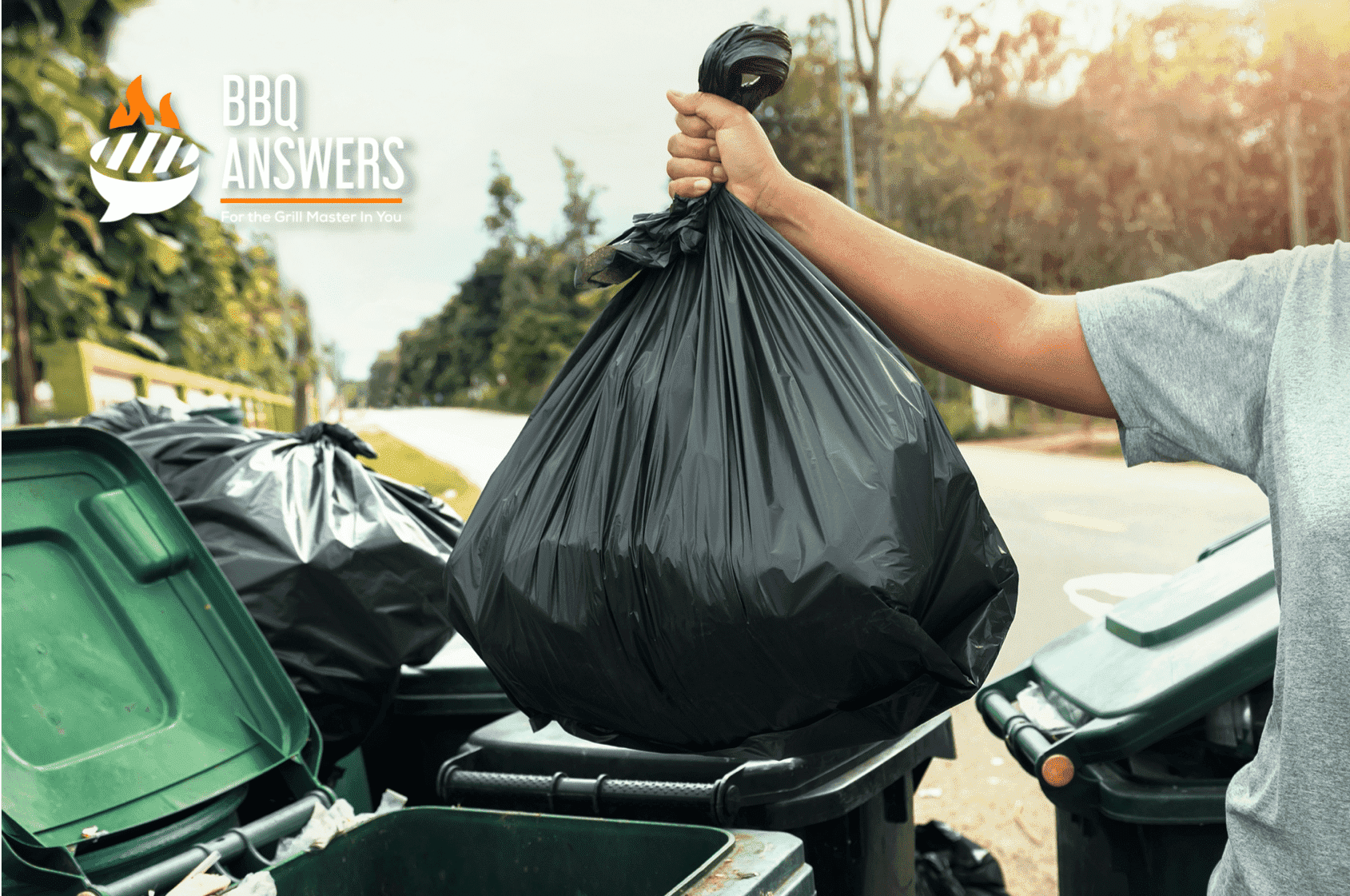 If you are using Charcoal Briquettes, or don't want to use your BBQ ash as fertilizer, you can dispose of it.
First, collect the ash in a container, pour water onto the ash so it can cool down completely. 
Then leave the ash outside in a dry area away from pets and children for about three days.
After three days, transfer the ash carefully from the container into a garbage receptacle. 
Other Sources of Fertilizer
If you're not using your BBQ ash as fertilizer, here are some other organic options you can consider:
Animal manure

Rock phosphate

Greensand

Bone meal

Alfalfa meal

Compost 
Relevant Questions
Does Charcoal Kill plants?
Unless you are adding too much ash to the soil, Natural Lump Charcoal doesn't kill plants. In fact, the nutrients in Natural Lump Charcoal ash are helpful for the growth of plants. However, you should never use regular Charcoal Briquettes as fertilizer as this can kill your plants.
Conclusion 
I hope this post gives you a better understanding of how you can use your BBQ ash.
Have more questions about BBQ ash? Let me know in the comments section, and I'll be sure to address them at the earliest!

For more answers to life's tastiest questions, subscribe to BBQanswers.com