How to Choose the Right Steel Drum For BBQ?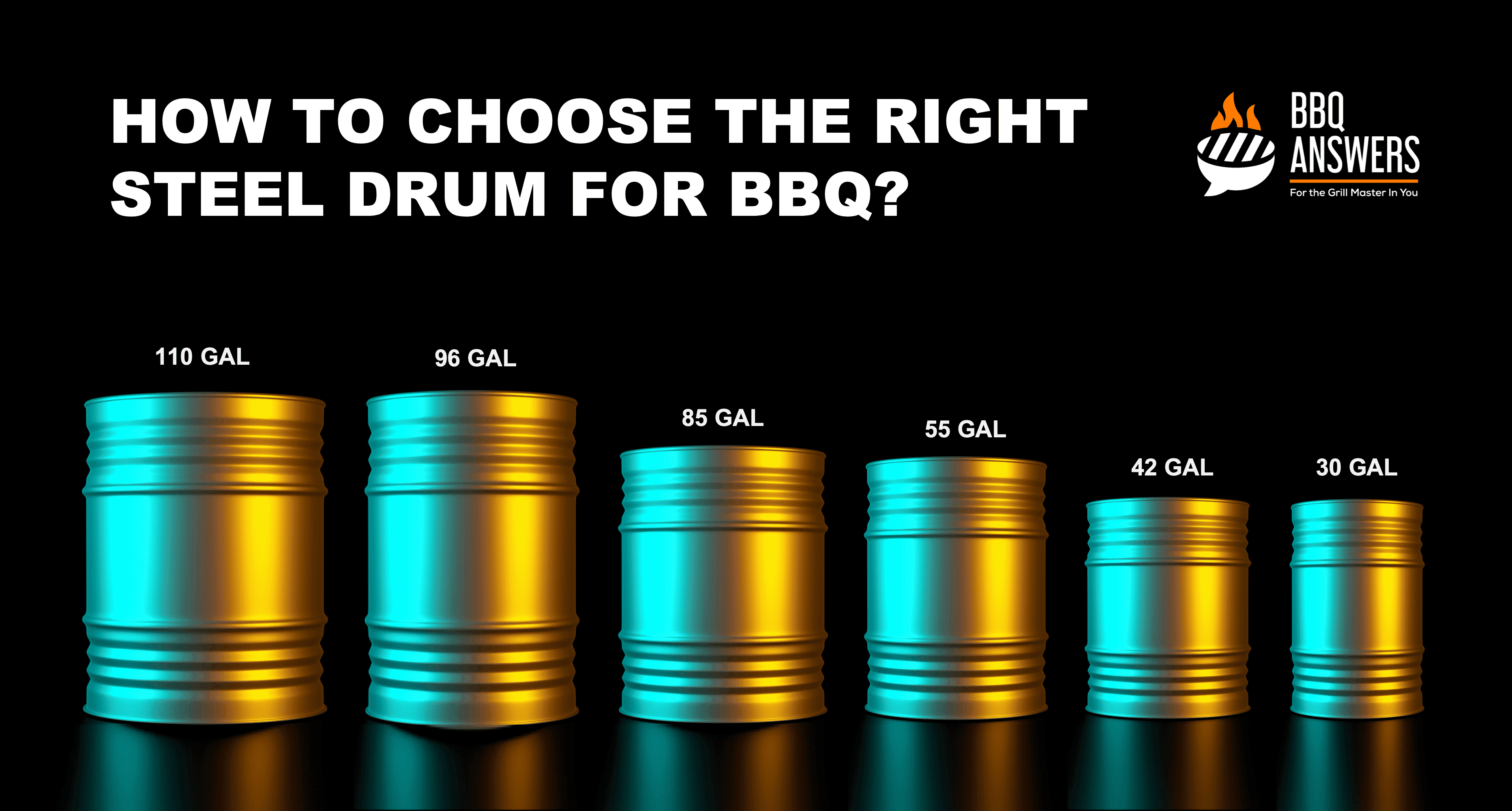 How to Pick The Right Drum Size for BBQ?
Wondering what steel drum size is best for your needs? The following table will guarantee that you pick the right sized BBQ Drum:
The Volume of a steel drum is relevant when deciding how many people you want to serve. This is listed in Gallons (or Litres) in the table below. 
The Dimensions (Diameter and Height) of a steel drum help you to determine whether the Oil Drum Barbecue will fit in the space that you have. This is listed in Inches (or centimeters) in the table below.
Size
Volume
Drum Dimensions
[H = Height
D = Diameter]
Serves
Ideal For
Mini

30 US gallons, (~114 litres)

H = 27.50″ (~70 cm)




D = 18.25" (~46 cm)

2-3 people

Lone-wolves or Couples

Small

42 US gallons, (~159 litres)

H =  28" (~71 cm)




D =  21" (~53 cm)

3-5 people

Nuclear family

Standard

55 US gallons, (~208 litres)

H = 33.00″ (~84 cm)




D = 22.50″ (~57 cm)

5-7 people

Big family

Large

85 US gallons, (~322 litres)

H = 37.00″ (~92 cm)




D = 26.00″ (~66 cm)

7-10 people

Family get-together

Extra-Large

96 US gallons, (~363 litres)

H = 41.00″ (~104 cm)




D = 26.00″ (~66 cm)

10-12 people

Family + Friends get-together

Huge

110 US gallons, (~416 litres)

H = 41.00″ (~104 cm)




D = 30.00″ (~76 cm)

12-15 people

Events and Competitions
Lined Drums vs. Unlined Drums for BBQ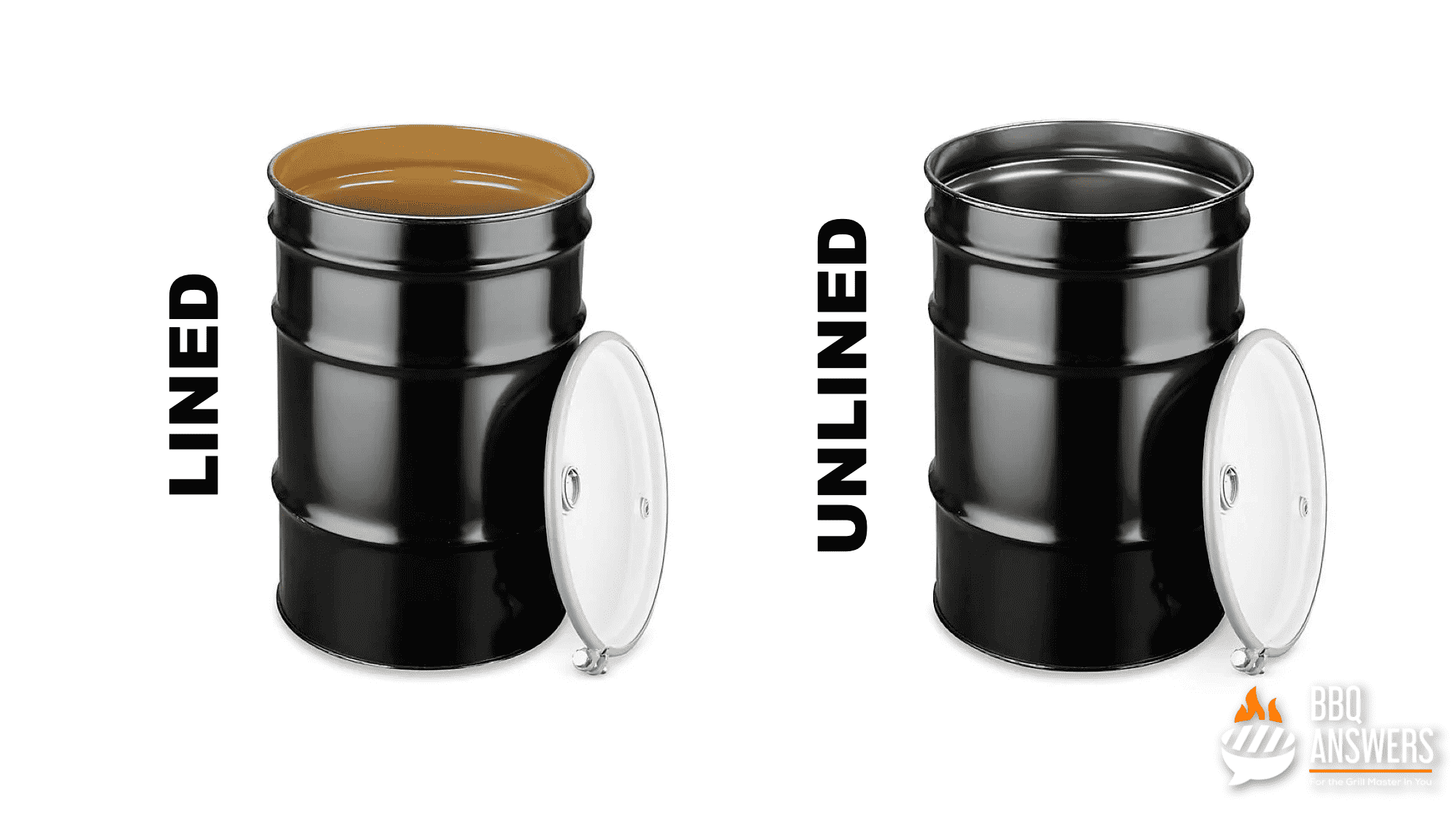 You should always use an unlined steel drum for grilling.
People get confused because lined drums are 'food-safe' and are recommended for storing food. This causes people to wrongly assume that these drums are safe for Barbecuing too. 
You should never use food-safe drums for barbecuing.
Drum linings are made of a chemical coating called epoxy-phenolic coating. This chemical lining does not deteriorate in a wide range of temperatures, which makes it an ideal protective coating. Drum linings protect the food from the possibly corroded metal drum. Learn if it is safe to cook on a rusty surface.
However, when we use lined drums for Barbecues, as temperatures reach around 500°F (260°C), the integrity of the Epoxy Phenolic Drum Lining gets compromised. This can be dangerous since the drum lining contains toxic chemicals that can come into contact with food through physical contact or indirect contact through fumes. 
Be a Myth-Buster
If any of your friends or family is using a food-safe or lined drum for Barbecuing, share this article with them and help them stay safe from misinformation.
Removing the Drum Lining
If your only choice is a lined drum, you can use it as long as you make sure to completely remove the lining before grilling/smoking. This can be done by burning a large fire in your Drum Smoker and then washing it thoroughly before you use it for cooking.
How to Choose the Right Drum Material for BBQ?
Choosing the right Drum material is essential not just for the long life of the drum but also for the long life of your family. 
When buying a steel drum, you will come across four basic types of drum materials:
Cold-Rolled Carbon Steel Drums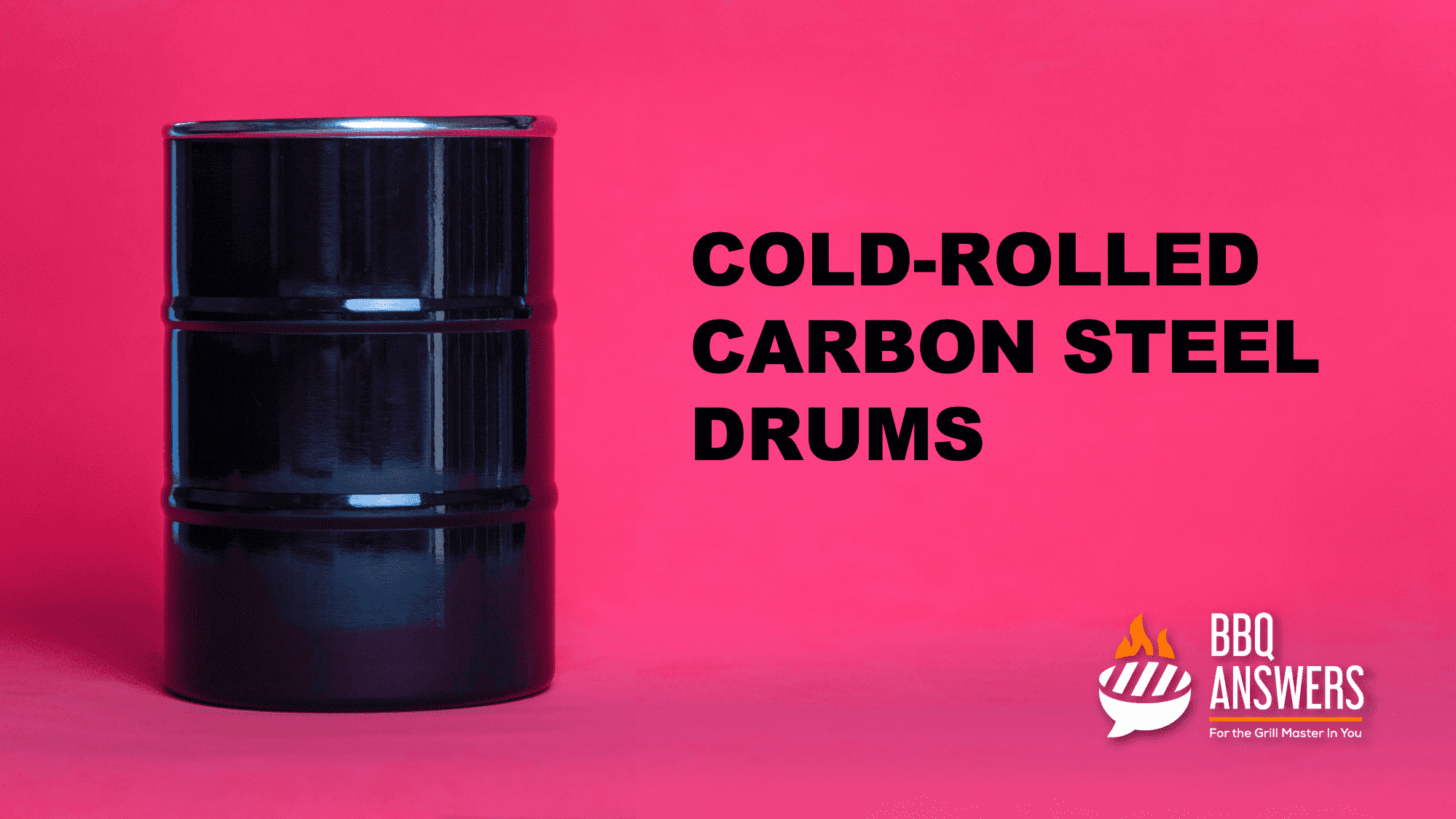 These are the most common steel drums on the market. You can find both lined and unlined drum variants, but most Cold-Rolled Carbon Steel Drums have a lining. So make sure to ask for an unlined drum.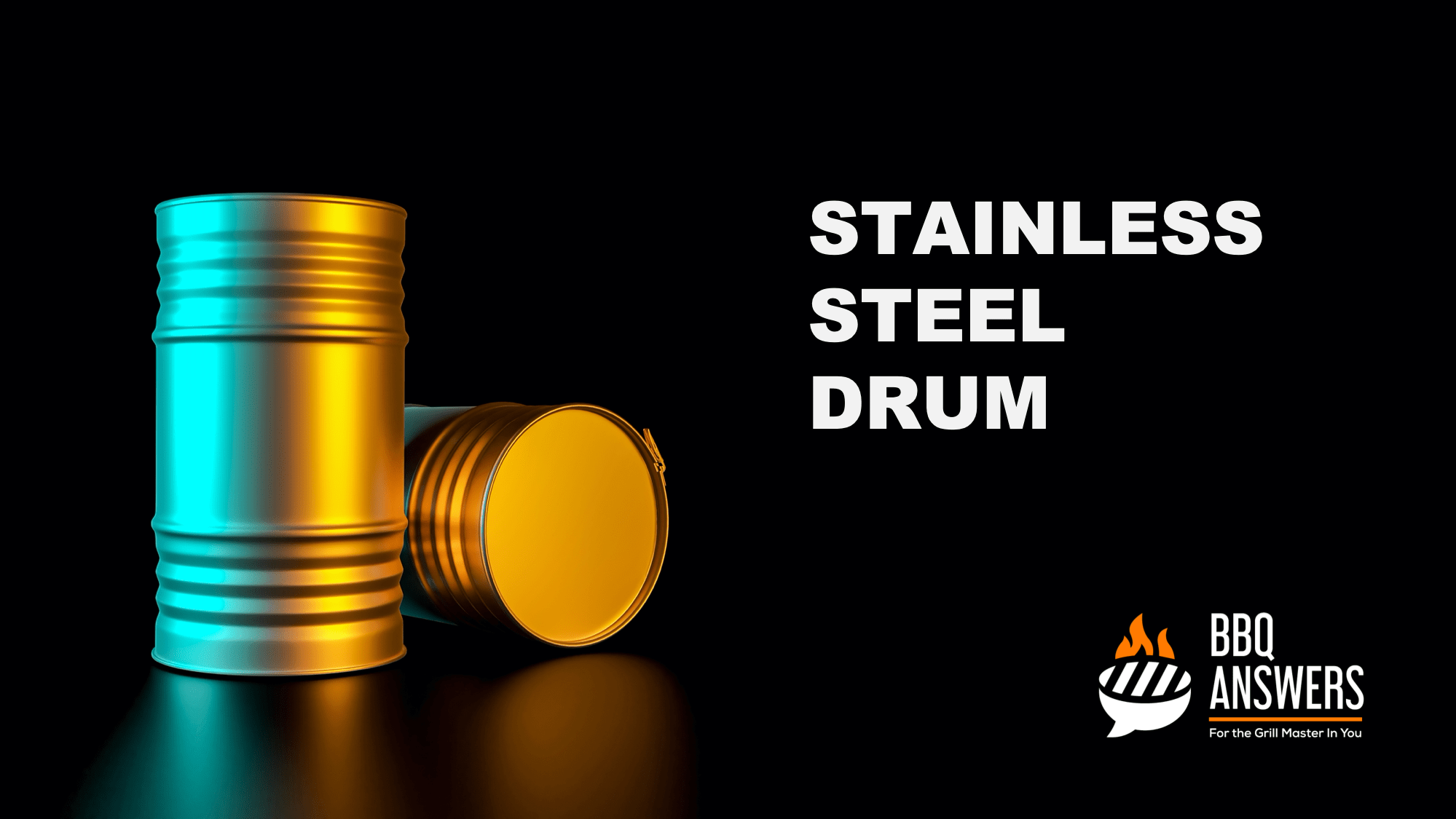 Stainless steel drums are specially made for storing food items. You can find both lined and unlined drum varieties in stainless steel drums too. Stainless Steel Drums are much stronger and last longer than Cold-Rolled Carbon Steel Drums due to their excellent corrosion resistance.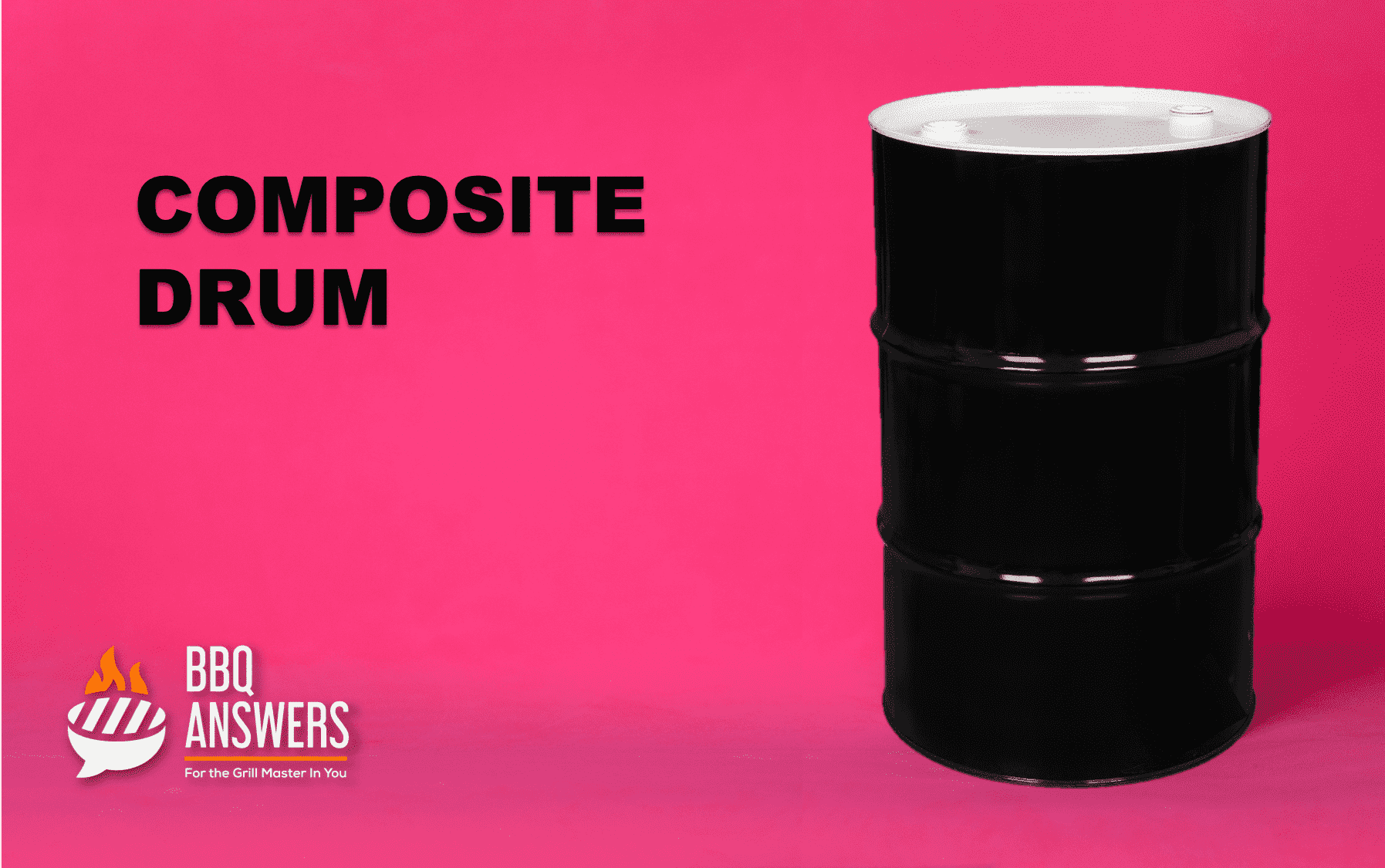 Composite drums have an exterior of cold-rolled carbon steel, and an interior of plastic. It's the perfect choice for storing a reactive substance in a sturdy container. However, for a barbecue, these drums are no good. 
Carbon Steel Salvage Drums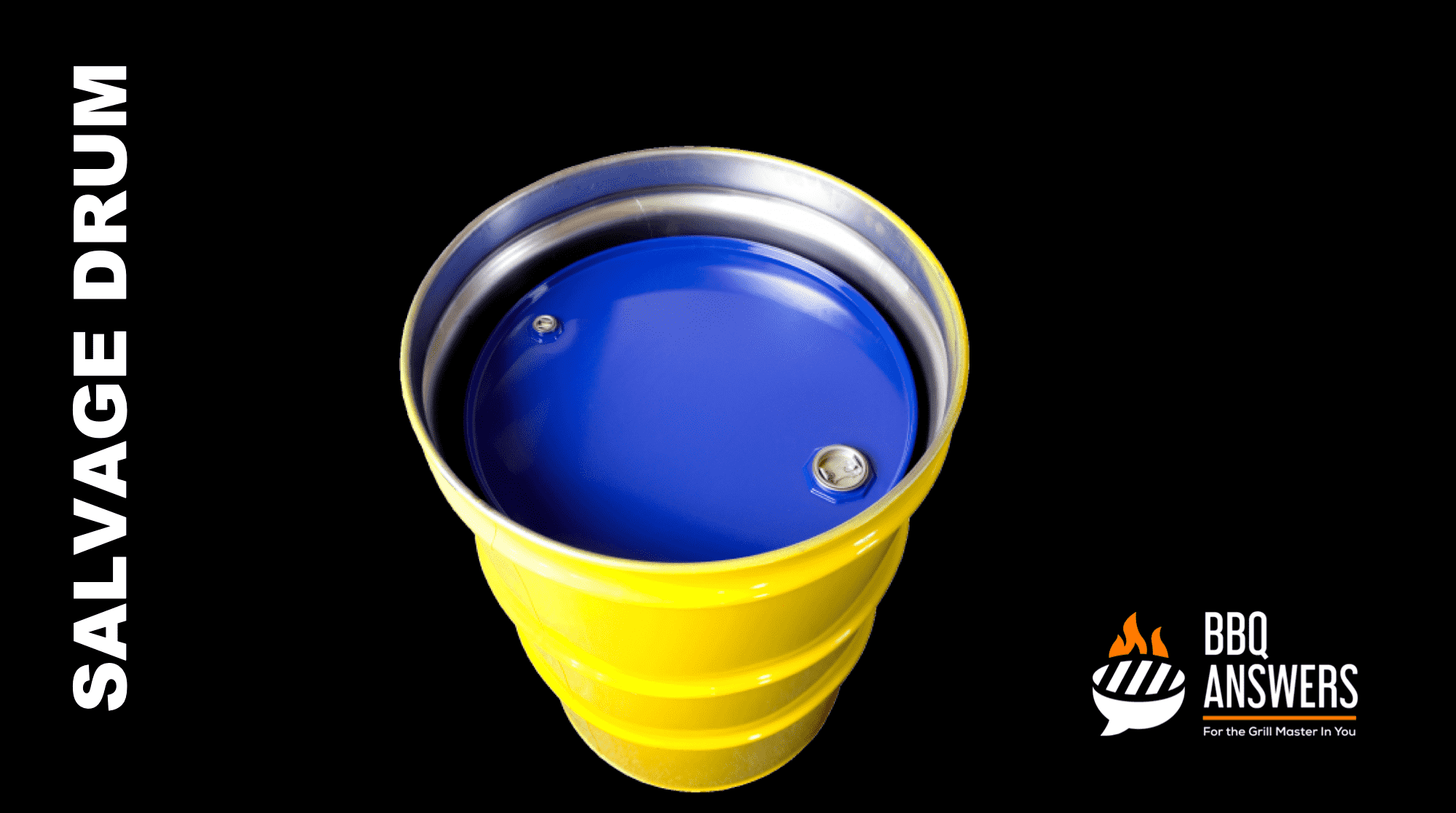 These are cold-rolled Carbon Steel Drums that are designed to store hazardous, damaged, or defective materials. They are yellow in color and always have a drum lining. These toxic materials could easily get in your food, so it's best to stay away from these drums.
Open Head vs. Tight Head Drums for BBQ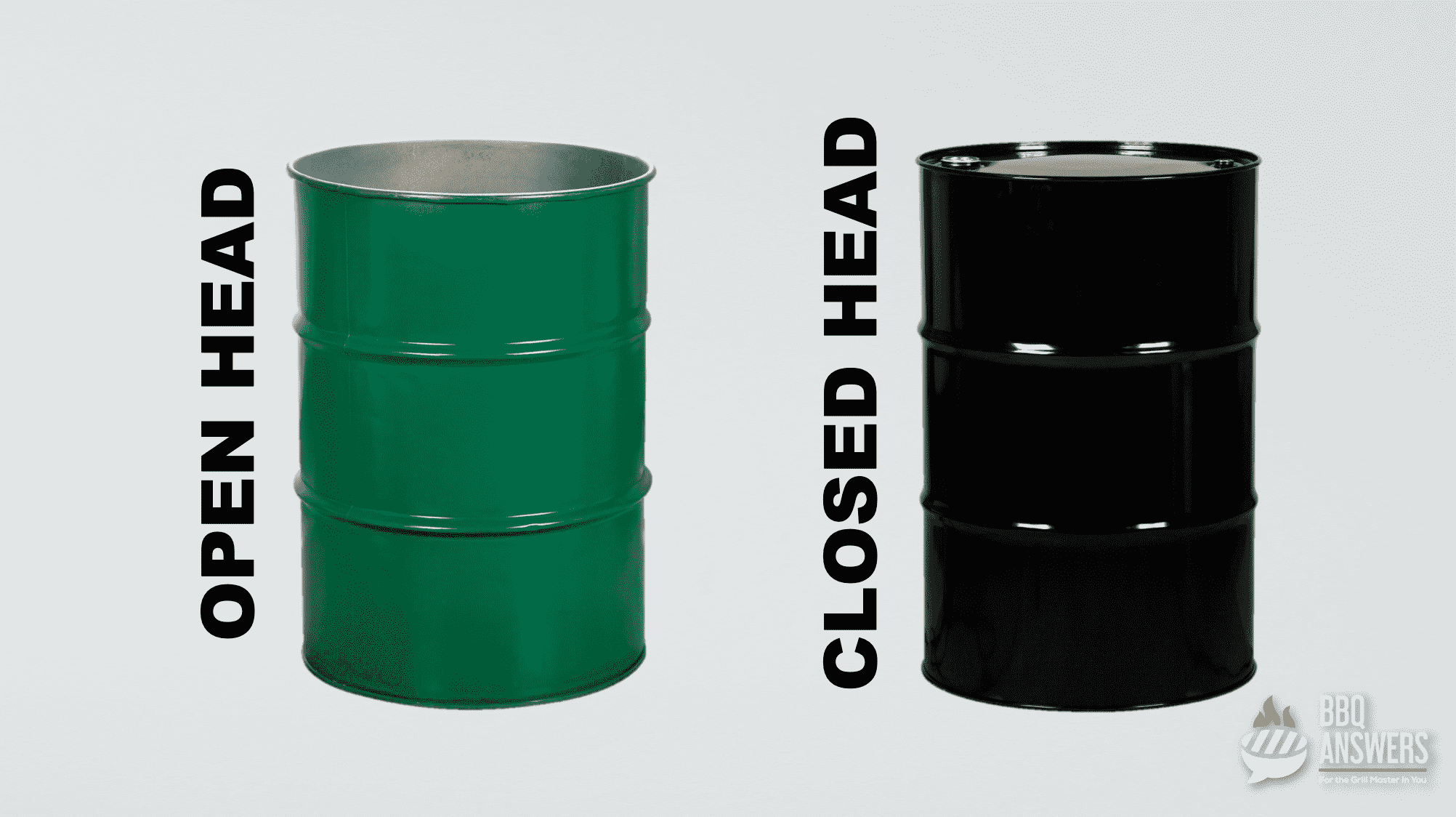 Open Head Drums that have a removable lid whereas the lids on Tight Head Drum lids are not removable.
Open Head Drums
Since Open Head drums have a removable lid, these are ideal for vertical drum smokers. Open Head Drums are not suitable for horizontal smokers.
Typically, these drums are secured either with a lever lock or bolt lock. We don't need these for barbecuing, so you can avoid buying these parts.
Tight Head Drums
Tight Head Drums, also known as Closed Head drums, are an excellent fit for horizontal grills. They're not a great fit for vertical smokers since cutting a drum head open is a lot of work.
Typically closed heads have two openings – called drum plugs or drum fittings. Drum fittings are usually ¾ or two inches in diameter. They are useful for installing a smoker chimney or a grill thermometer. 
Used vs. Reconditioned vs. New Drums for BBQ
New Drums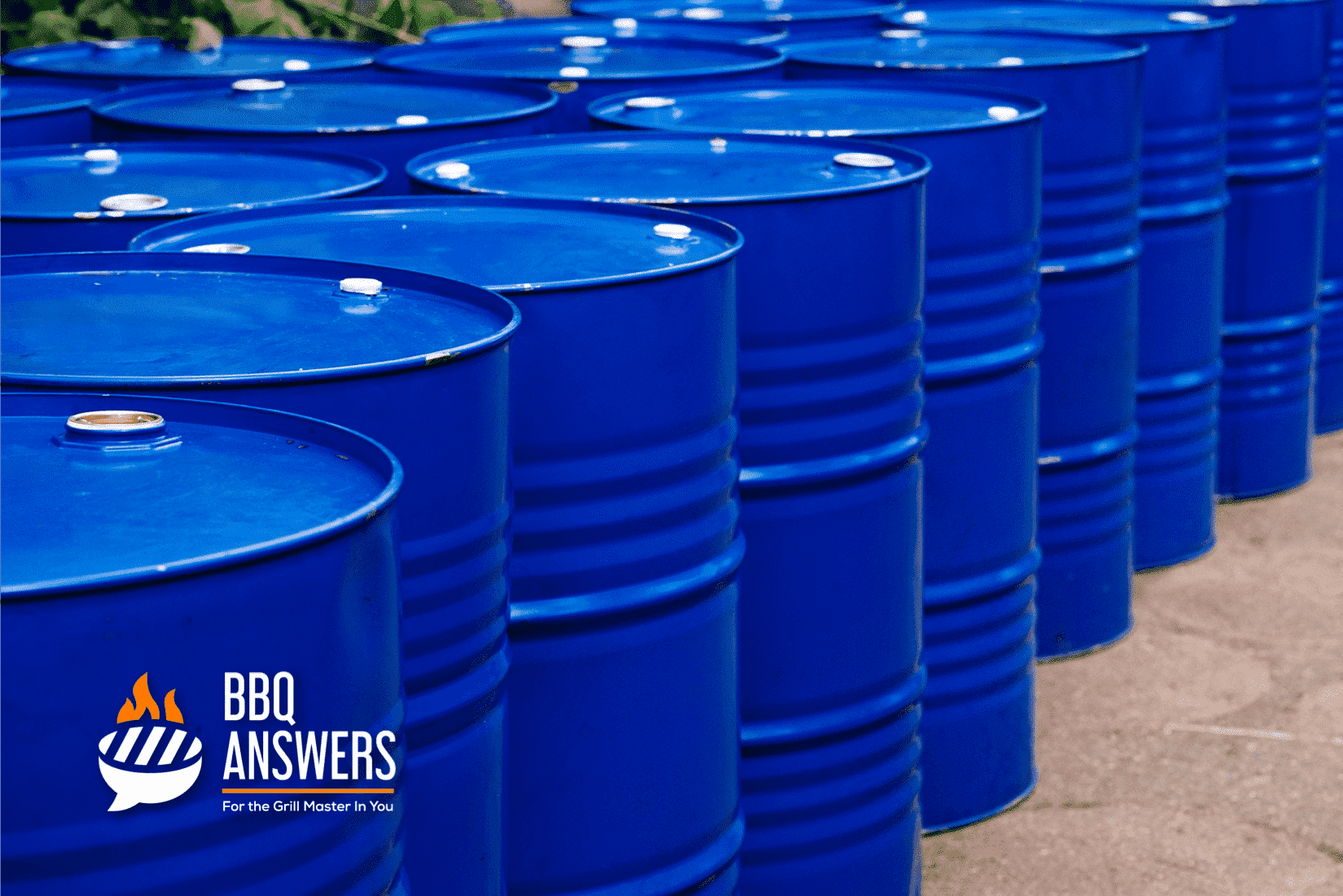 If you want to be 100% sure of the drum you are using, buying a new drum is the best option.
Advantage:
1. Easy to find the size and type you are looking for
2. You can be sure that no hazardous material was stored in it
Disadvantage:
1. New drums will set you back about $100 to $200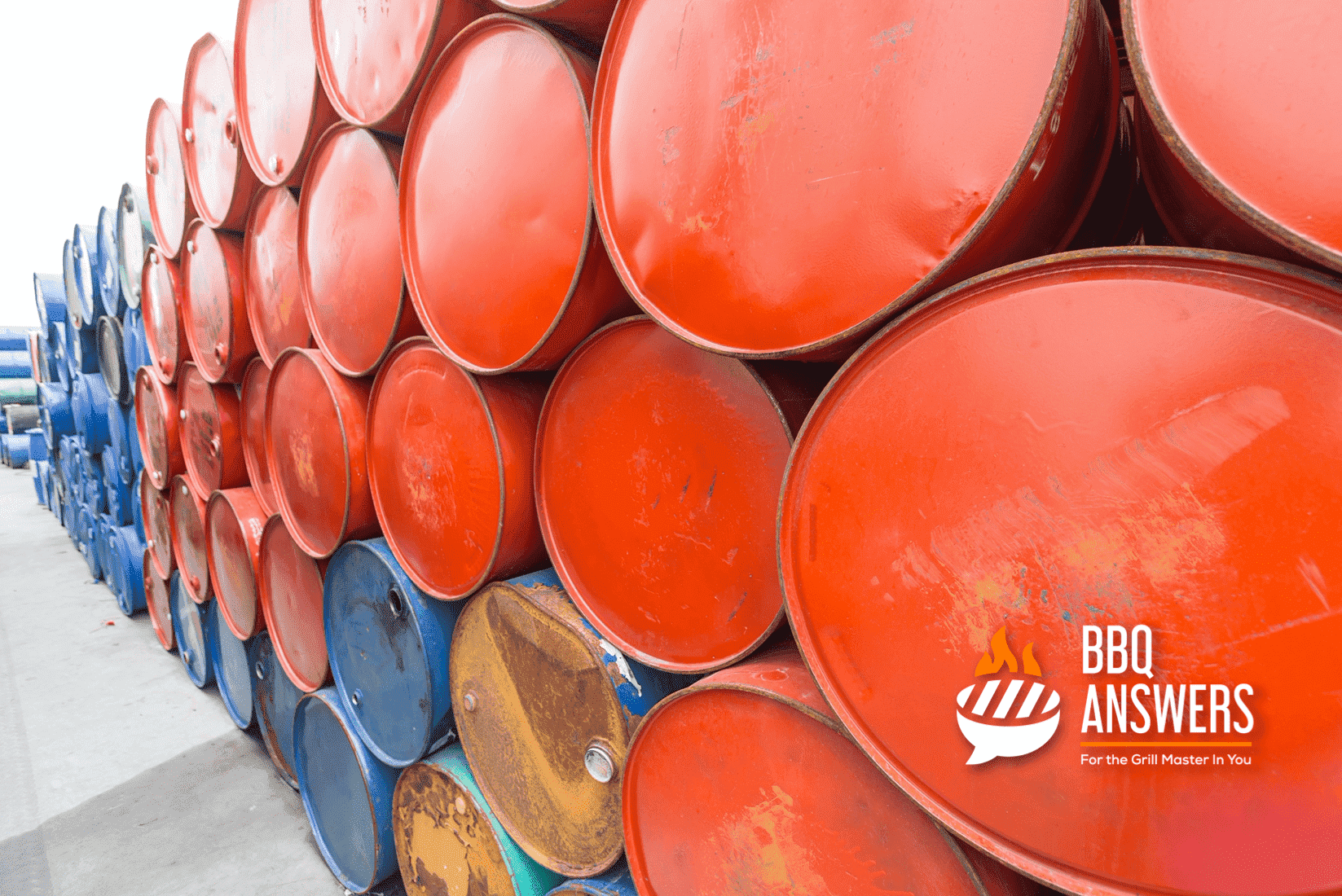 If you love a good deal, you may want to look into used drums.
You can get these from your auto repair dealer, local gas station, or local restaurants if they have any barrels that they want to get rid of. You may just be able to score a steel drum for free or for much cheaper because businesses often want to get rid of drums which otherwise lie around.
Advantages:
1. You know what was previously stored in the drum
2. With the right contacts, you could get them for a low price
Disadvantages:
1. Not easy to find the size and type you are looking for
Reconditioned Drums:
Reconditioned drums are used drums that have been repaired and cleaned with a standardized process. Even though these drums are cleaned thoroughly, the cleaning process is not food grade. 
Advantages:
1. Easy to find the size and type you are looking for
2. Much cheaper than a new drum ($35 to $50)
Disadvantages:
1. You can't be sure of what was previously stored in the drum
Reinforced vs. Straight-sided Drums for BBQ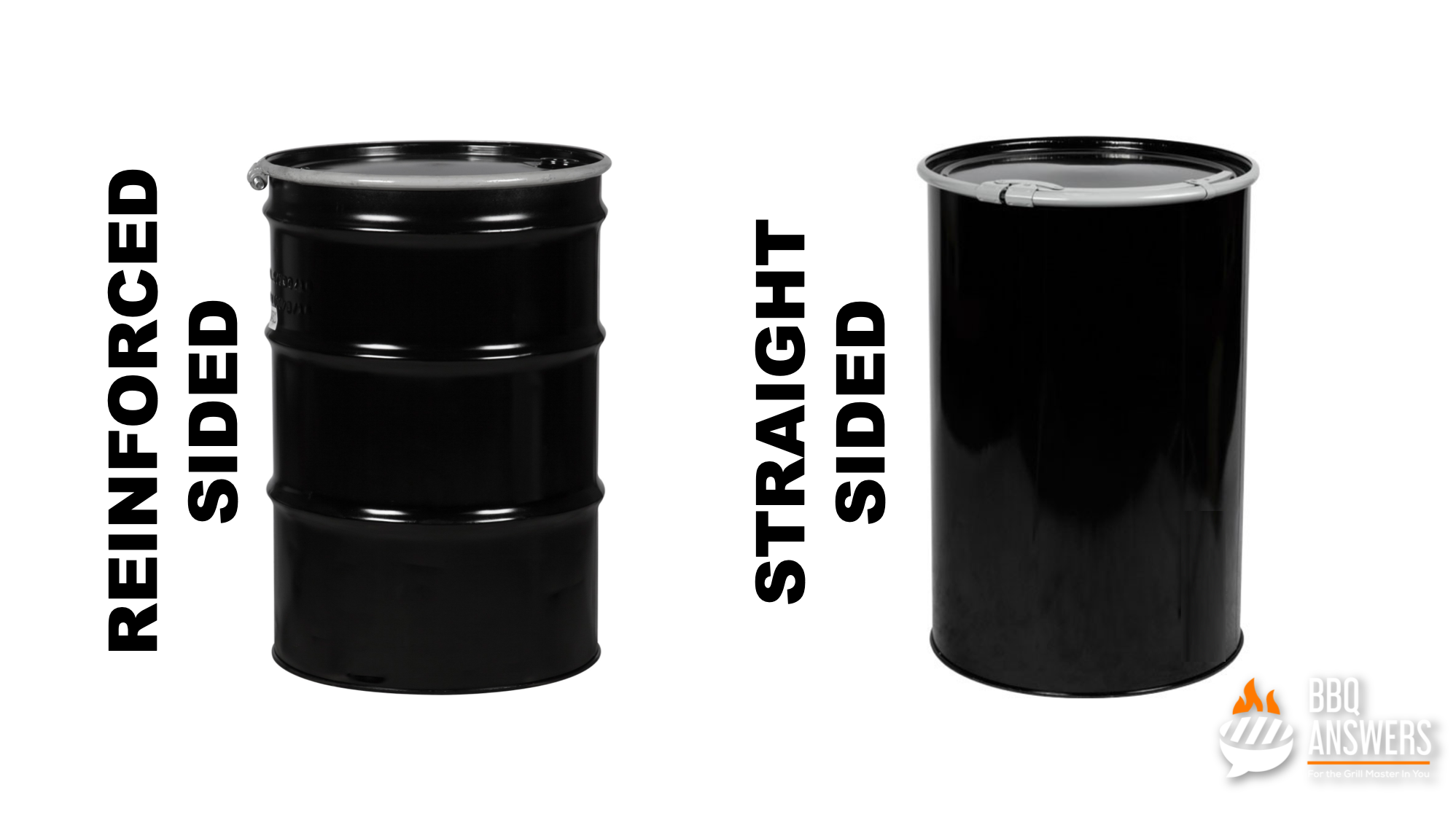 Straight Sided Drums are those that have no rolling hoops while Reinforced drums are reinforced with rolling hoops.
Rolling Hoops, also known as rolling rings or chimes, are rings located on the body of a drum, that permit the smooth handling of filled drums. Rolling Hoops can be fixed to the drum from the outside, but most modern drums expand 2-3 sections on the body of the drum to serve as reinforcement rings.
Reinforced Drums
If you are buying a new drum, prefer a reinforced drum. These drums aren't just more robust than straight-sided drums, but the hoops on the edge of these drums ensure that you don't need to make an additional seal to your BBQ drum.
Straight-sided Drums
If you are going for a used or reconditioned drum, you should look for a straight-sided drum. This is because straight-sided drums are not UN rated, meaning that hazardous materials are not permitted to be stored in such drums. This ensures that you get a drum free from unknown contaminants.
Where Can I Buy a Steel Drum for BBQ?
Steel drums are readily available online. You can get reasonably priced drums of your choice from The Carry Company. Depending on where you live, you may also want to look for local sellers.
Conclusion
There you have it! You now know the exact steel drum you need to buy. 
For an Oil drum BBQ, I personally recommend a new, unlined, reinforced, cold-rolled carbon steel drum, but you know your needs best. Don't let someone on the internet, including myself, convince you otherwise! 
If you're ready for the next step, you can learn about How to Build Your Own Oil Drum BBQ.
If building an Oil Drum Grill or Smoker sounds like too much work, feel free to check our list of Best Oil Drum Grills and Smokers in the market.
For more exclusive information on everything BBQ, subscribe to BBQanswers.com