What is a Halal BBQ? How to Eat, Host, & Enjoy Halal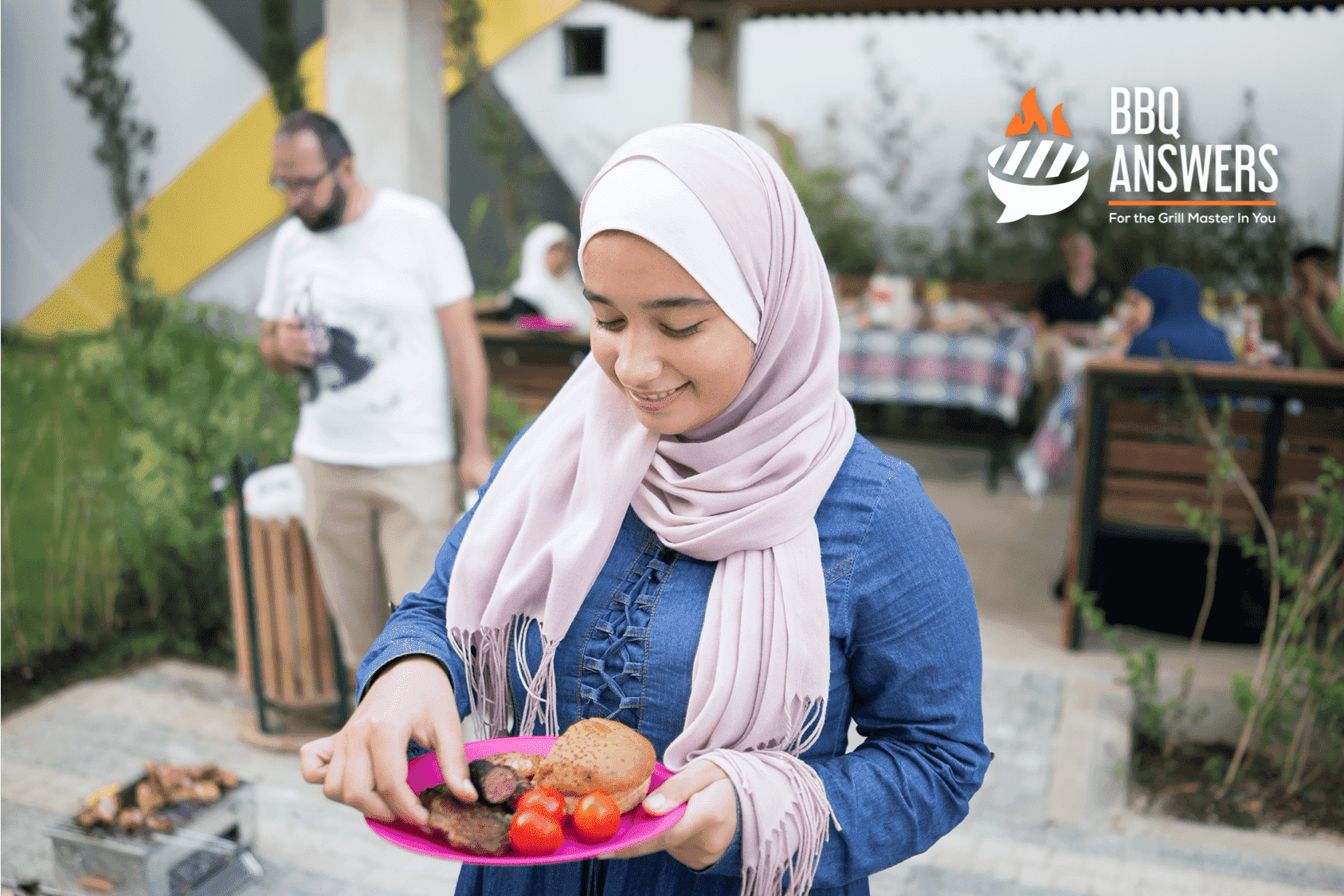 If you want to make sure that the barbeque you are eating is halal, or you want to be sure that your Muslim friends can eat the food at your barbecue, or if you are just a BBQ nerd like me, you're in the right place! 
This article will tell you all you need to know about halal barbeques. 
Let's get right into it!
What is Halal?
'Halal' means 'permissible' or 'lawful' in Arabic. Anything that is allowed according to the Muslim faith is considered Halal. 
Anything that is prohibited or unlawful is called 'Haram'. 
These two terms are used broadly for all deeds and acts in life. 
The term Halal is generally used in the context of food. But it is also used for pharmaceuticals, personal care items, cosmetics, household products, and food ingredients.
Yes, barbeque is considered halal if:
The meat is labeled halal or is from a trusted halal source.
All the ingredients being used, including the marination, grease, sauce/gravy, dips, are halal.
The grill and equipment should not be in contact with haram ingredients. If they have, it should be cleaned properly so that no trace of those ingredients is left behind.
What is Halal Food?
Halal food is food that is permissible to consume as per the Muslim faith.
It should be devoid of any elements that are considered Haram, and it should be made with the processes, equipment, labor, techniques, and ingredients that are Halal.
As per the Islamic Council, the following components are considered prohibited:
Alcohol or intoxicants

Lipase (

from non-plant sources)

Meat broth from unknown sources
Mix species broth
Enzymes (Except Microbial)
Gelatin from Non-Halal sources
Lard
Animal Shortening from Non-Halal animals
Anything from pigs such as Pork, Bacon
Carnivorous birds and animals
Tallow from Non-Halal animals
Rennet (Except from plants, microbes or synthetic)
Fat from any Non-Halal animal
L-cysteine from human hair
Food that contains any of the components mentioned above
What is Halal Meat?
Halal meat must conform to the following conditions:
The

slaughterer must utter the Islamic prayer

'Bismillah' which means 'In the Name of God' right before slaughtering the animal.

The animal must be

cut with one swift cut

to the jugular vein, carotid artery, and windpipe.

The head of the

animal is aligned with the qiblah

(the direction of the Kaaba at Mecca).

The

animal must be healthy

and alive at the time of slaughter.

The

blood of the animal must be completely drained out, and it should be completely dead before further processing.

The

animal should be kept in good condition

before slaughter and should be treated with kindness.

Sometimes, Halal also prohibits the eating of some animal parts such as the testicles

and

bladder.
It is said that the halal method of slaughtering is one of the most humane methods of slaughter. It is quick and painless when the cut is made correctly. The animal loses consciousness when the connection between the brain and the body is severed.
Benefits of Eating Halal
Apart from not appeasing Islamic Law, consuming Halal also ensures that:
The food that we are putting into our bodies is healthy and clean.

The animal has been killed in the most humane way possible.
What is The Origin of BBQ Kebabs?
Do you know where barbeque Kebabs originated? 
It is said that Turkish soldiers would roast meat chunks of freshly slaughtered skewed with their swords over open fires. 
The practice of roasting small pieces or chunks of meat were born in the middle east, where fuel was scarce to roast the meat. That is how our much-loved 'Kebabs' came into existence. 'Kebab' means 'roasted meat' in Arabic. Learn more about Kebabs here.
Whereas in Europe, due to the availability of forests and fuel for cooking, big pieces of meat or whole animals were roasted.

So it is fair to say that the concept of our present-day BBQs originated in the middle east.
How are BBQs Done in the Middle East?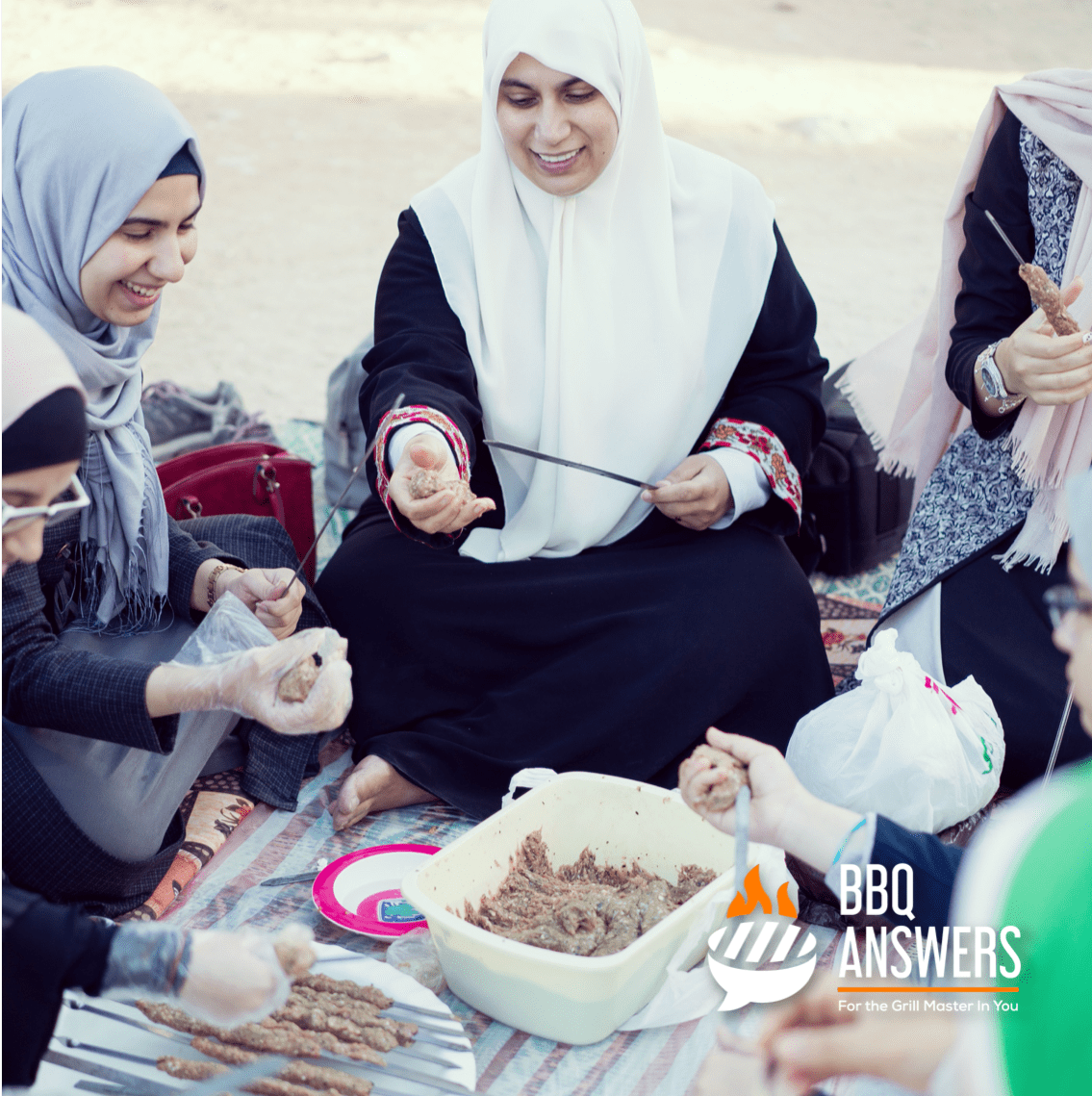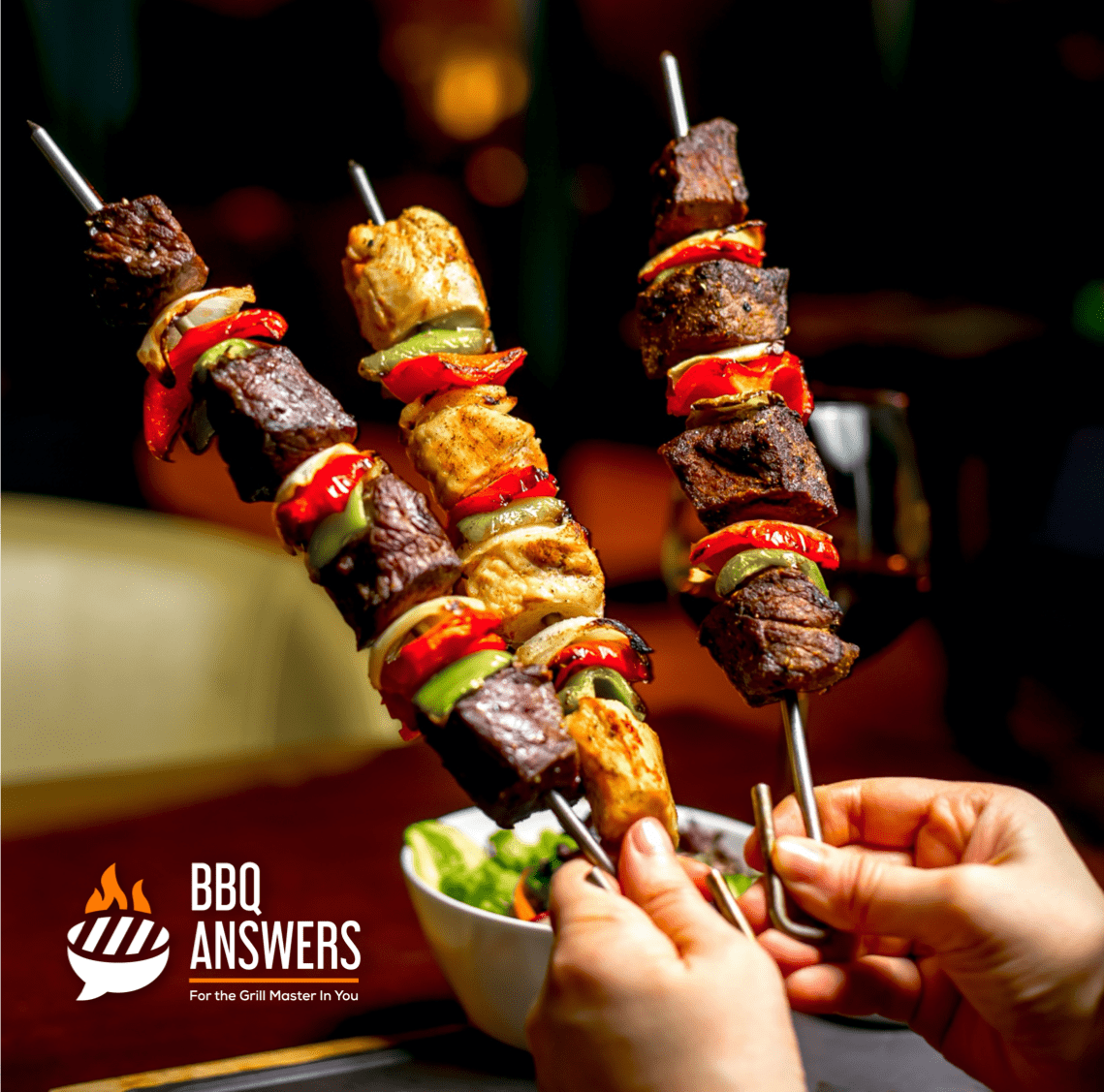 Shish kebabs, or shish touks, are chunks of meat put through a metal skewer along with vegetables, and then roasted over a fire. They are commonly served with middle eastern rice. The word Shish means 'sword or skewer' in Turkish.  
Authentic shish kebabs are made with pieces of marinated lamb. The marinade consists of lemon juice, olive oil, milk and yogurt, wild oregano, tomato puree, onion puree, and other spices.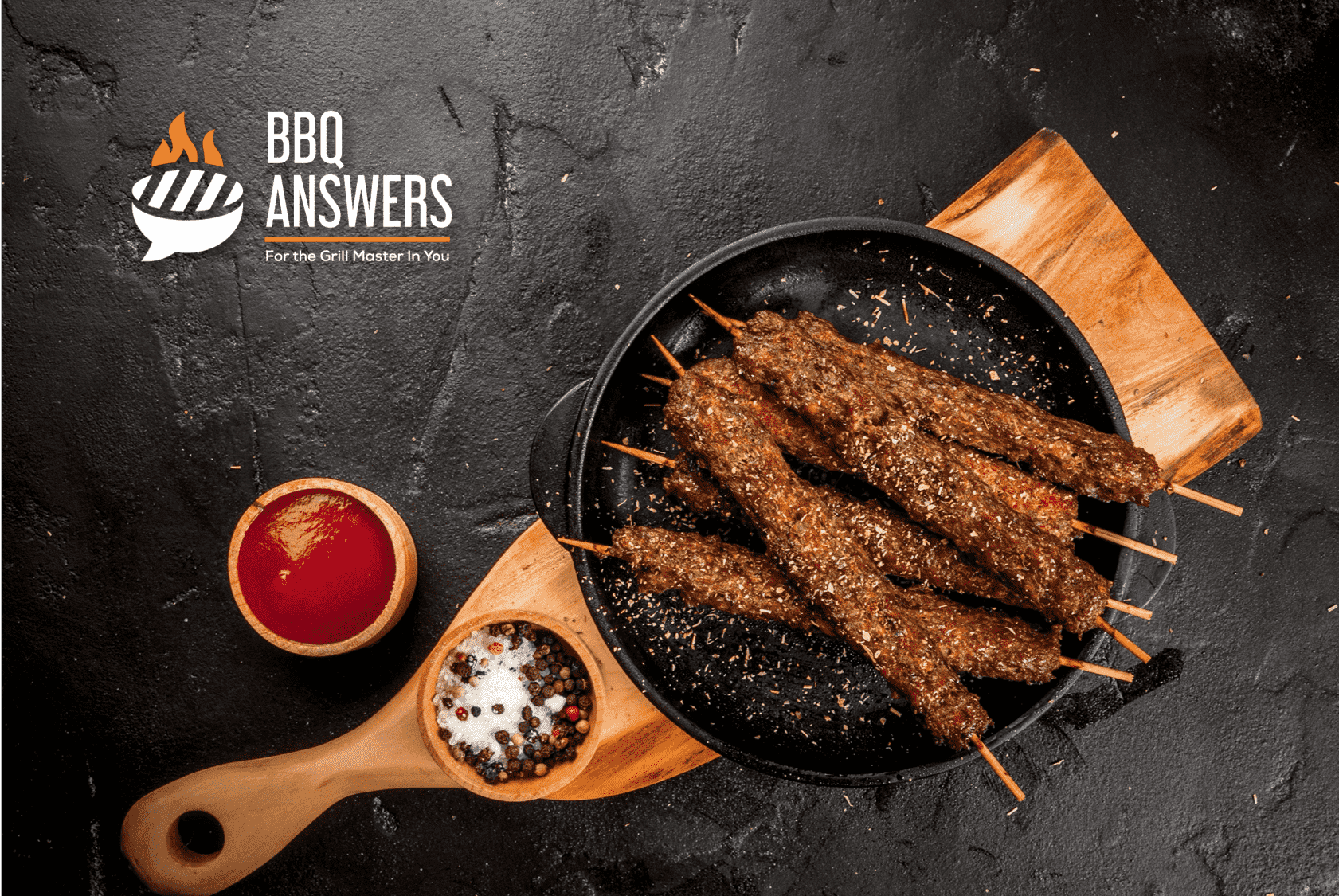 Seekh kebabs are minced and spiced meat, wrapped tightly around a square or flat skewer, and then grilled over fire. They were often served with flatbreads such as pita bread, or 'naans.'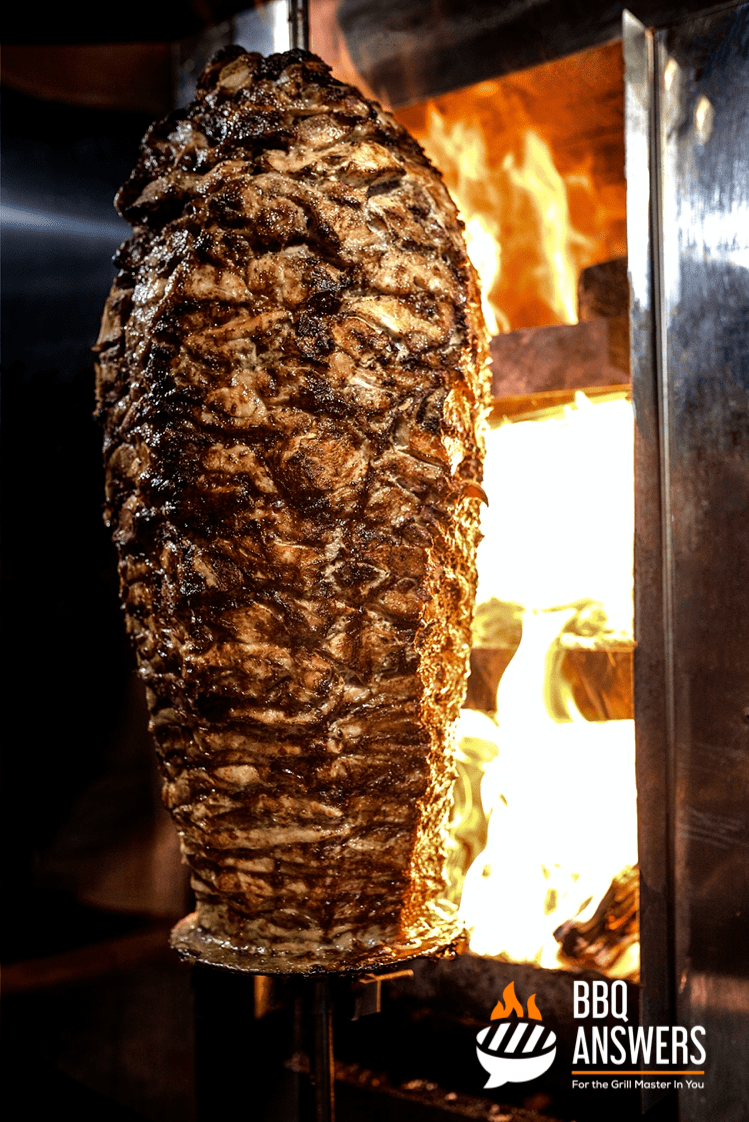 Shawarma, which means 'turning' in Arabic, originated in Turkey as 'Doner Kebab'- which meant 'turning roasted meat.'
It was a new method of roasting meat by putting a large piece of meat on a rotating skewer and grilling it over the fire for hours. 
It was served by shaving off little pieces of meat from the topmost layer at that time. The meat was greased and spiced from time to time, so it stayed succulent and flavorful.
How to Buy Meat/Ingredients for Your Halal BBQ?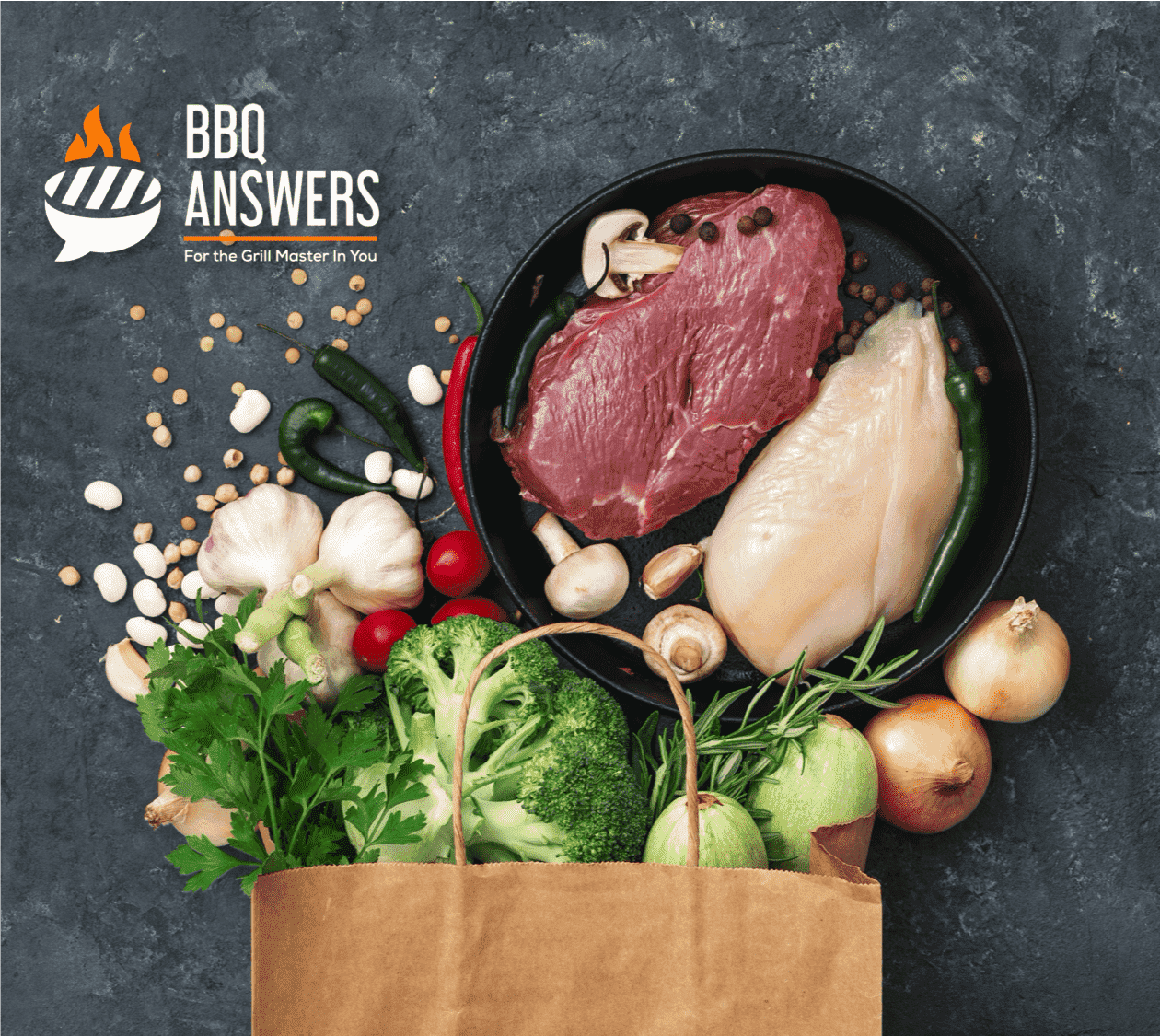 So you want to make a halal meal, but you aren't sure what ingredients to use. Here are a few ways to know if your food is halal or not:
Packaged halal foods carry the '

Halal Certified' logo

awarded by the Muslim Council or Halal supervisory board of a country. 

If the Halal sign or the word 'Halal' is not printed on the packaging, look for the

'vegetarian' sign. 

The meat

should not have any blood or blood stains

in meat. If the animal wasn't drained or cleaned correctly, It is considered Haram.

If you buy your meat from a

meat shop

, ask to see their

Halal certification.

Check the ingredients to make sure that it

doesn't contain any form of alcohol.

If the food item

contains gelatin.

If it is not labeled halal, it is

probably not from a halal source. 
Check for emulsifiers. Emulsifiers are categorized as halal or haram, depending on their source, and are given E-codes.
Halal E-codes
There are some great apps that tell you if a food item is Halal or Haram by scanning their codes.
Halal Scanning app on Android
Halal Scanning app on Apple
Alternatively, you can look out for the following Haram E-Codes:
E120 Cochineal:

red coloring derived from female insects.

E441 Gelatine:

derived from the bones/hides of cattle/sheep.

E542 Edible Bone Phosphate:

extracted from animal bones.

E904 Shellac: a resin from the lac insect.
Traditional Western BBQ VS Middle Eastern BBQ
The two styles of BBQ are quite different in terms of the cooking technique and flavors.
While both styles of barbecue taste amazing and underwent variations as it spread through different regions of the world, that's where the similarities end. 
The table below highlights the most distinct differences between the two BBQ styles:
Traditional Western BBQ
Middle Eastern BBQ
Meats traditionally used:

Pork Ribs, Pork Shoulder, Bacon

Meats traditionally used:

Spiced minced or cut Lamb (Mutton), Beef, Chicken

Usually

not Halal

Always

Halal
Cooking method:

Smoking meat over a wood fire, or grilling on BBQ grills 

Cooking method:

Roasting meat over a direct heat source with skewers

Fuel used:

Hardwoods such as oak for strong smoke flavor, fruit woods such as apple or maple for sweeter, mild smokey flavor

Fuel used: 

Charcoal for grilling or ordinary wood for open fires

Taste:

Sweet notes, smokey flavors, mild flavors

Taste:

Spicy, chargrilled flavor, sharp flavors

Accompaniments:

BBQ Sauce, Mustard, Ketchup, Fried potatoes (French Fries), Bread buns

Accompaniments:

Mezze, Rice, Pita bread, Naan bread
At the end of the day, both BBQ styles are a hit all over the world and are well recognized. 
Related Questions
How to Tell if Chicken is Halal?
You can tell if the chicken is halal or not by considering the following factors:
Tenderness:

Non-halal meat tends to be harder due to blood remaining inside. Halal meat is very tender.

Color:

Chicken meat with a whitish or pink hue is usually halal. If it has a darker reddish hue, it means the blood wasn't drained properly.

Smell:

Halal meat smells fresher because blood helps bacteria multiply faster. Hence non-halal meat goes bad faster and starts giving a foul smell quicker.

Price:

Halal meat tends to be higher in price because of the short supply.

In the US, it is rare to get Halal chicken at

your typical

grocery stores such as Kroger or Walmart.
Is Halal the Same as Kosher?
No. Even though they both prohibit the consumption of pork, the two are quite different. Halal is permissible as per Islamic Law, and Kosher is permissible as per Jewish law. 
The main differences are:
Kosher allows

alcohol

. Halal does not.

Kosher law prohibits eating

shellfish and land animals with scales,

but halal does not.

Kosher prohibits the

mixing of meat and dairy

, but Halal does not.

As per Kosher Law, a specially trained

rabbi or shochet

must slaughter the animal, whereas as per Halal Law, an

adult Muslim, Christian, or Jew

can slaughter the animal.

Halal law requires

prayer

to Allah

before each slaughter, whereas Kosher does not require a prayer before each slaughter.
Stunning

an animal before slaughter is allowed as per Halal, but not as per Kosher.

Kosher prohibits eating the

hindquarters

of an animal. Halal prohibits only the

bladder and testicles.
Is the Food at Barbeque Nation Halal?
While most Barbecue Nation outlets serve halal food, it is not compulsory for all Franchisee outlets to serve halal food. The most reliable way to find out if the Barbecue Nation outlet has halal food is by calling the restaurant before your visit.
Wrapping Up
All of the above tips will help you eat, buy, and enjoy halal food. Remember that the key to a pleasant halal barbecue experience is communication. Don't hesitate to ask questions of your sellers, servers, hosts, and guests. 
I hope this article addressed all your questions regarding halal BBQ. 
If you have any more suggestions or questions, please leave them in the comments section.  I'd love to hear about your Halal BBQ experience.
Stay tuned for more guides and tips on everything BBQ, right here on BBQanswers.com.