What Should You Look For When Buying Dual-Fuel/ Hybrid Grills?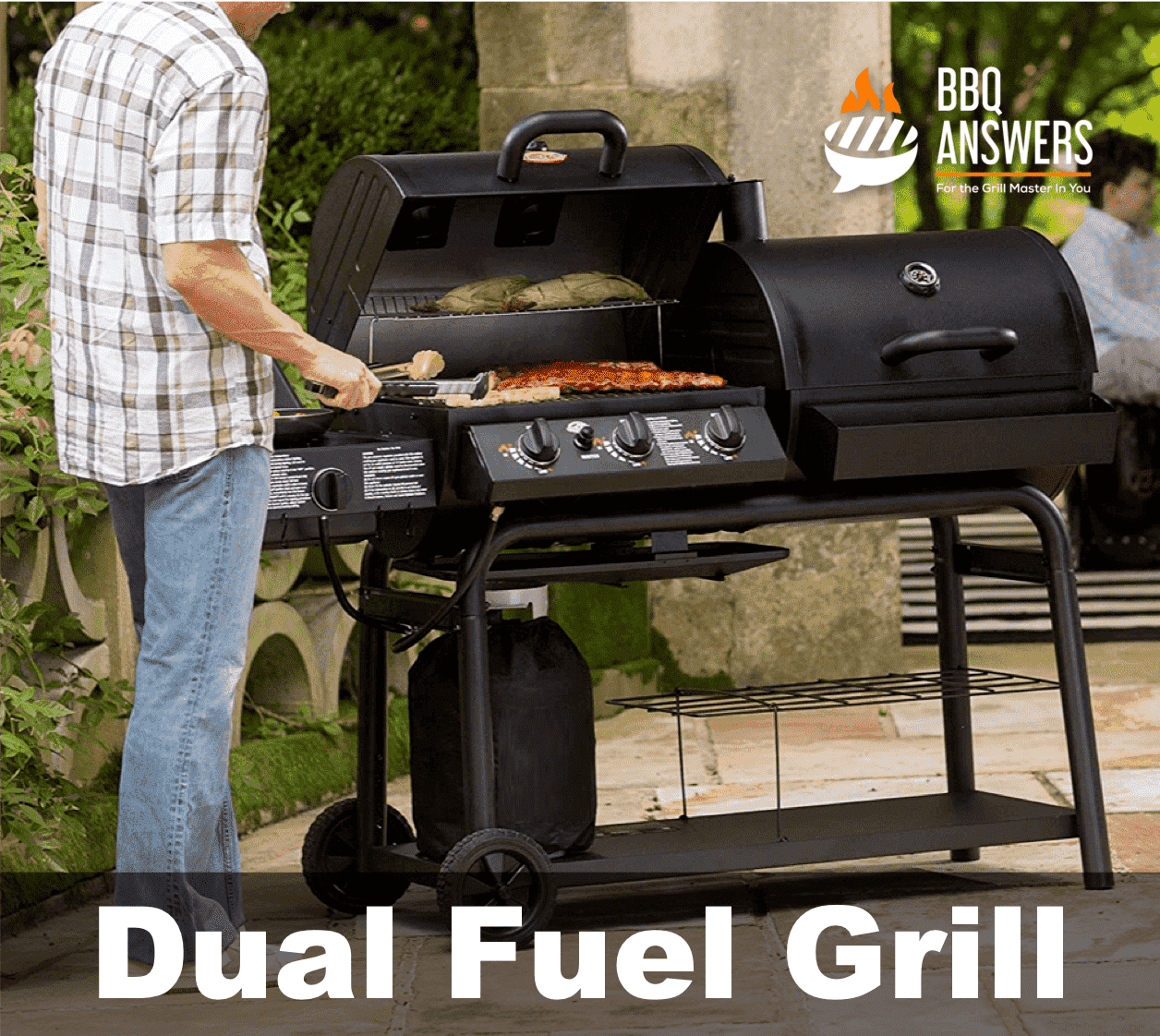 If you don't want to commit to a single type of grill, a hybrid grill will suit your needs. It gives you the advantage of each grill type, giving you the best of all worlds. Hybrid grills are generally the most feature-heavy because they have features of many types of grills.
In this post, I will outline the features to look out for in a dual fuel grill, and then tell you about the best grills in each price bracket.
Although hybrid grills are often used as a synonym for dual-fuel grills, hybrid grills can use more than two types of fuels. You want to choose the type of hybrid grill that suits your requirements. 
Dual-Fuel Grill (Gas-Charcoal Combo)
With a gas-charcoal grill combination, you can cook food with both of the most popular fuel sources. The popularity of gas-charcoal combo grills is the reason why hybrid grills and dual fuel grills are synonymous.
Gas-Charcoal-Smoker Combo
As smoking is growing in popularity, the demand for hybrid grills that can be used as barbecue smokers has increased. These grills can produce smoke for indirect cooking using an offset firebox or a pellet feeding mechanism.
If you're looking for a hybrid grill, I recommend this combination. It will serve all your cookout needs without too much of a premium over the Gas-Charcoal combination.
These are top of the line hybrid grills with all the features you need, and many that you don't. It has gas burners, charcoal trays, smoking mechanisms, and infrared burners. 
I recommend this type of grill only if you plan to grill regularly and experiment with all the cooking features.
Hybrid grills used to have one cooking zone for every type of fuel, but we no longer have this constraint. A single cooking zone can be heated using multiple fuel types. Therefore, choosing the number of cooking zones depends on the space available and the size of your parties. 
Single-zone hybrid grills: only allow you to grill with one fuel at a time, but they are the most compact. 
Double-zone hybrid grills: can be used to grill your food in two different ways simultaneously – one method per zone.
Multi-zone hybrid grills: usually have a stove over and above the grilling zones. This enables you to cook your side dishes along with your barbecue.
Features Common with Other Grill Types
Apart from the points mentioned above, you must consider the following features depending on the fuel source that you opt for:
Charcoal Grill Features to Consider
Gas Grills Features to Consider
Barbecue Smoker Features to Consider
From bottle openers to utensil racks to exclusive apps, dual-fuel grills come with several additional features. If these nice-to-have features are important to you, keep an eye out for them when buying a grill.